Cities: Skylines now available in the Windows Store, but without Play Anywhere support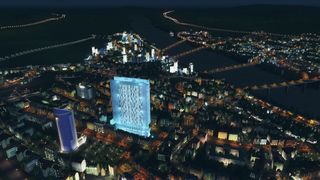 Not long after making its way to Xbox One, city-building sim Cities: Skylines is also now up for grabs for Windows 10 on the Windows Store. If you were hoping for a little Xbox Play Anywhere love, however, you'll want to check those expectations at the door.
To recap, Cities: Skylines places you in charge of building out your very own urban landscape. Similar to Sim City games of old, Cities: Skylines tasks you with managing every aspect of urban planning, ranging from infrastructure and utilities to education policies and more. That's a lot to juggle, but it's what has made Skylines a favorite among city-building sim fans.
Cities: Skylines ultimate beginner's guide
The lack of Xbox Play Anywhere support is a pretty big blow for those who already own the game on Xbox One. That said, there is support for save syncing, so you can share save files between your Xbox and PC. Granted, that will require buying the game twice (at $39.99, that's a steep proposition), but at least the option is there.
In any case, if you want to dive into Cities: Skylines, you can pick it up on the Windows Store now. And if you're on the fence, be sure to check out our full review for more.
Thanks for the tip, Primortal!
See at the Windows Store (opens in new tab)
Windows Central Newsletter
Get the best of Windows Central in in your inbox, every day!
Dan Thorp-Lancaster is the former Editor-in-Chief of Windows Central. He began working with Windows Central, Android Central, and iMore as a news writer in 2014 and is obsessed with tech of all sorts. You can follow Dan on Twitter @DthorpL and Instagram @heyitsdtl.
I'd buy it this instant if it was. Been holding back.

Pretty lame to not, but understandable.

Most PC gamers would already own this gem on Steam anyway though.

It's early days but I think developer have made a wrong decision. That's my consumer side, and I won't buy this same game two times, for this I am sure.
Well, MS should provide options here for non-XBox play anywhere title. Something like this for developer to choose when listing their game in the store:
- Buy for 1 platform - 39.99
- Buy for 1 additional platform - 9.99
This model makes more sense to me.

That isn't Microsof's call to make. It isn't their game.

Don't get me wrong. My meaning was that there should be this option for game developer to choose when listing their game in Windows store. I have edited the comment to be clearer. Hope that helps deliver my meaning.

And guys, why down vote from someone suggesting an idea. Do not understand.

I do not think so....The goal should be to unify Xbox, a game, a unique store. It will be a long process, play anywhere is a first step, MS must continue to encourage and encourage all games to be like this.

Having it on steam is alot better than having it through the windows store. At least through steam you can get it on a good sale from a different site where as Microsoft sucks when it comes to sales

Blame the publishers, not MS. The publisher sets the price of games.

Yea you're right they do suck in regards to game sales, all those free games with gold and monthly discounts on many others is ridiculously expensive.

No thank you. Steam has cost me several hundred in lost games when they refused to help me get my account back after they got hacked. Steam is dead for me. I only use Windows Store and GoG. People who are renting their games from Steam really should consider using GoG instead and actually buy the games they want instead of just borrowing them.

It's currently 10 dollars on Steam

Despite all the naysayers, it's encouraging to see more big games come to the Windows store.

Oddly I have it on Xbox one. And it says Windows 10 version on my Xbox one. Maybe there's an error. And it is meant to be Play Anywhere.

$40 - I understand the work that goes into a project this size. But you have to realize that games are not only played in the first world where people get paid x10 or more. But in many developing countries, good paychecks are between $200-300. And $40 is a big chunk out of that for a game. It would be fair, if game pricing was per region. Let's say, the game will cost about 3 hours of the average minimum wage of the country or region. That said, I think the price for US is slightly high. $25-30 would have been reasonable, in my perspective.

Rivals of Aether was not in Japan Store, was $19 in US store and $9 in Brazil Store.

It's a Triple A title. If you are not used to them then don't look at them. Look at the casual mobile games, those are the games made for those that can't afford the triple A ones. Steam sells it for the same price when you put the add-on into it. Problem is they force the add-on on you. And of course Steam has sales and there's currently one for those game. I guess it was done to coincide with the windows launch.

AAA? That means nowadays: wait three times as long to get a bugless game since uncle Big was behind it to push it out, no matter what.

Uh, no on everything. A game doesn't become cheaper to make because of poor people.

it wont download anyway so the price doesn't matter, not available for this device showing on store page even though my pc has all the required minimum specs

No play anywhere, 4 times more than in steam store. Very disapointing.

You will actually own the game if you buy from the Windows Store though. No DRM and not locked to a bloated game client just to play it.

Um, as much as i also hate steam with a passion,,,, the windows store is a drm platform and your still just "renting" it just as much as you are on steam.

Finally! Controller 🎮 support!

How do the mods work for the Windows Store version?

If a game which supports Xbox Play Anywhere is installed in an Xbox One and a Windows 10 PC, I wonder...
1. if the game can be played simultaneously on the Xbox and the PC?
2. if yes, can the game be played simultaneously under 2 different Xbox Live accounts?
If the answers to the above is No, I am confused why some developers do not offer Xbox Play Anywhere.
I think Xbox Play Anywhere would just attract more people buying the game, and hence generate more profits to the developers. Win-win.

The answer is yes. You can play simultaneously, with multiple Xbox accounts on one copy of the game. For instance, anyone can play any of your games on your home Xbox console, so you play the pc version with your Xbox account, while another player plays simultaneously on your home Xbox with their Xbox account.

Yeah this was one of those "it's getting low on sales on steam, so let's see how many people we can rip off on the windows store" They didn't bother to match the steam price at all, they didn't add crossplay support even tho the windows and Xbox version came out within a couple weeks of each other, they didn't bother adding mod support, and its missing expansions. This was such a lazy money grab.

I do suggest tho, that everyone, complain on their forums, submit support tickets, send emails, to all the companys, paradox the cities skylines sites, and the Australian porting company.
Windows Central Newsletter
Thank you for signing up to Windows Central. You will receive a verification email shortly.
There was a problem. Please refresh the page and try again.