Client for Hangouts is a Universal Windows 10 app that lets you chat with your Google contacts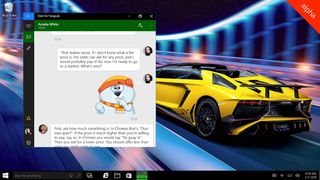 A new universal Windows 10 app has made its way to the Windows Store, and it lets you chat with your Google contacts on Hangouts. Client for Hangouts is still in alpha, but it offers a variety of features and functionality that will help you get chatting with ease. The idea behind the app is pretty simple, you download and then sign in with your Google account to chat with your contacts. Once signed in, you can see your contact lists, your existing chats and then hop into one with a simple tap. The app description reads:
If you use Google Hangouts to keep in touch with friends and family, you'll want to check this app out. Remember, it is in alpha still so there are likely to be some quirks so just be patient.
Download Client for Hangouts from the Windows Store (opens in new tab)
Get the Windows Central Newsletter
All the latest news, reviews, and guides for Windows and Xbox diehards.
Jared started off writing about mobile phones back when BlackBerry ruled the market, and Windows Mobile was kinda cool. Now, with a family, mortgage and other responsibilities he has no choice but to look for the best deals, and he's here to share them with you.
Is it safe to assume this is not actually a Google app?

If it was you'd see a lot of hype because google would then be supporting the platform. Posted from Windows Central for Windows 10

Bad hype perhaps. Might make its god awful apps.

Let's check the evidence...
* the logo isn't the same
* the developer name isn't Google
* it's called CLIENT for Hangouts
* Google wouldn't put an alpha out
* Google doesn't make apps for Windows mobile.
* Daniel would write that article if Google gave a half dung pile about developing an app for the Windows Store! ☺

But google is evil. There were couple of google voice client and they blocked them all...

They would put an beta out though... Posted via the Windows Central App for Android

Not on Win10m, they wouldn't. Also, this is an alpha, not a beta.

At this moment probably not, but if the market share increases they might have no choice anymore or lose a part of their customers.

Technically it is qualify as Google app as the app use Google services but made by third party dev. Posted via the Windows Central App for Android

Search engine Posted via the Windows Central App for Android

Everything for Windows Store is in alpha.

No... Not more than a really tiny part of it. Sorry. Posted from Windows Central for XL

The mobile os is still beta, forget apps.

Because they are the Alpha and not the Beta. Alpha animals...

Even the OS is in Beta Posted from Windows Central for Windows 10

At first I was like "whaat Hangout apo from Google" but anyway still great. Nice addition, many people need this I guess.

Ok, we got it the first time

there's some problem with the app that causes your comment to be posted several times. This happened to me before. @Daniel_Rubino @Gary Posted via Universal Windows App on W10

Put it on the feedback page Posted from Windows Central for Windows 10

Wait, is this the first app for Hangout on WP platform?

This app isn't for the Windows Phone platform (WP7-8.1 Update 2) it is for the Windows 10 platform. The Windows 10 platform includes Windows 10, Windows 10 Mobile, Windows 10 IoT and any future variants/SKUs of Windows 10.

I'm sure you knew what they meant and still didn't answer the question.

I don't assume I know what anyone means and only go by what they say and by me saying it is not for the WP platform, which WAS his question, I did answer his actual question. Now, we could all spend an infinite amount of time assuming but I'd rather answer the question that I actually read and not a question that I "think" a person is asking as assumptions can vary from reader to reader. If he would have asked if it was the first for the Windows 10 platform, I would have said yes but I wasn't going to misinform anyone and say yes to his actual question when the answer is no, it is not for the WP platform. RohanRonQam gave essentially the same answer based on the actual question that was asked instead of assuming. You can assume that he wasn't actually talking about the WP platform...even though that is what he said....and your assumption could be wrong.

Such a long winded explanation for why you didn't answer his question when you could have just answered it.

Long winded? Hmmmm....I'm not bound by the need to limit my writing based upon the varying opinions of long-windedness. I am a writer, writing is what I do. Save 15% on your car insurance with Geico. Some could say that your comment to me was such a long winded explanation showing that you still didn't understand that I answered his question when I said the app isn't for the WP platform as his question asked about the WP platform. Seems like some people run with their own assumptions instead of looking at the actual question and the actual answer based on the actual question. We all have the right to assume and the right to not assume.

While I see where you're coming from, you're squeezing your only "get away with it" pass too much. You don't want to assume, that's fine. Then don't take things too literally either. You knew exactly what his question was about, so get that stick out of your behind and answer his question, otherwise, save him, us and yourself some time from having to deal with you being a smartass. A simple "but it's the first/only Hangouts app in the Windows ecosystem" in the end would have been great. Redundancy is a good thing, learn it.

Hmmm, seems like you need to get the moat out of your own eye with your smart and offensive comment. So tell me, Wael Hasno, what magic powers are you using to read my mind to conclude that I, "knew" exactly what is question was about? Oh wait, you are even assuming that I knew. Good for you. The only thing I factually knew was the question he asked. Anything beyond that is assuming he asked a different question than what he typed. There is a WP platform. He asked about the WP platform, I answered about the WP platform with a factual, non snarky reply and you have a problem with that? You may need to rethink who has this imaginary stick you are so respectfully and gracefully bringing into the conversation. If that is how you communicate to people, then...well...thats none of my business. Assume all you want to and take your uncertainties, your risks of not knowing, being wrong, wasting your own time and everyone else's time by saying things that are not true, answering questions that were not factually asked or even written. Whatever floats your boat and works for you. You have a right to do that and that is fine with me. You can't tell someone else what would have been great for their own comment because your thoughts are not their thoughts and for me, NO, that would not have been great because he didn't as about the Windows ecosystem, he specifically asked about the WP platform. I choose the answer based on what I actually read because I can't read minds and I don't know what he meant, all I KNOW is the question he asked and I am not going to waste my time answering questions he didn't ask. I am not going to assume he was asking something else. Your comment is pretty unbelievable. You write about your opinion of someone's comment, feel compelled to use a curse word, and then get high and mighty and try to tell someone to learn something. Thank you for your exaltedness. Not everyone thinks like you so your assumptions can be entirely wrong and even offensive. Some of us realize that people know, experience and understand things differently and an assumption is based off of what an individual knows and that reality may be totally different. I don't waste time in variables. You can if you want to and that is fine. I am not going to disrespect you or tell you that you need to learn something in a snarky way.

Way too much info on your comment. Posted via the Windows Central App for Android

@lanksy1213. To each their own.
This isn't twitter where one is limited to 140 characters. Besides that's going away too, soo if you use twitter get ready for information overload (essays) :P.

It is a Universal Windows App for Windows 10

you're the only one to answer his question. Good job.

@Dick S O-Rosary. Deaconclgi, did answer the question too lol.

Now I regret why I didn't put my question more precisely as "is this the first ... for a Windows-based mobile phone system?" :P

:) It's ok, you helped us engage in a healthy and friendly conversation.

But of course Google will block it and ask the creators to remove it because "the code doesn't work", although it is working just fine...

YouTube apps work just fine -till now thank god-

It always worked just fine, as fine as browsing YouTube with IE, lol

What dumb irrelevant comment Posted from Windows Central UWA On my Lumia 930

IM+ Has worked with Google for years also

I think that's just when Microsoft write a great app. Plenty of other Google compatible apps like the YouTube ones in the store.

I don't have Google contacts :'(

I know more people that use Skype than Google (for text chats) and people are always saying nonody uses Skype

I use Skype very often.. for everything.

Same here. The most important people I speak with are all on it. I see a lot of comments from people here though who don't rate it and don't use it that often

Yeah, the fact is that Skype app is really bad on Windows phone despite its updates. Hope Windows 10 Skype version is gonna be alot better. Till then I'm ok with desktop app.

It's quite good in Windows 10 Mobile at the minute on the latest 10586 build and with all the updates published so far. Needs group video calls next and ability to Send images from PC

Me too, I won't support Google cause they don't support WP.

By that logic you should also not support Microsoft because they too don't support WP.

me too! Posted via Universal Windows App on W10

Skype has all the functionality but like to improve it's functionality in windows mobile. Addition of short clips and emoticons is quite good and it has the ability to overtake all other messengers. I use it everyday and it is always good in terms of voice and video calls.

I forgot about leaving short video messages. That's in the 8.1 app but would be good to get it added in the W10M messaging app, assuming they aren't doing a separate stand alone Skype UWP app (If they are it will be a long time coming I think, like next year as they are still working on some core features for the messaging app by the looks of it. What's there so far is good though)

I have many Google contacts because I used an Android device from 2010-2014. But this app is pointless to me because I refuse to use Hangout (it was way too complicated on Android) Posted via Universal Windows App on W10

You seem to be fine. I don't have any contacts at all. Actually, i don't have any friends...

Then do you have a partner? or even parents? Posted via Universal Windows App on W10

Basically, yay I can chat with my friends without a PC. Also what Windows build is in the screenshot?

Same question bothers me..

We got it thanks :) Posted via Universal Windows App on W10

We got it thanks :) Posted via Universal Windows App on W10 :)

We got it thanks : Posted via Universal Windows App on W10

We got it thanks :) We got it thanks :) Posted via Universal Windows App on W10

Seriously, what's up with that IE icon?

It is just an artist concept

Yes, without pc worked in Lumia 1520

But unfortunately not everyone is born with the superhuman power like you that enable them carry around all their friends in their pockets all the time . So some people do need pc/phone to chat with their friends at times.

Where did you get the custom actions for Task View and others in the task bar?

so far not bad, still not a patch on skype or WhatsApp but its working well to say its a alpha version

Why would Windows 10 (not Mobile) users need this? Hangouts is available in Chrome. Posted from my Moto X Pure Edition via the Windows Central App for Android

Not everyone uses Chrome.

Contrata, what you may believe not everyone likes Chrome. Some people don't want to use it. Some people don't even wanna have it installed on their system. Granite those same people probably don't use Hangouts.

It also works in Firefox. And in edge, although in edge it's wonky at best (at least for me).

Because Chrome eats RAM like a hungry tyrant and if you add Hangouts to the mix it's even worse, because Hangouts is a CPU hog.

I'll probably never use chrome Posted from WC 920, 1520, 920, 635, 640 950XL

Google Chrome was great when it came out but then things got ugly Posted via Universal Windows App on W10

Why would iPad users need an app? They have Chrome... Bet you only use Chrome to do everything on that Android device of yours too..

Take down notice in 3,2,1...

It would be great if this supported Google Voice, especially for W10M (I don't own one, but it would be nice for other people). I use Hangouts on my Android phone/tablet and PC with a Google Voice number for free calling and texting. It doesn't seem this app supports it yet though, so I'm sticking with the Chrome app.

GVoice would be my only reason to pick it up also

Yet? You're a lot more hopeful than I am ...


I shouldn't have said "yet"; I didn't mean to look hopeful. I actually don't have a lot of confidence they're going to add it either. in fact, I doubt that they're ever going to put it in. The app doesn't even work for me anyway. None of my Hangouts messages (with Google+ friends) even showed up in the app, and none of my contacts did either. So it's basically useless for me anyways. I've chosen to just forget about it.

Far better solution: Open up Google Chrome and install the extension "Chrome App Launcher" and "Google Hangouts". This is an emulation layer that will let you run the Google Hangouts app on your desktop. Once that is installed, launch Google Hangouts, go to settings, and 'enable transparancy'. And just like that you get the best parts of a Chromebook, but on a useful PC. Just be warned that it does not like sleep. I find that on days when I close and open my laptop a bunch then I keep having to re-launch the app; but outside of that, it is the best Hangouts expierence you could ask for!

That's actually how I use Hangouts on my PC. Posted via my Nexus 7 2013 using the Windows Central App for Android

That's exactly how I have it set up, and it works wonderfully. This app doesn't even support Google Voice yet. I have Hangouts spread out across my Android phone/tablet and PC so that I can text and call any number for free with my Google Voice number. If this new app supported it, would have been perfect. But because it doesn't, sticking with the Chrome app.

How does your solution work on a phone? Not at all, so it's not really a "far better solution"

I see no extension called Chrome App Launcher. -- Lumia 640 (Windows 10)

Just what I said. I have the store open right now with that search term, and it doesn't show up. I get an Apps Launcher, a Chrome Web Store Launcher and an AppLauncher, but no Chrome App Launcher.

I think he meant to find it on an Android phone Posted via Universal Windows App on W10

No, he meant Windows 10 for PC.

Are you looking in the extensions for the chrome browser on PC? That's the only chrome app launcher I'm aware of.
Chrome has an app launcher extension you can add (appears as a box with colored dots inside) that will appear in the toolbar, and can be pinned to the desktop Taskbar. Then u can add the hangouts extension, which can also be launched from the app launcher. Posted via the Windows Central App for Android

For the longest time it was recommended to not run chrome on a laptop since it will never enter an idle state even when not open and run through your battery quickly. Has google addressed this issue yet?

The Advanced settings allow you to disable background apps when Chrome is closed.

This is pretty great. I'm downloading this now because my work uses Google for all our mail and chatting. Now I cna be away from my desk and get chats on my phone.

My work actually goes out of it's way to actively block windows devices. At least apple got the same treatment, but maybe they reversed course on that one by now

You must work for SnapChat. Sounds like what they do.

I'm not sure it's activity blocked. I think it's a security/authentication issue. It's has been the same at my work and they just had to pay to get iPhone working.

Yea I dunno, they did something as I used to have Mail app access and IM+ to my work google services, then policy updates came and now Mail app doesn't work nor IM+. What's interesting is that this new client does work for my work google chat... hmmm

Why? I'm just curious. Do they site security concerns or something?

No idea, change in company structure then it was just announced that's what was happening. Even ios got blocked at the time... Maybe something got loosened up recently cause I was surprised I could actually log into hangout with this app.

Maybe a droid advocate has infiltrated your IT department and went "all your base are belong to us" :P.

Cool I tried to make one but it's awful

Great news! Hope to see it continually developed. -- Lumia 640 (Windows 10)

Sweet. Been waiting for something else other than IM+

Not so sweet anymore after they gave me a message that normally the app is 7.99... Feels to pricey for a chat app

It doesn't work at my Lumia 640 xl dual sim WP 10 10586.107 Posted from my phone
Keep Calm Because P.A.O.K. You Are

It's for desktop Windows 10, not for Windows 10 Mobile. Posted via my Nexus 7 2013 using the Windows Central App for Android

False. Running on my Lumia 950.

It is for both, it's universal. It does not install on my Lumia 1020, though. Perhaps the mobile client is not there. Either it will never be, it will arrive later or it is only a temporary Store problem.

Tried on my Lenovo Yoga 900, but it didn't load any of my conversations. Also seems pricey at $8 for the full version. Posted via the Windows Central App for Android

I don't know why the app can't be open in my lumia830
each time I opened it , it closed immediately

It's for desktop Windows 10, not for Windows 10 Mobile. Posted via my Nexus 7 2013 using the Windows Central App for Android

actually there is 2 version of this app one for disktop and one for the mobile , see the screenshot on the app stor and you will found that

Yep. Running on my 950, too.

No, there is ONE version that runs both mobile and desktop. By the power of Universal Windows Platform.

its running on my lumia 1520 and tested chatting with my wife ,,,,its working fine...no lag as other people said....great that hangouts are here. but my worry is google may block it anytime soon, who knows !

Sorry off topic:. Does anybody know how to get weather glance (full glance like windows 8.1) on Lumia 1520 running windows 10...586.122

Does it support voice calling and video chat

I need a solid Google Voice client for W10 Mobile, maybe when it hits beta...

Windows 10 doesn't have an official app for that.. what a shame, what's wrong with the world Posted via the Windows Central App for Android

You should probably ask what's wrong with google world.

Google can go and die for all I care.

And sadly it crashes my phone :/

What Windows 10 build is in this screenshot ?

At the end of the day this is another app filling the holes that are left by google not making apps for windows phone plus another app to stop the rewires saying it's missing X apps. For me I don't use any google service but YouTube so never been an issue for me.

Why does it open the Microsoft Edge and take me to the app page when I click on download app button from the Windows central app. Why doesn't it invoke the Store directly as it does in Windows Phone 8.1 Posted from Windows Central for Windows 10

Any help as to where I can get that Desktop Screen?

Let's ensure google get punished for their lack of support for windows by the European Union courts!

Glad to see someone hop on this, I've needed hangouts forever for work. Eventually gave up and bought an iPad (work apps on the iPad besides just hangouts...). Too bad my Lumia 830 can't get it, I guess I'll try it for my Surface Book to help with the testing.

If you use google -anything- to keep in contact with friends and family, you should do everyone including yourself a favor and use something else tbh...

I want to try this, but none of my friend use it. Posted via the Windows Central App for Android

Hangouts? For me no, thanks. Skype all life. I even don't like having a google account just for youtube. But it could be useful for some, so it's a welcome entry to the win10 platform .

I've tried this app and it's basically unusuable due to the very large ad banner they display at the top of the client. Because of this I just use another client or I just use hangouts.google.com. I understand they need to make money some how considering they're developing a free app but come on, does it really need to be that big?

New 1.0.33.0 version of Client for Hangouts: Fixed bug of displaying conversations with Google Voice! Also the new version added:
- Ability to add more than one image / photo to send. View/delete images before sending.
- Ability to insert an image from the clipboard.
- User search for any email.
- Enable / Disable to save chat history.
- "Paper clip" button. When writing a message "paper clip" hides items to add photos and images, giving more space for text.
- Improved the synchronization between the client and the web version (update tiles).
- Improved opening of panel with smiles. Opening of panel is smooth now.
- Fixed bug with lost messages.
- Fixed bug with a long connection. Thanks for staying with Hangouts! Contact Client for Hangouts support team - support@attractormobile.com

Is this App still available? I can't find it in the Store. Else does anyone know of a Light-weight Hangouts App for Mobile and Desktop that I can use? That Hangout Chrome App is such a power hungry thing...

Google shut down all their Hangouts APIs so this app and others like it are dead.

Ah makes sense!! Glad to know why. We need one of these Hangouts App (this or Gmessenger) to keep the GUI, but move the Google API to an Hangups API (https://github.com/tdryer/hangups). Would be nice to have a Hangouts UWP client again.