Code Warriors being unleashed onto the Marketplace to build missing apps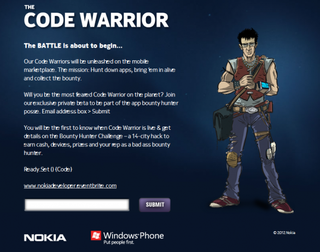 Are you a fearless tribesman, ready to lead the pack? We bet you are you animal, you. Microsoft and Nokia are looking to unleash a number of "code warriors" in 14 cities to pack a punch on the Marketplace by building, crafting and basically reaching their inner-zen. Cash, devices and prizes will be on-hand for those who attend so it'll be more than worthwhile.
What's this "code warrior" hackathon all about? In each city the two companies will be hosting a number of events that will see a number of developers building apps specifically targeting gaps in the Marketplace. Apps that should be in those gaps, and are present on other platforms, will be developed by participants.
The Code Warriors is expected to be one of the pushes Microsoft will make in their plans to bring big brand developers / apps to the platform. Should you be interested in attending one of the events, be sure to check out what cities are being visited and when over at the Eventbrite listing.
Source: The Code Warrior, via: GoWindowsGo
Windows Central Newsletter
Get the best of Windows Central in in your inbox, every day!
Rich Edmonds was formerly a Senior Editor of PC hardware at Windows Central, covering everything related to PC components and NAS. He's been involved in technology for more than a decade and knows a thing or two about the magic inside a PC chassis. You can follow him on Twitter at @RichEdmonds.
We need some sort of TV Guide app.

SCREEN SHOT APP PUUHHHLLEEEAAASSEE

dev unlocked device? if so, there's a great one: 'screen capturer'

The fact that we need an unlocked device is a pock on MS.

i do not have a dev unlocked device :(

zynga games (including draw something)..

Let's go Zynga on all devs... If they don't port their game to wp7, MS devs should copy their games and bring them to the market. Or as last resort just buy the dev studio.

I know it has nothing to do with this, but BRING HULU. They need to be convinced that we're worth it.

I would love the Cablevision's Optimum app.

Wow. Way to go Microsoft. This is a freaking awesome idea. Very cool approach.

Please do not request apps such as branded or commercial items. (Zynga/Hulu/Instagram/Temple Run) Also, don't suggest things that are against the marketplace rules. (Screen capture/Accent changer/Lockscreen widgets)

Why not? If zynga is not bringing their games, then we should do as they do.. Just copy the games and publish them in the market as our own.

If it were this easy, we would have all those great apps. Sadly, however, those companies own the games so simply copying them could lead to issues such as law suits and charges. Also, the way apps on iPhone and Windows Phone are the exact same, so it could take some time if we were able to copy. All we can do is hope for the best and sit and wait. :)

Just curious and got being an ass. But do you work for MS?

Excuse me!?!? Who do you think you are! If you are a developer you would say the same thing! Now stop being a jerk and get you nickers out of a twist.

Calm down everyone. No need to get angry. The point he is trying to make is that you cannot simply copy an app and call it your own, to prevent infringement you can copy the idea but the app must be your own. An even bigger concern is that just because you copy an app, it won't solve the problem (for example, words by post). The point of these big name games is to be able to play with your friends on other platforms (draw something or scramble with friends). Its not a lacking service you can replace with an alternative (Pandora, and even that is hard to pull people with imo), its the social aspect of it that people want.

Composite video and mono audio streaming out of stereo headphone jack... I.e. Replace left channel with composite video signal for playing vids etc. Retro but useful. Not sure if possible though :|

More emulators as well! SNES :)

Bring screen capture to non dev unlocked devices. I already have it on my unlocked device, but I think it should be available to all those who don't/can't unlock their devices.

TI-83 style basic language programming capability, for simple on the go programs. Should be achievable inside an app by now....

Have you tried Touch Develop by Microsoft Research? Free and very nice for on-the-go quick apps.

That's perfect thanks, and I just saw someone mimicked a HP programming calculator. No TI-83 but still useful for quick math progs.

Ironic that the site they use "eventbrite" doesn't have a WP7 app...

Sounds like a good app suggestion...

Would like a location based ringtone/volume changer.

Very cool idea, hoping to see a Justin.tv or Twitch.tv app.

Its a shame we're stuck with IE browser, and will be as far as the eye can see. Both Android and iPhone allow full third party browsers where you can view just about any stream/video.
IE is way too limited and its a shame MS is so thick headed on allowing such things on WPs

Can you please elaborate? I have a few alternative browsers and I still use mostly ie. It has never given me any trouble and to me it seems just as capable as the mobile safari browser on IOS. What exactly is it lacking? I even have an app that lets me play flash videos, i honesty have no idea what you're referring to.

A screencast app would be very nice. I want to show off some cool wp7 features but it's a pain to without screencast.

I'm signed up for the one in San Diego. I'm a professional game developer, but haven't had a lot of time to play with WP development (though I know a lot of C# and a decent amount of XNA) -- anyone want to team up?

I wouldn't want to bring your team down, but I'll definately say hi at the San Diego event! @samsabri on twitter and let's get in touch.

This sounds like something well suited to www.appdreamr.com! If you have ideas for missing/needed apps, submit them there for developers to see.

WAZE!
EDIT: Actually, scratch that. Get us medical apps! Pro apps, not the stuff that there is in the marketplace right now. WebMD, Medscape, NEJM, ACPOnline, Eponyms!

MS needs to overhaul the Marketplace. Searching for apps sucks. Search and Related are not even close to accurate. No filter or sort options for searching either. Need something like Brainapp , not sure of thats the exact name, Android has.

Anyone going to the one in San Diego? Let me know below or tell me on twitter @samsabri
Let's meet up after :)

Why does the Nokia site use Google maps?

It's not Nokia's website. It's Eventbrite :-)

An app which can create a midi music file using a matrix grid would be sweet. And save to skydrive. I don't care how crap it sounds, because I can import it into a DAW and pimp it up later.

I'm planning to attend the Toronto event. No experience developing for Windows Phone, but knowing C# should already be a plus. And there's still a couple months to get up to speed.
Regardless, it's not just about apps, but also socializing and having fun!

Anyone else planning to go to the Toronto event (June 12)?

graphic adventures...
scummvm port...

and maybe, just maybe.... an xbox1 emulator? ;)

devs dont belive them

Microsoft is so cheap it started to cheate poor devs from india MS cheated the devs in india by telling it will offering wp7 phone for the devs how are able to publish 3 apps in app hub in a monthhere is how it did it it started in jan around 20 devs were given lumia 800 and extended the offer for a month by seeing lumia 800 lot of people registered for app hub 99$ and submitted there apps in fed but there where not given the phone they where told to wait they will get the phone and also they extended the offer till 31 march (here is where MS showed its evil ness read till the end u will know how ) now lot of people registered for app hub in excepting nokia 800 in march also no ms put the winners names on the site (http://www.thinkdigit.com/contest/windows-app-challenge/announce.php)2 days back and few of the people how are declared wieners are not given phone saying there name does not match?strange thing is how did it match while declaring then on the page but did not match only when u have to send the phone??? more over they sent 1th gen crap htc phone and 1gen thc proto types some of then dont even have gps some dont even have imei numbers they new all the way if people know these are the phones which they are going to offer no one will be intersted in it so they they wanted delayed the sending of phone and created the hipe by sending few people lumia 800 so that every things they will get 800 u can see the poor devs crying in the comments in this page http://www.thinkdigit.com/contest/windows-app-challenge/

Hey I went to the site and there is nothing there that says winners will be given a lumia 800, only "windows mobile" not even "windows phone". I think you should have verified what phones you'll be getting before joining the contest. i am sure if your apps are good, you'll be making enough money to get a lumia soon :-)
Windows Central Newsletter
Thank you for signing up to Windows Central. You will receive a verification email shortly.
There was a problem. Please refresh the page and try again.