This is what a Windows Central custom ColorWare Xbox One Controller looks like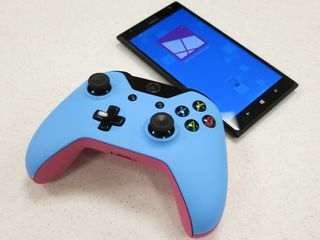 Last month we reviewed a custom Xbox One controller from UK-based service Controller Modz. That service offers a variety of sexy hydro-dipped artwork and chrome designs for Xbox One controllers, but nothing in the way of solid colors. For a controller customized with solid colors, we looked to ColorWare – located in Minnesota and recommended by some of our readers.
ColorWare allows customers to customize an Xbox One controller with one or two solid colors of their choice. The controller will then be painted with your design. In order to test the quality of the ColorWare service, I threw together a design of my own. The result is the world's first Windows Phone Central-colored Xbox One controller! Read on for full impressions of the ColorWare Xbox One controller design process and finished product, with video!
Choose your colors
ColorWare provides custom coloring services for a variety of electronics. Gaming-wise, they offer custom Xbox One and Playstation 4 controllers and systems. The systems cost quite a bit more than controllers to colorize, but you can send in your system to significantly reduce the price. With controllers, you just design the controller and they sell you a brand new one; no sending in your own pad.
Designing your own Xbox One controller is quite easy. First, head to the custom Xbox One controller page on the ColorWare site. Then choose the color for the front side of the controller. ColorWare offers 29 "solid" colors and 29 metallic colors, for a total of 58 color choices. Each of these comes in a gloss or matte finish. Next you'll pick a color for the back of the controller from the same selection. As you choose your colors, the preview image automatically updates to reflect your design.
To match the Windows Phone Central color scheme, I chose Sky blue for the front and Flirt pink for the rear, both with a matte finish. Matte shows less dirt and oil than gloss, you know.
Having finished your design, you can then click the Share button to the top-right of the preview and send a custom link to your friends. Follow this link for our controller design.
If you're ready to order, add the controller to your cart. It comes with a one-year warranty on the paint job, with an extended two-year warranty available for $49. The controller will ship out within 7-10 days, and comes in the original Microsoft packaging.
How do we like it?
The controller I received from ColorWare is everything I hoped for. I can't find a single imperfection – the colors are uniform, smooth, and utterly professional.
The only way you can tell this controller wasn't made in blue and pink is by removing the battery cover from the back. The interiors of the battery cover and compartment are both unpainted, with some telltale pink from the painting process bleeding over. That's fine because people don't normally see the internal stuff.
The customized controller does have one other small detail worth noting. On the bottom of the pad, just above the headset jack, sits the ColorWare name in shiny silver. It's a subtle detail, but cool nonetheless.
You get what you pay for – a beautiful controller
ColorWare custom Xbox One controllers cost $109. In the US, shipping is an additional $13.85 or so, making for a total of $122.85. ColorWare also ships internationally, but they only accept credit cards as payment – not PayPal.
Although buying a controller from ColorWare is slightly cheaper for US customers than Controller Modz, it still amounts to twice the price of a regular Xbox One controller. This is a total luxury item. That's okay. If you can afford it, ColorWare's service is a brilliant way to customize your controller. The dual-color paint job will look elegant and stylish, and yet totally unique. Your wallet might sting, but your eyes will thank you.
How do you like the Windows Phone Central-colored Xbox One controller, awesome readers? Feel free to make and share your own designs in this review's comments.
Paul Acevedo is the Games Editor at Windows Central. A lifelong gamer, he has written about videogames for over 15 years and reviewed over 350 games for our site. Follow him on Twitter @PaulRAcevedo. Don't hate. Appreciate!
It's no wonder other countries hate us.

Lol, the guys above you seem to like it. :)

Should've made the Xbox button a WPC logo. :D

Lol, I cracked up at your profile pic :D

I don't care for that deal at all. $14 seems a bit hefty on the shipping, for starters. That, and I really don't like having the brand name on the controller, and it's something that turns me off when trying to buy a phone case as well. Then there's the color scheme, the thing which I care for least. I just don't like pink, feminine colors just don't appeal to me. It does look like a well-done controller, but a part of me was afraid that this was an official controller, because I would have felt compelled to buy it, haha.

"I just don't like pink, feminine colors just don't appeal to me."

You are aware you can pick your own colors and do whatever scheme you want? We just went with our colors as an example.

I know that, I don't need a controller. Like I said, I was just thinking for a second that you guys had gotten together with Microsoft for an official skin, and I'm admittedly considering trying to collect all of the official controllers this genration, depending on what gets put out there. I've already got the black and Titanfall ones, and I'll definitely get the CoD one. As for the white one, we'll see (since it's sold only in the SO bundle).

Thanks for sharing your internal machincations and thinking inside your brain. It was so enlightening. Do let us know when you are weighing up any other purchasing decisions, I'm sure we will all be delighted to hear about it.

Sunset Overdrive My fingers almost broke trying to type that out. ;)

That controller color is a winner. I would just like WPC on it somewhere. Guess I should visit the website.

Just asking... Why can't we use a Xbox controller to play games with our Windows Phones? (Like the new Sony Xperia with Playstation) Maybe it could be a nice Denim Update Feature. Just saying.

It's because Microsoft doesn't care very much about gaming on Windows Phone. I wish they would add that feature. But in the meantime, at least a dozen or so Windows Phone games work with Moga controllers.

Yep, Moga controllers are nice, but they're not easy to find / available in my country (Peru). But I see Xbox controllers everywhere. I said that because it seems to make sense. I hope Microsoft can do a little about it, it would be great indeed. One more wish until christmas! :D

It's $14 because they just ship 2-day (I forget which carrier).

That makes sense then, 2-day's usually expensive as heck, wherever you go.

That's an awful lot of whining about a custom painting service that you never intended to use. Jeez.

Feminine pink? Come on, that's just manly magenta! :-)
Kidding, but I really like the looks, and the color scheme of this one too. I understand it is subjective, but it looks very nice to me!

Bring on the pink and black. Brett Hart phone anyone? Replace the skull with the Xbox button and have the wings... Boss controller!

You do know that pink (or light red) being labeled a feminine color is a social construction right? It's just a color!

Very true. And we should all be secure enough in our gender identities to be able to own pink products.

Glossy is the worst thing for tech in the universe. It collects prints and dust really badly, and while glossy devices look great in a sealed box on a display case, in real-world use, they look smudged and gross. I have occasional fits of frustration trying to get the smudges off of the area around the Xbox One controller's Home button, because they made that part glossy, and it drives me a little crazy.

Not to mention scratches to top of the controller is a prime example

It's my opinion after all , I hate matt its slippery and the sound the comes from it when you touch it it drives me crazy !

You hate me... :-(.... Lol I know you meant matte. But like you I also prefer gloss (on certain things) I feel matte finishes hide the fact things are dirty or dusty so you don't know if they need to be cleaned. Whereas glossy lets you know it is clean when it is nice and shiny.

MSFTmatt , my Lumia 820 (black colored) made me hate matte it catches dust on the back of the phone , and always not clean , glossy is better. , when. First got it , I though matte was better , but then I saw the truth ......

Yeah, for me it's not a problem because my hands don't usually leave fingerprints, but everytime a friend touches my Microsoft Sculpt Mouse I have to clean it afterwards...

Well.... My Lumia 920 is glossy red. Been with me for almost 2 years, no cover or protective case during this time, and it still looks amazingly good. I guess this also is subjective. Would definitely not call it the "worst thing for tech on the universe".

I'm sure you have wiped it off at some point. Otherwise, it would be showing fingerprints and smudges.

You said that already. :P

COLORS make the difference

But Xbox is green. File this under "unrelated"?

Windows Phone Central
Windows Phone Central color scheme Do what now?

I found the 360 s controllers ridges around the control sticks & the edge of where the chatpad covers tends to get dusty

Looks nice, however your colors are not everyone's first choice, I guess.
Is there any haptical difference you noticed? Is it ordinary color spray? Or is it dipped with this new rubber like color?

The paint is definitely sprayed on, but I think they use some kind of proprietary process. It's supposed to last, anyway. The controller does feel ever so slightly different - a bit less slippery, I'd say.

If it came with a matching usb cable then id buy.
I could a imagine to shipping to be the worse thing especially if they dont prepay duties.

I'd love to see one in yellow (my favourite colour), or orange to match my Lumia 930!

Never seen such a beautiful controller ever before....

My Xbox one controller will be a ps3 or 4. Hard to play KI with the Xbox one controller.

It can't be that hard - the Xbox One has a great d-pad (but lame bumper buttons). Besides, Madcatz sells an arcade stick and Razer has one coming too. The people who own Moga are also releasing a wired "mini" controller next month that looks to have a good d-pad.

I'm a dpad user and the Xbox's dpad location makes it clumsy to use. Can't wait to plug cronusmax in and use the PS controller in the Xbox one.

Spectacularly awesome! So need one! :D

But the black is.. Black!

Because of the thumbnail I thought Windows Phone was getting Xbox controller support (something I've wanted for a long time). Alas, I'll wait some longer. Nice looking controller though.

For that price you can get 2 regular controllers.

I mention that in the review, yes.

Neat but, too much. See this thread as we were going to make a white one...I might still do it... http://forums.wpcentral.com/xbox-one/304352-want-white-xbox-one-controller.html#post2734291 I want one of the "I made this" controllers, or at least one with the white/black combo Want a differnt color controller for a lot less ???? Follow these directions... Get a Xbox one controller(if you have an extra one your all set), go on ebay and do a search for Xbox one shell....Find one of the tons of colors (almost anything you could think of), open your case and replace only the parts you want to change. A youtube search will give you how to disaemble the Xbox one controller... Let's see, a Xbox one controller, $50 (unless you have a extra one) and the kit on ebay, about $15 shipped (depending on the syle you want or more if you want 2 differnt colors).... a lot cheaper... Not hard to do, once you have all the parts and tools needed, it should take less than a hour for a semi techy person...

I LOVE the blue and the colors do go together, yes... BUT WHY PINK!!!!!

I saw the blue and thought 'Yeaaaaaah!' .. Then lowered my eyes and saw the pink and thought 'Naaaaaaah' Just kidding, it looks great. I love how customisable the controller is with different themes.

I'm gonna get yellow & green to represent my yellow 920 & green 830.

Why can't we use a Xbox controller to play games with our Windows Phones? (Like the new Xperia Phones) Maybe it could be a nice Denim Update Feature. Just saying.

I live about 15 minutes from ColorWare. So no shipping and handling costs for me. I'll just drive over and pick it up.

Cool! You should show us your controller once you get it.

Had took off covers sensors. I had a plastic skin.

"Your wallet might sting, but your eyes will thank you", Lawl.. That is a pretty hilarious line. It would have been nice if companies were able to paint the top of the pads and you were able to have custom coloured triggers. Still from the images it looks like they did a pretty good job.

Needs a WPC logo on it and your name with your job title. Otherwise it's just a two colour controller. Nothing special about it.
Windows Central Newsletter
Thank you for signing up to Windows Central. You will receive a verification email shortly.