Comedy Central's Stand-Up video app for Xbox 360 is turning off its microphone on Dec. 23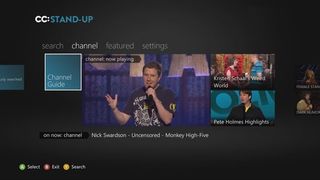 Another streaming media app for Microsoft's 10 year old Xbox 360 console will soon be unavailable. Owners are being sent messages alerting them that the CC:Stand-Up app from the Comedy Central TV network will shut down on Dec. 23.
The app first launched in late July 2013 and offered user free access to Comedy Central's library of over 6,000 videos, showing stand-up routines from hundreds of professional comedians. However, all that will end next week. According to the message:
This message comes a few days after Microsoft announced it would shut down the NBC News app for the Xbox 360 effective on Dec. 15.
Thanks to Mitchell for the tip!
Wish I knew about this app before. I wonder if these closing apps are due to the universal app system.

Geez, that's like 5 apps in the last two months. My 360 is used for everything, but in my home it is the center all of digital entertainment. Guess this is the motivation I need to save some dough and get the One.

Replace it with a Windows 10 PC unless it's mostly for console games.

I've been thinking about the windows 10 pc option but having a hard time finding a way to run it off my Harmony Universal remote. I'd love a couple ideas on how to accomplish this by someone more techie than myself

Microsoft is killing the 360 just like it did to the original Xbox when the 360 was out a couple of years.

Are these moving to Universal Windows 10 apps that will run on the XBox One?
EDIT: It looks like there is a Windows 10 app for Mobile and PC - can anyone confirm if it also works on the XBox One? If its a true universal app, that should be an easy edit if not.

Microsoft hasn't opened up the Xbox One to anything other than curated apps yet. Not sure if this is on the list (I'm not in the U.S. so can't easily check).

It states in the article "You can now find great stand-up on the Comedy Central app for XBox One" I think as a nod to the great Peter Norton we should start a #RTFA hashtag.

I bought fruit from that guy in downtown Reno years back. He was quick to come to my attention on rollerskates with a whistle.

Its sad but how often have any of these devs bothered to update

Just want to inform all folks who live outside US that Xbox 360 is a great media Player. If you want to access Netflix and other streaming stations on your Xbox 360 you can use UnoTelly as I do to get around the geo block.
Windows Central Newsletter
Thank you for signing up to Windows Central. You will receive a verification email shortly.
There was a problem. Please refresh the page and try again.