CompareRaja is a great price comparison app for Indian users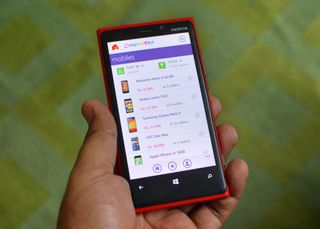 CompareRaja is a leading price comparison service in India that helps you compares prices of over 100,000 different products and pick the best price available online.
The official CompareRaja app has recently arrived on the Windows Phone Store. From the same folks who brought CouponRaja, CompareRaja allows users to compare prices across popular online stores such as Flipkart, Amazon, Snapdeal, Infibeam, eBay, HomeShop18, and more.
The app allows comparing prices of over 100,000 products across over ten categories including mobiles, tablets, books, cameras, camcorders, hard disks, TVs, Air Conditioners, refrigerators, washing machines, microwaves, and more. For each category, you can view a list of products in that category, and sort and filter them on certain criteria. You can set a price alert for a particular product with a target price you're looking for.
For a specific product, you can check out the lowest price as well the price in different stores and available discount coupons for those stores. You can share a product or deal with your friends via Facebook, Twitter, or email. In addition, you can compare features of any two products to make the right choice. The comparison lets you check out the product features side-by-side as well as specific features where one excels over the other and vice-versa.
The app also includes a shoppers zone where you could browse through over 50,000 fashion apparels and accessories for men, women, and kids. All product are essentially links to the product listings on ShopClues.com, and I'm guessing there's an arrangement between the two companies.
Download the CompareRaja app for free for Windows Phone 8 devices from the Windows Phone Store. It's a great app for comparing prices when you are discussing products in a random conversation or are looking to buy it from either an offline retailer or an online store so that you can make an informed purchase. Give it a whirl, and let us know how you like it.
Lots of Love for India lately... Awesome, they deserve it

But, what about southwest Arlington, TX❓ ... Do we deserve love?????

Not if you don't have call centers! :)

Rajarodney has a nice ring to it don't you think?

Anything followed by "Rodney" has a nice ring to it.

No. Raja=Ruler. Badshah=King
Ruler can be a king, yes, but so can a Nawab.

Raja-Hindi
Badshaah-Urdu,Persian
King-English

Lots of love from devs of India ! Yeah this is what we want..quality apps.. Way too go guys..

So couponraja and compareraja are different? Hmmm! Next comes rajathiraja guess !

They should merge both apps and name it as rajathiraja... ;)

So lucky you are,in my country developers don't like WP platform :'( ,especially the alibaba

Downloading it straightaway... Been looking for something like this

Good to see such apps .. :)

I'm really glad to see all these apps for India. It's seriously giving the whole platform more credibility...
...........
One thing I think US users fail to realize is that even though iDroid may have 1 million apps that doesn't mean that there are 1 million apps available to use in the US.... A lot of those apps are region specific.. I would bet that for American Android users their are about 500k apps that they could really install and use to their benefit... So, in reality if there are 250k WP apps that an American WP user can use then WP would only have 250k apps less than iDroid, not 750k apps... This makes a lot of sense to me.. And, although my numbers most likely aren't exactly the case, it's still an important concept to think about...
...........
So, the average consumer might use app count as a measure of how good an OS is... If that's the case then that is why I say that I'm glad to see India getting good app support... It just is a good reflection of the WHOLE platform..

Excellent app.. Thanks for the review.

I needed something like this! Great! Now everytime i go online shopping I'll check out this app first!!

A must have app for price-conscious Indians. :)

Where is junglee... App man

y this u can compare prices from different online retail markets. This is a good app for comparison of price.

It's laggy & slow, hell of scope for improvement

Downloaded CouponRaja as well. Thanks!

Smartprix App should be launch

That is good move for online shoppers is make shopping easier, i used whatstheprice.in but i use compareraza app and enjoy online shopping.

They have recently added discount coupons section as well. Thnx CompareRaja!

This is an amazing Price Comparison site, thank you for availing such a nice way to save money.
Windows Central Newsletter
Thank you for signing up to Windows Central. You will receive a verification email shortly.
There was a problem. Please refresh the page and try again.