The competition: iPhone 4S announced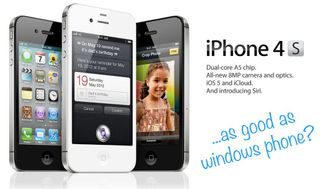 Apple has announced the iPhone 4S today at the Let's Talk iPhone event with Tim Cook at the helm. So, what's new with the iPhone 4S? Is it a game changer or simply a fill in for the iPhone 5? For a start I'm afraid we do have a killer app here. Unfortunately it's not currently available for Windows Phone (or any other platform) - Cards. Yes, you read correctly. Cards. More on this in a minute.
Comparatively, what has Microsoft and the WP team achieved in the past month? Mango (with 500 features), as well as new handsets announced from Samsung, HTC, Nokia to name just a few. How does the iPhone 4S measure up? Read on past the break and see what's in store for the iPhone crowd and judge for yourself.
Could Apple be losing their momentum? Could be, but one thing's for sure - the folk in the fruit company are smart. So we're not going to take anything lightly, and at the end of the day the iPhone sells and we're still struggling. Let's take a peek at what the announced iPhone 4S will bring to the table with the specification readout:
Apple A5 chipset, dual core Cortex A9 for 7 times faster graphics. This is basically the iPad 2 chip but probably not clocked as fast
Longer batter life – 8 hrs talk time on 3G, 9 hours browsing on Wi-Fi, 10 hours video, 40 hours music
New intelligent switching between antennas
HSPA+ 14.4
CDMA + GSM World phone
8mp rear-facing camera, CMOS backside illuminated sensor, 73% more photons! High end IR filter Wide f2.4. Super fast photo taking chip. 1.1 seconds for first photo
1080p, real-time video stabilization, real-time temporal noise reduction
SIRI artificially intelligent voice control
16GB, 32 GB & 64GB models
AT&T/GSM, Verizon & Sprint
The iPhone is moving through the dual chip phase along with Android, while we settle with our optimised, minimalistic software running on powerful hardware like the HTC Titan (opens in new tab). TiPb has a nice comparison chart up of handsets from multiple platforms for a quick look at the current competition (also seen at the bottom of this post). So we've seen the new device, no design change from the iPhone 4, we're now aware of the specifications, is there anything new with regards to software features?
As mentioned somewhere above, we have the Cards app, which allows the user to create a card using one of 21 available designs, editing text and adding photos. Apple will then create and deliver your card to the address specified. Prices: $3 within the US and $5 internationally. I know what you're thinking: "HELL YES! I WANT THIS ON THE WINDOWS PHONE!", but we should take a minute to step back and just think to ourselves, "is that really where Apple is at right now?"
The beauty of the keynote though was SIRI. AI voice control. Users will now be able to ask for weather forecasts, set alarms, answer texts, accessing Wikipedia and more. It's described as a "humble personal assistant" and is beta when released, which will be updated with more languages in the future. Check out the video below of SIRI in action, where have we seen this before?
AirPlay mirroring is coming to the iPhone 4S, which unfortunately Windows Phone doesn't sport out-of-the-box. Being able to mirror web browsing, gaming and apps on the iPad 2 is a feature I would not mind seeing on Microsoft's platform. It is awesome, no doubt about it. Oh, and iOS 5 will bring location sharing via an app rather than integration.
A nice reduction in price was presented for the iPhone 3GS and iPhone 4, which will both set you back for nothing at all and $99 respectively (contracted). While the 3GS is an old generation handset, it will remain to be snapped up by buyers who are upgrading from dumbphones and the like. This is something that Nokia will hopefully touch on with Microsoft for our platform with cheaper, less powerful handsets for a tighter wallet audience.
Lastly, Sprint was in the spotlight. Whether they transferred $20 billion from the company account or literally had one too many dinner parties with Steve Jobs, they've now got the iPhone 4 (and iPhone 4S) coming to the network. Although the carrier has a solid line up of Android handsets, it's common knowledge that the iPhone shelved in-store (and online) attracts the custom. Apple plans to rollout the device on October 14th that leaves time for Nokia to arrive (opens in new tab).
Conclusion? Nothing new, worth moving along.
It's the same old keynote with incorrect statistics beefing up Apple and an improved handset. Apple is lucky that iOS5 will keep the fire burning with the iPhone 4S until the iPhone 5 comes around, but many will remain disappointed that the design was unaltered. All-in-all, Windows Phone has a very strong foot hold with Mango. Should you desire to find out more information about Apple's latest smartphone or new services, head on over to our sister site TiPb (opens in new tab).
Let us know your thoughts in the comments below.
Rich Edmonds is Senior Editor of PC hardware at Windows Central, covering everything related to PC components and NAS. He's been involved in technology for more than a decade and knows a thing or two about the magic inside a PC chassis. You can follow him over on Twitter at @RichEdmonds.
meh same S*** difrent day..

Sadly, Siri will stand out in the news for Apple as some amazing thing ... Though Windows Phone has something similar and had it first ... https://www.windowscentral.com/e?link=https2F%2Fclick.linksynergy.co...I really wish Microsoft would have Marketed the Voice Control features more ... if they did, Apple would not have looked like they were the first to have it and then the 4S would have truly looked like nothing really new or impressive. I was amazed at how many features Apple added in that matched the Mango feature set ... I enjoyed seeing Apple play catch up for once ...

Yeah but once again the general public will think Apple invented it because Microsoft has yet to make a decent WP7 commercial and showing all its Mango features...Microsoft needs to get their S#*t together because right now all these features are going to waste....I said a month and a half again on this site that Microsoft should've been started doing commercials for Mango and they aint done nothing....I know people with WP7 that dont even know they are supposed to receive and update and once they get it they'll have no clue how to use em cuz they wont know they have em....

Might want to give google some credit for Google Voice Commands, it was out like 2 years ago.

Yup agree but again Apple will look like gods because "They invented it" and Google and Microsoft will look like they copied apple...

Well it you think about it ... Steve Jobs isn't there to lead the sheep ... so I guess the herd wont think a few voice commands for game changing/magical thing :)

Microsoft Voice Command for Pocket PC Phone Edition was released in 2003. I've been saying "Call Pat on Cell" for 8 years. The Siri thing that Apple purchased definitely raises the bar, however.

They going to sell tons, but it sure didn't make me rethink what I want to do with my current upgrade that I have.

The new iPhone is still going to sell like hotcakes, and we all know that. But I think that had the new iPhone had a bigger screen, it would sell even more handsets based on that aspect alone! With that said, from a design standpoint, Nokia has been handed a wonderful gift! We've already gotten a glimpse of what Nokia can do with regards to design, and they need to capitalize on the fact that the iPhone 4s looks just like the iPhone 4.Specs? Not so sure, but Nokia has IP on enough tech to be able to differentiate themselves from Apple, and even the other WP oems.If Nokia doesn't capitilize on this opportunity, well, I have no words. Hopefully, we will see some spruced up ads by Microsoft, and their oem's to get Mango devices the exposure that this platform needs.

I honestly do not think they are going to sell as much as people think. Many people are disappointed with this. I think it will do as good as the release for IPhone on Verizon. I think it will miss estimates drastically and to be honest. I believe to many other phones and competition but i am not perfect i have been wrong before hahahahah

lets see, what did apple show that needed a keynote.. Nothing new.. First, they showed up apps that did not need to be talked about.. Then they showed catch up features that have been aleady out on Android and Windows Phone 7.. What apple should have done is do a coming soon comercial and then release the phone.. That's it.. It did not need a press event.. Well, this is apple for you.. Making seem like they are the first to everything.. The iOS is starting to show its limitation and age.. It's losing steam..

Siri is such a copy of Microsoft Tellme voice technology. check this out ... https://www.youtube.com/watch?v=iB6pWs46GY8

Yes, but where the heck is THAT on our Mango devices? It almost seems like we have TellMe's poor cousin, even WITH the Mango improvements. Now, if it really worked that way on our devices, that would be sweet!

I doubt apple siri works as advertised either.

I have it on my phone and it works pretty damn well. It catches 98% of what i tell it and i have a really deep voice. It even says "Microsoft TellMe" on the bottom right....

The 64gb storage option on the iPhone 4S is nice. It's very dissapointing that even the new wp7 phones such as Titan are offering a maximum of only 16gb. That's a quarter of the space of the competition! The only wp7 phone I've seen with more is the Fujitsu one which is not being released here...

Thats about the only thing that is compelling about it. Hopefully when the 64 GB Iphones are selling well MS will give in and okay 64GB for WP and the use of nand memory like the focus S its the future and its now so Sammie jump on it If you lead everyone else will have to follow!

If I'm not mistaken. This chart says that the titan will accept microSD. I so that means expandable memory... Annnd I won't just have a 32 GB sd card sitting around!. How valid is this chart. Does anyone know the source!!?

I'm pretty sure it's incorrect. Look at the specs on HTC's site. http://www.htc.com/www/smartphones/htc-titan/#specsnothing is mentioned of micro sd card. I wish though.Honestly I think, like many others, that it all boils down to Nokia. I really am looking forward to the Nokia Maps feature, and beautiful hardware.I really like the Titan and if Nokia disappoints I will get that phone.

Comparing the "500" new feature that were added to Mango to the update from IOS4 to IOS5 is just farking dumb. Please stop doing it.

what u said is just farking dumb. please stop doing it.

I remember when Jobs made the announcement for the iPad 2, that 2011 was the year of the Copycats. Well he was certainly right.Because iOS 5 has copied EVERYTHING from WP7, Android, WebOS and even BBOS.Great job Apple. You sue Samsung for making rounded rectangular phones, yet you ripoff the innovations of every other company for your latest software update.This hypocrisy just **** sickens me.

this "humble personal assistant" robotic voice is just horrible.

wow I just watched it. That voice is horrible lol.

So what? The Windows Phone 7 voice is terrible as well. It's Text to Speech.

wpcentral should write up some argument articles about windows phone vs iphone, because im trying to decide. i love the windows phone ui, but right now im leaning towards iphone 4s. i do want to see what nokia has to offer, and hopefully they'll be selling something by mid november. do you accept this challenge?!

This was a summary to open up the debate and pave the way for a versus article which you can look forward to shortly.

about 6 months ago I switched to a focus after selling my 32GB iphone 4. Later I sold that one to buy the HD7s. After awhile with NoDo I started to ask myself if I had made the right choice by going with microsoft after 4 yrs with the iphone. After I installed the RTM of Mango to my phone that asnwer became a little clearer. Today, after seeing apples keynote I finally came to the conclusion that I did in fact make the right choise by jumping ship. Only downside to my switch is the lack of space on new windows phones. 16bg on a Titan is really not making me happy. Even worse, I cant install the 32GB microSD that I have on my current HD7s. Lets just hope that the Focus S can be upgraded...

LOL! From winrumors."Please note I will be selling some 'S' stickers for $0.99 so iPhone 4 owners have a cheaper upgrade option #letstalkiphone"

Hold on a sec. Touchnote already does this for half the price for postcards and has been on Windows Phone since day 1. How is Apple's Cards a killer or game changing app?http://www.windowsphone.com/en-US/apps/958ae8b9-4ac7-df11-9eae-00237de2db9e

I added in a hint of sarcasm in the article, apologies if it wasn't picked up on.

FB app does everything that the integrated FB function does in WP7.Twitter app does everything that the integrated Twitter function does.Get the picture.

hey maybe someone can figure out how to how a 64 gb nand in place of the 16gb nand if it can be done then hey we are in business!

The only thing good in that whole hour is Siri.

The Titan has a gyroscope and HDMI out!?Completely missed that. Damn. That's nice to see. Can't wait to plug that in and see my Xbox Live on an HDTV . Not saying I'm buying the Titan, but seeing that shows I can expect more of it in the future. Looking good WP... Looking good.

@Dark Mirage...According to this unboxing, it does not have HDMI: http://wmpoweruser.com/htc-titan-unboxed-on-video/.But it does have DLNA streaming, though.

Nokia dont F*** up what has been going good for you. Momentum is on your side now show us your Phones already!!!!!!!!!!

I can't believe the freaking iphone has dual core and not us :(

does it matter? no it doesn't.

Yes it does matter, I seriously don't get why people on our side keep saying we don't need dual cores. Does the OS need it to run smoothly? **** NO!!!! Do we need it for marketing purposes??? **** YES!!!! Please cut the bull $#it lies that we don't need dual core. We need that plus all the features iOS and android offer to be considered a true competitor. we keep saying we don't need certain features when in fact our sales say otherwise. Prove me wrong!!!!!!!!

if the phones are demoed along side the dual core phones then wp7 will win hands down. my arrive trouched my cousins 3VO which is dual core by the way. also if these phones were falsely advertised as dual core then the average consumer wouldn't tell the difference because these phones perform better than those dual core androids. I wish the voting system worked so I could vote u down.

Did you not read what I wrote?? I said that wp7 doesn't need dual core processors to run well. I said we need them for marketing purposes. If your arrive can beat your cousin's EVO, imagine how badly it would make it look with a dual core. The problem is that people will not put wp7 next to android at tye store, all they'll see is the specs on paper and buy it based off of that. MS knew dual cores were coming this year, i have no freaking idea what made them think wp7 didn't need it. I'm not doubting you, but how exactly does your arrive smoke your cousin's evo?

I did read what u wrote, did u read what I wrote ese? don't be a dbag. I think it looks very bad already if phones with the snapdragon S1 can run more stable and faster than it. wp7 DOESN'T NEED IT! now go back and read my last post because it obviously sounds like u didn't even read it. and as for the arrive vs my cousins EVO 3D. it was faster at running the sense weather demo, web pages loaded faster and scrolled more smoothly on my arrive. need I say more? but then again. u probably won't read this either nor be able to comprehend it.

I just got in and I'm catching up. It appears the 4S as the same rinky-dink 3.5" display? Or does it? I cannot believe they didn't increase the screen size as 3.5" is a total deal-breaker for a growing segement of smart phone users. I wouldn't use one if I got it for free at that size. I would love to have the build quality in a 4.3" - 4.5" WinPho though.

Ok so what changed? Must have been subtle, the only thing ill leave wp7 for is wp8. Even if its hypothetical, Im just saying.
Windows Central Newsletter
Thank you for signing up to Windows Central. You will receive a verification email shortly.
There was a problem. Please refresh the page and try again.