Copyright infringement claim against 6discover signals the end as Snapchat wins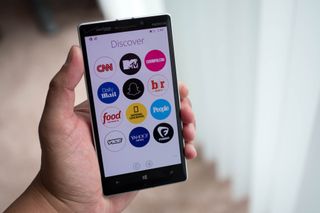 Snapchat has been on a tear lately against Windows Phone. Besides deciding against making an official app for their messaging service, the company has been very active in getting third party apps removed.
In fairness, Snapchat has two reasons for the removal of third party apps: copyright violations and security concerns. However, the latest app from Rudy Huyn, called 6discover, bypasses the first complaint as it does not use login information, but it still steps on the toes of Snapchat's legal department.
Ten days ago, Snapchat's legal team sent Huyn a letter accusing him of breaking the law. Now, a copyright infringement has been filed. As a result, Microsoft will likely comply with the order and have the app removed from the Windows Phone Store in the next 24-hours, signaling the end of that app.
6discover leveraged curated content by Snapchat from their media partners. It was an interesting, well-done app, but more of a side project for Huyn than a serious undertaking. Regardless, Snapchat was none too thrilled with the release and have exercised their legal rights. Huyn notes on Twitter:
That last reference is in regards to Cyber Dust (Cyberdust.com), a messaging app available on iOS, Android and Windows Phone (yes, an official app). Funded by investor Mark Cuban, Cyber Dust has been described as "like Snpachat but for texts" in that nothing is recorded and messages self-destruct. This applies to text, photos, emoji, stickers, and even videos. Indeed, it's not bad advice to maybe start using that service instead.
It should be just a matter of time before 6discover is pulled, so grab it now. Otherwise, we will close this chapter on the Windows Phone/Snapchat battle.
Source: Rudy Huyn
Daniel Rubino is the Executive Editor of Windows Central, head reviewer, podcast co-host, and analyst. He has been covering Microsoft here since 2007, back when this site was called WMExperts (and later Windows Phone Central). His interests include Windows, Microsoft Surface, laptops, next-gen computing, and arguing with people on the internet.
I've said it a thousand times before and I'll say it again: fuck Snapchat.

Thanks but no thanks. Don't want to get a disease.

That's right. If you fuck Snapchat, you're fucking all the oblivious tweens it's been with. I'm really just waiting for the one definitive exposé that lets Snapchat users know they're being lied to about security and self destructive messages so that it can suffer the MySpace effect and get abandoned for Cyber Dust.

The more I read about this, and the associated comments, the more I feel a tinge of embarrassment to be part fo the WindowsPhone community. Are there no adults that actually use this platform? I have already given up on the editors here, they are solely pandering now to the mob mentality that is going on here. And, that is sad. What SnapChat is doing by not releasing their app for the WP platform is sad, but it is their prerogative. It is their business decision. Third party apps compromises the security of their users, they had to shut that down. The Discover feature is a revenue generator. One that Rudy's app will circumvent. NO BUSINESS will stand aside and let that happen. Heck, Microsoft does this all the time. But, that is neither here nor there. The fact that this is repeated everytime by Daniel is sad. I know he knows better. I know he knows that if someone developed something that tapped into MobileNation's ad revenue, the developers would get the same letter. But, he still rants because it is good business to do so. But, it makes the Windows Phone community look very very bad to those that know how business works. I may be alone in this, but I want the world to know, we are not all tantrums throwing kids. There are WP users that are grown prefessionals that love our platform and accept its shortcoming without the need to throw hissy fits at every other article.

You Sir, are absolutely right; but that happens too in the Android and iOS community, just that they actually doesn't have that much to get angry about, they just bully Windows Phone or their apps itself; it's equally sad.
But you are right, people just go and scream about the situation, but you can say they are in their right, after all, they are defending Rudy and his work and the unfairness the Snapchat Group is doing to him, after Rudy told them that he could made the official Snapchat app alone, but just with their permission; Bussines are bussines, but people is people after all.

Jbestman,. Not too sure what your beef is with WinCentral, they are simply reporting the facts in this case are they not? ( I cannot see in the text above where its anything other than the situation at hand. Where was it provactive?) Lets face it, this is an app used by tweens and perverts. (they might be one and the same, given what my son has shown me on Snapchat in the past :) ) I have no use for it. But by not releasing a WP app for its platform it will draw flame from WP users if they can see the company not releasing an app, then taking down any 3rd party ones. Seems "normal" behavior to cop flack if a web service doesn't support your chosen platform. Not sure why that makes WP fans any different from Android or iOS fans

As an Android and iOS tablet user, I feel that you have not been to any of those communities. Same issues with things. And don't let there be an "exclusive" article...stay back.

Market share and such are bulls?its theese companies get money from ms competitors

https://www.change.org/p/snapchat-inc-make-a-snapchat-app-for-windows-ph...

not worth it. at the end of the day, it's just another fad. im an extreme introvert so i've never really had interest in these silly "hey look at me apps". sorry if that offends anyone, but SnapChat, eh...

@ThatRecluse I don't fall for these fads myself and I have an Android phone of which I never downloaded this app. But to my liking companies are coming out with a Windows device that am beginning to like but may not purchase a Windows phone until the Intel chipset.

Why would you want an Intel chipset in a Windows Phone, you won't be able to run x86 based software on it anyway!!!

Agreed! I dont even use it and could care less for the company!

LOL everyone loves a british grammar nazi :) http://incompetech.com/gallimaufry/care_less.html

It's Cyber Dust time. Download the app now as a show of support for Rudy.

Yep! Never used it and the arrogance of this "company" makes me glad I don't!

People are crazy, I never used snapchat. But if the WP community want to irritate that crap company then Rudy should release the source code. All indie developers can change the name of app and upload to store. This will keep their legal department very busy. Just need a coordinated effort.

LOL!!! They'd bankrupt themselves through legal fees! Or just release a Windows Phone app, only to find out their fad has past and we are all on to the next thing...

I like this idea. Make it more expensive for them NOT to release an App for WinPhone :D Not that I care much about SnapChat. I'm over 14

Exactly my thoughts. Hope they burn.

Speaking for myself I don't use Snapchat on my Android and never actually did download it. This is not a deal breaker by any means and alternative may already be in place or some will be forthcoming for Windows.

With the amount of money they spend on lawyers, they could have hired someone to make their app.

Hit them up folks. Keep berating them publicly. Facebook, twitter, don't give up.

Dude, It's time to give up. That will literally do nothing.

I've done constantly, even on Snapchat and no responds. They could careless anyways. Posted via the Windows Central App for Android

https://www.change.org/p/snapchat-inc-make-a-snapchat-app-for-windows-ph... #snapchatonwindowsphone

There is more supporters for this one https://www.change.org/p/snapchat-make-snapchat-for-windows-phone?tk=BBe...

I think there are better things to do with my time then waist a moment on them.

I don't even know any person who uses snapchat why should I bother, you are the kind of people who make snapchat community feel very important. And how many messaging application does one need?

Seriously, I couldn't ever realize the need of Snapchat.

I don't know anyone using that service either. And it's been a couple of years now most of the young people I see just text including myself.

Screw them I hope they ene up like MySpace. Mofo Posted via the Windows Central App for Android

When a tech CEO devalues a big company, that might just be the final result.

Snapchat will become history in a couple of years.

I hope Rudy doesn't get in trouble because of this.

Same here. Still thanking Rudy for the efforts for the app.

I hope he doesn't lose interest in Windows Phone development...

I don't think he will do that

He won't lose interest. If that had been the case, Rudy would've left WP already. Long ago.

Never liked it but I still feel bad for those on WP who do.

Meh. Snap chat sucks anyways. It's basically for boring teenagers. So to hell with snap chat!

Do you want Windows Phone to succeed or fail? If it's the former, stop saying apps don't matter. Especially apps with millions of downloads

Why do you want to give someone your business when they clearly don't want it?

Doesn't matter. It isn't coming. Ever. Besides, it wont be long til Snapchat is today's MySpace.

You're right. It's essential to WP's success. Every friend that I got to switch to WP left after the 6snap debacle. Every single one. I'm in college, 6 classes away from graduating, and yes it is a relevant app for teens and 20 somethings. You know, the people who guide the future of tech. I'm sick of coming on here and seeing the community being either seflish or arrogant about this app. You don't have to like it, but Snapchat is a social media platform for millions and millions of people. It isn't a sketchy nude photos app anymore. It provides user submitted live coverage of big events like sports, music festivals, and lots of other things. It has news and entertainment. It's a way to share a crazy fun weekend without the permanency of facebook. This company is innovating and staying relevant, and everyone I know thinks that way. Come on community, I know Snapchat is being a d**k, but we have to stop writing off this app like it's nothing. We're better than that, and I hope we're all on the same page as far as Windows Phone's success. We need popular apps even if you don't

Tl;dr. But snapchat isn't coming to WP. Ever. So your little rant was a waste of time.

Great post. Wasn't a rant.

Rant or no rant, it doesn't matter because that Snapchat CEO isn't ***ever*** going to bring it to Windows Phone....ever. So crying about it on WinCen isn't going to help. I'd rather spark the trend that ends SnapChat. I installed that Cyber Dust today and it's infinitely more useful and secure than SnapChat. I've already begun the process of getting even my iPhone and Android friends to use it. SCREW SNAPCHAT! They can be replaced. What's popular today isn't necessarily popular tomorrow.

Well, i'm sorry Candy, but i don't give a crapp even after you described it with such passion if tis app exist or not. But then again, i couldn't care less about facebook, twitter, whatsapp, what'snot , cacamaca. So for me they can all go the drain way. At start were fun cause would help people to connect. The problem now is they don't connect people they make them zombies.;). Whatsapp was for sending a free message, now people use it as a chat. Go outside for God sake. Life is way better there, then here.

Apps or social media itself doesn't make people zombies. Its the ineffective and abusive use of it. Posted via the Windows Central App for Android

But you do understand that others care, right? And that they matter, because without those others, the platform won't survive?

Use Microsoft Xim instead!

Why? If all your friends were on snapchat, which makes more sense? Buy a phone that does snapchat, or try to get them to switch phones AND networks so you all can use Microsoft Xim?

Or you could do as they suggest in the article and use CyberDust which is cross platform already!!!

But as always anything with that age crowd will pass in the wind when something else comes along.

Good post. Pretty much nails why this platform needs apps such as this.

Chandy227, excellent analysis. I am so disappointed by the responses to your post. The detachment from reality ("If I don't use it, it's not important...and they're just a fad") shows the mental hoops that fanbois need to go through in order to stay positive about WP. I loved - and still love - the WP platform. I still have a Lumia 1020, and I've owned an Icon, a 925, and a 928. However, it's impossible to recommend WP to the average smartphone user. There are too many apps that their friends will have, that they won't be able to use. If you are a casual smartphone user, there is no compelling reason to buy a WP phone over android or iOS, and LOTS of reasons not to.

They will eventually disappear and no one will use it, and then they will try to make a Windows phone app, but it will be to late for them.

I know you were referring to snapchat but it looks like you could also be talking about Windows phone...

i feel bad for the wasted time Rudy spent developing 6snap and 6discover.

Me too. All that hard work and after what that douchebag Evan Spiegel did, he wasted it all.

Dude it was a side project. Plus Rudy said It's his hobby to make small apps like this

I think he said eight hours was all it took for this app.

8 hrs....and snapchat can't even make an official app....pathetic.

It's not can't, they just flat out won't.

Wow seriously, the snapchat ceo is the best example of douchebaggery in existence.

Hashtag agreed my friend... He is the most disliked person in my book

Gotta wonder what exactly he hates about WP. I know it's only 3-4% whatever but that still would be several hundred thousand or more users.

Thousands? It's millions dude! But Evan Spiegel is a blind asshole.

This should put a smile on your faces. http://techcrunch.com/2014/05/28/confirmed-snapchats-evan-spiegel-is-kin...

And thats why this pervert made this sexchat app!

Going to try this Cyber Dust app.

So should we all, lets bump it into the too downloaded list.

Let's all use it, and share it with all our friends since it is multi platform!! :) Wonder if there could be a group made, for Windows Central??
Besides I like Mark Cuban... seems smarter

Cyber Dust is great. Been using it for almost one month now. Get on Cyber Dust!

Dammit I hate Snapchat so much.

Snapchat is awful. I've showed them pictures of similar articles on these topics and they just see them with no reply. Bosom buddies with Saudi Arabia, what can we say more Posted via the Windows Central App for Android

I'm so sick of snapchat. And not even their refusal to acknowledge the existence of Windows Phone, but just in general. It's a stupid app or service or whatever it qualifies as.

Microsoft's legal team could run circles around Snapchat, should back Rudy just on principle.

Good idea. But will Snapchat be willing to give us it easily? No. They won't. I hope that Snapchat doesn't realize, but this means WAR.

The Windows Phone community is minuscule, this would need the backing of Redmond. It would be interesting to see what France would do.

France... They surrender, then let the Americans save them...

One company being bigger than another doesn't change the law. It may make a difference if one is too small to be able to afford the case, but I doubt that is the case here.

Having large coffers affords you tons of red tape to bury people in.

True, which was my second point. But I don't think either here is small enough for that to be a factor.

I'm not saying its a good idea, just it would require Mircosoft throwing its weight around, not Windows Phone team.

The problem here is that Microsoft's legal team (or any legal team, for that matter) can do absolutely nothing about this. Rudy's 3rd party solutions for existing apps do technically violate copyright and other legal rights. The only difference is that while the majority of the companies doesn't really bother with those third party apps (they may sometimes take issue with the IAP's Rudy puts in though), SnapChat does and goes after everyone. And even if Microsoft had the best legal team in the World, they would still lose in a Court of Law. It's best to just drop the app and give up. Microsoft should definitely commend and reward Rudy for his efforts in trying to put apps in the Store, but there's little else they can do.

So if snapchat has an API, why do they want to stop people using it? Other than the CEO being a total asshole douchebag of course.

They don't have a public API. They have a private API and don't like people using it. Thing about software is actually copyright does not protect you against clones. It protects you from people copying your actual application. Patents are the only thing that protect you in the software world by protecting processes. In the EU it is legal to reverse engineer an API and use it. Strictly speaking, Ruby's 6snap app should be legal in the EU should he want to fight it... but that is expensive, why bother. But yes, the CEO is a douchebag... :)

Backing Rudy, legally, on this one would only make other big players think twice about using the Windows Marketplace. Suing is generally terrible for business... Lol

They would be defending...

No kidding... Lol. Sure, my bad for typing suing instead of defending. Butting heads with major companies is not exactly going to help Microsoft, unless they have legit reasons. This isn't exactly one of those reasons, as much as we'd all like it to be.

https://www.change.org/p/snapchat-inc-make-a-snapchat-app-for-windows-ph... Sign it!

Please stop posting links to this. It's not going to make Snapchat's execs change their minds about this. It just isn't. The CEO has made his opinion (or lack of one) VERY clear.

Screw you, I'm just trying to help us. This CEO might hate us, but he's not all-mighty all the time. There's more to a company than a current CEO. A company is made of multiple people, board of directors and multiple ideas for progress. Patience and persistence. We got 2 major apps TODAY we never thought we'd get too. So...

Then go for those multiple other people, rather than a (hate to say it) pointless, badly worded petition.
Snapchat pisses money every day. Every day. They've no income. They've no product. They're propped up by foreign venture capital.
That's the people to petition.
Not Every Spaniel. He's a nob.

You guys are really bumming me out.. We're supposed to be a community, a team! Thanks guys.. At least I tried to do something! While all you guys could do was cry on here. That's the spirit! Just give up. Go join Android Central then guys. Apparently it's all a lost cause..

Why should the rest of us be the ones to join Android Central, you're the one who wants this app so much. The rest of us have moved on and use Cyberdust instead!!!

Seems you are dying to get Snapchat! Sorry, No vote for this dirty app!

I actually know more ppl that use Windows Phones than I know who use snapchat so fck'em

Well that is sayin somethin right there...

Lol that's the spirit! #TileDownForWhat

Mark Cuban is 1000 times the gentleman, compared to the snap chat d-bag.

Wouldn't that be great if Mark Cuban's app stole some of snapchats users? If only we could get a movement going......

Cyber Dust. See the article.

downloaded this on your first post...tnx<..>

Feels like Snapchat team has something against MSFT or WP because this rage can't be just cause of lol market share, there us at least 10 millions of WP users worldwide who would like to use it, that is pretty enough I believe. They are a billionaire company now so, development and maintenance cost can't be a issue.

The problem is that their CEO basically just graduated out of middle school I mean college so he has no experience with anything whatsoever. He is in no position to be running this company

In a couple of years he'll hit puberty and realise what a child he has been ;)

More than 60 Millions of WP users worldwide

If you consider that 30% of that may want to use snapchat, it's pretty much enough to do an official app in my opinion.

Whine more Rudy, whine more... Maybe the day will come when you start making original apps yourself.

Lol. What a twat you are.

go back to bed please. the adults are speaking.

Seriously, dude? He is saving WP by making those 3rd party clients. It's not that he lacks originality.

Um, he deserves to whine, unlike us. He's been trying so hard to please this community by giving us services which we don't have...only to have his hard work terminated by merciless corporations. Who wouldn't whine about that? You try building an app.

Android Central are looking for you, they told me to tell you to get back there ASAP!!!

Never used that shit never will!

You know those folks that talks bullshit about VLC guys? Where are they now? Come out and be vocal. If ever, Windows 10 becomes a hit and Snapchat becomes mainstream that can't be lived without, I wont ever make a Snapchat account. Ever.

All this time, Rudy was making good Snapchat apps for Windows Phone. But the CEO had to be a huge asshole and waste Rudy's hard work. That's disgraceful. I really want Snapchat on Windows Phone. NOW. To all who want Snapchat on Windows Phone again, spam ALL Snapchat social pages (Facebook, Twitter etc.) AND Snapchat Support. We WILL get what we want. Snapchat for Windows Phone. The CEO can't keep us in the dark forever. One day, he will make a Snapchat app for Windows Phone. If he does, tell him that he SHALL AND WILL update it regularly at the same time as iOS and Android. I did say "one day". We don't know when.

Are you smoking something?

No. I have used 6snap and its awesome. I just cant see why its bad. No one on 6snap hacked Snapchat. So, why all the hate from them?

Still think Joe Belfiore slept with Spiegel's mom. That or a miriad of other juvenille reasons a 24 year old would hate a mobile OS.

Yeah, and I hope he asked Cortana to get a taxi for that b**ch the following morning.
--------
PS. That's not my original joke, I just used someone else's comment from an older article. :P

The fact remains, they don't owe us anything. Yes, it sucks how snapchat has handled this, but from a legal standpoint, their position is sound. Making demands won't work. If someone gives all your friends a cash gift...all except you, and told everyone they didn't give you that gift because they didn't believe you existed, yes it would be pretty mean of them, but demanding they give you the same gift and hounding them about it, and threatening lethal action against them isn't going to won them over. Not at all...not to mention, the person doesn't owe you squat. The same is true with snapchat and the windows phone community. We saw it played out with the whole VLC situation, and seeing it all again now.

Excellent.
Tackle boneheaded childish management practices with a Twitter storm!
Yeah, that'll show him!

Hope people start using Cyber dust and leave snapchat in the dust #datpundou :3

Dimm this snapchat ceo of a guy has some really tremendous hate for windows, we love windows more without snapchat, never installed it once

Snapchat are a bunch of douchebags ​

Maybe like its posts, SnapChat will simply expire. I just hope it is a slow, painful, pixilated death.

Someone has already done a petition to get Snapchat app for WP, with over 30,000 signatures. Still nothing. Pointless starting a petition for anything to do with them.

Damn it.. I just started one today.. https://www.change.org/p/snapchat-inc-make-a-snapchat-app-for-windows-ph...

We need a campaign against Snapchat on social media! If enough people outcry at once, they might reconsider.

Go to change.org and start a petition. When you have, give us the link and we will sign it.

Why support a service that hates you because of the phone you choose to use? Do like Rudy suggested and use/promote the other service.

Supporting Mark Cuban is not in my best interests.

Out of curiosity, can I ask why? I think I've heard the name before but don't know anything about him.

He is the current owner of the Dallas Mavericks (NBA) basketball team. He also appears regularly on an ABC television series called Shark Tank. I am not fond of him and the way he carries himself.

Neither of those reasons suggest that supporting him is "not in your best interests".

I dislike him as a person, therefore I don't want to support him?

Do you know him personally? Posted via the Windows Central App for Android

Ok. I'm not a sports fan at all, so the ownership doesn't matter to me. I also watch very little TV (I haven't had cable since 2007, and I just put an antenna in my attic a few months ago, mainly for watching weather during storms), so that doesn't really matter to me, either. You're allowed your opinion, and I respect that. I'm not going to form an opinion on something that doesn't matter to me. ;)

Those were meant as informational about him, since you weren't aware of who he was. Not to attribute my dislike of him because of his ownership of a sports team or participation in a television program.

Ah, ok. I didn't mean to imply (if I did) that you were trying to project to me. I was just telling you why it didn't matter to me. It's all good.

Your not helping your argument....

ah, blind hatred. makes sense.

Where did I display blind hatred?

Nope. All this yelling, kicking and screaming over how much this 1% want Snapchat on WP, achieves absolutely nothing, with the exception of free marketing for Snapchat. The louder we yell, the more the other 99% using Snapchat on iOS and Android "realize" how popular/important that app must be. You'll achieve the exact opposite of what you're hoping to achieve. The only way to get Snapchat is for you and a few million others to stop caring and start a mass migration to an alternative app. That's the only thing that can pressure Snapchat into chainging their mind. They don't care about you or any other WP user. They do care about their app.

Absolutely correct.... When you hurt the pocketbook that gets attention in the proper direction... All threads like this are doing are helping market snapchat.. Most people on android or IOS will just not care if WP has it, may not have even heard of it.... but if they search bing or google and discover this thread they will for sure download it to their phone and try it to see what all the fuss is about to say the least.... Nice post a5cent ;)

Go with the other app route. Like Xim or Cyberdust. Personally, I would prefer Xim, it is a nice app, and does not require the recipient to have the app.

Xim is nice if you want to permanently share photos with others so it's not really a SnapChat alternative. CyberDust on the other hand destroys anything sent through the service after its been read.

Official is better than nothing. We deserve to be treated as equal.
https://www.change.org/p/snapchat-inc-make-a-snapchat-app-for-windows-ph...

People tried that when they had the Snapchat client apps pulled. They didn't care.

How about saying that to him directly? lol @evanspiegel on twitter :P

Snaphat keeping a close eye on WP devs and store.

No sense why complain infringements of the copyright if you don't have plans to release the application for the platform, even the developer don't get any fame in this The company is who wins by get people from Windows phone using their social services so to me isn't any sense this news, instead of that would recruit the guy for, develop the application but of official way, companies like this one, are the ones that you, start to, stop of use their services because, don't listen to the customers which even, using Windows phone we deserve respect by a company

If you don't have the sense to understand basic copyright law, then there is no helping you in a comment section on wc...

I think the problem is that Rudy didn't use a publicly available API, and so they're not receiving analytics/user data from people that use 6discover and thus aren't getting any ad revenue.

Just downloaded cyber dust...
Didn't even hear about before...
Thanx

LOL! This is the most delightfully understated comment I've read on the matter XD

I would love to see one of these companies compelled in court to explain, exactly how does the existence of an app they had no intention of making themselves, and which increases their market exposure or income, is in fact causing them harm.

That's easy. Snatchchat own the intellectual property. Stealing that is akin to stealing property, either tangible or intangible. The brand gets diluted. These apps have a finite lifespan for the most part... Can you see it now?

Still using 6snap and creating new accounts all the time just to break their balls :D

1000% never a Snapchat app coming now, fuck those guys!

What if Evan (shithead) uses windows to program hehehehe

Probably uses Windows ME!!!

Just downloaded "cyber dust" and it looks like an OK alternative ;-) (username:gelemannen)

I honestly don't care. In my opinion Rudy should better try to work with companies that are willing to develop for Windows Phone like he did with Dropbox.

Rudy...dont try to make a Snapchat or similar apps!!! Make something new to beat them. You can do a high quality social app without involving them. We support you!!!!

For an app that so many claim is just for "stupid teenagers" there's an awful lot of crying going on.....

I've never used it and never will. But it makes me angry that these companies seem determined to defeat WP.

Can the Skype team create a Snapchat competitor? That market share might scare Evan's bitch ass enough to make him stop being petulant. Posted via the Windows Central App for Android

they did make an effort with Skype Qik. and honestly, literally no one i know uses it.
on the other hand all my classmates except myself use SnapChat.

Fuckin MS and marketing, suck balls...

I hope the investors who are never getting reimbursed by snapchat's unexistent buisness model sue Evan Spiegel, and he rots in prison for a few years...

Guess I don't need Snapchat or any of their future services...

I'm already on CyberDust, it's a great alternative, and unlike Snapchat they actually focus on your privacy. I suggest you guys get on it.

So much BS from this company. it's time to ignore them, they have so much crap in their head... only becuase they became "popular" on US they think they are gods, like if their app was special or anything. How much is the cost of these lawyers? I am sure more than making a WP app for million of users. I hope Rudy doesn't get in trouble for these retards. don't think he will but wow, so much BS that I really don't know why WC keep writing about this stupid company. I have told my friends about Snapchat and nobody of my US friends seem to care "I used couple times in past and it was a stupid app" so they still are planning on getting a WP. They really think they are gods for being used on some areas, but the worst is people saying WP is not good or dead or there is a huge app gap for stupid companies like this with stupid apps that only retards get excited about, when there are better alternatives that do more and don't have a condom as a logo. I have snapchat account and I can install it in an android phone (what a ucking utter crap BS stupid OS is Android *sigh* is this what people get crazy about? wow) but I wouldn't use their service, because I wouldn't try to use a company whose brain has just crap and BS and stupidity. and it's just a bad app, that I really roll my eyes when 2 small cats say "my snapchat" and million tigers say Kik, skype, instagram and facebook. anyway, this is a BS company managed by BS people, and hope they fall as they should. not because they are not making a WP app, nah, that's just part of their business, and as I see, the way they manage their business is just crap. so I don't expect it to exist much just like happened to myspace and other companies.

What about leave the snapchat account but erasing, the account, they want war they will have, war, I have,snapchat but just 1 friend there which I wouldn't care , can bet that will hurt to snapchat this action loose people in mass

I deleted my account after the apps were removed from the Windows store. No regrets. Funnily enough, half my friend list on Snapchat did the same despite being Android/iOS users. I was a giant Snapchat whore, and I kept people interested in the service.

When a company doesn't want to create an app for Windows, Microsoft should get their coders to produce a competing app for Windows Phone, iOS and Android that is better and put that company out of business!

The problem I have with Skype Qik is that it wants my phone number. Snapchat doesn't require a number (it pushes you for one, but doesn't REQUIRE it). If Skype Qik just let me use my Skype log in I'd be all over it.

I'm not really concerned with snap chat to be honest, I personally see it as a child or teenagers app, of which they just waste time with, however the people who comment here are right, it's the principal of it all, they are not only discriminating against an OS, but everyone who uses that OS, just because we have decided to use a different OS compared to the masses we should be penalised for this, and the fact that they do not want to make their own app for Windows and yet don't want others to make an app for Windows either, sounds quite Petty to me, not to mention all the hard work that Rudy put in his App was a waste of time and effort on his part. I just hope that when the tables are turned and Windows 10 is released that will be the OS that your App must be on as you make one App and it will see light on as many as 4 platforms, then I hope people who use Windows 10 remember about all these companies who have shunned Windows and neglected to make apps for the software and don't download them now that they need Windows in order to survive and use the next record breaking App who actually made an app for all 3 OS's at the same time and update them accordingly, essay over....

All I read was "I'm not really concerned"... Followed by a wall of words longer than the Vietnam memorial... and more painful to read...

I wonder if snap chat believes there is not enough WP users why they bother coming to WP store to check for third party apps. Fuck snap chat and those apps that request third party apps remove

Snapchat will be forgotten in a couple years. It's a fad app. Doesn't change the impression people got from windows phone during those though.... Plus they guy made his millions..

Rudy need to make his own, release it multiplatform and become huge.

I love how SnapChat says no one uses Windows Phone, and then goes out of their way to make sure you can't. If they really think WP is too small to worry about, why all the fuss?

They get money for this ppl don't be silly
They earn money from ms'competitors

Umm. What? What you just said has absolutely NO relevance.

Spiegel is not someone I would invest in. First, he tried to screw over Brown (the guy who uttered the phrase behind SnapChat: "I wish the photos I am sending this girl would disappear"). Then he flat-out LIED about his interactions with Zuckerberg (noted in Forbes) to make it sound like Zuckerberg was his bitch and then he goes after his app on WP? I just checked my Nokia X, and its not in the store there either, so I wonder if he is that anti-MS to block it on these devices, too, but I am only speculating there). Personally, until he gets called out for it publicly, his discriminatory approach is going to be ignored. It's bad business, especially if someone else comes up with a better way and does it on WP exclusively. Heck, I remember an old Windows Mobile app that let you set expirations on images that they had to be viewed by a set date and time. I wish for the life of me I could remember it because I would sponsor the dev of that one to sue Spiegel. SC is not much different other than the timer starting from when the file opens, not from when it's sent. Like I noted, #BanSnapChat as a hashtag, and make his "child as a CEO" antics news.

Ok, so they had a security issue - so they ban all 3rd party apps? Why not address the hole and work with 3rd parties to actually build a bigger customer base? This isn't about just blocking Windows Phone as a platform, but users, and definitely does not fare well with investors. #BanSnapChat is the hashtag. Use it. Repeat it. Call out their CEO. Until it trends, it won't get their attention. As much as I find the app hideous, this behavior is why I will not be part of anything Spiegel touches now. I cannot knowingly support such discriminatory hate from a CEO. Certainly not someone I would ever work with. Its just bad business.

His mother's gaping ass is the security hole.... That there is funny...

I agree. I think this Spiegel-asshole could keep a broader vision and let 6snap continue on WP. After all, if he's not planning to release an official version, at least let people use a third party app. I agree reverse engineering the API is against their policy, but if 6snap was not responsible for the leaks, they could have just let it be in the store because its safe to use it. I think they should have investigated 6snap before having it removed. And they could probably ask Rudy Huyn to fix those analytics issues. And even if they can't do any of the above, they could just have accepted the 6snap source code that Rudy offered. Evan Spiegel would have been saved from all the hate he's getting from the WP community. And mind you, even if its just 3-4%, its in millions. F**k you, Spiegel. Immature POS.

Well, time to grab the app before it disappears

Xim by Microsoft is similar and cross platform. I'm an adult and I use it to share photos, especially when in a group. The photos show up on everyone's phone, so I don't have to pass my phone around to everyone. As I or anyone looking, zooms, pans, and swipes to the next photo, it happens on all the phones screens. The photos expire so they don't take up memory on the other phones. No registration or membership involved. Very very impressive. Try it.

Would it not just be easier to make an app for a platform than to file claims on 3rd party creators..

Good bye, Snapchat. Burn and rot in hell.

They're just mad BC Rudy makes better apps than they ever could.

Conclusion, the enemy of your enemy is your friend

Already downloaded a copy to my SDcard.

Which won't help if the app gets pulled from the store.

Where's Joe Belfiore on these cases? Do Something Joe!!

Busy getting Win10 out the door I imagine...

Screw you SnapChat. We wont need you and we DO not want you either on Windows Phone.

We are creating too much advertisement to snapchat which is an insignificant service Please forget them and let them disappear also on other platforms

The chickens will come home to roost one day im sure

I have never used snapchat, but know our children do and I was told that people screen grab items sent, so what's the point in things only being displayed for so long. I agree with Tito Saikale that Rudy has the talent to make an app of his own and if made available on all OS's, then people will use it and snapchat will disapear and they will be left with nothing but a few users. My daughter asked me to use snapchat and I installed 6snap just as snapchat started causing problems for developers like Rudy, so I never got to use it. I really think that Microsoft need to work fully with Rudy and develop apps ready for Windows 10.

https://www.change.org/p/snapchat-inc-make-a-snapchat-app-for-windows-ph... #MobileEquality

Will sign but because I want watch Windows phone grew up

"over 1 million plus" users makes us sound even more laughably small than we actually are. Lol

Is it possible to edit after you made one?

More than 8 Million Windows Phones were sold in the last fiscal quarter. BING it. We live in a world where more than 8 million phones sold in 3 months is a comparatively small number. 8 Million in the last 3 months!

As quickly and easily as they stomped out any other form of snap chat on windows phone I don't know why Rudy would put so much time and effort in an app that would obviously piss them off

He has said that he addressed the prior concerns and it was for a relative. Plus, as he has said, it didn't involve a huge effort. He is very forthcoming, so no need to wonder.

I figured Rudy would have pulled the app at the first legal request. Had never heard of "Cyber Dust" until today, I think we should begin to champion that instead.

Even though I'm an iphone user, I love WP and look forward to returning someday but when developers try so hard to keep their apps out of the market, that makes me concerned about the future for WP. Apps are the only real weakness of WP. There seems to be some active effort to keep the platform from succeeding.

Would rather decent apps than junk like snap chat, we have much better social tools.

When you read things like these, http://techcrunch.com/2014/05/28/confirmed-snapchats-evan-spiegel-is-kin..., it does not surprise me. Snapchat is boring anyways (yes, I know, my opinion)...

Well done snapchat, tell us that nobody use windows phone and then request WP app removal cause you can't track 6discover users and sell ads to nobody. That's the spirit.

Fuck you Snapchat. Please bankrupt you piese of shit company.

Please make sure to voice your negative opinions to @evanspiegel, the asshole that runs it and pulls all these strings.

Installed snapchat for about three months and I only sent two snaps,, so I don't really give single Fuck about snapchat or their app

these devs are really on something. I've never seen companies blatantly refuse to expand their brand when it's obviously desired. it should really make people think.

Very unethical company. I hope they go down.

"move along, nothing too see, move along..."

Thanks for your interest in WP Rudy. You are I said WP wonder boy.

Here's part of the problem : http://appleinsider.com/articles/15/04/16/snapchat-paid-ousted-apple-exe...

i knew EVIL CrApple "iSHEEP" has something to do with this. Its funny, CrApple can have monopoly in every country, in every state, in every politician, ................and NO ONE says ANYTHING about it. However, if that was MS, OMGosh, the whole world would end and would accuse MS for monopoly and blah, blah, blah.....carp. CrApple is the most dishonest, garbage, mark of the devil/beast,......comp in the world, and i hope someday it falls in its face. All CrApple has done , is to backstab Microsoft (If it wasn't for MS bailing them out by giving them millions of $$$$ and got them out of bankruptcy, CrApple would not exist today), and others. Lets see what happens, they say what goes around, comes around, and karma is a bitch. i hope EVIL CrApple fails soon, and everythig they have done to MS and others comes back on them.

Racism, sexism... Is there a word to describe prejudice towards OS choice? If not I'm going to propose these.... Ecosystism/Ecosystist & Microsophobia/Microsophobic. :D

Can Rudy not just remove snap chat and add option to add your own buttons or customise them (ie add your ones ;))

I don't like the service. So I don't give a flying fuk about their app. Rudy focus on better services. Keep app the good work. ;)

Fuck you snapchat!! Rudy Huyn FTW

Switch to Cyber Dust. Get your iOS and Android friends to switch to Cyber Dust...

Re: DarrenSproat,
Have you looked at and tried Xim by Microsoft? I would like to how they compare, based on actual use over time. I have never, would never use snpchat, but I use Xim to temporarily share photos to other phones cross platform. I'm not sure why people aren't using Microsoft Xim? Microsoft bias within our ranks?

I have never and would never use SnapChat either. My preference is anything by Microsoft but can't say I've ever used Xim. My motive for recommending Cyber Dust is because it already has iOS, Android, and Windows apps and isn't SnapChat. It's cross platform, secure, and just better than SnapChat. :)

Xim has windows phone, apple and google apps and is by Microsoft. It can send the photos to phones or cast them. I wouldn't know, but I'm told it is better than snpchat. I don't know the security issues, but it is Microsoft and cell phones.
Geez, now I'm seeing what Microsoft is up against. No one knows about their great products, even Microsoft fans! It is a hard sell.

Yeah Microsoft needs to seriously work on their marketing.

Xim is more for permanently sharing photos so it's not really a SnapChat alternative, that's where CyberDust is a better alternative as are BBM timed messages.

Re: neo158, No. Why do you say that? It is not true. The photos expire after a period of time. I think something less than an hour. Geez, people are just looking for reasons to not try out Xim without researching it. See how hard it is to inform people.

bunch of freaking iSHEEP must be working at snap chat, or android fanboys trolls. screw them all. I'll careless if i ever use their garbage app. I'll support those who supports MS/windows. idiots.

Is there a way to turn this app into a video news reader? That would be amazing because the layout and structure is awesome.

Seeyah later Snapchat, don't come back! you had a chance to grow your userbase but you fucked it up. CyberDust looks to be the next big thing, I'll be getting all my Android and iOS friends to use that instead.

Snapchat is a complete joke. I used to enjoy it back when it first came out but I'm glad I don't use it anymore honestly. It got stupid anyways.

Don't have to be a Snapchat user to see the principle of the thing. Rudy (aside from writing good apps) seriously debilitates arguments of effort vs. market share. That leaves the feeling that companies are determined to be Microsoft's "enemies" (in varying degrees) for some unstated reason. The reactions are just everyone's response to their favorite theory as to the real reason. "Microblahblah. Seriously, just don't bother me with them." Or, "We lose street cred with the VC/M&A/IPO kids when we play with Microsoft.". Or, "Microsoft Mobeeeel, eh? NO!! ... Make it look like an accident. Mmuahaha.".

Snapwha? Are people still talking about this?

Aren't their anti trust laws against this type of corporate behavior?

They only apply to Microsoft

Fuck snapchat indeed. You would think since the vast majority user base is teens in the US, they would do what possible to expand. Fuck snapchat

I got the new app and it's a shame it's being taken out yet again. The interface is clean, has nice animations and it's a news app that updates its feed on a 24 hour schedule. I just hope he doesn't have to end support, too. Btw, fuck Snapchat!

You know what Snapchat words stand for? Here the CEO of this company think and look at people use this app. Stupid No-brainer Ass. People Chat.

Love what you do Rudy but man, leave that sexting app alone. Its seriously not that important and by you constantly taunting them, you are the one to end up with egg on your face. I won't repeat it but N_Studios sad it better than I could.

Most people use this app think it is safe and their posts are disappear 5 or some minute later and no one can record or keep the post pictures or whatever. Think twice about this concept. All you have to do is snap a screen shot and keep whatever that no-brainer post.

Everyone else said it, I'll say it too. Fuck snapchat.
Cyberdust ftw.

My lady uses it and all I see all day is her taking pictures of herself and it is so annoying. I put my phone down and forget it exists until it rings. I hope its a phase and she stops. Sigh.

Try Microsoft ZIM. (Does anyone read most of the comments or even some of them, before posting? I do. I think most just post their thoughts and maybe aren't interested in what has been said so far. Too bad. It would raise the bar of the discussion.) Best Wishes.

The comments? Most people adding comments don't even read the article!

Snapchat is for degenerates anyway.

WooOOOOwwwwwwwwwwwwwwwwwwwww

Why are they so fucking salty?? Like I understand that it's the security aspect they're concerned about and if that's the case, then snapchat should just update the security. Do they not understand how much revenue they could acquire if they just simply added a windows phone branch?! Childish...

Why would one buy a windows phone when it's basic apps like facebook twitter are not upto the mark. Sux big time.

The reason I buy mine ...nobody is forcing you to buy WP and we won't miss people like you here

Oh, well. Snapchat is for the kids out there. And the kids out there will jump to the next new thing and leave Snapchat behind in the dust. This is how this works. I couldn't care less and I am not even sure if it is that big of a loss for WP. How many people still give a crap about flappy birds? You get my point. Snapchat isn't here to stay.

So... Time we all started pushing Cyberdust, and help Snapchat loose customers, rather than wasting anymore time on them :)

Cyber dust is actually pretty good. Thanks Cuban!!

Evan Spiegel, prepare yourself for flack, death threats and insults you complete numphy! Let's get this arsewipe guys.

Does it do anything whatsapp cant? Just asking because I have no idea what Snapchat is!

I don't use these silly apps like this or facebook or twitter but think everyone should download this app & then contact snap chat via email & let them know that everyone is using 6discover just to piss them off & get them to waste more time & money & also let them know that there legal team is useless & hopefully will result in some one losing there job. I know this sounds nasty but I'm fucked off with all this big corporation bullshit.

That Ceo is getting personal now with microsoft. If he doesn't act well with windows 10 he's gonna be in the graveyard within years.

Oh... I love this app as it is beautifully created. I am using this on a daily basis same with Windows Central, Converge, CNET, and NBC News. #Sad

The loser snap chat devs spend more time fighting harmless 3rd party when they could just make the app and be done with it. Lazy or what?

Fuck snap chat...serious. More important and useful apps out there.

No they still have not won, thing could change in next weeks ;)

Why will Microsoft remove the app, they know the real story.

Yes, but they also know the US actually enforces copyright laws.

Snapchat chat was never worth it.

I installed xim just now. Seems smarter.

Beyond a joke! Rudy does a better job than what Snapchat can do and this is what he gets! Get your game together Microsoft!

"Get your game together Microsoft!"
And in what way is Microsoft at fault here?

Snapchat ? What is this s*it for ? Let's keep some dignity. There is really much more great applications for our WPhones, come on...

Fuck snap chat, who cares about their app, it's crap anyways

Fuck them and their stupid social network. I'll brand them stupid fools if they ever release it for Windows Phone. They can shove it up their ass.

Cyberdust for the win... Been using it for some time now and love it! Especially love the WP support!! Btw this is just a thought... How much did Google pay snapchat to keep their app away from a competitor?? Could be true... They apparently both hate WP...

I don't even care about this service, but upon reading this article, I immediately downloaded the app and saved the installation file to my OneDrive. :P

How does having the APPX file help if the app is pulled from the store?

True, I forgot about. Will it work? Likely not, something is better than nothing. ¯\_(ツ)_/¯

Nope, the phone will check licensing for the app on the store and refuse to install it.

Once upon a time people realised standards and protocols were the way forward. Whatever happened to that golden age?

Someone aready beat you to the petition punch https://www.change.org/p/snapchat-make-snapchat-for-windows-phone?tk=BBe...

I used it on android for about 2 weeks then deleted it, IMO one of the most annoying apps ever, glad its not available on wp

Bye bye snap chat,and hello cyber dust.

One comment: Article mentions fair and security concerns in same sentence. IMO: To be real if a company relies on the client for security then it really has no security. Especially when leveraging public REST APIs.
Windows Central Newsletter
Get the best of Windows Central in in your inbox, every day!
Thank you for signing up to Windows Central. You will receive a verification email shortly.
There was a problem. Please refresh the page and try again.