Core Music Player, this week's Windows Phone myAppFree Deal (Updated)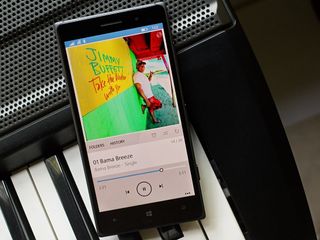 The number of quality Windows Phone music players in the Windows Phone Store has grown significantly over the past few months and Core Music Player hopes to turn a few heads with its file-based player.
The Windows Phone app typically runs $1.99 in the Store but for the next twenty-four hours, you can pick Core Music Player free through the myAppFree partnership. In just tinkering with the app briefly this morning, it does take a short bit to get used to Core Music Players' navigation. Otherwise, the app comes across as a solid music player option.
Unlike other music players that automatically scan for music files, Core Music Player relies on you to sort out what files you want to access. Support is present for mp3, mp4, aac, flac, wav, wma, 3gp, 3g2, amr, m4a and mpr formats.
Key features of the music player include:
File Management: Open, delete, rename, copy and move any type of file
Folder Management: Create, delete, rename, copy and move any non-system folders
Music Library that can be sorted by artists, albums, songs, genres, years and support for background sync
Files can be searched by keyword or reviewed by your playback history
Sleep Timer
Folders are pinnable to your Windows Phone Start Screen
Playlist creation with support for shuffle playback, sort by name, manual re-order and duplication
Playback controls tiles and album artwork (if available) add to a simple, clean playback screen. Playback can be single or multiple files, playlists or your music history.
Core Music Player comes across as a Windows Phone app with potential but takes a short time to become accustomed to. Core Music Player normally sells for $1.99 in the Windows Phone Store (there is a trial) but through the partnership with myAppFree, for the next 24 hours you can pick the music player up free.
If you try Core Music Player, let us know what you think of the Windows Phone app in the comments below. Also, remember to rate the app in the Windows Phone Store to give the developer feedback on their works.
Please note it may take some time for this deal to show up in the Store due to the various time zones involved.
Update: We just heard from the folks at myAppFree and apparently there were technical problems in launching the deal today. Look for free deal to kick in sometime tomorrow. We'll keep an eye on things and update the post when we see the deal go live.
Update 2: Just checked and the deal is live in the Windows Phone Store for the U.S. Market and should be live elsewhere as well.
Download Core Music Player for Windows Phone
myAppFree
Windows Central is proud to be partnering up with myAppFree to bring you savings on Windows Phone apps and games. myAppFree is a free Windows Phone app and service that highlights special deals for software on the Windows Phone Store. Make sure you download their app to keep track of all the specials they run weekly, as you'll never know what you may find.
Windows Central will continue to highlight select Windows Phone apps and games, such as Core Music Player, from myAppFree on a regular basis as a benefit to the Windows Central community. Additionally, with myAppFree expanding to offer deals from the Windows Store, look for us to shine the spotlight on the myAppFree deals for Windows 8 titles on a regular basis as well. Many of these deals will be universal apps so you'll double your savings.
Windows Central Newsletter
Get the best of Windows Central in in your inbox, every day!
George is the Reviews Editor at Windows Central, concentrating on Windows 10 PC and Mobile apps. He's been a supporter of the platform since the days of Windows CE and uses his current Windows 10 Mobile phone daily to keep up with life and enjoy a game during down time.
Take out easy! Wait! It takes some time in some markets to show up!!!

We waited, what came is money wallet

I just downloaded it for free...Lumia 730, India.

try to change region to United States.. works for me here in Slovakia :D

Wait for few more hours.. It usually takes some time to take effect...

No, it's not free at all!

Could be a time zone issue with the Store but usually these deals are live by now somewhere. Checking with myAppFree to see if there is an issue.

Don't worry George... It usually takes time to take effect in all over the planet... It's quiet common in the Case of MyAppFree deals.. :)

Thanks. On the positive, you can always download the trial version while we wait for the switch to be thrown.

Never missed a better App like this from myAppFree deals.. I can wait :) ... But can you please help me sort out a confusion that I have about myAppFree deals?
Consider I have downloaded Core Music Player for free during myAppFree deal.. And at some point I have to change my device ( I won't be changing my MS account though).. Will this app still be free for me or do I have to pay and use it?

All purchased apps can be downloaded on any supported device using the same Microsoft account

Should still be free as long as you use the same Live ID.

I have been using this app from 6 months ago and I use it fail cuz its convenient(thought it has some bugs but are avoidable to inform) I just make the folder once and NEVER have to be bothered for playlists again!! It is best due to this reason and one more:
It has the best and most simple UI manageable by any user(even those who use old Nokia qwerty phones) and my mom and I love it!!

Irs not on the myappfree app yet either

Just download it without any second thought!!

Its already my default music player...Its amazing! Thanks.

But does it work with Music Pass? If not then it's another useless app for me.

Only Xbox music can work with music pass, how can u think that ms will allow 3rd app to use their service?

I think ms released the SDK for Xbox music a while back to do just this. I have been waiting for the fruits of this for ages but nothing has arrived.

Same here. With 16 Gb of storage on my phone, I only really do streaming with music.

http://blogs.msdn.com/b/xboxmusic/archive/2014/07/03/microsoft-extends-xbox-music-api-availability-for-third-party-developers.aspx https://msdn.microsoft.com/en-us/library/dn546696.aspx

Available free in Colombia store... :D

Thanks. I went to Colombia to free the free version :P
Only to realize that it is free everywhere now.

This seems like the music app I've been waiting for.

still have school book as app of the day here in portugal ( 40 minutes to go)

Okay... just got word that there were issues with publishing the free price. Look for the free deal to kick in sometime tomorrow. Sorry folks.

You should have waited for the app to be published free before coming out with your article in the first place. #falseAlarm

There are always delays in Store price changes due to time zones. We use a set time for this post and this is the first time in the many months we have been posting on the myAppFree deals that this has happened and will strive to avoid any future false alarms.

Please update whenever the free pricing is live in the store

It's free. Now i can download it from your direct store link. Not from MyAppFree app. :)

OneDrive integration? Can this app play music from my OneDrive music folder?

Money Wallet is the app of the day: http://www.windowsphone.com/en-in/store/app/money-wallet/22b44031-5f8a-4...

I might buy this if it's not free tomorrow...

It appears Money Wallet heh

Still no music player with equalizer...

Here in india its Money wallet app thats today's deal.. From when does this have to be region specific..??

That's a scam free offer. This is the how to loose credibility kind of lie.

Read the article before calling something a scam

Im guessing this app will be free tomorrow. Published way too early.

Myappfree doesn't connect.."server error"

Seriously guys, stop commenting further. George Ponder has clearly explained the issue here. Scroll above couple of comments and you will see it. Will be available tomorrow hopefully. So please go easy.

It is free now,,, http://www.windowsphone.com/s?appid=552bad3e-31d2-4ac2-9c7e-cc8414ee9f57

Not free - a whole article written as a joke?

Wow, this is great! Thank you. ;)

Have tried it, it's not worth it

This is how I use all my players. Never get used to any library mode and no reason to bother with playlists. Folder tree is categorisation, folder with files is playlist. 7 day trial is fair...

Is it April 1st .... What it's JOKE of the day .... :D (GROVEEY)

Not yet free. Still asks for purchase

Oldtimers probably remember The Core Player (formely TPCMP) while it was the best Multimedia player for Windows Mobile

I am delighted after downloading trial version and am happy to pay the small price for an excellent app. I have been having skips and glitches was it my car system or Bluetooth,D preview software on my 830 or a faulty SD card no it seems it was the Xbox music app because I haven't heard a fault since using Core ! Music is very important to me best couple of dollars I could spend for something that just works.

How does Core music player compare to Loco Music player? Any thoughts?

NOW THIS IS FREE!!!! YOU CAN DOWNLOAD IT. :)

MyAppsFree is not updated this time but can download it free directly from store link provided in post.

Yay! Downloaded. Love you George and myAppFree :D

Guys... its free now!!! Please check out!

Possibly George can give a review & comparison of the top music players available in the store.... Loco Music Player, Core Music Player, N7Music Player etc

Does it feature gapless playback? If not, I don't have any real reason to switch from MixRadio...

Yay done download.location malaysia

I prefer "Listen" app for Music... its amazing.

Dont need it....i am on WP 8 and rocking the awesome music+videos app...

I am satisfied with n7player. :)

n7player and Core Music are my default for now. Switched from Perfect Music and Zbox (they are great apps as well). Core Music rocks. It's got a great UI, smooth navigation and excellent controls.

Still not Live in Latin America..

Change the region to US and directly head to Store n search..u will get it

A shortcut for the stupid time zone delay: Use the Appstore Worldwide app, go to a location where the app already is free and get it from there. Just got from Colombia.

Finally a music player playing directly from folders!!!! Been looking for this for ages

Needs a graphic equaliser

Anyone had any problems with this app? I was scanning the Music folder on my SD in L1520 and it got stuck, couldn't close the app or even turn the phone off by normal method. Had to soft reset.

I was scanning the music folder too and when it start, the app closes itself. Country: Mexico. Carrier: Telcel. Device: L1020. OS: 8.10.14219.341. FW: 3051.50009.1451.1002 (Denim).

cannot access EQ setting from this app

I can get it thru the link here but if I go to the myappfree application, Money Wallet is the deal of the day. Just an fyi.

UI is quite unintuitive with no tutorial. Whenever I tried to scan my phone for music it just crashes so it's useless. As of now, seems like a piece of garbage to me. Guess it's just my phone.

I have been using this app from 6 months ago and I use it fail cuz its convenient(thought it has some bugs but are avoidable to inform) I just make the folder once and NEVER have to be bothered for playlists again!! It is best due to this reason and one more:
It has the best and most simple UI manageable by any user(even those who use old Nokia qwerty phones) and my mom and I love it!!

Its free. Just downloaded in India

Thanks for the heads up George

Now I got u for free... Thank you myapps for free....

I'm getting 80080206 error..pls help

Folders option is great Crashes and Freezes a lot on Lumia 640 How do i import playlists?
Windows Central Newsletter
Thank you for signing up to Windows Central. You will receive a verification email shortly.
There was a problem. Please refresh the page and try again.