Corsair Scimitar review: A gaming mouse for MMOs, MOBAs, and more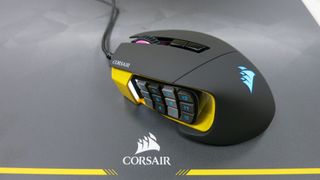 Hugely popular massively Multiplayer Online Role-Playing Games (MMORPGs) like World of Warcraft and Multiplayer Online Battle Arena games (MOBAs) like League of Legends are really keyboard-heavy titles — but what if your mouse could take some of that load? With the need to quickly access lots and lots of spells and abilities, players give their keyboards serious workouts as they rapidly call upon all those powers. Turns out there's a mouse that can take some of that burden: the Corsair Scimitar.
Corsair's Scimitar Gaming Mouse is designed especially for MMO and MOBA players. On top of standard gaming mouse features like sensitivity controls and customizable lighting, the Scimitar features 12 mechanical buttons on its left side. This vast array of buttons should help PC gamers cast numerous spells and abilities with the touch of a thumb. But is the 12-button thumb-pad too complicated for its own good? Read our full review with video to find out!
Scimitar at a glance
The Corsair Scimitar is a wired right-handed mouse. It does not include any additional accessories. These are the mouse's basic features:
Exclusive Key Slider macro buttons - 8mm
12 optimized mechanical buttons - designed to pro player specs.
12000 DPI pro-proven optical sensor - pixel precise gaming.
Dynamic multicolor backlighting - nearly unlimited lighting customization.
Complete CUE control software - Link and program your Corsair RGB keyboard, mouse and headset to deliver the ultimate MOBA and MMO gaming experience
The non-removable USB cable features a high-quality braided construction, so it should last quite a while. The male end of the cable has the same attractive "Corsair yellow" styling found on other products like the Corsair STRAFE Keyboard.
As a bonus, the cable has a built-in Velcro cord wrap. With it, you can easily wrap the cable up for transportation or storage. A nice cable, all told, and apparently it even tastes good too.
Body
The main portion of the Scimitar's body is covered in a smooth rubbery coating. It feels exceptionally soft and smooth to the touch. I'm used to a bit more texture, but this mouse's silky exterior certainly grows on you. On the downside, it shows hand grease more easily than textured plastic mice.
The right side of the mouse has a separate textured rubber grip for your ring and pinky fingers. The actual texture consists of a distinctive pattern of triangles. This portion of the mouse counterbalances the smoother main body by providing some extra grip.
The top of the mouse holds the scroll wheel with a tire-tread pattern. The wheel is set into a slot that cuts all the way through the bottom of the mouse, exposing the entire wheel and its light-up effects to view. You'll be hard-pressed to find a sexier mouse wheel.
Just behind the wheel you'll find two glossy black buttons. These increase and decrease mouse sensitivity on the fly. Using the Corsair Utility Engine (CUE) software, users can customize five sensitivity settings – all the way up to 14,000 DPI (Dots Per Inch). A light near the 12-key pad even changes based on the current DPI setting.
12 keys of fury
The Scimitar's claim to fame is, of course, the 12-button keypad along the left side of the mouse. Why the need for such a thing?
Most gamers only have five fingers per hand (humans, pfft), which means they can only access five or so keys on the keyboard without having to move their hands or fingers. The Scimitar takes care of that by letting you map 12 functions to a mouse area covered by your right thumb. This lets you keep your left hand in a fixed position on your keyboard (such as on the WASD keys) while providing quick access to every other function you might need with the right hand on your mouse.
Putting 12 buttons on the left side of a mouse might seem confusing, especially given that most mice only allocate a pair of forward/back browsing buttons there. The Scimitar certainly requires an adjustment phase, but smart design decisions help players find the keys they need without too much trouble…
First, each of the four columns of buttons is separated by about 2mm of space and the rows are roughly 1mm apart. The keypad itself has a concave curve on the vertical axis and bows out in a convex manner along the horizontal (like a potato chip) — the curves match the natural range of motion of our opposable human thumbs. And two of the four columns have both a dark silver color and a distinct texture for quickly feeling your way around. Plus the number of each button lights up.
As for the 12 buttons, they are each set on top of tiny mechanical microswitches. This provides more precise control than cheaper forms of actuation. Each button makes a nice click when pressed, letting you know just when the button has activated.
The 12-key pad is an unusual mouse component. As such, people with varying sizes of hands might have difficulty reaching all 12 keys – if they couldn't be moved. Luckily, the entire pad can be slid forward or backward for comfort. Use the included tiny Torx screwdriver to loosen the hex screw on the bottom of the mouse. Then you can adjust the pad's position and tighten it back up.
Although normal mice automatically assign Back and Forward functions to the left mouse buttons, the Scimitar does not pre-program any of the 12 buttons with functions. Users must do it themselves. That strikes me as a mistake; how hard would it have been to at least program Back and Forward as defaults?
Still, it's easy to program any of the 12 buttons with standard functions and keys using the Corsair Utility Engine software. You can also create and assign macros, shortcuts to launch programs, media controls, and much more. The Scimitar can be useful for more than just games, it turns out.
Lighting
The Scimitar has four main lighting zones, all of which can be customized independently:
Mouse wheel
Corsair logo on palm
Front of mouse near wheel
12-button pad
Additionally, a fifth light beside the number pad indicates the current DPI setting. The colors for all five DPI settings can be customized independently.
As for the four primary lighting zones, users can turn off or select from three lighting presets for each zone:
Solid: The selected area remains lit up with a single color of the user's choosing.
Color Pulse: The selected lights pulse up and down in intensity. You can let it pulse between random colors or select two specific colors.
Color Cycling: The light cycles between various colors when set to random, or two specific colors of the user's choosing.
Color choices and DPI settings are saved directly to the mouse.
Overall Impression
The Corsair Scimitar is a very different mouse than most of us have used in the past. The 12 buttons add a new degree of complexity that users will need to adapt to — this certainly isn't a mouse for everybody. But those buttons provide quick access to any gaming (or non-gaming) functions that you might need, so after the adjustment period they can be of huge benefit to some users.
12 buttons aside, the Scimitar is slightly bulkier and less ergonomic than the Razer mice I've used. Personally, I prefer a harder, more textured surface than the super-smooth body of the Scimitar – but other people will probably fall in love with the smoothness. To each their own.
The Scimitar offers exceptional performance, sexy lighting, and more buttons than many of us would know what to do with. If you're looking for a mouse that will streamline and enhance your MMO or MOBA gaming, the Scimitar is a sharp choice.
Featured Mouse Surface: Corsair MM600 Double-Sided Mouse Mat
Get the Windows Central Newsletter
All the latest news, reviews, and guides for Windows and Xbox diehards.
Paul Acevedo is the Games Editor at Windows Central. A lifelong gamer, he has written about videogames for over 15 years and reviewed over 350 games for our site. Follow him on Twitter @PaulRAcevedo. Don't hate. Appreciate!