Microsoft updates Cortana with recommendations for nearby places and local apps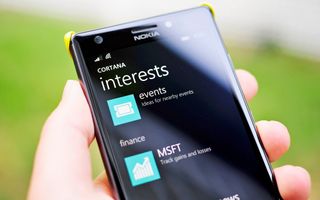 Yesterday we saw Cortana get updated on the background with a few changes or Windows Phone 8.1. If you went into Cortana's Interests you'd see a local events finder. Microsoft stated that they'd be updating Cortana every few weeks. Today some users see a few more categories under the Interest's section – recommendations for nearby places and local apps.
We're not seeing the update on our phones yet, but we've go the screenshots to show off the feature. Be sure to check to see if it's rolled out to you.
Nearby places
With nearby places, Cortana will give you recommendations for places to eat, shop, eat, drink and hang out based on Foursquare's location database. You'll find locations based on popularity, newness and buzz.
Local apps
With local apps, Cortana will give you suggestions when apps are available for nearby events and attractions. Visiting Park City, UT in the winter? Then Cortana could recommend an app for the local ski resorts. Going to Disneyland? She'd probably recommend the official Disneyland app (if we had one).
These are two very cool features rolling out to users. To check if you have them, go to Cortana -> Menu (Hamburger icon in top right) -> Interests -> Discover and look for 'best nearby' or 'local apps'.
Did they show up for you? We're not seeing them yet, but want to know if you do!
Thanks for the tip Jessica!
Windows Central Newsletter
Get the best of Windows Central in your inbox, every day!
Cool! MS is picking up pace :D

No not yet but glad that they are updating her quicker than the competitors now only if she could detect music better and perform faster

Seeing it right now in Auburn, AL though it's acting quirky. I'll add the option, save it, then it disappears have to start all over again.

I can't see them either :(

Congrats Gautam on winning surface pro3.

Thanks Pawan! But the prize was to choose between Lumia 930 or a Dell Venue 8 Pro tablet :)

not yet but i'm not in the states which might have something to do with it. anyone in freedom country checked it already?

Just checked in Texas, nothing yet.

Waiting for Lumia cyan update for lumia 720 in india

Gee that's so interesting and integral to the discussion.

I know, the comments section wouldn't be the same without this ;)

Waiting for my toast to cook

I never got the last update much less this one. And I'm in the states.

I'm in FL and I got the update.

Sam I appreciate your post but the amount of typos in this article is really bugging me. To me WPCentral is much more professionally written (whilst in a casual tone) than most other WP sites, and should remain that way. Examples: "with a few changes OR Windows Phone 8.1", "eat, shop, EAT, drink", "we've GO the screenshots".

I was going to say pretty much the same thing. I'll chalk it up to this being posted late and Sam needing some sleep. The WPC crew does work themselves pretty hard.

I haven't gotten it yet, but I'm excited about these regular updates.

Nada for me either Nokia 928 AZ, USA

Yet not received in India.
But , local scouts are now available here with local apps , buzz , and photos of that location.

An app for the local ski resorts? Yeah that would be nice. I've been wanting an official SkiUtah or Snowbird app. Probably never get them.

Now Bing shows flight status too. A friend of mine had a flight and it appears on Bing. Very cool to me. Bing is becoming more than a search engine. I really how news preferences are synchronized between apps.

Yeah me too found that update. It was asking me to say yes or no to my home, where the location indicator spotted. It's for better performance of her about directions.

Cortana gets updates before most of us GET Cortana!

Lol yes and you should be happy about that :P because it means that once she is available to everybody there will be less problems and her functionality will be sth to be proud of

Waiting for Cortana launch in India...

Keep waiting to infinity and beyond... :P

just change your region and language to usa, otherwise wait............ till the world ends :P

Sorry but it's not going to happen. Expect it in 2016! :P

Actually I've heard it even may be this year!

Cant see the event option,in my Cortana list

Mine shows only eat+ drink. All the new additions are not showing. Could it be due to my location?

Cortana is now officially useful.

I crack up every time I see your avatar lol Posted via Windows Phone Central App

How to get flight info from cortana what to type?

Simple - "Track flight aa 1085" or similar

Boston, on 1520. I now have them available.

tropical island on US settings, got both of them :P EDIT: im surprised it actually works, seems like foursquare is getting useful, btw i live in the dominican republic

Redmond, WA. I see them, and events. Events is new to me, must have missed that addition.

Ok, I see the screen shot in the wpc post. I have all 4 as in the Discover list screen shot.

Events have been added few days back.

Got both local apps and best nearby. Also got events as well. UK with US tweaks.

I'm so excited about all this!! Go Cortana!

The "do an impression" no longer works, or at least not for me. Edit: It's working now that I checked again lol, two hours ago I swear it didn't work :P

I noticed this earlier today. Unfortunately because of where I work being a tourist attraction the majority of its suggestions have been locations at work so far - and I don't often hang out there unless I'm being paid to be there! Hopefully she'll spread a wider net and then maybe the feature will be useful

Anytime I ask Cortana a question, instead of receiving a personalized response, I get a bing search. I tried hard resetting. Still not working. Could someone help

MS needs to stop this rolling out garbage and just give us the update. Last time this happend it was 3 weeks before it rolled out to me. HATE IT

At least you have Cortana!

Not sure why, but the local events option doesn't seem to ever work.

LOL chill out. When this goes live they want it to be well not Siri when she went live. :)

From Philippines using US as region. Got the first update (nearby places). No local events yet.

Don't see the update in Texas either. I set up the eat+drink interest, but I never see anything on the Live tile or when I open Cortana. Anybody got any ideas?

Live in Redmond on my 1020

Got here in cagayan de oro philippines

Not showing in Australia yet. I got the last updates.

Lumia Icon with 8.1 in Utah no sign of the new Cortana features yet.

Found them. And there is one more thing, feedback option in last. Launch Cortana via icon and slide to last you will see that. I like giving feedbacks.

Yes I have it. 925 cyan Greece

Got it like hot cake. And address to my Cortana suggestions.

Omg, it workings here in India Posted via Windows Phone Central App

Feedback feature is also greater.
Hands option for like. Dislike and suggestion.

I have it. But I haven't played around too much with it yet.

Very impressed by the Cortana team.

I just have it on my Nokia Lumia 925 with the upgrade to Lumia Cyan / WindowsPhone 8.1 | Monterrey, MEXICO. | Telcel carrier.

i haven't got this yet :|

Zzzzzzzz uk. When I get this Il be to old to care.

We do have a Disneyland app.

That reminds me of an iOS 8 feature which displays a small app icon on the lock screen when the phone is near a place which has an app.

Great news! *looks at the map* Oh, wait... Still no Cortana in Europe.

Updates on cortana? I'm still waiting on that ff**ing slow cyan update. It's ridiculous and mind blowing how a company the size of Microsoft with enough money to burn.. has to take months and months to enroll a ff** phone update. Lumia 920 here in Belgium.

Blame carriers, not MS. On the other hand if MS managed to prep update for L625 and L925 and it's available at most carriers already...

Months? It was released weeks ago. Wake up.

when will we get cortana interantional language support for more countries? Currently Cortana is not very useful for non-native english speaking countries. Cortana could already be a much bigger success if the baiscs were covered for other countries such as dictation and speech recognition for gps for more non-native English speaking countries. All other Cortana gimmicky features should be put way at the back of the Cortana roadmap. I'm reading Cortana feature this and that and can currently not help getting the impression that Cortana is currently not making and sensibile sense a functional device even if windows phone is selling better outside of the US. Windows phone with Cortana is currently a very expensive dysfunctional toy and miles behind what android and Siri can do. Microsoft needs to get their priorities straight with Cortana.

She has barely four months of life, what you talking about it? Siri it's out there for years and doesn't speak a lot of language. MS is pretty fast with Cortana update/release.

My mistake then on the part of international non-english native language support on the part of Siri. But then again still reason microsoft could have learned from apple that a different roadmap could benefit their image, appeal of windows (phone) if they picked up faster on the language support thing. I'm only seeing a deja vue of siri in Cortana. Only english speaking countries can truly enjoy the full benefits of siri and cortana, while the rest of world still sits waiting and playing and losing interest in siri and cortana after but a day, just because its useful due to the limits of but a few languages in its total functionality. Cortana and Siri just cannot recognize enough other words. The functional user experience is lost as is also then its general usability in the grand scheme of things and eventually business. Cortana and Siri need to work like a star trek translation communicator. This can only be achieved if apple, android and microsoft invest in native-language support first and support productivity items like dictation and gps (in my opninion) as a goal first. The world is not waiting for recommendations of local apps and places yet, because the recommendations, on a global scale, are besed served with native language support. This support should be put later on the roadmap in the grand scheme of things. I read an article that windows phone sells better outside the US. But we still can't use cortana properly, let alone that countries have cortana turned on at all on their phone at this point in time. Microsoft has supported multiple languages for windows for years now. I would think getting multiple language support fixed first before promoting the finer functionalities and gimmicks of Cortana. In my opinion microsoft has already overdone proving that Cortana could have a place. They now just need to get their priorities straight if they want to get serious with Cortana. Language support and recognition first then the recommendation stuff etc.

Are you insane? Cortana (US) was released officially this months, and it's arriving UK and China later July/August. AI it's not a simple technology, and it's not easy for sure. MS wants to make Cortana the best way, and they are doing REALLY fast.

Thanks for your comment Zapella. Cortana has indeed just been released officially, but has already been available a while before, well, for almost everyone as a developer preview for (almost) the whole world. Officially yes now US, UK and China. Yes, I agree it is not a simple technology. Am I not critizing their current speed of updates in their current roadmap. I do think however that now that cortana is officially released the priority should now go to Cortana project roundups of native language support beyond US, UK and China. I see the logic and usefulness of the the functionality of local recommendations. I think however that the investment of time and R&D for this effort could have been postponed to a later date in favor of pushing forward the language support roadmpap, also part of Cortana, which was announced a longer while ago, to bring out these updates first. I currently cant use Cortana properly in Europe because the support is limited to English and certain markets, and is even not available in many markets! Microsoft is pushing hard for a global market withe windows (phone). From my perspective I see that certain Cortana features could best be served and developed now, rather than "smaller complex" projects in favor of further polishing its functionality, that currently isn't usable to its fullest capacity on a global scale, even locally on a global scale. Yes Cortana is tailored for usability in the US, UK, and probably China. But outside these regions the experience will, in its current form, diminish quickly. But to fully apreciate its usefulness the language packs needs a serious update now, however complex it may be. That's what I mean with setting priorities in their current roadmap. Siri on a friends phone does not recognize many places foods and pronountiations in my country. I think there could be a similar issue with Cortana. I would like it to understand these sounds. That would make it a good experience. Untill that is resolved I'm afraid Cortana will be limited in its usefulness to just a few markets. Siri has the same issue, what I've noticed with a friends iphone. On paper and to some degree in practice Cortana makes sense and is cool, but it still needs more basic refinements to actually make it part of daily life. For the current official release it still has a long way to go on a lot of even more basic levels (example dication in other native languages, voice-text recognition in native language for gps, weather reports in native languages etc.). Maybe microsoft can, now, today, learn from the shortcomings of Siri and quickly build on that in a postive way. I think then microsoft will get it right.

It's weird on my 1520 i see nearby places on my 920 it isnt there ^^


end even more weirder is now that i configured it in my 1520 its also an the 920 but without any function!


Yeah right! Australia is left behind, damn!

Yeah, finally foursquare investment is getting useful :)

Lumia cyan, 625, Colombia......when??????

Also have a new link "Share my feeback about Cortana" just below my Cortana's Home. http://i.imgur.com/ZJzCFVa.jpg

I have only eat+drink and events on mine :(

Not available in Maine yet. Though sometimes you have to be in Portland when these things first roll out.

Do these features work out of US?

Local Scout works also outside of the US.

I think Cortana should tell us when she can do something new. Maybe when she's launched from the Live Tile she can have her "moment" to say "Hey so-and-so, I've learned some new tricks. Want to check them out?" Then we can have the option to see what's been updated. Most regular consumers will probably never know that these new interests came around unless they become curious one day.

I think they need to fix the loading issue when you have Cortana pinned to the home screen. Since i removed it, I haven't had the resuming or loading message on my Lumia Icon that causes the phone to heat up and the battery to discharge by as much as 30% in a couple of minutes.

South Africa, Lumia 520 on MTN, I don't don't have it yet..

I still don't see this. Los Angeles, CA