Cortana for iOS nets a new look and comes to the UK App Store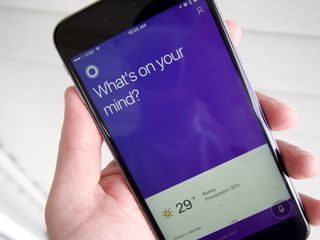 In playing a bit of catch-up with its Android cousin, Cortana for iOS has been updated with a bright and poppy new design. Alongside the revamp, Microsoft has also made Cortana available on the UK App Store (via Neowin), letting even more Microsoft faithful on iPhone try it out.
The design revamp was actually announced back in December for both Android and iOS. It includes some bold new color options ranging from violet to blue, green, or grey. There's also now a new grid icon for accessing a batch of quick actions such as viewing your reminders or the weather. Here's a full look at what's new in this version:
A fresh new look with an improved user experience
Redesigned calling, texting, and reminders
More immersive full-page answers
Faster page transitions and improved app responsiveness
This all comes as part of a big update to version 2.0. If you want to check out all of what's new for yourself, you should be able to grab the latest version of the app from the App Store now.
Download Cortana from the App Store (opens in new tab)
Windows Central Newsletter
Get the best of Windows Central in your inbox, every day!
Dan Thorp-Lancaster is the former Editor-in-Chief of Windows Central. He began working with Windows Central, Android Central, and iMore as a news writer in 2014 and is obsessed with tech of all sorts. You can follow Dan on Twitter @DthorpL and Instagram @heyitsdtl.
Surprise! Surprise! It looks much better than the Windows 10 Mobile version. I bet it works much better than our buggy version too. I miss Windows Phone 8.1 every day for its design and stability.

I can't. I'm on a Lumia 950 XL 😢

The next phone I'll pick up will be my first Android phone.

Wow... You guys are such fanboys on this site. I have never owned a non-Windows phone and am one of Microsoft's biggest fans but Windows mobile has been going downhill for years now. If I said that I was going to switch from Linux to Windows for stability and more apps i would get tons of likes but I get tons of dislikes for the same situation except I'm leaving Windows mobile. Such hypocrites!

I was talking to a guy at GameStop and he didn't mention he had ever used Windows Phone but he uses Cortana on Android. It's encouraging that Microsoft is counting users on other platforms, so long as their software is in use. I also think at times that Windows Phone has drastically reduced in quality. It seems so far removed from the blazingly fast, intuitive and unique interface I fell in love with. I'm highly considering an iPhone in the fall after they release a new model. I'd likely get the year old version. I will wait to see what Microsoft does as well. I expect this software to be much better by then. Well...I hope.

the latest fast ring is really good 15055 can really see the new rendering API in action

It's been known and said that Redstone 3 & 4 will be much bigger updates than currently and will focus on mobile.
By end of this year they will release the next one.

It was RS2 that was supposed to be mobile centric but now delayed till RS3/RS4. My take, they just keep postponing it until they decide what to do. Most likely w10m will be scrapped after windows on arm comes by

Don't worry, you will get dislikes for anything. Even if you're a fan and giving feedback about bugs for others, you will get disliked.
Do what comforts you.

it coming to w10/mobile in rs3. and iPhone and android are easy beta tester cause it a app and not tied to the OS

If Android and iOS users are beta testers, then Windows 10 Mobile users are alpha testers. Cortana and many other OS features and apps are very buggy and don't feel fluid or interconnected like in 8.1

for it to come to w10/w10m it would have to be implemented at a OS level.

All smartphone users are beta testers for the new Surface phone

Awesome. What type of pay will we be receiving? After all, I didnt dump $900 to be a BETA tester.

For those that don't get my reference, I was referring to the old Nokia ad. https://youtu.be/_elqLDSt36k

Yes Windows sucks iOS apps really rocks

When I clicked on the link, I thought for a half a second that it would take me to the Windows Phone app store. Sad.

If you have Android, the preview app is already updated for India.

Never gets old, right? xD

Relax, we windows phone user's will get an update soon. We are the primary user's, right?

I'm not smart enough to find the option to change the theme to something not purple... Are we supposed to be able to change the background color and icon color in the new iOS version?

I couldn't find it either. I got irritated with it and installed a previous version instead.

I suspect Project Neon will see changes for Windows too. No point in Microsoft changing it before then.

Yes MS should send the message to all users that if you want it to be the best version of MS' products make sure you experience it on someone elses platform. MS needs it's own platform to be flexible enough to do something as basic as change the graphical layout of something like this. It's not like anything there isn't just about design which they already have done with the version they have there. MS can't play the same wait 6months to a year to get what they do on other platforms on windows game they've been doing. It makes Windows look like crap.

Well, my biggest issue with the Windows 10 Mobile version of Cortana is having to retrain her to listen to my voice. For whatever reason, always listening will stop working. That can be pretty annoying, when i want to use her, while driving. Which brings up another issue...spotty Bluetooth connection. Other than those two issues, I've been good with the last few builds.

redesigned calling and text? wait what?

Sad to see interesting things more towards Android and iOS.

It's not even worth complaining about anymore. Were third fiddle to MS and have been. We should be used to it. They leave us out of things and don't communicate with us about the future.

They have communicated with you. They are not interested in Windows Mobile for the foreseeable future. Maybe someday they will come back to it. https://www.thurrott.com/mobile/windows-phone/81484/microsoft-discusses-... http://www.windowscentral.com/microsoft-windows-10-mobile-still-includes...

Could you please post ios news on ios central. I'm not interested in it and it just irritates me to be reminded time and again that MS its priority is with apple and not with windows mobile.

This is Cortana news. #fakenews

I agree, it is 'Windows' Central, if you want to report on all things Microsoft call yourself OnMSFT:) otherwise stick to the OS news and all devices that run it. I have a sneaky suspicion that most visitors of this site are Windows phone fans. Best not to piss us off to much with this kind of news. We probably wouldn't even know how bad the state of Windows mobile was unless you told us all the time. Stop reporting on Windows mobile market share, it doesn't matter anymore unless the numbers go up.

I've had it on my lgg5 for a bit and I have to say I've been impressed not quite as good as the wimo version but like I can use it on my G5 after picking one up.

For ****s sake. I'm still looking at Cortana only using 2/3rds of my phone's screen and here we are boosting up iOS. Someone get rid of Nutella and do it now. He is to worried about selling Mocco Lattes vs asking what in all hell is going on with stuff like this. Can't what until Panos finishes busting his ass on some bad ass Mobile hardware only to find out the OS it will need to run, has gone to complete hell under Nutella.

I agree, it's ridiculous that Cortana can't scale to the size of the phone on mobile. They provide you the option in the settings to alter the size of items on the display, getting more info on the screen and Cortana shrinks with it. A stupid oversight on their part that I can't believe hasn't been addressed.

They dont address a damn thing with Windows 10 Mobile same crap, same issues for over a year now. They need to fire the whole team and get people in here that want a job.

And this is good news for windows phone users because..........?

Because they can now buy an iphone

Articles like these just make me want to put a face palm emoji.