Microsoft says Cortana now has more than 141 million monthly users
One way or another, there are a lot of people using Microsoft's Cortana voice assistant.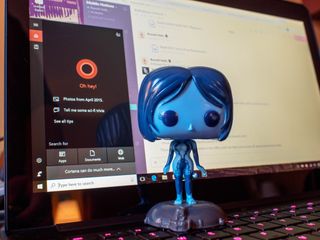 On stage at the Build 2017 developer conference today, Microsoft announced 141 million monthly active users for Cortana. This number is slightly off from the 145 million number that was rumored to be sent to prominent Alexa developers in order to lure them over for the "Cortana Skills Kit" developer tools launch. But it's an impressive figure all the same.
That 141 million monthly user number surpasses Amazon's Alexa by a considerable margin, considering only 3 million Echo units have reportedly been sold as of last month. The big question here, which in an early briefing Microsoft was unable to answer, is how many of those monthly active users actually speak to Cortana. Microsoft's figures are for any kind of Cortana use, which includes text, voice, and assistant notifications based on user input. That information may prove useful for developers looking to target Cortana Skills to the largest portion of their users' activity type. For now, those details aren't available.
Harman Kardon Invoke speaker with Cortana revealed
Cortana's significant user base across Windows, Xbox, Android, and iOS is impressive. Microsoft expects Cortana Skills will put Cortana in a position to better compete with the whole category of digital assistants, and if that figure is enough to convince developers to give this platform a fair shake, the monthly figure will likely expand even faster.
Get the Windows Central Newsletter
All the latest news, reviews, and guides for Windows and Xbox diehards.
Russell is a tech nerd who chases the best of everything, from phones to game consoles to laptops and everything glowing or beeping. He's the Managing Editor of gaming content for Mobile Nations and can be found contributing to all of the Mobile Nations sites. Reach out on Twitter!