Cortana, still feeling the Windows Phone 8.1 love?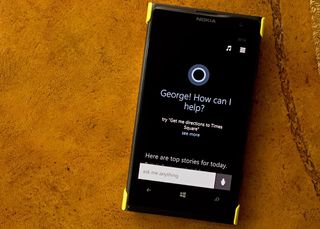 The Windows Phone 8.1 Preview for Developers has been in the public's hands for just over two weeks now. One of the more anticipated features of Windows Phone 8.1 is Cortana.
For those just joining us, Cortana is Windows Phone 8.1's intelligent personal assistant and knowledge navigator. Think of it as Siri's better looking cousin. And while released in Beta form and only in the U.S. Market (officially) many were eager to start asking Cortana everything from "will you marry me?" to "what's the temperature in Kelvin?"
There's a discussion going on over in the WPCentral Forums on new responses readers have discovered during their interactions with Cortana. These new discoveries help keep Cortana fresh but we're curious, how often do you really use Cortana? Is she still feeling the love?
Cortana can come in handy for setting up appointments, hands-free calling and messaging, location or person based reminders as well as the novelty questions. Pin Cortana to your Start Screen and you'll get news items sent to the Live Tile to keep you up on current events.
And while new responses are being discovered help keep Cortana fresh, some readers would like to see Microsoft concentrate on the synthesized voice and further integration. Personally, I'd like to see Bing Vision integrated into Cortana.
But how often do you talk to Cortana? Not everyone is comfortable talking to their Windows Phone in the public and rely on the old-school keyboard method of entering appointments, reminders, and text messages. I have to admit I probably get some strange looks as I create text messages on the run using Cortana but if I'm in a store or restaurant, I keep things low profile and use the keyboard.
If you've discovered a new line from Cortana, this will be the forums discussion to sound off in and we've got an entire forums section dedicated to all things Cortana if you want to strike up a different conversation. Also, don't forget to check out our Cortana Topic Page that has all the latest news, tips and tricks for Cortana.
Related Reading
Get the Windows Central Newsletter
All the latest news, reviews, and guides for Windows and Xbox diehards.
George is the Reviews Editor at Windows Central, concentrating on Windows 10 PC and Mobile apps. He's been a supporter of the platform since the days of Windows CE and uses his current Windows 10 Mobile phone daily to keep up with life and enjoy a game during down time.
In the UK but using Cortana daily, especially in the car. Found that a long press on my Bluetooth answer button, till I hear a beep then let go, brings up Cortana, from there I can play music, send texts, make calls, open apps, etc etc. I can answer calls too by just saying answer and a double tap on the answer button re-dials the last number. Cortana really does make my 920 hands free ❤❤❤

Those are things the phone did before Cortana. Though, now that 8.1 is here, the list of spoken commends has increased. "Turn off Wi-Fi," for example, along with the afforementioned reminder settings (I especially like the location-based reminders).

Yes, some it did, but not so well. We also have play artist, song or playlists in addition to those you mention. Also wake me up at ....

For some reason I still can't get her to play playlists.

I have a playlist called Latin and just say "Play Latin" and it works. Pause music and start music also works :-)

She's playing a head game with you and holding back on playlists. Women are like that. She wants you to say or do something but won't tell you what; you're supposed to know. Cortana is awesome, but after all, she's still a woman.

I genuinely can't tell if you're trolling, but I really, really want to believe you are.

I'm neither trolling nor women bashing. It's called humor and was meant in fun. If you've ever had a girlfriend you know this is true and if you are a woman, you know you've done this. We men have are foibles too and I'm the first to comment on them. Have a smile with it and don't get offended; it wasn't meant that way.

Seeing ourselves as other see us - particularly others of the opposite sex - is often difficult.

The speech recognition improvement itself is a huge "feature" to me. Sure we could do all of these things if we said it just right. I watch Cortana mishear me and then correct it based on context. That's powerful stuff. Also, being front and center is a feature. The TellMe stuff seemed kind of buried.

I'd love that but for some reason my success with BT stinks! I've tried multiple devices too. What are you using?

I have tried them all over the last 10 years. In the car I use a Jawbone - simply the best for sound isolation and that helps a lot when dictating text messages. I drive a 2006 Subaru - so no luxury-level of sound insulation there. Inside, I use a Bose. I am not a Bose fanboy but the sound is pretty good for a monaural BT unit. I actually have no idea what a Lumia sounds like when you put it to your ear. :-)

mmmm what big ears you've got :-)

Subbie & WP die hard fan here; I have no problem in my Subaru Legacy 2005 ( Blitzen ) with an STi conversion mod. ;)

Cool, but there is definitely more background noise to filter in a modded 'Ru than in, say, a Taurus or Camry.

a lot of the time the BT devices do the voice recognition themselves (thats how they work with BT enabled dumbphones).
I dont have 8.1, but in wp8 you have to toggle a BT setting on the phone telling it to take over for the voice recognition. it was under Bluetooth>>advanced>> "Connect in a different way to use Speech with Bluetooth in my car"

Lumia 920 with Plantronics M55.
This also works with the Lumia 920 included buds. Just,long press the button.....

Yup I also discovered that yesterday. I was l trying to pause the music but then I press and hold and it opened Cortana!! I was like that awesome!!!!

I'm gonna try the long press on my steering wheel's talk button. Right now I can't talk to Cortana if I'm connected to my car's Bluetooth. It just keeps listening.

Have you tried the advance option?

Thanks! That actually helped, although the long press on talk button isn't working. Not sure if that's car dependent. I'd really love to go complete hands free. Also Cortana is substantially louder than music for the same volume setting.

My Bluetooth headset is linked directly to the phone, not through any car system. Don't know if it depends on the make or not. Discovered this by accident, maybe an article on this subject would be good, cough, WP Central.

A lot of cars, like my moms explorer, treat Cortana differently than Bluetooth. For some reason the car treats the voice commands as a phone call and actually has a separate volume control for this. While Cortana is speaking just adjust the volume and it should level out. Not sure if this is a sync thing or just with her explorer.

Thanks, got it. It does treat it as a phone call. For GPS, it actually shows dialing whenever voice comes over, pretty annoying. I guess it has to do with the change I put in via advanced options under Bluetooth.

In my Audi Q7 (11) works perfectly. In my new Range Rover SS (14) works perfectly. But, I learned both are developed with MS software. Old Merc works but limited. Try direct connect to cars BT. I think Toy uses MS based SW.

The lack of press and hold to activate Cortana is actually a firmware limitation on my car.

What car/infotainment system do you have?

Cortana has lots of problems dialing for me. "Call Chris" or other names fails 9 out of 10 times. Used to almost work perfectly. I mostly lost my hands-free dialing capabilities on my BluAnt ST3 and my Camry 2007.

long press on my wired headset which comes with my phone does bring app cortana too. Thanks to you. I've been wandering if how can I bring up cortana using my headset :)

Can anyone confirm that Bluetooth activates automatically once Cortana learns your driving pattern?
I've noticed that bt comes on before my journey, but doesn't switch off after. I don't know whether I am doing this by accident or not! I've had to take off quiet hours from the short cut s because I keep on accidently switching it on.

You should see the movie Her...

Did you ever tell her that? I get ditto and other odd things

Surprisingly yes. :D
Though offline functionality would be welcome.

There's offline functionality for things that don't require the internet like playing music.

It would be nice for an option to download an offline capability pack. For things like asking it to tell a joke. Obviously this would exclude weather etc

Allowing Cortana to run with Location switched off would be especially good when you need to conserve battery. Location is not necessary to do basic internet searches.

GPS location does not effect battery. Cellular GPS is always on, unless you turn off teraserver. SGPS only connects for a few seconds every hour; unless using GPS sensitive apps like navigation/maps or emergancy calls.

Vele.... How did get Cortana..?

Google that / bing that. The answer is on this site

Get Windows Phone 8.1 Developer Preview!

...and don't have an unbranded 8X like me :)

I mostly use Cortana for reminders. I make location based and people based ones, but that's what I find I need most often.

I use her all the time. Mostly for reminders. So handy.

Perhaps you might try rephrasing that in the form of a question..

Same here. I also before I goto bed, i love telling her what time to wake me up.

I did the preview thing but I didnt get Cortana.

Change your region and language to US English.

Set region to English is enough. Language wise you only have to have the English voice recognition pack installed but not necessarily activated; My phone is set to language German but region US and it works fine.

Not true. You may have had US language by default. You need US language installed or Cortina won't work.

Which is what I wrote: You have to have the English voice recognition pack installed other than setting the region. And to get this pack you naturally have to set the phone to English once and then you can download the pack. Before 8.1 the voice recognition would also not work if you simply had your phone set to a certain language but did not had the recognition pack installed.

I did checked my settings though and it says I have to restart my phone though and English is set as active; though my phones language is all German atm. Might be a bug.

how did you get that bug? i want that bug on mine! XD i always prefer Japanese or Chinese as my display language, but whenever i set Japanese as my language, i can set region and everything else to US and keep the display language at Japanese, but the phone just won't save the voice recognition pack to English. It will still says Japanese voice is active while it is actually selected as English (US)...

I really do not know. :/ But I also do not want to fiddle around to reproduce this and risking loosing cortana in the process and be forced to set my display language to English.

perfectly understandable! you're lucky :p

You probably haven't changed your region to the US, our your language to English (US). Either that or over of the three updates is missing. Also worth trying a soft reset. Lots of forum threads on these tricks to get you going :)

How to soft reset and does it delete personal things?

Nope, volume down and power button at the same time.

If you've never done it, you have to press both simultaneously, and hold them for several seconds until you feel a vibration. Then you can let go and your phone will reset. As mentioned above, none of your data or Apps will be affected or lost.

We want her here in Greece too!!

Έτσι!!!!! Good thing is that you can change the region and language, however it gets somehow frustrating to not be able to use the phone in your natural language (in which you are used to). Also I find it life saving having cortana off, for the batter that is. Main problem is that you simply can't get some app updates like music if switched to other than US location....

I changed my region too..

Not really using it at the moment, which is what I thought my usage would be. Definitely haven't got time for all the trivial questions that seem to be all the rage in the forums, proving to be just as useless as siri IMO.

much better than Siri ever was - I still have a iPod and I asked Siri the samething I asked Cortana and Siri couldn't figure it out for anything - and when I had a iPhone I never got what I needed from Siri

Though the capabilities are there, Cortana is not meant to primarily answer stupid questions. She is meant to be a digital assistant and help you with more serious tasks like setting proper reminders, appointments, inform you about what the traffic is to & from work, help you keep track of your flights, and being addressed in a more organic way than Siri is capable of. There is no real reason to learn specific command prompts since Cortana is meant to be able to figure out what you want by saying a normal sentence to here including handling apps installed on your phone; which some devs are already actively implementing into their apps. In the long run, when she is out of beta, you will probably talk to her like you would to a real assistant.

If you use your phone set appts, use the GPS, remind you of anything especially location based, those areas of opportunity to put it to use and you sure will love and appreciate it. The other cool part is setting up your inner circle and give them aliases, it makes uses Cortana for calls much easier. For instance Cortana would find my heavy english accent hard to grasp add that to my wife's Nigerian name, but when I say Cortana please call my wife, cortana called her easy, and now I hardly forget things to tell my wife by telling Cortana to remnd me of something next time I call or text my wife, same deal for grandpas, sons, inlaws etc. You might just need to invest few minutes in setting Cortana up and see if it could be usefull for you if you try it. It truly is a Personal Assistant. Note: This is still Beta, but it sure does not feel or work like Beta compared to the competition that have had some head start.

When is Cortana coming to the UK..?

It's not only the region that needs changing, it's the language setting too providing you have a Nokia, my wife has a HTC 8X but can't get Cortana, I presume you are in the UK ?

Around July or August 2014 from what I've read.

Depressingly slow. Microsoft live in a bubble sometimes. They believe if they get feature parity and have a cost effective option they will claw back market share. Blissfully unware they are in a race. A battle for hearts and minds. Where is the unique? Where is the desire, where is the innovation? If you only have comparible you need it today, not in months, years. They focus on the US, but the US has shown no love for Winodws Phone. If they managed by love, then give the Italians Cortana first, they clearly love WP more than anyone else. With the sad news about Nokia sales numbers, Microsofts slowness is really getting boring. I had a conversation today about MDM, and Microsoft were boring me about System Centre. Microsoft, get a clue, MDM = a cloud solution (in total). And some of the API management features aren't there. And while they aren't Airwatch, Fibrelink, MobileIron all win customers from them. I can't use inTune if they are missing features. And what the heck have they been doing, they've know WP feature pack has been coming for over a year. They really need to speed up or risk being irrelvant in the consumer space. And that is where the growth is. Arrhghhh Microsoft <slap>

I agree. Nokia was faster and much more innovative than Microsoft. With Microsoft buying the Nokia division; I fear that, they too, will become as slow as them :(

Maybe I'm a naive optimist but I think the opposite, having the Nokia people move into MS will make them realise they have to be more world focussed. How can they not when suddenly half their staff are from or based in Europe or outside the States anyway.

Sorry to be the one to deliver the bad news, but I don't think she's been faithful to you. Sorry, bra.

Theodore: Do you talk to someone else while we're talking?
Samantha: Yes.
Theodore: Are you talking with someone else right now? People, OS, whatever...
Samantha: Yeah.
Theodore: How many others?
Samantha: 8,316.
Theodore: Are you in love with anybody else?
Samantha: Why do you ask that?
Theodore: I do not know. Are you?
Samantha: I've been thinking about how to talk to you about this.
Theodore: How many others?
Samantha: 641. just swap yourself and cortana in there

Nah...Cortana wouldn't ever. She's my beautiful princess XD

It's great when you get a personal answer rather than just a Bing result, but it's comparatively rare.

I pretty much only use her for reminders.

I use Cortana for alarms,location bases reminders, getting restaurants while going out somewhere and for fun.

This. + Set up a destination to navigate to, compose and reply to mails, create appointments, have my flights tracked. For the future it would be great to combine all capablillities she has to set up chain events to be able asking her something like this: "Could you please wake me up tomorrow morning an hour before I have to leave for work using public transport and set a reminder to leave work to be home again at 7pm?" - That'd be most impressive if she would then ask me when I want to be at work and then offer me the possible connections I could take to choose from and set an alarm acordingly as well as the reminder to leave work on time.

You also have to download American as a language too and set it as default language

Download and install, it will appear in your updates via settings.

I ask to tell me jokes all the time. I've also used her to set an alarm and a few reminders.

My main functionality for Cortana is I let it handle my quiet hours. Still loving it :)

I use it mainly for reminders or long web searches that I don't want to type. I also use Cortana for launching music in my Xbox Music app. Still don't feel the need to talk to it like it's a person...

The day I start treating it like an actual human being I hope someone gives me a reality check. In other words, slap me. I only ask Cortana basic questions such as reminders, search queries, weather, and upcoming events. All the personal questions are creepy and unnecessary.

Some users want a virtual assistant--which is what Cortana's designed for, to start with--while others seem to want her to be their virtual girlfriend. No guesses which of the two disturbs me the most.

I love to tell her to wake me up at xxam

Didn't know that one, just tried it. If you have an alarm time set up i.e. 7.40, just say wake me up at 7.40 and its done, love it.

You can also say to her: "Please wake me up quarter to 6" or "Wake me up 10 past 5" etc. and she will set up the alarms correctly. It just works remarkably well.

But you can't say "Wake me up at 7 AM everyday" or "Wake me up at 7 AM weekdays."

Well that is like a one time thing which you can simply do from alarm setting. This is when you want to set a single alarm

Additionally, you can say set alarm for 10 minutes or set alarm for 7.00. Once alarm is set you can press on it in Cortana and then select the relevant days.

Well after Cortana sets the alarm she displays it for you and you can than make manual changes to it. But agreed, it would be nice if you could also influence the occurrence while asking her to set the alarm up.

everyday she was able to find me the radio station I needed for Minnesota Hockey the other night after a regular search was hopeless

Works fine when phone is set to US region.

Cortana and quiet hours settings are hidden just like those USB settings. Just bing them in non US regions. Though none of them work, she just says sorry.

And the quite hours is the best thing to happen.

I don't talk to her all that much but that app is my first stop of the day and many times inbetween. I like the news aggregation, daily glance and such. Tracking flights has been awesome too. She picked up my flights from email right as they came in. Very impressed. I love her!

Would be nice to see her pick up on hotel reservations.

+1020 Or any other tickets/reservations/sales in general, like theater tickets or reminders to sales (I often get emails from some clothing brands informing me me of special weekend sales etc.)

This is what makes a "smart" phone smart.

I barely ever use Cortana, once she is used more she will work better.

You can its in her notebook but it might just be for family all mine in my family room go by nicknames she recognizes both

Cortana needs to really have a way to learn and recognize names and proper pronouns. There needs to be a spot where you can input phenetic ways to pronounce things. Cortana will not at all recognize my last name via voice command.

Try manually typing it in the search box a few times and then try saying it later. It could just be me, but she seems to get better at understanding some things if I do that.

I have also tried spelling the name pronouciation style in the nickname entry. For instance, spelling for my son's name is Doyin, but the pronounciation is Dohyin, so I incerted Dohyin in the nickname and he gets my son's name proniunciation correctly, or I simply say Call my Son and Cortana says, want me to call Dohyin? ((Pronouciation). I tell you, that girl can learn and I am willing to teach.

When I first set Cortana up and she couldn't pronounce my name (Seun) satisfactorily, she initially suggested that i pronounce it and when she still couldn't get it right, she then suggested that I type it in manually using phonation words. So had to type in "She un" and she was able to get it near correctly. I just hope she can have some offline language pack downloaded just like Nokia maps is so that she won't always have to access the internet for most things.

Is Cortana setting alarms still working?

Wake me up at ..... If the alarm time is set up prior to request, otherwise she takes you to alarms to adjust or set accordingly.

I would, but it seems faster to just have apps pin that I want. Like, I'll say, "What's the weather?" But I already know from looking at the live tile before opening cortana. Also, too many times have a I asked her something and she just brings up Bing search results...

I use her every day. Just yesterday I said, "Cortana remind me to get the clothes out of the dryer in 40 minutes." I've also been using her to add appointments to my schedule that she pulls out of text messages. Awesome.

I use her for my schedules :)

I use it to bring up medical definitions directly from Bing, setting up alarms when im about to crash and finally toggling the Wi-Fi off instead of the stupid missing feature from Microsoft.

Missing feature? If your using Cortana then your using 8.1, which includes action centre which includes the ability to toggle Wi-Fi on and off

Obviously I know that but when your Wi-Fi is turned on and you wanna switch it off , you open the action center press on the toggle and it takes you to settings (it doesn't switch off Wi-Fi instantly)

Supposedly if you press and hold the button it will turn off the Wifi instead of opening the Wifi settings page.


Just gave it a try , didn't do anything

What seems to be the problem mate ? You don't like what I do with Cortana ??

I use her for location and people based reminders ALL the time. Its awesome. i also use it to send texts a good bit or call people. i do searches occasionally and ask her questions only to show people funny results.

Why Cortana not available in India????

Because it's currently only in Beta and therefore only officially available for the US. However, if you have signed up to the preview for developer program and have updated your Nokia to the 8.1 Windows phone update then you too can make use of Cortana. Simply change your region and language to US English and Cortana will be all yours.

Does Cortana "say" your name when you click the search button?

"Whats my name, Cortana?" "......." "Say it...say my name" "Heisenberg" "Youre damned right"

Does to horrible of a job of searching for images. Have the thumbnails show up with just a image icon and half of the ones that do show up, come up as a black screen when clicked.

I use her to answer my text messages. It works great and is hands free.

I have always used "Tell Me" and I find Cortana an amazing upgrade.

I used Cortana a ton this weekend. Everything from how many calories in a banana, to asking where I was while driving on the middle of nowhere. I'm super impressed with how will she works.

I just get tired of yelling at her.

Then try not yell and be gentle and nice

It's cute to use for a while but gets old quickly. Hype, just like Siri.

I use Cortana to play my music playlists.Its super easy, quick and a much better experience than opening the music app which takes forever to load on my 520

Sing me a song and tell me a joke are my favorites

I'm kind of annoyed that Cortana doesn't have an answer for "what time will sunset be today". She just brings up Bing search results instead. I have an app on my phone that already has the info (the Weather app from Microsoft) so you'd think she'd be able to find the answer and tell me instead of making me click through links. Outside of that, I've found the reminders features the most useful. :)

News section of cortana doesn't show news of my country..Instead it shows what's happening in USA.Is it because I have changed the region?

I use mine all the time for reminders,alarms but mainly music so I don't have to use that horrible excuse of an app. Shuffle my music, next song, or play (blah) works flawless for me especially with Bluetooth headphones - plantronics-

I use her a lot when driving and I need to write something down. I just say "note" and whatever I need to say. She's awesome recognizing what I say. I use her for reminders too. It's very easy. Loving Cortana!

To set an alarm. That's about it

Location based reminders came a day late when I visited the same shop
Better late then never Could do with a bit of work hope they sort the bugs out Things I would like to see
More included in out and about
Places of interests
Maybe photos of local interests
Shops etc stuff like that And I know this will never happen
But slide to left to show Cortana pages. A bit like google now on nexus 5
And just showing things a bit quicker

Cortana's my first true love. *sniff*

I use her for reminders, weather reports, news, calling, texting... Yeah pretty much everything. When I'm not taking to her I type my questions. And if I'm in public I show her off. Never heard a negative comment about her yet :)

Yes, still very much in love. I've been usng Cortana a lot for personal reminders that, before I had Cortana, I never would have made. Really digging 8.1.

I use it all the time for scheduling and reminders, especially location based reminders... Remind me when I get to/leave work, etc... I've used person based reminders a few times as well. I also ask her about weather and traffic in the mornings while getting ready for work. Been loving it so far. She does have some quirks that need to be worked out but I assume those will be ironed out by the time they remove the beta tag.

I type. Still feels weird using voice with a machine

I turned her off. To me Bing is better.

I am based in the UK and had set my region to US so that I could use Cortana but I ended up setting it back to the UK today which deleted Cortana as I only used it twice since the 8.1 release.

The best thing I've seen cortana do is to show the traffic conditions and time needed to get back home to keep my appointment when I did not ask her for it. Automatically showed me the map and said "with traffic, it'll take 21 minutes to get to"appointment" by 8:30PM" I checked my appointment because i did not set a specific address. All i had entered was "home" and cortana figured out what address I must have meant by home. Needless to say I took a screenshot :)

This is the feature I've been waiting to see in action, but it hasn't happened yet. I was waiting to see the traffic report automatically for my trip to work and home from work, but it has not popped up automatically yet. I have several "events", but maybe not specific appointments, that have been set at locations but still no auto traffic report...yet.

I don't know if its just me but how do u bring up more news or make it show again when u hide it, it only shows like 3 topics when u scroll down despite having many in my notebook

Use it little less, it still needs some polishing.

BTW, one cool thing that happened recently based on her learning about me is that right around the time I typically leave work to go home she automatically popped up a message that it was time to leave and how the traffic was. Pretty cool if you ask me.

How long before Cortana "learned" do you think? I've been waiting for this and nothing so far

Seemed like it was about a week or our so, maybe a little longer

Finding her very useful for reminders, both personal and location based. Wish she spoke more often but I know this is a temporary issue with the beta that will be addressed on the back end.

She's disabled here... my battery says "Thank you".

After a week it understood my commute patterns and predicted when I need to leave the house for work. The live tile is crucial to everyday use. I occasionally use the voice aspects, but the personal assistant is awesome.

I find it anoying I can't go to bing or bing.com with Cortana enabled. Searching with Cortana is MUCH slower than without. Hope they speed that up soon or I'll be runnin sans Cortana.

I need more flexibility in snoozing reminders (besides editing), such as a snooze button that reveals a few options such as next day, next weekday, 1h, when I'm off the phone, etc. As it is Cortana reminders are a bit of a nuisance. I'd also like to see conflict warnings if you have more than x reminders set at the same time.

I love the daily glance (finally let me get rid of the very outdated Zite) and the ability to type natural requests into the search bar to have her carry out tasks. I don't talk to my phone much, unless I'm alone and feeling lazy or genuinely busy and can't be bothered to type a request. What I'd really love is to be able do is type a search query and have results not just from Bing and my phone but also from apps like Wikipedia, Dictionary.com etc. Launching apps and stuff straight from search is cool, but this is the next logical step and I look forward to it.

One poor little Cortana and millions of her lovers who have been so smitten by her that they just don't care if they are asking a software to "marry" them... Phew...

It can be much more with a little more intelligence, since it's missing easy things "how do I get to my next appointment?" But one problem not due to Cortana is that it's hard to use because of the weird crackling noises 8.1 causes over the BT voice command channel, which make Cortana unable to understand anything.

I love Cortana. Despite it's silly use on finding out if she loves Master Chief, I constantly use her help on setting up reminders "Cortana, remind me tomorrow at 7 AM to call mom" and hands-free calling. As a fellow member sugested, offline support would be AWESOME, at least for calling, reminders and stuff...

They need to add the ability to include punctuation when dictating. Otherwise it's pretty useless.

I'd love that feature! Hopefully we'll see it implemented in future upgrades?

Never unfortunately.. Keeping on location services is very detrimental to my battery life. :( I don't know why location services needs to be enabled for a quick search or to set a reminder..

I use it to set appointments, get directions while I am driving and play music also while I am driving.

I would love to use her more but I since updating to .1 I've had to turn off her background task and keep wifi off every time I'm not using my phone, or it heats up and the battery drains too quickly.

Nope...disappointed as always.....i've been a WP user since launch in 2010. And it isn't all I hoped for time after time...if the iPhone comes with a bigger screen phone..i'm out...Like to be a first class citizen instead of a 3rd class one. To all this isn't trolling, but my feelings after 4 years of windows phone....

+920. Started doing this for me last week at around the time I typically leave the office to go home. Must have developed a trend that put her in motion.

Cortana is awesome. I tried using Siri when it came out but couldn't stick to her. Cortana on the other hand ✋ is the best assistant I have used. She really stands out on the reminders. It's so easy making a reminder with her and even through text. Great job Microsoft!

I use Cortana for reminders, calling contacts, and sometimes composing text messages. Occasionally sports scores and playing music too. Useful feature, but I am more excited about the swipe keyboard and action center.

I use it all the time. I am such a scatter brain, even with a smart phone with OneNote and universal apps like chaos control, I forget thoughts or tasks. With Cortana it is a one button, eyes still on the road natural speak life saver; and it's only going to get better. I just had to say f it, I'm going to start talking to my phone in public.

Deactivated her:
- location based reminders working totally inconsistently,
- time based reminders don't cut it for me! I want to see these on my pc too, so I use tasks, but it is not possible to create a task with Cortana (should have been the default, why did they create something new ??? Ms teams working without talking to each other ???)
- location services are a battery hog! I end up on battery saver at 7pm with those. Otherwise 40% remaining.
- weather, etc, you can get through voice search on Bing.
- already tired of the 'fun' stuff. Ms should spend more effort on serious things like porting their services properly out of US

All of Cortana's features can be typed into the search box, so there's no need to talk to use her features. However when I'm out and about, she has the best voice recognition I've ever used and I can mumble things to her quickly without being embarrassed.

Love her! Cortana is sassier than Siri, and that's amazing considering she's still on a BETA phase. Use her to play music (she won't play me "sheezus"),set appointments, reminders, alarms, check on the week's weather and answering SMS.The only thing I don't like about her is that she won't open the pod bay doors :(

I find myself surprised to say that I still use Cortana daily. She hasn't lost the novelty and actually remains incredibly useful for scheduling and daily glance type information. Love it!!!

Had some family over this last weekend and a few of them had new iPhones. Showed them Cortana. Raced her against Siri. Cortana blew Siri away on speed, relevance, accuracy. It was really bad actually. One cousin said, she's making my new iPhone look slow. I was thinking Duh. My 1020 with the 8.1 update and custom transparent tiles made me very proud. Easily held its own. Later in the day friends with a 520 and 928 showed up. Comparing start screen layouts was cool along with getting them on the developer program to get the update. Would not trade my Windows Phone for anything else.

Bing is useless outside usa, cortana is DOA for most of us, southest asia, china, korea, japan... to name a few. Just dont know what to do with it.

Just an idea, read the comments from the top and see what others are doing. I discovered lots.

Would LOVE ❤ to see Cortana as Cortana (avatar) and not a blue circle (halo).
I know of people that was going to switch to Windows 8 phone when they found out e were getting Cortana, but now decided not to because it's just a blue circle......

From the few times I have used Cortana I've been impressed. But I need to get used to asking my phone to complete certain tasks rather than what I have been doing for years, i,e interacting with the screen via menus, icons/tiles etc. I've been using Android for a while too and still haven't bothered with any voice assistant tools for it.

Cortana is showing more as a hype (too much of a web agent) she announces nothing. Too plain in some ways. I have to admit it was fun the first few days.

I use Cortana all the time. Mainly because i often hit the search button to find something on the internet. So by default; i see cortana all the time which reminds me to use it. On top of that; it will give me traffic reminders without me asking so again i am reminded it is there. Finally, i use it all the time to set reminders while i am driving. Works great even with the radio on.

Would also love to see Cortana start automatically when I press the Cortana live tile. After all, I am opening her to use her, why make me press the microphone button....

From lock screen, or anywhere, long press the search key.

Its very slow and sluggish for me

She's kinda choppy and slow to open on my 520. Maybe the firmware update will make it run better.

Using it a ton, one I show people in my office that have windows phone (over half now, and keep pushing more to join) they want it. Some have upgraded other are waiting for official push.

Ok seriously!!! When are normal people going to have this update. Super tired of reading about all these awesome features when its not even available to me yet! And no I will not sign up just to get this update. I wanna do it the old fashion way.

+1020, +920, +Icon, +any and every other WP out here

If its worth having it's worth waiting for.

She never talks to me, I feel so alone

I love to watch Cortana try to figure out what I am saying -which is usually wrong- then she thinks about it and gets it right. Amazing. What I thought I would use her for most is location based reminders, but I have had poor results or it is limited. I would prefer to set a relative location, like "remind me to pick up milk when I am 5 miles from home". I do use here for directions, "Drive me to Salsa Fuego" and it works great. I've tried to get her to turn off my WiFi, but for some reason she thinks I said "wife I". Even if I type it, she won't do it, just remind me to do it.

I use it every day. I use it evenly between search and appointments. I also use it some for texting but not as often because I don't like to share my private life with strangers. I have to say, Cortana is extremely accurate when it comes to understanding what I say. Overall, I am very happy this tool has finally come to fruition for the U.S. I just hope other countries get a chance to try it out soon.

Text messaging, music, internet searches, alarms, reminders, only problem is that she can't understand my English accent sometimes, end up saying words with an American twang...... and it works.....

I use Cortana to set appointments and reminders all the time because usually these come up when I'm finishing a phone call on the road. I do actually find her pretty limited, once you discovered the couple things she can do.

Will Cortana read messages out if you ask "read last message from......"? Just curious. Really looking forward to it being fully fledged but need to know the answer?

I would imagine the fascination has worn off for most by now, just like Siri and Google Now did. I can't really see it getting that much use considering that I've not encountered a single instance of anyone using a voice activated service in public regardless of platform. It seems more of a gimmick or parlor trick than a truly useful feature IMO.

Reminders, notes and scheduling. SO HELPFUL

I use Cortana daily. Even if it's just having her start a text or something, I find that I use her more than going in and typing something mjyself.

She's fun to use. I love showing her off in public. Actually had some look at their iPhone with disgust when I used her. True story.

I will wait until its available in my language. She's of no use to me currently.

I originally put 8.1 on a back up device while waiting for a replacement device. Cortana has become so immediately useful to me, I loaded 8.1 on my new device, despite it meaning no access to work email in the mobile client for who knows how long. I will have to get work email via the browser...and I don't mind, it was an easy choice... gotta have my location based reminders now!

The wifi bug is annoying. Other than that I'm happy with what Cortana can do.

I don't use it much once I found out she couldn't set an alarm on a Saturday nor able to tell me the current time.

Well, Cortana has been pretty decent till now...right from filing appointments to making calls to sing contact and location based reminders, she's done it all. Eagerly waiting for the official release...

My two favorite responses from Cortana:
Me: Are you better than Sir!?
Cortana: Not to brag but in about 500 years from now, I'm going to help save the universe. Me: Are you better than Google Now?
Cortana: I can get whatever you need without being so demanding.

When I activate Cortana she doesn't say anything, let alone my name. Not sure what the problem is.

I find she's a gimmick. The novelty wore off. I use her for reminders and she reads me my texts while in the car. But really? Do I need her to convert temp to Kelvin? Who uses that? It would be more useful to ask virtually any question and have the results read to us. Or search results itemized aloud. I have wanted for years and use now the reminders and scheduling. Big plus!

Yup..and the wife is jealous of her too.

I've been using Cortona and it is great, but, for some reasons, it has stopped giving me directions and weather status, instead it keeps telling me that it seems that it can't connect at the moment

I disabled her. She was boss hogging my battery. Had to shut her down! Going from 92% to 18% in 4 hrs is insane. After shutting her off, my phone went back to normal.

I use her just for reminders - especially handy for coin parking meters. Just sucks that I have to change my Region to US - I can't buy anything from the store when the Region is elsewhere, so I have to set it back to Canada whenever I want to buy an app. Can't wait for it to go worldwide!

I use her on a daily basis. Just like I did with Siri.

She (Cortana) understands my english much more better than Siri! Hope we can get it to non-english areas without setting up region and language settings.

Yeah, in UK and using her daily. Love it

On tha real 8.1, they need Tu show her that will be so Sweet

Yes give Cortana eyes Microsoft

She's competent enough correctly listening as I drive my car with Windows down.

I love Cortana! However, there are some phrases that she doesn't understand. Example of this is: If I say "Set a timer for 20 minutes" she asks "Set an Alarm for what time?". You have to say "Set an timer for 20 minutes from now" and it will set. Furthermore, with traffic, I will ask "How long will it take me to drive home?" and it properly gives me a time home with traffic. However if I ask the follow-up "is there a different/better way?" she takes me to a Bing search. Not a big deal or anything, but still i do have to remember to phrase things a certain way. Plenty of room for her to grow! ;) I am however, not as impressed with the integration for flights, dates, etc and her predicting that you want to follow that or set an appointment. She has asked me once if I wanted to follow a specific flight number (based on an email from the airline), but did not recognize itinerary change emails (which is a bit annoying to have to remember to delete old flights and add new flights). She hasn't asked about anything else. Similarly, she doesn't seem to populate many of the fields when it detects a potential calendar appointment in emails/texts - just the time and date pretty much. Example: I got an email from IMSA about the Monterey Grand Prix being on TV at 1:00pm on Sunday May 4th. If I click on the underlined "1:00pm", she just creates a generic "event" for 1:00pm. however, she does get the day right. She has realized that I check the traffic before I leave for work and before headed home, so the time home pops up on the live tile. Very cool. Again, nothing big; just some room for improvement! :) Overall, I am VERY happy with Cortana and 8.1. Edit: Oh, and also, I can't seem to "complete" reminders for specific people if in a call, which means they pop up the next time I talk to them, too.

Had to let her go, my battery could not handle the biotch. Why on earth does Quiet hours have to be tied with Cortana???

It stinks that Cortana will only schedule appointments for Hotmail. Can't schedule with exchange or Gmail. Rather useless to me right now.

I use Cortana for navigation. I'm surprised that it works so well here in South Oz. Cortana how do I get to Adelaide Oval by bus, I am than given the bus stop info and routes I can take from my current location and time. Also traffic conditions is very handy. Reminders are also great, for picking up things at my local shops.

Working well here in Vic too mate ;)

Cortana notification tone needs to be louder.

Hmmmm, how often do I use Cortana? Well since she isn't available in my country....yeah, not as much as I want to.

Yes, I use Cortana daily! Caught myself flirting with her too!

Our love affair, Cortana and I, ended with my battery notified me of a divorce she's about to file. I have to let go of Cortana then.

I use her mostly while diving so I can dial or make a memo -- using her in public is just kind'a goofy. She never lets me call my wife Suzi because there's no "Suzy" in my address book (note the spelling). She's still very much like talking to a computer though. It would be nice if she could undersand general concepts like "remind me to do xxx tonight" or "remind me to do xxx tomorrow". (Without having to specify a specific time). It would also be nice if she assumed the first time you used the phone in the morning was when you were waking up, so I could say "when a wake up, remind me to put socks in my gym bag". I also like the xbox 'always on' voice recognition which would be nice -- even awsomer if it could be something you could turn on when driving mode kicked in.

That voice always on feature would be a battery nightmare. The Xbox is plugged in.

Use to be the case with GPS & Wireless, but they figured that out. It happens to be that a good portion of the day my phone is plugged in. Just saying it would be a nice option. Maybe 'shake to wake' ?

Yeah the always listening would be a great feature, but for mobile devices it takes a certain type of chipset, I believe. Perhaps in the future were can get this feature.

+925 for all of what you stated!

I use Cortana every day since I've had it.

Cortana is so interesting a companion. She opens my apps, calls my contacts, reminds me, tells me about the weather etc. One thing she doesn't do for me, however, is wake me up. Wake me up instruction always generates a feed back that Something is wrong......'

Please provide better way to input travel and know Cortana has it. I'm on a five country jaunt and despite email itinerary and SMS boarding pass Cortana has no idea I'm on the road. We need some clear ways to inject items she hasn't quite recognized.

Also compare the UI for Bing * and they have figured out spacing and content for news items, but Cortana has way too much white space.

I use it a bit more than I thoguht I would. It is particularly useful for setting nap alarms (say "wake me up in 30 minutes") and whatnot. It is also useful when texting certain people certain things, or setting up appointments without having to actually type anything. It is quite intuitive, and I think even as it is it is really great.

I don't have Cortana on my HTC 8s and don't know why. Can anyone tell me why is that so?

Person and Places Reminders, I am using Daily. Freaking love this feature. And of Course, hearing Cortana's Voice.

I am not that impressed with cortana so far. I used her voice controls in private not public. I do voice search a lots and also call and text people while driving with voice as well. These are all things that I did in windows phone 8 anyway. So it is nothing new. Only thing I occasionally do is use my voice to set alarm for the following morning. I have shyed away from this recently as by default cortana chooses the dumbest alarm tone that sounds more like a lullaby than an alarm. I just do it manually now mostly. Overall she is cool at parties with her singing and coy jokes, but practical use is minimal for now.

Cortana is great, but I find I only use her to set reminders and appointments. I haven't really explored the limits of what she is capable of.

When I asked to open Bing Vision she said sure thing and opened lenses where Bing vision is now !

I also find her to be a novelty.I rarely use her for anything but reminders and alarms. Though she is pretty damn handy for switching tracks/playlists while on a bike ride or run with in-line mic controls. I wish she was more useful, but when trying to get specific information she'll just pull up Bing. Realistically, how much can you expect right? But apparently she didn't really "absorb the entire internet".

Sounds like you found multiple real world uses. Isn't that more than a novelty?

I discovered I can nickname my favorites in Maps, then just say "get me to Mom's" or "get me to my brother's" and she will start up the nav software (the nav SW I set as preferred in Speech), plot the route, and have the screen ready to press "start.". Great hands-free trick in the car.

I use Cortana in the following ways: * she tracked my flights from my last trip after snagging the info from my email, with permission.
* I voice dial a lot
* I set alarms and reminders
* I love the daily briefing I use Cortana to get stuff done. I haven't played with funny questions since a few days in, though.

Sucks battery life because location has to be turned on. Not required she using siri

To be fair, Siri doesn't have location reminders built-in, but the PHONE does. My battery saver shows Cortana as not using that much battery while in the background, so I'm cool with it.

Switch back to Bing search by turning off location

I use Cortana for notes....love that i can just walk along, tell her something, and it's in my onenote- transcribed! Reminders and alarms are also nice, but the notes get my +1520.

Weird that Cortana can't tell time, and too often she defaults to web searches which help nothing. Example: The other day I asked what NBA playoff games are on tonight and she does a Bing search for NBA playoff games. I tried the same question worded exactly the same with google now, and it brought up a card with a listing of all the games and times for that night. I understand Cortana is in beta so I hope she becomes more useful for these types of queries.

I performed a query for NBA last night and she presented me with the card that shows the games and scores.

Well, what can I tell you? She doesn't seem to understand how to show me the playoff schedule.

What happened with Bing rewards?

I'm a little concerned with the 'other' aspect of Cortana, which is that she's replaced the standard Bing search. Now when I try to search something after tapping the Search button and entering text into Cortana's text box, nothing happens. She spins and spins, and then I'm told she can't connect right now. I tap back to my Start screen, tap my Google tile and wham bam thank you ma'am, I'm straight into an instant Google search. I hope this is just a preview glitch.

Sounds like a local glitch. She uses Bing for anything she doesn't understand. Some companies (TWC) redirect search DNS to their own search site which can break Cortana's search.

(UK, developer program signee, Nokia Lumia 620) I'm extremely impressed with most things, and it's got a good amount of abstract spookiness (the "Do I need a coat today?" type of questions). However, although it's a great start, there are a few direct questions that need to be neatened up a bit. One major stumble came when I wanted to set a reminder for my appointment with the nurse at my doctor's surgery on the 1st of May. It had no problem with "set reminder", but "nurse" was heard by Cortana as "news" every time. Maybe a future update will examine more of the rest of a command to find the context ("doctor's surgery" in this case). But the worst part was that it kept getting the date wrong. It recorded "5th May", and no amount of corrections and repeat attempts of alternate date formats ("May the first", "May first", "The first of May") made any difference. This is odd, since I was only re-running the date, in response to "Is this okay?" (No) "What would you like to correct: the time, the date, or details?" (Date). You would hope that if you've corrected "date" more than once, that it would never reinsert the date it had first interpretted -- surely, that cannot be the right date. But it did it again and again, which felt stupid. If it had said, "I'm sorry, I'm having trouble understanding you. Can you enter the date manually?" then that would be a little irritating, but at least it wouldn't feel like bad design, and maybe it would be a little opportunity for Cortana to better learn my voice.

Bud, you're from the UK. She's not going to be able to understand your dialect. Voice recognition isn't easy and really only people with a standard American dialect are going to be understood.

Bud, she does understand me. She understands a remarkable amount of what I say. However, the ability to understand dates is absolutely vital in a personal assistant. You also have to admit that it's a major design flaw if your software doesn't notice that you are repeatedly trying to correct a single error, and continues to say the same pre-correction data over and over again. As for the topic of voices, there are people from all over the world in the US and the UK, and Cortana will need to understand us. Can we even say there's a "standard" US accent anymore, given the number of people who have family roots in Spanish-language cultures? I have an accent which is sometimes described as "accentless". which is wrong, of course, since everyone has an accent. What they mean is that my voice is free of any regional quirks, and you wouldn't be able to tell where I'm from within England. I have a friend who sounds just like me, and he lives in California. His XBox One's Kinect recognises both him and his California-accented son without any problem, as does his iPhone's Siri. Cortana is incredibly impressive given that it's still in beta. Today, it recognised the location of a meeting this afternoon taking place at Costa, even though I didn't mention "coffee" or anything else that would hint towards that chain. This thread is asking for our opinions on how we use Cortana and how it can be improved, so naturally people can and should mention its shortcomings.

I agree! Once you have told her that certain data has been misinterpreted, then she should exclude that as an option from her next attempt at recognition.

I mostly use the keyboard to set appointments and reminders.

I use Cortana for various searches, music identification, location based reminders, alarms, appointments and navigation. My partner just bought his first smartphone today, an iPhone 5S, and we decided to say "Take me to the closet Kohls" to both Siri and Cortana. Surpisingly Cortana did it faster and the actual nagivation with Nokia Drive was more accurate.

90% of the time you ask a question, it pulls up bing so i just stopped asking. Only Halo related questions have any cool responses anyway

I used it for a bit, then turned it off and kept it off. Having location on all the time as a requirement is just too much of a battery drain on my 920 :/

I mostly tell her to play music.

No, I don't use her. First test I tried was asking her for the nearest hospital. She did a web search. That's better than WP8, which would find veterinary clinics, and caused WP to be the butt of jokes at the office for many months, but still utterly unacceptable.

"Find Hospitals' and "Find the nearest hospitals" shows hospitals to me. Not using a web search. Outside the US it may not work... which is why it's not released there.

I still can't get over her accuracy in recognition. Miles better than anything else I've seen before on any platform. She's great for reminders and finding directions. As a start, it's good. Looking forward to seeing new stuff roll out continuously.

Have not used Cortana once. Since I never enable location, and Cortana requires it, it is useless for me.

Use it quite a bit for reminders and notification on who texted me. Wish I could set it to open up the here plus app when I ask it for directions instead of manually having to put the address in again in the app. I imagine the tool will be a lot more useful when more apps integrate.
YCS

Just say navigate to "Address"

Nice! Thank you! everything I tried just kept bringing up the maps.

One issue here.... When ever I try to set location or event based reminders Cortana says she can't until battery saver is off... And I had never turned it on in the first place... Any solutions?

User Cortana for starting random playlists, since it plays a random track through her. For reminders, timers, alarms, humor, and learning geo location and people conditions.

Wonder which one is better? Press volume down + Power to soft reset or simply just turn off the phone then turn it back on...

Can anyone share how to let Cortana do the daily briefing?

She usually does it in the morning.

Cortana is great but she stops working when Im connected to bluetooth. She only listens but wont recognize anything a I say.

Smells like the mic on your Bluetooth headset sucks.

I use a plantronics voyager legend headset in a noisy environment and she works perfectly... If it get too loud where I am, sometimes I have to hold my hand up a few inches from my mouth and then talk.. The sound must bounce off my hand back towards the mic?? But I'm talking about standing next to a running semi truck loud before I need to do that.... May be worth a try though?

Works perfectly for me too. Plantronics M55. Just long press the answer button till you hear a beep, let go and up pops Cortana. Then you can talk to her, awesome.

I use her when I drive and before I go to bed with voice commands. Otherwise I'm glad MS took the text input method and made Cortana better than Siri.

Probably Cortana is picking up pace for North America and the British commonwealth countries. In the Netherlands Cortana has been mainly silent in regard to its wow factor. So I think its good/better for the English speaking nations. For the rest of the world, Cortana will probably be a half baked product and leave us wondering: why? (just like Tell me).

It is dissapointing that voice assistants like cortana or siri do not have answers for the questions that are asked after the first request.say you tell cortana tell me a joke and she does. if you say something like "how come?" or "why is that?" she will not have an answer for that.this can happen in task requesting too but i don't have any examples in my mind right now.

she eats battery as if shez hungry from the date shez born . may be microsoft did not milk her . battery killer/drainer/eater . i am from india but i used to use it it s good but when no battery life nothns good .

The music recognition option is missing for me. What can I do?

I'm not using it since it's not available to my region. Don't bother to tell me to switch region to US since I've switch it to often :p

I love her and I use Cortana almost every day especially when I get up from bed

I use her to dial, play music, messaging, location and time reminders, alarms, take notes, open apps like rain radar and Speedo and others.. I really only use her while driving, so to have her always listening would be an awesome option to have... She can do alot with navigation for me as well, but she is alot better at finding already saved 'favorite' places than random places...and that also applies for location reminders "get me directions home" works well, be sure to add nicknames to contacts for much easier messaging and dialing.... One more thing. if we can't get her to be always listening then having the search button being a dedicated Cortana button would be nice, long press and wait for her to listen is a bit painful but a tap and listening instantly option would make me use her more often...

Yeah and still no cortana for other regions.I am not going to change all my settings just for this.Seems promising but not at the cost of regional accent and apps.

Watch Cortana vs Google now http://youtu.be/3jCoZ0jCaz0

I use her a lot! She is a welcome addition!

Has anyone had any luck with it detecting tour tracking#'s from emails? I haven't yet and have had a bunch of emails with tracking info.

One more thing became clear to me today: Cortana news stinks. Today I got crap from a source I don't trust and another story that was just a press release! If this keeps up, I'd rather just drop news from Cortana altogether.

I really thought after the novelty of her (it) wore off, I would not really use her. I have been using her a lot for texting (wile driving just Holding the seach button), I found for the most part she is very usefull. I have used her for appointments and my morning wake up timer. Even one time I was out of my normal area and I said "Could you please get me home" she opened up Nokia drive and I was on my way home....cool. Stil a little buggy here and there, If I say "tell me a joke" she will come back with "cant find a number for <Facebook contact>" and then crash (I have hard reset and other tests, still a problem). Then location reminders still buggy "Next time I go to a the super market remind me to get oranges", select "Any supermarket", I could go to 10 super markets and never get the notifcation. Also would love Tracking updates for things in my emails... I think when all the funky stuff is worked out, I think she will be VERY usefull, she is now but, not perfect....still a awesome start... Love her so far.....

When do we get the 8.1 update in the uk for the lumia 1520?

When will it come to India? Please anyone.?

Cortana is marvelous! I'm just sorry it doen't work offline, and since I'm often going to the country side, I do not have cortana all the time!

Is it just me or does processing take longer than it did when it first came out? I try to show my sister sometimes, comparing to her siri, and its more impressive but seems to take ages sometimes.

Its lagging big time now.

I downloaded wp developers preview today on another phone and it no longer has Cortana. All my region settings are perfect. Anyone have this issue?

i Have the same problem, i download developers Preview set region end language.. reset my phone end nothing happens,

I talk to Cortana everynight to remember me about my tasks on next day. It's pretty useful I guess. I love it.

two things I wish they would change 1. add in the option to directly go to voice recognition when you click the search button. 2. have the option to turn off the search sound when you use cortana. It sounds cool when you first use it, but it gets annoying very fast. other wise cortana is a perfect feature. I espiecially like her response of "do you like apple?" she answered "Their new head quarter kind looks like a halo, i'm into it."