Countdown Interval Timer paces your workouts from the Microsoft Band or Windows 10 device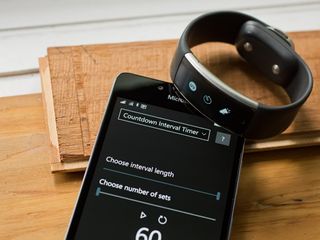 Countdown Interval Timer is a fitness app available for Windows 10 PC and Mobile that is designed to help you pace your fitness activities. Developed to be useful for high-intensity interval workouts such as Tabata, Countdown Interval Timer can operate from your PC or phone, as well as being connected to your Microsoft Band 2 to receive vibration notifications.
Countdown Interval Timer has an easy to use interface and a free trial version. The full version of Countdown Interval Timer is budget friendly, priced at $0.99. Countdown Interval Timer may not be the flashiest fitness app in the Windows Store, but it does its job rather nicely.
The interface on Countdown Interval Timer is not very complicated. The primary display offers you the choice between three timers: countdown interval timer, custom interval timer and one designed for Tabata workouts.
The Countdown Interval Timer is used to set a constant interval length along with the number of sets in a workout. Interval lengths range from one to 60 seconds and the number of sets ranges from one to eight.
The Custom Interval Timer option offers you the ability to set the high interval exercise length, the low interval exercise length and the number of sets to complete. Like the Countdown Interval Timer, the range of the interval lengths on the Custom Interval Timer is one to 60 seconds and the number of sets ranges from one to eight.
Tabata is a high-intensity interval workout that are short in duration (only takes four minutes to complete a routine) and involves ultra-intense exercises. The Tabata option allows you to set the number of sets in a workout (range is one to eight). The duration is locked in at twenty seconds, which is standard for the Tabata workout structure (workout for twenty seconds, rest for ten, complete eight sets).
Regardless of the timer option, Countdown Interval Timer cycles through the duration timer for each set of your routine. The timer can be paused as needed and if you need to stop your routine and start over, there is a reset button.
Settings for Countdown Interval Timer are accessible from the three-dot menu that is in the bottom right corner of the screen. Settings include the option to turn on/off phone vibrations and enable the Microsoft Band tile.
The Band integration alerts you at the beginning of the first set, during the rest period and as each new set that you get to tackle. Band notifications include a vibration alert and text messaging. It is a nifty selling point for the Countdown Interval Timer app and using the Band to keep track of your workouts is a lot easier than glancing over at your PC or phone.
My workouts these days involve covering a few miles on the treadmill or in the kayak, but I can see the appeal Countdown Interval Timer can have. Even if you are not a fan of high-intensity workouts, the app can be used to pace or time your pre-exercise stretching. I wouldn't mind seeing a general countdown timer added to the mix (without the sets/intervals) that could be used for non-high intensity workouts. Maybe a countdown timer that alerts you of the half-way mark?
Countdown Interval Timer is available for Windows 10 PC and Mobile. The app has a free trial to let you test the waters before picking up the full version at $0.99. It is a solid and simple Windows 10 app that can come in handy as you pursue your fitness goals.
Download Countdown Interval Timer for Windows 10 PC and Mobile (opens in new tab)
George is the Reviews Editor at Windows Central, concentrating on Windows 10 PC and Mobile apps. He's been a supporter of the platform since the days of Windows CE and uses his current Windows 10 Mobile phone daily to keep up with life and enjoy a game during down time.
doesnt the band already countdown for you between sets?

My band is starting to rip, I have to try to get it fixed or replaced. I'm scared to do any workouts in it besides walking.

Same thing happened to my Band 2. I got it replaced under the 1-year warranty. Just fill out information here: https://www.microsoft.com/microsoft-band/en-us/support/service-order and then send in your band. Took about 1 week to get me replacement.

My local Microsoft store replaced mine with no questions asked, they were very nice. Seems to be a common issue. I still couldn't find confirmation if the serial number beyond @s%* has a thicker rubber band

Just looked it up again... Seems that if the lot number on the box is 1608 or above the band might be thicker... Obviously you need to have it replaced at the store to be able to do that

I just got mine replaced at a store for the same reason. No issues. Also made sure the new one was lot 16xx, in case that made a difference.

Debating on another Band 2 or hold off for Band 3. Not a lot of chatter out there for the B3 & my A-Hole cousin tackled me off the boat with my B2

See if you can find a Band 1 for cheap, and get a Band 3 when it comes out.

My Band 2 refuses to connect to my 950xl...
Any tips?

De-pair, wipe Xl and do a fresh install, will clear all the cobwebs out of it, will be slicker than ever !!

If you have any activity recorded on your band since the connection issue then connect the band with the cable with your PC to get you data sync with your account. Remove the band from your 950xl and reset the band. Pair with 950xl, it should connect.

Speaking of intervals, you know what I wish we had? A phone/band app that could do speedwork/track interval workouts. Like if I wanted to do 10x400, it would store my interval times automatically for me, so I could look back at them and maybe even see their average and progress over time. That would be dope.

Yeah, that would be fantastic. Even with the improvements so far to it, I still mostly use the band 2 as a notification device, sleep/steps tracker, and for heart rate when on the stationary bike.
Windows Central Newsletter
Thank you for signing up to Windows Central. You will receive a verification email shortly.
There was a problem. Please refresh the page and try again.