Crackdown 3 free 'Extra Edition' update now available, adds cheats and multiplayer unlocks
Check out the new update.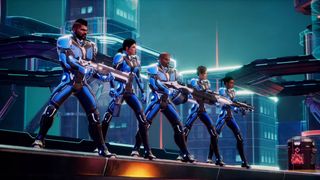 What you need to know
Crackdown 3 is a third-person open-world shooter from Microsoft.
Just like past installments, it received a free update which adds cheats.
You can purchase the game for $35 on Amazon

(opens in new tab)

.
Crackdown 3 hasn't garnered the best reviews since launch. A lot of gamers have criticized it for its poor story and unpolished multiplayer. In order to make it up to players, Microsoft just released the free "Extra Edition" update for the game. According to the company, "Crackdown 3: Extra Edition brings the boom! With Keys to the City, we've unlocked everything you need to unleash chaos in the Campaign, and competing in Wrecking Zone now unlocks a hundred tiers of vanity items."
Crackdown 2 also received a Keys to the City update which added a number of cheats. You can take a look at some of them below.
God Mode: Renders your agent immune to all forms of damage. Any vehicle you enter will also share this trait.
Unlimited Ammunition: Renders all weapons with unlimited ammo but you do have to reload.
Public Enemy: Enemies deploy their full wrath against you endlessly.
Diplomatic Immunity: Enemies will not retaliate, no matter what you do.
Spawning: Summon vehicles, allies, enemies, and more to where you are.
Radio: Change the game music
Freeze Time: Stop current game time.
Enemies Active: Toggles whether enemies can spawn naturally.
Empty Streets: The city becomes abandoned.
Let's see which ones make their way to Crackdown 3. Hopefully, the update will also improve multiplayer because even after all these months it's still unpolished.
If you're interested in the game, you can play it through Xbox Game Pass or purchase it through a retailer like Amazon.
Explosive playground
(opens in new tab)
Your every day sandbox

Crackdown 3 is a decent sandbox experience that falls short of modern standards, but as an Xbox Game Pass title, it offers some good mindless fun.
Excellent and affordable Xbox accessories
Up your Xbox experience with one (or all) of these budget accessories, all of which are approved by the gamers of Windows Central.
PowerA Play & Charge Kit for Xbox One (opens in new tab) ($15 at Amazon)
This charging kit keeps your Xbox One wireless controllers juiced up, and it offers batteries for two controllers. At just $15, this is hands-down our favorite budget charging companion.
ElecGear 4 Port USB Xbox One S Hub (opens in new tab) ($19 at Amazon)
This brilliant little USB splitter hub attaches perfectly to the side of your Xbox One S console. It's ideal for use with chargers, controllers, headsets, and more.
Controller Gear stand (opens in new tab) ($13 at Amazon)
Proudly display your Xbox gamepads with this stylish and functional stand. The licensed design is minimalist and black, and it has a hidden storage compartment, making the price of $13 a real steal.
Windows Central Newsletter
Get the best of Windows Central in your inbox, every day!
Asher Madan handles gaming news for Windows Central. Before joining Windows Central in 2017, Asher worked for a number of different gaming outlets. He has a background in medical science and is passionate about all forms of entertainment, cooking, and antiquing.
I actually really enjoyed Crackdown 3. I thought it was a ton of fun--it looks good, it plays well. I think it's similar in story and gameplay to Sunset Overdrive, but for some reason Sunset was praised highly and Crackdown 3 wasn't. I liked both games but I think Crackdown 3 was more fun because it was more focused and less complex (which is a good thing).

You should play pong, it's even less complex.

Because Sunset was an infinitely better game, it tried something new, which worked REALLY well, and it had the fun factor of Crackdown without the frustration. There was heaps of variety in weapons and enemies so you could mix it up whereas crackdown is basically just explosions and three factions that are almost cookie cuts of one another. Sunset Overdrive also had, although this is subjective, a great sense of humour which Crackdown lacks.

I'm with you, I enjoyed Crackdown a lot more than Sunset Overdrive which I couldn't finish. It was the tower defence, bad humour and terrible traversal of SO that put me off. Great colourful world but that was it. CD nailed the traversal and kept it focused on fun. SO did have more depth with the home bases and whacky weapons but both got boring quick and didn't really add to the experience.

I'll have to give this a shot. It's on Gamepass and I have never tried it. The update looks like it brings in some fun aspects and makes it feel more like Saints Row. That's the nice thing about Gamepass with MS games at least, I can always try the full thing out and it isn't going anywhere.

I thought it was a fun game and might give it another play through. I wish the story was longer. Multiplayer was hot garbage in my opinion, but I am more of a single player type of guy anyway.

Agreed. Multi-player would be great, if the actual mission environment was the arena. I haven't touched multi-player, since I first bought the game. I wasn't impressed at all.

How can you say that about the multiplayer? It was powered by the CLOUD.

Well, you got us there... 😜

And the co-op campaign 30 fps limit is now removed as well!