Crackdown 2 goes free on Xbox backward compatibility, Crackdown 3 gets 'Keys to the City' cheats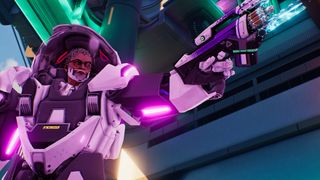 Crackdown 3 was supposed to launch many months ago, but was pushed back to February 15 to polish up the experience. Luckily, it's available right now through the Microsoft Store. You can buy it for $60, or you can grab it with Xbox Game Pass, for $10 a month.
Crackdown 3 hasn't garnered the best reviews since February, and a lot of gamers criticized it for its poor story and unpolished multiplayer. In order to make it up to players, Microsoft announced that Crackdown 2 was joining backward compatible and go free. If you're an Xbox One owner, you can download the game right now. However, some users are reporting that at checkout it still costs $20, so be sure that it's listed for free when you do. Just head over to the Xbox 360 Marketplace and redeem it.
That's not all though. Crackdown 3 is getting the "Keys to the City" content soon. Keys to the City was a cheat mode in the original Crackdown and Crackdown 2 which started you off as a god-level agent, wrecking havoc around town. It also allowed players to access other features like unlimited ammo. You can read a complete list below which was posted on Fandom.
God Mode: Renders your agent immune to all forms of damage. Any vehicle you enter will also share this trait.
Unlimited Ammo: Renders all weapons with unlimited ammo but you do have to reload.
Public Enemy: Enemies deploy their full wrath against you endlessly.
Diplomatic Immunity: Enemies will not retaliate, no matter what you do.
Spawning: Summon vehicles, allies, enemies, and more to where you are.
Radio: Change the game music
Freeze Time: Stop current game time.
All Enemies Active: Toggles whether enemies can spawn naturally.
Empty Streets: The city becomes abandoned.
It was a lot of fun so it's great to see that it's making a return in Crackdown 3. However, we don't know which modes will be in Crackdown 3's Keys to the City. The game definitely needs a lot of nostalgic content to keep players hooked.
Crackdown 3 is also receiving a patch which fixes a lot of issues from bugs in the campaign to multiplayer oddities. You can read about the major changes below that were detailed on the game's website.
Now any District that you have completed 100 percent will turn blue on the Crime Map. This means completing all objectives and side missions, getting a Gold medal on all Rooftop and Road Races, destroying all Monkey Moonshine Kiosks, and collecting all Agility and Hidden Orbs.
The Ngata fight has been rebalanced on all difficulty levels by adjusting the spawn waves and limiting the snipers with Omni Rifles to the upper platforms.
The Niemand fight has been rebalanced on all difficulty levels by adjusting the spawn waves and limiting number of Hades units, along with reducing their projectile damage globally.
Hitching on PC with some graphics cards has been improved.
Added the ability to delete World Saves while in co-op.
Added the ability to disable damage numbers in gameplay.
Added checkpoints and player camera improvements to the Science Center.
Reduced the number of Industry drones that attack the player during a Level 3 Escalation.
Fixed an issue where Industry Drones could fire from a range farther than their Threat Icon would render on the screen.
Increased the impulse on the Anubis weapon.
Adjusted camera shake on most weapons.
Adjusted the damage curve for the Pulse Beam weapon.
Reduced repetition of some lines of dialog.
Fixed an issue where only one player would hear Khan's dialog in a co-op boss fight.
Fixed an issue where enemies would sometimes get stuck inside their spawn door.
Fixed an issue where elevators would stop working when jammed by an object.
Fixed an issue where vehicles could get stuck in geometry in certain areas of the map.
Fixed an issue where enemies would slide on the ground when existing vehicles.
Fixed an issue where a player carrying an object could get stuck in geometry.
Multiple audio and haptics feedback improvements throughout the game.
Accessibility options have been improved, specifically Text to Speech.
Are you interested in Crackdown 3? Are you excited to play Crackdown 2 on Xbox One again? Let us know.
Explosive playground
Your every day sandbox

Crackdown 3 is a decent sandbox experience that falls short of modern standards, but as an Xbox Game Pass title, it offers some good mindless fun.
Get the Windows Central Newsletter
All the latest news, reviews, and guides for Windows and Xbox diehards.
Asher Madan handles gaming news for Windows Central. Before joining Windows Central in 2017, Asher worked for a number of different gaming outlets. He has a background in medical science and is passionate about all forms of entertainment, cooking, and antiquing.