Create silky smooth time-lapse videos with Microsoft Hyperlapse, now available for desktop and mobile
By Richard Devine last updated
Microsoft has been working on Hyperlapse for some time now, and today finally sees it launch as a consumer product for the first time.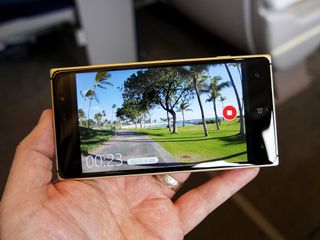 With mobile apps for Windows Phone and Android as well as a desktop, 'Pro,' version, Hyperlapse offers a simple way to create great looking, smooth, fast-as-you-like time lapse videos from any of your video clips.
Microsoft Hyperlapse Pro
Traditional time lapse videos are shot using a static camera, so shaky footage isn't necessarily an issue. But Microsoft wanted to go much further than that, enabling smartphones and action cameras to get in on the act. The issue there is incredibly shaky footage which amplifies itself when you speed it up.
And that's where Hyperlapse comes in. It doesn't just create the timelapse, it smooths it out as well.
It makes some bold claims, which on the face of it at least, aren't unfounded. The mobile version of Hyperlapse uses some pretty creative thinking to get the desired effects:
While no relation to Instagram's currently iOS exclusive app of the same name, there are many similarities in the purpose, and the end result. With Hyperlapse Pro, however, you get the chance to use much more than the footage from your smartphone. This app is only available for Windows desktop at this time. It'll be available in a free preview version and a paid, full version, with the preview having a watermark on the created footage.
Supported Windows Phones are as follows:
Lumia 435
Lumia 530
Lumia 532
Lumia 535
Lumia 630
Lumia 635
Lumia 636
Lumia 640
Lumia 640 XL
Lumia 730
Lumia 735
Lumia 830
Lumia 930
Lumia 1520
HTC One M8
With an added note that phones with 512MB of RAM can't capture in the app at HD resolutions.
Find out more and grab all the apps at the links below, where you'll also find Microsoft's initial release.
The paid Pro version isn't yet available, we'll update with a price and release information when we have it.
Update: There were some teething issues with the Windows Phone app being available, it's worth trying again as downloads are now going through.
Microsoft Hyperlapse for Windows Phone
Smooth and speedy: Microsoft Hyperlapse makes first-person videos better, faster and more interesting
Professional photographer Nick Didlick always wanted to make a great ski movie, but he had long been stymied by the need for two things: Tons of pricey camera gear, and plenty of time to shoot. Not anymore. A few weeks ago, on a brilliantly sunny early spring day, Didlick headed up to Canada's Whistler Blackcomb Ski Resort armed with a handful of GoPros, a pair of willing athletes – and a plan for making an action-packed ski movie with the help of a new technology called Microsoft Hyperlapse.
By the end of the day, he had most of the footage he needed to create a short, time-lapse movie showing two athletes flying down the mountains of British Columbia, first on skis and then on bikes, before leaping into the water.
"I could quite easily make an entertaining ski movie in a day," Didlick said.
Now, everyone else can give that kind of filmmaking a try, too. On Tuesday, Microsoft released Microsoft Hyperlapse, a new set of products that create smooth, stabilized time lapses from first-person videos.
For consumers, Microsoft Hyperlapse Mobile offers the chance to turn any long video – from a bumpy bicycle ride to a family stroll in the park -- into a short, distilled version that you can easily share with friends and family. That technology, which is available for Windows Phone and in preview for some Android phone models, will come as a welcome relief to anyone who's ever sat uncomfortably through a real-time video documenting those types of excursions.
For professional shooters and serious video enthusiasts, Microsoft Hyperlapse Pro can create a hyperlapse using a Windows computer from video shot on any camera or device – including aerial footage shot with drones. It opens up possibilities that were previously difficult, if not impossible, for even serious filmmakers to achieve.
A third product, Hyperlapse for Azure Media Services, lets developers integrate hyperlapse options into websites and apps. That is currently available in a limited free public preview.
Creating more interesting videos
The idea for Microsoft Hyperlapse began in the mountains. Johannes Kopf is an avid mountain climber, so when first-person action cameras such as GoPros hit the market, he naturally wanted to document his dramatic ascents.
But while the climbs themselves may have been exhilarating, the same couldn't necessarily be said of the hours of footage he collected documenting each step.
"My mom would be the only person who would watch these videos," he joked.
That's when Kopf's personal passion for climbing intersected with his professional passion for computer vision.
"I was really just looking for ways to make these videos more interesting," said Kopf, a researcher with Microsoft Research's Interactive Visual Media group.
In the summer of 2013, Kopf and a team of Microsoft researchers in the Computational Photography Group got to work – and quickly discovered that they'd stumbled into a pretty hard problem to solve.
"We got this idea of compressing time, then we discovered it's not as easy as it sounds," he said.
The biggest challenge was the footage itself. Unlike traditional time lapses, which are most often created using a static camera, video recorded with a first-person camera tends to be very shaky and uneven. That's because the person shooting the video is usually walking, running, biking or otherwise in motion. Simply speeding up the video – for example, just showing every 10th frame - just amplifies all those shakes and jerks.
"It's not watchable," said Richard Szeliski, a distinguished scientist at Microsoft Research who also worked on the project. To make the video both speedy and smooth, the researchers came up with an algorithm that first creates an approximate 3D model of the landscape being filmed, and then identifies the dominant path that the camera took through that landscape. It then stitches together bits and pieces of different frames to create a smooth, stable hyperlapse that showcases the essence of the original video.
The technology also is designed to glide quickly over those times in which nothing much is happening, such as when you stop at a red light or pause for a drink of water.
Picking the right frames
For the version of Microsoft Hyperlapse designed for mobile devices, Neel Joshi, a researcher in Microsoft Research's Graphics group, tried something a little different.
Rather than stitching together various pieces of frames, he created technology that looks for entire frames that have the most overlap with each other. Instead of just arbitrarily choosing every 10th frame, for example, the system might pick out the first, 12th, 18th and 29th frame.
This development, elements of which were also incorporated into the pro version, allows the hyperlapse to disregard a sudden jerk or jump, seeking out only the most compatible parts of the video. It's being presented at this year's highly regarded SIGGRAPH industry conference.
Joshi said the pro and consumer versions also rely on video stabilization technology that Microsoft researchers had previously developed, which further reduces the jerkiness often associated with first-person videos.
Vast possibilities
Although the idea for Microsoft Hyperlapse originated from an extreme sport, the researchers say they've had fun using it in much less extreme settings as well.
Joshi has tried attaching a GoPro to his dog, to create a hyperlapsed dog's eye view of the world. Szeliski has used it on vacation, while wandering through an outdoor market and taking a tour of a palace. After Kopf and his colleagues released a paper about Microsoft Hyperlapse SIGGRAPH last year, Kopf said he was excited to hear from so many documentary filmmakers and other professionals who saw the potential to use Microsoft Hyperlapse to change filmmaking. But he's equally excited to see what the rest of us can create with it.
"On the one hand, I would like to see a hyperlapse video going up Mt. Everest," Kopf said, "but on the other hand I also want to see tons of amateurs use this for everyday stuff. I want to see people doing hyperlapses of their work commute."
Microsoft Hyperlapse is available for download now.
Richard Devine is an Editor at Windows Central. A former Project Manager and long-term tech addict, he joined Mobile Nations in 2011 and has been found on Android Central and iMore as well as Windows Central. Currently you'll find him covering all manner of PC hardware and gaming, and you can follow him on Twitter and Instagram.
WOWOWOWOWOWOWOOWOWOWOWOWOWOOWOWO

But not available for Icon???

Well microsoft plz bring on slo motion. Too to WP it will be a huge bonuss

Slow motion needs some hardware requirements.

But possible with any phone with the right drugs.

Yeahh.!, well expected the hardware they bring out supports the slo mo this year

As much as I see Hyperlapse a good idea, I also believe slow motion tech as seen on the iPhone 6 is missing on Windows phone platform, I'm hoping the next Windows 10 mobile flagship can get this tech too.

Not exactly. When I open the store, it says it is not available for my phone (Icon).

I wonder why, hardware is identical minus the radio

Yes icon or 929 is 930.930is global model. Icon has cdma and slightly different bands vs 930. Otherwise they are identical

I knew that. The app removed my sarcasm tag.

Wait, Lumia 435 but not the 1020?????

Yeah, no 920 but the budget devices can down and use the app.

The logic doesn't compute. You can't say that today's budget phones are better than yesterday's flagships....
I dare them to use that excuse.

Yeah, arguing that the Lumia 435 has some hardware magic that, say, a Lumia 920 or 1020 doesn't, would definitely boggle the mind.

they are not btter but they have some newer technology. they must be using some feature of the newer SOC.

My 640 has a 4-core processor...
My 1020 has a single-core processor...
Wonder why it doesn't work on my 1020...

Are you out of your mind or what!

No, at least I don't think so...

I may be wrong but I think above devices that support Hyperlapse are the devices that also support Miracast (Wireless streaming to Microsoft Wireless display adapter) So yes the Lumia 1020 is still very expensive but it doesn't support Miracast. You may ask Qualcomm why their new chipsets even on starter models support Miracast while old chips don't.

I'm willing to bet its processor related.

Yeah.. ain't that a b*tch?

Not available for 1020 :(

Use the pc-version. I do with videos from my 1020, works fine :)

Not available for 625 :'(

Glad to see I'm not the only one on WindowsCentral with this phone. Everytime I see a person with this device I get a smile in my face. I'ts probably one of the best middle range devices out there.

Hyperlapse now ready for download.

930 is included. Just the name is different.

Nope. Store said it isn't available.

"Currently this app is only available in the windows store", says the article clearly

Correct but it's not available for the Icon currently. (icon owner here)

Yepp, list also says available for 730, but apparently not for my 730 DS. I mean, what's the difference??

The hell. Unavailable for the 735, but available for the 730? Ok....

Lumia Icon screwed again.

I mean, they can have different model names, but they are technically the same. There is no point limiting one while not limiting another and vice versa.

It's really tickin me off that Microsoft doesn't support it's high end devices. If Apple pulled this kind of crap they wouldn't sell another iPhone! Microsoft needs to start showing love to it's own high end devices if they want to gain market sales. HTC One M8 is getting the GDR2 update at Verizon today, but not a word from Microsoft regarding the GDR2 update for Icon = LUMIA FLAGSHIP DEVICE! You would THINK that MS would want to support their OWN devices with updates before third party devices, or is it just me?!

Yeah, that'sVerizon that you want to put the blame on. They're in charge of the update. Microsoft would love to have all of their devices updated together, but the carriers are the ones that send the update out after they've tested them and modified them.

Unfortunately, not this time. I contacted Microsoft Support and they told me that the update for Lumia devices has not yet been released. NONE of the Lumia devices has been given the go ahead for update to GDR2. So how does HTC device get it first!? MS worked with HTC on this update, that's how. Sure, show more love to HTC than your own Lumia devices! Really gettin ticked off here! http://www.microsoft.com/en/mobile/support/software-update/wp8-software-update/availability-in-north-america/

Agreed! And it's really pissing me off, that my 10 year old vw doesn't automatically get upgraded with the latest line of engines that uses only half the amount of gas. Really angry now, yes I am!

Really!? My Icon specs are still better than 90% of the new Lumia devices out there. It's not unreasonable to expect it will get beneficial treatment until a new high end flagship is released. If your VW was still the best VW made, wouldn't you expect VW to keep up the service on it?

I would like that a lot, but wouldn't really expect them to switch engine. It's really the same with all things hardware wise. Last version samsung galaxy doesn't get fingerprint scanner suddenly, they put it in the new one. And the next one is getting something new again.
Irritating yes, but that's progress.

No x20 devices except 1520...
Hmmm...

I can't down the app only because I have an 820? That sucks

Just waiting the flagship with W10M to get out of x20 generation :)

Time to upgrade my L720!!

Same brooo +720 but will be upgrading to Lumia like rumoured 840 XD mannnn.!! microsoft bring it out

+720 I'm waiting for the flagship

Man wish could stretch my pocket dat far .!! But I would love to have the midranger ;)

Well I have 830 INDIA. Unable to download....ruined my excitement :'(

Tried to US. Didn't work. :(

Then wait for a while dude hope so link gets active in a while or later .!!! Keep calm ;)

Not Available in India.....I'm using Sexy 1520

Not available in the UK for 1520 either

Mann lets wait for a while .!!! Hope so link gets working after a while or later ;)

+1520
Same here
Using NOKIA Lumia 1520 with denim and US region

Not available in the Philippines for 1520 either. :/

Now Its Working Guys Grab it Noweee

Huh. Says not supported on my 1520.3.

Apparently not the 640. Unless that's a store bug...

Unavailable for my 930. Maybe it's a temporary server issue

No wp10 support on L1520... Same as last lumia camera update.... Still worth it .... :) movin' on

Actually its not available to my phone also
NOKIA Lumia 1520 with Denim and US region

Unable to download for Nokia Lumia 1520

Region locked? Not available on my 1520.

"This app is no longer published" Here.

For some reason it says it's not available for the HTC One M8

It says "this app is no longer published".

I cared up until the phone compatible list, now I don't care

Not available for my L930 wp8.1 gdr-2

Store tells me it's not available for my 1520 :-(

What?!?! The super-mega-ultra flagship 1520 is not supported?!?! Can't download. Huhuhi

Cannot download from 535.

Why is it not available for 920??? The phone has the same chipset ,memory and pureview as any other newly released phones...:(

And you believe that "all" 8.1 phones will be updated to 10.... Having my doubts. Expecting 7.8 drama

Bullshit. W10 TP is available on those devices so why not the final version?

Lol I just received 8.1.1 on my sgh-t899m near end of april. Guessing that will be it seeing as the one service provider that still had it on contract (I suspected they paid the upfront costs for this variant to be designed from evidence in build info log) a few months ago eol'd it

Well that's sad. Not available for L1020. Also L1020 owners don't have anything to upgrade to (Better camera) as anything else would be a downgrade.

So true... Sad... Soon leaving Windows Phone...

3 family members already left my family plan of 5 because of App issues too, mainly Banking Apps. One actually paid an early cancellation fee. Can't blame them. My last two contracts will expire within 8 months. I really like Win Phones and would like to stay in the ecosystem, so hopefully soon we'll see some exiting improvements in hardware, software and overall Key Apps availability. Good luck!!!!!

Yeah not compatible with the Icon -___-

Seeing the list of supported devices was such a letdown. I had hoped this would be a non-Lumia exclusive. I guess I'll have to wait until my Windows 10 phone upgrade to use this on a phone :( At least there's a desktop version.

Hell where is 525.. It has 1gb ram

YEAH and it can record HD videos too

But it has a dual core processor. I think hyperlapse probably needs a quad core processor.

Not available on my L930 wp8.1 gdr-1. Off topic but how can I update to gdr-2?

The 1020...hello...remember that phone...

1020 baddest mofo camera out there and yet no love from this app. WTF

I'm starting to think they want us to buy a phone steadicam and just do it on our own since we got the camera

Not available for my region....the US....L1520....what gives??

Not available at all =( "This app is no longer published"

Can't download on my Lumia 735 from Italy, (I live in Slovenia)

Not available for me 1520

Some region restrictions I think, cant download on 830

Not available (L1520). Nandela!

Dutch 1520 won't download either.. Probably a store thingy which will be fixed soon

Really sad. No support for
Lumia 1020?

"This app is no longer published". They giveth, and then they taketh awayeth. :( (UK anyway)

Not available on 930 in Australia yet. Been waiting for this since first announced, gah!!

Awwww man, my L925 isn't on the list :'(

Lol not available for 1520

The 930 but not the Icon? Weird...

And yea we have to stay out in the (cold 925 user

Unavailable 930 Aus... Well.. US region ;)

Microsoft must be intent on disgusting every Icon owner to the point of never trusting them, again. Ridiculous.

No for Lumia 810. Might be time to​ bite the bullet and pick up a 640 from Cricket tomorrow. Too bad. I love T-Mobile's $30/mo 5 GB plan.

Arnt crickets handsets no better then owning an 810? Sure you could flash a att rom but is that worth the trouble

Not available in Switzerland or Germany (NL930)

Oh! It's available for L640 xl too... But unable to install! Still not available in India!! Why?

Cant download in 730 (India)

My only problem is that it is also for the enemy (Android).

no old devices supported :(

My Lumia 930 is not suported in Sweden

Not available for 640XL in India

Cannot install on my Lumia930 with Update 2 :/

The reports of it not being available is usually due to the app not being published in your region yet. Sometimes there can be a delay in the rollout. For example, I am on a L1520 in the US and its not available for download. I'll try again later tonight. If it still not downloadable, then ill suspect an intentionally staggered rollout

Im in the US have 1520 and yes im prolly going to try it tonight again see if it is downloadable

Of course, the 1020 again not getting a photo app. Really hating my phone at the moment lol

Unable to download with Lumia 535 GDR2 :/

Now it can be download...

No ICON? R they serious? Morons...

Finally an app which looks interesting to me...yet isn't (or won't be) available for my Lumia 1020...pff

Where is Icon in the list?

When open the store link, it shows up........"This app is no longer published"

Not surprised. My 520 can't even handle burst mode, how would it run this? XD

I guess it isnt in the Windows store yet

Lets not forget people...apps take time to propagate properly. The supported phones list in the post comes from the Store.

Clicked the link, it said "This app is not available for your phone."

I don't quite understand why some Windows Phones wouldn't be supported. What does this even mean? That developers must create different versions of their apps for each device out there? Like, why wouldn't the Lumia 928 be able to use this app? I'm confused.

Hey I can't get it on my 830 att?????

Unable to download to lumia 635. Is the link not live yet?

Its not available, mine is 930 :(

Can't donwload on 630 at the moment... hopefully the store gets updated soon so i can try it

Not available for Malaysia :(

Literally says its available for my device in description yet says its not available for my device???? Lumia830 w/latest updates

I am using Lumia 535 but it says the app is not available for your device

920 n 1020 cant process it? How long we should wait for a flagship?

Someone screwed the pooch on this, and I'm not sure who to point the finger at. Either the app wasn't ready for full market release (hence the massive lack of ability to DL to stated qualified devices'), or the article missed something crucial about ability requirements. I've tried on my armada (1520-8.1 denim, 1520-wm10, 925-8.1 denim, 1020- 8.1 denim, 920-8.1 cyan ... All US) of windows devices, and nothing flew.
I think its the authors responsibility to reach back to MS and maybe make a report as to this - if its a store error - because clearly the community wants this tool. Am I off base in that request?

We have contacted Microsoft. Every site with this news will be in the same boat. The link was provided by Microsoft. The supported devices was in the Store listing when this was prepared. The issue is with Microsoft.

Thanks Rich! I have the utmost respect for this sites publications, so this being a MS Fubar makes sense.
I appreciate the response.

Not available in Estonia, Lumia 930.:'(

Not allowing me to download on the Lumia 830

Only in English. I will skip This one. Dutch or nothing all the way.

Funny! It's not available for my L730 DS

Not available for L735...tried US region also.

It saddens me to see the 920 being so casually neglected.. If they can make it work on a 4 friggin 35, surely they must be able to do so on the 920, right?

The 920 is a two and a half year-old phone. So it should get support forever. That said its definitely more powerful than the 435, excel the graphics chipset is slightly better on the 435 so maybe thats it.

hoping that I don't have to upgrade to a newer model. Love my 920

Wats wrong not Available for 520

I created a thread asking for support for Lumia 1020 in their feedback forum. Feel free to upvote my request at that link if you'd like to see Hyperlapse brought to the 1020.

I have a 635 and i still can't download it.....

What about bloody lumia 1320. Why is that debarred.

My 1020 just got shafted with no lube also

I hope they will eventually support the Lumia 822

720 my poor phone but has a great video recording clarity. Would have loved it. My I will have with my friend who has got his 640 yesterday.

Says the app has been pulled. Very funny because it made me log on to confirm if it was available for my phone (1520.3). Which is needed of course to download anyway but to make you log on to check the phone when its not available for ANY phone is commical.

Dual core support... Oh well

Works on my 630 in the UK.

Store says: 12-05-2015. What????

Pls put this in Lumia camera or something

In store it's says doesn't available for lumia 435 dual sim

And again no Sammy support... it starting to piss me off...

My 730 is in supported list. But I can't get it?

Why cant i download it ? Not supported :\ lumia 1520 germany.. Region set to usa

Its supports for Lumia 830.... But it says it not available for my device

Read the update people... The link went down and they are waiting for Microsoft to comment.

That's odd the app for windows phone is not available for my region. That's strange because I have no issues with the desktop program. Why is this app blocked in the windows phone store??? Lumia 1520 NL.

GO CHECK NOW, INSTALLING IT NOW ON MY LUMIA 1520

Now the download back it's work

Fuck MS....not coz its not available for my phone.....but for producing shits like this instead of a pause button in video recording

Couldn't help to notice that the Lumia 920 wasn't on that list...?

And these guys are supposed to have a successful Windows Mobile 10 rollout later this year, *and* push out an update to all existing devices? Color me hugely sceptical.

This link works. https://www.windowsphone.com/s?appid=35781f83-3495-4204-b994-e939c0b29000

Says not available for my 635

1520 AT&T installing now... Store link is working.

no support for L920? NOOOOOOO!!!!! PLZ someone?! Rudyyyyyy make this app can run in all devices.... (with different names, to avoid Msft anger) show them their app can run on older hardware. i dont think the processor is the problem-- msft says | the processor doesnt support autofocus" and it breaked by Camera 360 Sight. Msft says "living images isnt supported on old devices because the hardware--and it breaked by lumia camera beta bug which can capture live image) (sorry for my bad eng)

Why this app is not available for Lumia 1020. This is a camera phone

Processor isn't as powerful.

You can download now........ Lumia 1520 region US

I'm using the 1520 and its available fr my phone. Us region...

Yes ,leave out the x20 series. Good going MSFT.

Available to download in all regions now. :)

Nice, smooth, professional rollout... :)

I think Microsoft just declare 1020 as a dead device, with clear explanation that any new apps won't be for 1020. Atleast this ensures we 1020 owners don't wish for features which may never come.

I'd say that leaving out both my 1020 and 920 was a ploy to entice me to buy new high end hardware, but...uh. Of course I could run it on some Android device. Ugh.

"the app is only available for windows desktop" now here's a list of all the phones you can currently install it on.
What?

Still can't download on my Icon...spectacular.

Seems... FREAKING AWESOOOOOOME

It's not working with Lumia 930, says Not Available why????

Ms following same pattern which king nokia left and disappear. Ms must understand Nokia was very rigid with updates. I have used many nokia phones. I liked hardware, build, camera and cortana. I switched over to android becaz of this updates issue. With android you are not kept waiting with updates. They keep coming, coming and coming but with lumia this phone will get, this will not get. I have Lumia 1520 and not missing any updates and happy. But I feel pain for others and advise MS not to follow nokia trend. You will not earn money which you think by adopting existing policy of updates. Android is laggy plateform but people love it and tolrate it because of apps and updates. Ms you have qualified commercial staff. But looks like they think for their salary not for users. I go to market in Karachi. Still Windows phone are not popular among users and no resale. Come to the ground/earth Ms.

Icon not support ..... Shit again

My 1020 is not a candidate

I'd love to try this but as usual, my Lumia Icon is the wrong phone. It's odd because the Lumia 930 is, except for the radio THE EXACT SAME PHONE as the Lumia Icon.

Can download now on 930 : )

As nice as it is, I'm surprised its not available for the icon, 1020, 920 and 925 but its available for the low end lol. Hopefully it will be expanded soon.

Is this tech come from Microsoft mobile or NDS unit????

Now it can be downloaded...

Not available for the Lumia 920! WTF.

Nice glad to finally get this

Am I the only unfortunate 625 user here?

lumia 525 has 1GB RAM but still its unsupported....in Lumia 525

"512 Mb do not support HD resolution" ~ Then why hasn't 525 included in the list? 525 has 1gb ram!

Working on 930 now , just downloaded, looks pretty good

It's great and can upload to instagram using video upload to instagram :)

And let me guess, it will never work on x20 Lumia series...

MS make Final Cut killer asap!!! :)

Now, the link works........

OMG no 925!!!!!!!!!!!!!!!!!!!!!!!!

this is the first time ever, that I feel shafted -_- damn, just realized our phone is 2 years old pretty much. If only Microsoft had a replacement and then too Tmobile would fucken pick one up >:\

Two old flagships & one camera flagship ignored. What is your excuse this time, Microsoft.

Still not showing up for my Lumia Icon and the desktop version of the app store says it's "not available for my device." WTF? Can't run this app on a flagship device?

Not available for Lumia 1020

Not available for #lumia1020 duh.

Not available for 1020 either

Hah not supported with 1320 wow great!!

No love for older Lumias? and support for Snapdragon 200? the heck?

Not available for my 1320!

Still says not available for 635

My first video using this app Microsoft Hyperlapse : https://youtu.be/H-sPuYsFO_M
Windows Central Newsletter
Get the best of Windows Central in in your inbox, every day!
Thank you for signing up to Windows Central. You will receive a verification email shortly.
There was a problem. Please refresh the page and try again.