Creed: Rise to Glory is coming to VR headsets Sept. 25, preorders available
This might be the biggest VR game launch we've seen so far.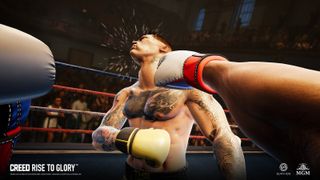 When we last saw Creed: Rise to Glory back at GDC in March, I walked away more than a little impressed. Since then, Survios has worked overtime to really make the game feel like it's a part of the Creed movie universe. You get to choose from a bunch of iconic characters, you get to train with Rocky himself, and of course, the game itself has you punching your arms in the real world while you dodge punches in a virtual boxing ring. All we really needed was a launch date, and now that's exactly what we have.
Creed: Rise to Glory is dropping on Oculus Rift, Steam VR, PlayStation VR, and over 5,000 VR Arcades around the world on the same day, September 25. That puts the game release almost exactly two months away from the launch of Creed 2 in theaters, where Adonis "Hollywood" Creed prepares for the fight of his life.
Preorders across Steam VR, Oculus Home, and PlayStation VR are available now for $29.99. If you're excited about boxing with Creed, or if you're excited by a fitness-focused VR game with a cinematic focus, this is going to be well worth your time and cash.
Get the Windows Central Newsletter
All the latest news, reviews, and guides for Windows and Xbox diehards.
Russell is a tech nerd who chases the best of everything, from phones to game consoles to laptops and everything glowing or beeping. He's the Managing Editor of gaming content for Mobile Nations and can be found contributing to all of the Mobile Nations sites. Reach out on Twitter!