Crimson Desert: Everything you need to know
The developers behind Black Desert are working on a new fantasy adventure set in a war-torn realm.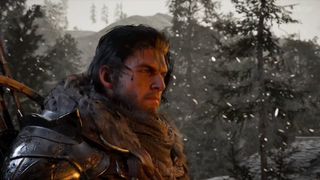 (Image credit: Pearl Abyss)
The Game Awards 2020 included plenty of announcements and reveals including the first look at gameplay from Crimson Desert, a new open-world action adventure game from Pearl Abyss. The latest release from the developers behind the MMORPG Black Desert won't be out for a while, but we've pulled together everything you need to know about the title.
What is Crimson Desert?
Crimson Desert is a single-player open-world action adventure game. It is being developed by Pearl Abyss, the team behind Black Desert and Shadow Arena. It was first announced as an MMORPG in November 2019 but has changed course to a narrative solo experience with some multiplayer functions.
The Crimson Desert trailer
The first trailer for Crimson Desert debuted during The Game Awards 2020 on December 10. You can watch it below.
Crimson Desert Story, gameplay and features
Crimson Desert is set in the fantasy world of Pyrel, a continent with varying climates including the titular desert, frozen wilderness, and plains populated my a mix of humans and fantasy races. Wars between human nations have awakened mythical beasts while a desert-based cult worshipping a powerful ancient god also poses a terrible threat.
The game follows Macduff, the leader of a band of mercenaries who all have stories of their own. Those characters include a runaway slave, a mother who left her children, and a non-human who lost his mother. Macduff will recruit them from around the world by earning their respect, assembling a team that can face the turmoil that has been caused by the fall of the King of Demeniss, a tyrant who had unified the continent.
Players will travel the world solving mysteries and fighting a wide variety of foes. Exploring the world and completing quests will reward you with new items and skills. Combat features a combo attack system where you'll team up with other mercenaries in your group to coordinate your assaults.
The designers have been working on sophisticated AI with varied tactics. For instance, enemies may drop their weapons when hit with a normal attack or special skill, leaving them to charge the player and attack with their bare hands or step back to pick up another weapon and continue fighting.
The setting features a wide variety of weaponry including axes, swords, pistols, and cannons. Alchemists can also imbue some weapons with additional abilities.
What platforms is Crimson Desert coming to?
Crimson Desert will release on PC and consoles, though the exact platforms have not been revealed. It's likely that it will be available on Xbox Series X, Xbox Series S, and PS5.
How is Crimson Desert connected to Black Desert?
Despite the similarity in names, there is no indication that Crimson Desert is set in the same world as Black Desert. While the game was originally intended as a prequel to Black Desert, it's become its own distinct property.
When is Crimson Desert's release date?
Crimson Desert will be released in winter 2021. Keep checking back here for more updates on the game until then.
Get the Windows Central Newsletter
All the latest news, reviews, and guides for Windows and Xbox diehards.