Critical update to fix random reboots rolling out to AT&T Lumia 830, 1520 and 1020 [Update]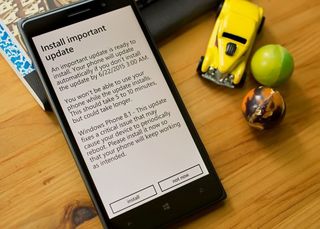 Microsoft's hotfix to deal with an issue that is causing some Windows Phone devices to randomly reboot is now making its way to other Lumia devices in the US. We have confirmed the download is rolling out to Lumia 830 devices on AT&T and we have received tips that it is also being made available for the Lumia 1020, also on AT&T.
Just for clarification, this update is not Windows Phone 8.1 Update 2, but a patch to fix periodic reboot issues. Microsoft previously wrote up a short post about this update their support forums (opens in new tab):
In addition, we have received tips this update is going out to the Lumia 535 in Sweden and the Lumia 620 and 630 in India.
Update: We have received more tips the update is available for the AT&T Lumia 1520 and the Verizon Lumia Icon.
Thanks to everyone for the tips!
Windows Central Newsletter
Get the best of Windows Central in your inbox, every day!
Got it on my ATT 1520 too.

Got it on my att 1520 also. I have had this random reboot thing happen twice already.

My 1020 has done it 4 or 5 times. Hopefully this will also fix internet sharing when using a 1020 on t-mobile. The Cyan update killed that function.

Yes, it's broken on my Lumia 820 too. Hope it gets fixed soon. Meanwhile anyone knows work around for the issue?

Got it on Lumia 1020 Vodafone italy

Got it on my Lumia 620 also.

Both my ATT 1520 and 925 received it. Haven't noticed any problems with the 925 before, but the 1520 rebooted at 4:07AM this morning.

All the lumias are receiving it.

all your lumias are belong to us

Yup, I also get update on Lumia 720 in India

Dammit, I thought I was finally getting slow ring windows 10 mobile. It said slow ring update at the beginning.

Gotbit on my 1020 AT&T all set.

Icon just got this today.

Funny... never had that. I wonder if this is the update it made me grab the other day before I could put 10 on though.

You got GDR2 before jumping to W10.

My 920 just started randomly rebooting on my a few days ago.

I checked for the update immediately after I posted this and my phone is now installing this update for my 920 so hopefully it fixes the issues. I almost performed a reset of my phone this morning, I'm glad I held off.

Even i got the update just now on my 920 ATT. I am on DEV Preview build 8.1

Unfortuantelly my phone just rebooted on it's own several times in a row so it looks like my issue is not resolved. Also, when I installed the update the OS version did not change, I can't say for certain if the firmware version did or did not change. I did install the "stop restart app" it claimed my phone was also ok, apparently not.

I went back to check the phone update and it said "update was downloaded but couldn't be opened (80188302)" but then when I checked for updates again it says the phone is up to date so I'm confused...

you are going through exactly what I am. and the stupid support centre doesn't even understand the genesis of my inquiries at all and say the same stupid things over and over again

Lumia 925 CV in Germany too ;)

Hopefully now that this is out of the way they can push denim to the 830....or at least update 2

If this is 830 Denim firmware, that will be useful as the newer camera features will work. You'll soon find out!

Yeah I really wish it was DENIM but sadly I don't think the carriers have anything to do with this update. It's coming from MS directly like all their updates should!!!

Got it on my Verizon Icon.

Well I'll be dammed. Never had this problem after updating to 8.1.1 just screen flicker sunlight readability not as useful & the usual problems with hotspots requiring a factory reset. Wonder if it'll start happening after I update it

Got this this morning on my Icon. haven't been having any issues with rendom reboots.

It is installing on my Lumia 928 right now. We are getting Windows Phone support on Verizon.

1520 too. or something. downloading now. Update: Yep, 1520 too.

Got it too. Lumia 735 in The Netherlands. ​ ​ ​

There is an app to check if your phone needs the update. Mine didn't. Odd that only some do.

What is really odd is that my phone said it didn't need the update, but is downloading the update...

got it on my Lumia 930, India..

what's the size of update??

I also got it on my Lumia 930 in the Philippines.

Lumia 640 DS CV Germany got it several days ago.

I guess it is true that Microsoft is allowed to push out critical fixes without carrier permission. Shame Google can't do that. On a bright side, I think Windows 10 gave my Lumia 830 on AT&T the necessary firmware thats in Denim. I'm now able to download Lumia Camera.

Did the firmware version change?

I'm not quite sure. I didn't really check before I updated. I can't think of any other reason that would happen, though.

My AT&T 830's firmware version (02040.00012.14404.07019) remains unchanged after accepting the update. Likewise, there were no changes in any of the other versions (OS, etc.) listed in the "About" screen in the Settings menu. I did an extra (soft) reset after the installation, just to be sure. Since I only had a couple of random reboots previously, I'm not sure whether my phone actually had the problem they are fixing. But like so many other AT&T customers, I certainly wish this had included the Denim update. Still waiting for that 8 months later.

1520 Italy too. Or something

Still no Denim for 830....

O2 UK 820 also got the update today :)

Got that update on my L1520 with AT&T as well. I originally thought it was Update 2.

lumia 535 NL CV as well i think

Lumia 920 country variant in Croatia also got the update just a few minutes ago.

Similar critical update rolling out to my 735 as well here in Sri Lanka.

Got it on my 1020 Country Variant (Poland). Unexpected but every update is very welcomed :)

Lumia 925 UK cv getting it as well.

Also on the 830 on TELUS in Canada

I was going to say this as well. Nice to see bugs like this getting the fixed pushed out relatively quickly.

Got it on my lumia 925 tmobile also.

Seems like they've given up on fixing the 535

Lumia 820 - Windows 8.1 - ATT - US Just got the update now :)

I just got it on my unlocked 1520 too.

Lumia 920CV India also received the update along with my spare Lumia 630 and 520 preparing to install (both CV).

For 1320 India variant please. :(

Manually check for updates..You might get it. If you dnt get it then install this app & check whether your phone needs this update or not: https://www.windowsphone.com/en-in/store/app/stop-restart-app/b60588a9-5...

Unfortunately, this App is only availble in Windows Store in India!

Ntn like that, its installed in my l620..

My 1520 been getting some battery issues on random in the last couple of weeks or so. Vanilla denim 8.1. Sometimes after charging notably hot and depletes battery fast. Still last's a day or so not a major issue but a bit strange. Perhaps new flagship is due.. Edit: And seems update available (Finland)

That's the exact problem I had. Mine would do it after being on the internet a short while and j had to leave my phone plugged in.

Received the update also in South Africa L520

1020 EE UK got a notification

1020 (CV) and 920 (T-Mobile) in Germany as well

Got it on my Latin America variant 1520.3 too!

I guess that explains why my phone rebooted in my pocket Sunday night. I've had the 830 for three months, and only remember the reboot happening on its own once before. It was so random that I wasn't even concerned enough to check if this was a common problem.

Got it here in Argentina, Lumia 630

Lumia 920 Puerto Rico (Claro)

my Nokia 1020 is saying ERROR: Unable to find a bootable option. Press any key to shutdown http://smartcam.club/node/3296

Your phone is dead go to a Nokia care center nothing to do

Totally unrelated, but nice try to get block hits.

Had the same thing happen to my 1020 about 9 months ago. As has been already stated, go to your local care center or whomever you're on contract with. They'll have to send away for a new one. /it's dead Jim

R.I.P Nokia 1020 I've gone back to the 808

You can flash it with a new software using Nokia Care Suite

Got it half an hour ago on my 930, carrier unlocked in Croatia. Tough, I had no problems with random reboots. Hope this update won't bring them out! :)

I feel the same way. Just updated my ATT 1520. I hope this isn't some sort of NSA "update".

Wow! Why do you have the 929 in India? Are you limited to 2G or 3G speeds?

Hmm, I bought a used 1520 not too long ago and it was rebooting like mad, it was a poor refurb so I'm glad I returned it anyway, but I wonder if this was the issue with it.

I received it for my 925 in the U.K.

Got it too on my Lumia 930, indonesia

Add Verizon Nokia Lumia 928's also

ugh. Wrong comment to reply to. Sorry.

I just received this update on my 1520.3 on T Mobile 30 minutes ago. What's up with that? All is fine though!

Received update 2 of win 8.1 on my 820 Austrian cv today :)

I received it for my AT&T Nokia Lumia 1520, however I never experienced any reboots^_^

Got it on my Lumia Icon !

925 at&t in Canada got it to

Guess all Lumia phones are getting it worldwide. I got it on my Lumia 1020 in India. An hour ago.

Lumia 925 CV in Brazil too. :D

Never had it on my 1520.3

Got this also, Lumia 520 Finland.

I've had my 1520 for almost a year and a half-has never rebooted itself.

Is this just for lumia? Was wondering if Samsung or other OEMs have it in que

I received it on my HTC 8S.

Probably just for Lumias. Seems like a firmware problem, not OS level. I never had my ATIV randomly reboot and my One has done it once in 6 months but my old 920 would do it every 2 to 3 weeks.

For me occasionally when I left my ativ plugged in for half a day & never touched it

I'm seeing the critical update on my AT&T 830, but never had the reboot issue so not sure if I should download this. Wow never thought I'd ever see an update available for this phone! Now where's the God Damned DENIM & GDR2 update????????

And Verizon's Lumia Icon. It's installing on mine now.

Just received the update on Rogers 920.

Got it on my unlocked lumia 930 in the U.K. with a Three sim.

Also on the 1020 on TELUS in Canada.

got it on my lumia 720 in India.

Got on my Lumia 930 (Brazil) CV right now

How can I get rid of this windows 10 pending update in order to download this update? I truly do not want to wipe my phone.

Me too. I am on Tmobile usa L920

AT&T 920 ... just got it.

I got it on my Lumia 720, Virgin Media in England

Got it on my 1020 and 535 too. Woop from UK!

Just received some sort of update on my Lumia 925 Tmob-US

I just got it on my L1520 in Switzerland. I never had a problem with random reboots, although I had a problem a few times when rebooting explicitly it went into a reboot loop.

Icon got a update too idk y

I got update in Lumia 520 India

Just installed this update on a 930 (Belgium)

Never have a reboot problem with my 1020.

O2 UK Lumia 720, received today.

I had this problem on my Samsung Ativ S. Just downloaded the update.

My AT&T Lumia 635 just received this update

My Lumia 635 got updated too. NO sign off update 2...

its on my 928 now, weird I have never seen this problem, uptime is 20 days now according to AIDA64

Oh man, you're lucky! Mine was so bad that I actually just did a factory reset two stinkin' days ago! LOL

Belgium 535, 1020 ans 1520 got updated. Non of them had an iseu before .. So I hope it's fixed :)

Received in my Lumia 920 in Argentina

525 and 1520....both on Three UK got the update.

Lumia 520 (MX CV) and Lumia 640 XL (MX Movistar) too.

Lumia 525 India also getting this update...

Available on The 830 in Germany

Where the fuck is Denim AT&T????

Also is available for Telcel (MX) L1020

Just received this update on 920 cv-nl and 1020 cv-de. On both devices never experienced the issue.

This is not exclusive to AT&T Lumia's. Got the updates to my 1520's and 1020 (VAR APEC), too!

Lumia 535 from Mexico here and received that update an hour ago!

Lumia 930 here, Just installed It. Belgium, Retail device.

Received update notification on HTC 8X running 8.1 Preview in Australia. (HTC withdrew official 8.1 update after mobile carrier approved it.) I am uncertain if it is safe to install on the 8X.

Got it on my HK Lumia 930 in the US. Posted via the Windows Phone Central App for Android

My Lumia 1320 also get the update, in Malaysia

Also worldwide for Samsung ATIV S !
I'm in Belgium and I recel de the critical update message.

Lumia 1020 - Hong Kong CV

My 830 received the update today (rm-984 germany)

Just received it on my Ativ S too (Belgium - PHN)

Straight Talk via AT&T Lumia 635 GoPhone

An update has also come to my phone, a Lumia 920 in Vodafone UK.

updated lumia 525... india

Lumia 625 & 520 in Romania also getting the update.

I got it on my lumia 930 too

820 Orange Poland - installing now. Hope it does solve the reboots :)

Just got it for my unlocked Lumia 830 RM-985.

Two Lumia 435's updated here. (am in the UK)

I just got it on my HTC 8x!

It's been installed on my UK 620 now.

Verizon Lumia 928 got this as well

Got it to my Lumia 930 Greece

Good thing that my Lumia 830 is a UK Lumia. I have not had any random reboots since I got this.

In my case it is Update 2 :D At first it was said it is a critical fix, but after more than 30 minutes I can confirm my 830 in Lithuania CV received Update 2.

I got it too on L925 Turkey CV

I've got it on my Dutch Samsung Ativ S

Got it on my Lumia 1020 Lta country variant. Never had the roboot issue btw.

Lumia 520 in India as well..

Lumia 625 as well in India

This is almost every phone! Seems to be an issue with the OS not the hardware.

Got it on my Lumia Icon - but I never had a random rebooting problem...

Got the update here in Norway 1520

And what about Denim for 830?????

If I don't have Denim by July 4th, I'm selling my 830 and considering leaving AT&T!!!!

Cool. Unfortunately they still haven't fixed the bug on the 1020 that causes it to not automatically connect to bluetooth headsets half the time.

Amazing that MS can bypass the carriers and push out a critical update like this, but at the same time MS is aware of the friggan 830 Lumia Camera 5.0 DENIM fiasco but won't do anything about it??? A-HOLES!!!!!!!!!!!!!

Update: After receiving this update, a bug has occurred: My screen brightness no longer automatically adjusts! Even after going back to the Brightness settings to make the correction, the automatic adjuster slides back to "off" upon exiting the settings.

Have you tried rebooting?

Just did so. Issue is now fixed. Thanks for reminding me mate.

Got it on my unlocked US 830 as well.

Just got it on my 1520. I was trying to do a note with Cortana and she did not respond from my Hey Cortana. Unlocked the phone and there sit a critical update.

Just updated mine. Seems faster.

wow.. 1020 .... in india ! :)

My 1520.3 pick up the update also on at&t

Downloading to my L920 now.

T-MO just issued the update got it on my m8 for windows

My Lumia 1520 never had this issue but I updated anyway #WishItWasWinPhone8.1-2

Plz what is the size of the update.?

Received and installing on Icon now. Never had random reboots though - my Icon has been solid.

Lumia 1020 Vodafone Greece

I just got the update on my 920 on ATT.

Wishing it would return the battery life like it was in Win8! L1520

Got the update for my unlock 1520 on T-Mobile.

Just got it on my Lumia 1020 on Orange in the UK

​Received my update today, AT&T 1520, have not had a reboot problem and hopefully now I won't.

I didnt update yet but my brothers tmobile 925 also got this critical update

Bell canada just had the update listed when i manually verified for new updates. i installed just now for the Nokia 830.

Yeah, my Icon got the update although I never experienced any random reboots. I hope it doesn't start now. :P
Unfortunately, I could see iPhone and Android users talking about this and complaining about how all of the Windows Phones had to be updated because of a random reboot problem.

Got it on my 928 and on wife's Samsung Ativ Neo

I can confirm that I just got this on my 920 on ATT too. I'm in Los Angeles, CA.

I got the update on my T-Mobile Lumia 925!

People are saying there is no denim foe 830 yet mine has denim and 8.1 update 2 installed...? Do I have a special Lumia 830 or do some have it? I have the unlocked UK version which is a RM-984_1037

I got it on 1520, Malaysia.

Just popped up onto my 1520 now...

Just got it on my T-mobile Htc One M8....my spare Lumina 810 and my wife's Lumina 810 also just got it.

Not yet, anyway catchy pic you got there

Got it on my T-Mobile 925 earlier today.

Every Windows Live I've ever owned has had this problem. C'mon HTC 8X! Gimme that update.

Just got the update on 1520 att

Just got it on my T-Mobile (US) Lumia 435.

Next we need the patch for Wi-Fi going offline randomly

Lumia 435 from TELUS in Canada and Lumia 635 from Rogers (also Canada) got it.

Lumia 630 phil update here

Interesting. Have had a ATT 830 since release and never had this symptom. OTOH, want my Denim Update 2, please. Supposedly I can't get 10 until I do...

Just checked for updates, and there it is waiting for download. I'm of the camp, If It Ain't Broke Don't Fix It. Why should I install this if I've never had the problem???

My phone shows win 10 technical preview update.even I uninstalled insider how to roll back it

The update is now also available for Verizon users. It is currently installing on my Lumia 928 and the update is available for the Icon (my battery is too low to install the update so I'm charging it). I can't check my 822 because it's not connecting to my wifi for some strange reason. The funny thing is that I've never had any of my phones suffer from this random reboot issue.

Got it on my Lumia 720 CV in India

Lumia 920 update ok. (Turkey)

Sweet, just got the update for my Verizon Icon, AT&T 1520, and my RM-1113 640!

Got it on my Lumia 920, India...

Got it on Rogers 920, Verizon 822, at&t 1520

An update for the Lumia 928 from Verizon is ready.

Lumia 920 italy cv got this update too!

My wife got it on her "Samsung Ativ S Neo" running Dev Preview 8.1

Got it on my Movistar 820 (México) too

My 1020 got the update this morning in Australia

Got it on my Lumia 830 in Belgium

got the problem on my brand new 640 , telenet says i'm the first to complain ...

Received the critical update for my Lumia 720 india

630 on Brazil too. Hey yo

My ATIV S got an update as well. No carrier, Portugal.

My ATIV S Neo on Sprint just got it

Got it on my 735 , Serbia

I got an update on my 930 tonight here in Germany

how much time it has take to update ??? (LUMIA 1320) AMMAN-JORDAN it took 12 hours and the loading slider wont move !!!! i cant use my phone since yesterday ..... HELP PLEASE

My AT&T 1020 hasn't been randomly restarting, but I did wake up to a a firmware update. I'll assume it was this.
OS version: 8.10.14226.359
Firmware revision number: 3051.50009.1451.1001

This update didn't fix my problems. It still restarts and I always have to keep it plugged because the battery drains extremely fast and it says there are issues with my SD card.

Lumia 535 T-Mobile US. It has taken away 'loading' when waking up the phone or shoving lock screen up.

I received in my 630 dual yesterday. I live in Brazil.

On Lumia 925 it had the update

Got it on my Lumia 820, India

Lumia 830 on ATT updated.

Got it for my ICON this morning.

It's roll out for Lumia 520 too

I got one of these updates ( or some kind of update) this morning for my Lumia Icon on Verizon! Anyway to tell what my update was about if not this? I haven't been having any unexpected reboots.

Yep, me too on my 822. Just two days with the phone and it is great. From Venezuela

Got mine today June 19 on Nokia 925 Tmobile USA, never had random reboots, 925 is great for my use.

Yep, got it on my 535 in Colombia.

Verizon is also releasing this update. Just got it on the L928.

Got a new update today, now on Lumia denim 1.2.12.1 Nokia 1020. O2 UK

Got it on my Lumia 925 today (UK on EE) but it's been been doing strange things since!

So much for a fix! My Icon just rebooted!!! Same as before the update....

Got it this morning on my Verizon Icon.

This update caused a sensor problem in my Lumia 1320

Available for HTC 8XT's as well. Mine failed to install however...

My Samsung ATIV S Neo on Sprint in the US just got it. Wierd.

As quickly as this update was pushed out to all phones is how quickly the 8.1.2 should be pushed out.

My HTC8X got the update today.

My Lumia 630 is rebooting even after the update. It was rebooting madly since I updated to Lumia denim through windows insider.
plz anybody tell me how to stop it.
It was so annoying.

That was the fastest update my phone has ever done

I refuse to install this update on either my unlocked AT&T 1020 or 1520.3. Both Denim phones have never experienced a random reboot issue. Posted via the Windows Central App for Android

I had not reboot problems with my ATT lumia 1020 and after the update my phone is powering off randomly VERY often! I installed the stop reboot app and it says my phone is fine! Anyone with the same problem?

Seem to be having the problem on my new Lumia 640 - three reboots since I bought it last Saturday. Tried Phone Update, but was told that my phone is up to date.

I downloaded the Stop Restart app and ran it on my 640. It did not find any problem. Nevertheless, the problem, or another like it appear to be present on my phone. Hopefully, Microsoft will address this sooner than later. Happened once when I tried to go back one page in IE, another time when playing music, and I don't remember the third time.

Just received the update on my Lumia 820 purchased in New York but being used in Israel. BTW I never had the reboot problem, that I know of :-).

Anyone anywhere have any idea when we might be getting Denim (AT&T Lumia 820 unlocked)? Will we get it before Windows 10 is released?

i got the problem on my brand new 640 ! Random Reboot, after some updates it finally giul )telenetot stuck. I asked for a new one (belgium -telenet)