Critical update to fix random reboots rolling out to Lumia 730, 830 and 1520 in India
A critical update is rolling out to the Lumia 730, Lumia 830 and Lumia 1520 in India to fix any random reboot issues encountered by either device.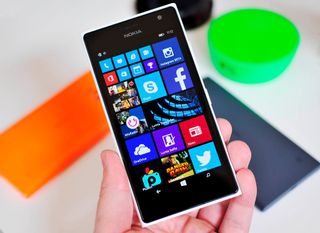 A similar update rolled out to the Lumia 930 yesterday. For those wondering, this is not Windows Phone 8.1 Update 2, but a patch to fix perioditic reboot issues:
The update bumps the OS version to 8.10.14234.375 and the firmware version to 02040.00021.15063.02004. If you're facing the issue and are yet to see an update, Microsoft has a fix (opens in new tab).
Source: Windows Central forums (1), (2)
Thanks Mohammed, Kavi Raj and Sadananda!
Windows Central Newsletter
Get the best of Windows Central in in your inbox, every day!
Harish Jonnalagadda is a Senior Editor overseeing Asia for Android Central, Windows Central's sister site. When not reviewing phones, he's testing PC hardware, including video cards, motherboards, gaming accessories, and keyboards.
Why don't they release Windows Phone Update 2 "CRITICALLY"!!!!!

India gets everything....

Yes. I hope they will do that...

I was having these random reboots...thought it was because of my SD card...now I know lol...

@km2612 can you tell me more what problem you were facing???

@Abhishek...my phone used to crash suddenly...when using charger...or using an app that was installed on sd card...it would freeze and crash...

Yes I too had.. I too thought it was bcoz of sd card.. But it was fixed when I got the previous update.. Also changed to a class 10 sd card..

Problem is, now my 930 shows the insider preview as the update available and I don't want that. I had not checked for that reason.
I might update if the new build coming is stable enough, but I was only taking the preview on my old 920. Now I have to watch that my daily driver is not trashed in all this.

I have the opposite problem on my HTC One M8... My phone wants to downgrade to Windows Phone 8.1 Update 2 when im on the preview...

Same on my L730...after hard reset it has been showing wp 8.1 update and installing fails (quite obvious)...my only worry is that when the latest build becomes available it shouldn't be skipped or get overshadowed by these 8.1 updates :(

Off topic. I'm thinking of buying Lumia 730. What do you think of it? Does it lag? Is the rear camera decent enough for some quick photos? Thanks in advance!

Don't buy it now. In a few months Win 10 mobile is released and new phones with it. Buying a 730 now means you will run on outdated hardware almost immediately

You can always wait for the next best thing that will have a premium price as new... 730 gets good reviews and is a good price.

Premium price.. ?
Nokia launched Lumia 630 ,Lumia 930 with windows 8.1 . Is 630 a premium phone ? ?

Have you tried removing the Windows insider app? A hard reset after doing that fixed it for me. Was having the same issue on my 930 (India).

How you have removed GDR 2 update and rollback to original update of 8.1 update 1

Am still on GDR 2, got it when Microsoft "accidently" pushed the update to 930 users via Windows Insider. And it works just fine.
But if you need to downgrade, you can use Nokia/Lumia Software Recovery Tool. Unfortunately, a hard reset won't help here.

Does it matter? "Critical" indicates spend.

Plan a trip to India & realize the importance of data...!!

It isn't that costly. You get 5GB of data for what amounts to $15.

What about my Nokia lumia 735 when will it get the update.

5 GB for ₹900..? Which carrier and plan Harish..?

I am using you broadband in Pune. 1600₹ 250gb, 100mbps speed. Yes! You have to believe it.

This scenario is not for all India. I am also using airtel broadband in Lucknow. ₹1199/-, 2 Mbps till 15gb & 512kbps thereafter...Now you also have to believe it. That's y i said data is costly if seen on a wholesome.

With Act broadband, I get 20mbps with 85gb cap for 1050 pm

Using Reliance Thunder broadband plan @₹699 10-12MBPS till 10GB and then unlimited with 2MBPS . And they also provide 1MBPS unlimited @599 .

Seriously..??
Mine is too costly then.
Airtel--16 Mbps--200 Gb--₹2,850.

Try using reliance broadband 2mbps unlimited @700-_-

Airtel, which now has 4G in Hyderabad. 5GB data costs about ₹800. Broadband is a 100Mbit line that costs ₹3,500 a month.

That is so cheap compared to what us 'muricans pay. I don't know why bandwidth is so expensive here. Mobile and local broadband. Posted via the Windows Central App for Android

It wont be much. I am guessing around 50-60MB.

In my L730... It was only 1-2 MBs...

Data are also costly here in Nigeria, even the data rate of some network is something else, on Airtel 2000 Naria for 2GB, 3500 for 4.5GB

In MTNL @100₹ you only get 500mb for 30 days but you can get 1 gb in 76₹ but validity for that is 1 week. :|

Will it fix screen flickering issue?

Any fix in the U.S. For my 1520? My has been doing this when I'm on my internet!

Hey Harish thank you!!!!!!

What about nokia lumia 735 pls tell me will get the update.

It says your phone is OK. So i dont need to update, my phone says it is up to date.

You need to get new internet.

Just 1 MB update can be install on mobile data connection. I woke up at morning and saw update was downloaded and phone asking to install. And seriously random reboot was found
in my Lumia 730.

I don't know why but my 730 doesn't seem to have that problem.

mine too. Dont have that problem. :)

I didn't have random reboot problems in my L730 but 2-3 times a day My Phone's screen Blinks... Don't know this problem is resolved or not... Cz it's been just couple of hours since I updated my phone with this update.

My L730 also blink in 2-3 time in a day this update fix it or not

I found this problem in last 8-10 days. Now no problem.

Is this update available for update 2 users as well?My phone says update to date

Thank god. ! I was damn frustated about this rebooting.

People's logic: 1. Open a random article, comment "Wen in India? Seems faster! Release a new build for phones MS!" 2. Now, lets have a look on the article title


Let's be real. If #1 happens, #2 never happens. Lol Posted via the Windows Central App for Android

I still miss u nokia brand. Even though microsoft Lumia going good in India.

I am also facing random reboots on my 1320. Phone reboots randomly with a message saying your phone was too hot. Also memory card auto scanning problem during which app stored on SD card are unusable. :(

For 520 too please, mine reboots also randomly

my 520 got bricked because of this issue...beware.... better keep it switched off till a fix....

Wow, I wonder if this addresses the random rebooting from "battery critically low" messages I and others would get: http://discussions.nokia.com/t5/Lumia/Lumia-1520-Battery-Discharge-Issue-After-Updating-to-Denim/td-p/3076088

The same problem I have with my Nokia Lumia 520

Why bring out so many different Lumias. Smells like Android. No this update is not for your device. No this update is not for your region. No this update is not approved with your carrier. MS should have stick with 5, from high end to low end.

My last update that my phone picked up automatically was December 5 last year

installing as we speak in india

I have the non carrier branded Lumia 830 bought from the Microsoft Store in Connecticut. Got the update I believe in the 9th or 10th of June.

I received this update also for 640 Dual Sim

Yep I got an update related to this issue.. Thnk god

I also want this update for my surface pro. It also sometimes does a random reboot. Very annoying.

My 640 XL often randomly freezes while browsing the Net through Internet Explorer. Anyone else has this problem? Any solutions?

Is this suppose to be India exclusive. Let it be global. It happens to most people not only Indians

I'm Brazilian and I just installed this update on my 730. Got here to see what this is about and even though its great to have updates, I didn't have had any of these issues.

Been using Lumia 625, phone reboot when browsing in IE. Same as Lumia 535... I don't know if the website i was in is too big...

Example: Reboot when I was in phonearena.com (comparison pages) with lumia 625. And when I was on microsoft site (reviewing surface pro features page) with lumia 535. It's almost all the time. It's really tge problem caused by IE. Hope Microsoft Edges won't make the same problem tho...

Hi Harish, I tipped you guys yesterday night itself and was one among the firsts to start s thread in the forum too... http://forums.windowscentral.com/update-2-windows-phone-8-1-gdr2/360835-...

Guys what is random rebooting?? I haven't faced till now in my l730

Guys after the update Cortana got automatically pinned on to my start screen

My gf currently has this issue on her UK variant 830. It has just been sent for repair so won't be happy if it's down to a software issue.

Its been about a year since i brought a Lumia 925 for my father..
Everything is fine except the heating issue of the battery after a 10 minutes continuous use.. Why are they not rooling out an update to this?????

Is this for Preview also or without it? Anyone know?

My L730 also blink in 2-3 time in a day this update fix it or not

If these updates are that critically, why aren't they released worldwide at the same time?

Maybe you should check out during the day since I'm Brazilian and just got this update on my 730.

I'm stuck on WP10:TP and can't roll back to WP8.1.

I'm on update 2 730. And I still haven't got the notification.

My back up Lumia 520 reboots as well. I hope for a fix to come soon!

Harish, yesterday i got an update for my Lumia 820 (India) which is OS Version: 8.10.15116.125 Software Version : WP 8.1 Update 2... :) Not sure how many got it as i thought its for newer versions of Lumia like 640, 640 XL etc.

That's neat! Maybe send a screenshot my way? harish@windowscentral.com

Thanks! I'll check it out. Did not see any mention of 820 getting GDR2.

Harish, before jumping on to this one do see the OS version. It's the base OS from Windows Insider. Nothing new there.

My 520 running denim got bricked because of this issue My phone used to reboot randomly...especially while clicking photos or receiving files.. Last friday... It just shut down and booted with a strange error which has no fix available.

Got it on my L830 yesterday here in Finland

I too face reboot problem once or twice a week especially while using IE. L520 here. It's not that bad though. Living with it.

My Lumia 630 also got some update yesterday which wasn't Update 2

When does Lumia 730 in india get update 2..? Any news about this..?

How about a critical.update to fix the 1520 random swipes?

That's never getting fixed. Hardware issue.

People that have updated to Windows 10 say the issue goes away...which lends to suggest software.

Yeah, and every time a new update came along for WP8 and WP8.1 people also reported the issue went away. It's a cycle and the fact remains: hardware issue.

My 1520.3 does reboot randomly as well.

I am not facing any reboot issues with my Nokia Lumia 730. I have been using Transcend Micro SD class 10 since my 1st day of the phone.

No one gives my reply as i hv issues with double tap to wake up since i bought L730 in December

My 730 heat up too much has flickering issue n blink 2-3 times in day n double tap to wake up doesn't respond well

It must be some phones that have this issue only. I don't think I've ever seen my 830 reboot.

I got critical update for lumia 1020 as well not sure is it the same like on this article in from Finland

Got the update yesterday on me and wifeys 830's. Never had any issues though. Greetings from Finland.

Something huge going to happen this year for mobile world.

Hope Microsoft can perform well.

After critical update my L730 seem some lag

I rarely face the issue on my 1520. Although good to see Microsoft is paying attention to it. By the way the update size was only 1 mb!

What about my Lumia 525
I am facing the same problem since the last two months.
When will the update arrive for me??

I got random reboots on my Lumia 640 XL LTE. I also got an update a couple of weeks ago, but it didn't solve the problem.

My 830 shows random artifacts and then restarts, is it something they can fix with updates or do I have an faulty unit?

I too have 730 but never had a reboot issue but had the light issue but whenever I updated to gdr2 i haven't those issues too.
Then I'm wondering what's the use of this update for 730 users

My 520 has shown a critical update also...m in cyan...is it same what u said?

Obviously that must be denim.

Had this problem in my wp 8.0 L520, didn't recur after Lumia black.

My 1520 does this!!!!!! And im in USA!!!!

Trust me you are not alone.

Is the issue solved after the critical update??

Ya today I have received an update for my L730 in India but I don't see any upgrade in the OS version. Before the updation I did take the screenshot of earlier version it was 375 and after the update also it is 375.. About some two months ago I had received an update and that update had some upgrade in OS version.. It was upgraded from lower version to 375..
So before download of today's update I already had OS ver.375.. So I hope today's update is just some bug fixing... That's all...and the gd news is that after today's update phone feels much more smoother.

Got the update right now on my Lumia 640 Dual SIM Germany CV.

Nice one ... Now my phone is working fine.

my phone was working fine until now..but it's having the same issue again after sometime

Aaaaahhhh.. I thought my battery was loose since it kept rebooting everytime I kept my phone down

There was no rebooting issue for my Lumia 830....
Still, updated when the notification came...
Sized around 2 Mb..
No apparent improvements..
Email tiles are automatically getting pinned to start screen on restart..

Damn, I am so sick with 1520 screen over sensitive problem, rubbish.

LOL! My Lumia ICON (Verizon) didn't have any updates UNTIL I read this article. I checked for updates manually and BOOM! it starts updating. I never has a random restart. Just restart very occasionally when the college's wireless goofs up my connection.

I am in Salem Oregon and have a like new AT&T green 1520 I would like to sell. $400 plus shipping if needed. Car mount, 4 cases, and more. I'm not sure this is the porper place for this so if not please accept my apology. I have it on Craigslist.

IT DID NOT REBOOT FOR A WHILE AND NOW IT STARTED AGAIN (YES I AM RAGING) !!!! I CANT USE MY PHONE IT KEEPS REBOOTING !!!!!!!

I have the most recent update (OS and Firmware). Anyone else continuing to face this issue with the updates? Any suggestions?

My Lumia 830 randomly freezes OS: 8.10.14157.200 Firmware: 02040.00021.15063.02003 But my carrier don't release any update :/ Whan can I do?

After updating Windows OS 8.1 to 10, my lumia 535 is getting often reebot...If i remove the sim card it is not rebooting, can u help me for this issues...what are the trouble shoot for that...

Windows Central Newsletter
Thank you for signing up to Windows Central. You will receive a verification email shortly.
There was a problem. Please refresh the page and try again.