Binge on anime with Crunchyroll for Windows 10
Crunchyroll is a Windows 10 app that delivers a ton of anime content to your PC or mobile device, including episodes of Yu-Gi-Oh!, One Piece and Dragon Ball Super.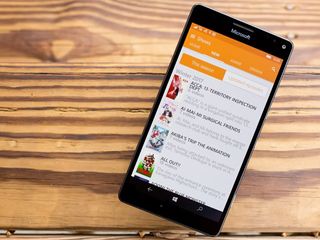 The app has a simple layout and a boatload of content. A membership option for Crunchyroll is available, but it is not required. The free version of Crunchyroll provides full access to its anime library and is ad-supported. A premium subscription is available for a monthly fee that drops the ad support and unlocks additional features.
If you are an anime fan or are just in search of quality streaming content, Crunchyroll is a good option to have in your Windows 10 app library.
Crunchyroll's layout is simple, effective and easy to navigate. A menu button rests in the upper left corner that provides access to the app's settings and lets you log in or create a Crunchyroll account. Settings provide options on how you view content lists and the subtitle language (English, Spanish, Portuguese, French, Dutch and Italian).
Content with Crunchyroll is tabbed and includes a home page where you can view your streaming queue and history, a New Page that lists newly-added content and pages for anime and drama episodes. In the most basic sense, anime covers animated content, and drama covers content with actors. Just keep in mind that to use the queue and history features you need to create an account. Accounts are free and based on your email address.
You can search content by keyword or sort the streaming content by a variety of genres and filters. Genres include action, comedy, crime, historical, romance and more. Content can be viewed in list form, which includes a short synopsis of the series or episode, or by thumbnail with the number of episodes available listed. Crunchyroll also has Cortana support for content searches and pulling up your streaming queue.
In general, pulling up a specific series shows a short summary of what the anime or drama series is about and a listing of all the episodes available. Each episode has a brief overview of the storyline. The amount of content listed with anime or drama shows varies, depending on the information that is available to Crunchyroll.
Series can be pinned to your Windows 10 Start Screen, added to your account queue to watch later and shared with friends. Crunchyroll's streaming library has over 25,000 licensed episodes that represent over 15,000 hours of viewing time. Streaming was smooth with quality resolution. Ad-support with the free version of Crunchyroll delivers 15- to 30-second advertisements, placed periodically throughout the stream, much like you would see on network television. The ads are mostly Crunchyroll ads highlighting new contents, and they're by no means unbearable.
If you do not care for the advertisements, there is the option to upgrade to a premium version of Crunchyroll. You need an account and the premium version is currently priced at $6.95 a month. Along with dropping the ad support, the premium version also provides you access to new content immediately after it airs, as well as high-quality, 1080p streaming.
Overall, the viewing experience with Crunchyroll is good. I experienced no issues with playback, the amount of content was vast, and the ad support wasn't oppressive. The Windows 10 Mobile version allows you to get your anime fix while on the go. The PC version is great for use a tablet while stretched out on the couch or on the desktop when you need a break from work. Anime may not be everyone's cup of tea, but if it is, Crunchyroll is a Windows 10 app for you.
Download Crunchyroll from the Windows Store (opens in new tab)
George is the Reviews Editor at Windows Central, concentrating on Windows 10 PC and Mobile apps. He's been a supporter of the platform since the days of Windows CE and uses his current Windows 10 Mobile phone daily to keep up with life and enjoy a game during down time.
Crunchyroll is good but like Hulu's rapidly depleting anime selection, it's primarily subtitled. If you want English dubs you need to go for Funimation Now or Amazon's new add on channel Anime Strike. Or both, like me. xD

never watch an anime English dubed!!!

Not only anime, any foreign media doesn't work out well with dubs, they'd ruin it mostly. They are only suited best with English subtitles, making our subconscious believe that we do actually understand the language altogether. That's the best viewing experience...

As an odd person who watches anime dubbed, I'm so grateful for Funimation Now!

There are a lot of feature rich alternative apps out there in W10m especially for Anime.

I use two of then, both on PC and phone, Anime Free Universal and Anime Kiss TV

Subtitled is the best aside from DBZ..

I honestly hate English dubs, always preferred the original

Crunchyroll has partnered with Funimation to start bring some of the dubbing over to Crunchyroll. Likewise for Funimation. Dragonball Super is a Funimation exclusive however, due to their partnership Crunchyroll now carries it as well. Both apps i feel are excellent on Windows 10 and they are the premiere way to watch Anime. BTW, any true die hard knows that subtitled is the only way to go. But we will save that for another discussion 😊.

I've never really been into anime myself, but I'm extremely interested in the idea of people's fascination with it. It makes me feel like I'm missing out on something and I want in on it so bad. About the only anime I've been able to sit through and actually enjoy was Ghost in the Shell: SAC. Give me some recommendations for your cream of the crop picks for anime to watch over this long weekend. My take on subtitles vs. dubbing. As I indicated above, I haven't watched much anime, however I have watched a number of foreign films. I will say I don't always care for the acting in dubbing and the voices don't always sound like they match up with the person. That being said though, I also feel like I'm missing out on a lot of the visuals by having to read everything that's being said, especially when there's a lot of action on the screen. I'm a very slow reader so that doesn't help. I will always give the dub a shot first, but if it's terrible, I'll resort to subtitles.

Death Note, Blue Exorcist, and Steins;Gate (note. Steins;gate is a long and complex show)

Thanks for the recommendations! I've heard of Blue Exorcist, but never given it a try. Is Steins;Gate on Crunchyroll? I didn't see it. I do like complex storylines and plots that make me think. As long as it's not dragged out or bog down the show.

Hulu has Steins;Gate, (but has ads) as well as a few other anime sites like this one: http://animeshow.tv/Steins-Gate/
The show is 24 episodes long and keeps you hooked the entire way (at least for me anyways).

Ghost in the shell is indeed good, but check out Fullmetal Alchemist: Brotherhood. It has 64 episodes and is at the top of my list.
As for the Dub vs Sub, I like to hear the speaking Japanese and they put a great deal of effort in their acting, which is lost in the dubs

I totally get that a lot of the intonation you get from the acting can get lost in the dubbing. It's just that if I'm watching a show, I want to watch it, not read it. And as I said, I'm a bit of a slow reader so I don't always catch everything when it comes up on screen. Not saying one is better than the other. To each their own. Thanks for the recommendation!

I agree some might get lost, even I pause sometimes when there are longer quick lines. But after so much watching I learned words or recognize expressions partially and figure out the rest after seeing part of the subbed line.
Shingeki no kyojin(Attack on titan), Darker than Black or Arslan Senki are good as well

Depends what you are looking for. Tokyo Ghoul, Akame ga Kill, Attack on Titan great action packed. There is something for everyone when it comes to anime.

Cowboy Bebop, and I have a fondness for Tri-gun too. I prefer Dubs, specifically from the last 5 years or so from Funimation. They put a lot of effort into the scrips and acting, which to me shows through. The biggest advantage for me is that I feel the dubs do a decsent job translating culturally as well, but I see soo much more of the action and what is going on. I just don't enjoy the subtitled stuff now.

Psycho Pass is really good, I also enjoy Mob Psycho 100 and One Punch Man (these two are done by the same guy). Attack on Titan has had one season so far and is shaping up to be incredible and along the same lines (darker and more adult friendly) Berserk is amazing. I recommend watching the three movies instead of the series (for Berserk) as the movies actually include more from the manga and the production values are MUCH higher. Oh and to reiterate others' recommendations: Full Metal Alchemist Brotherhood and Cowboy Bebop are sensational.
Windows Central Newsletter
Thank you for signing up to Windows Central. You will receive a verification email shortly.
There was a problem. Please refresh the page and try again.