CTIA: Blackjack II Hands On!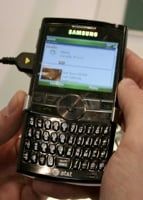 We're going to save the best for ...ah, screw it, here's the highlight of the CTIA conference: The Blackjack II. Specs are much improved:
Triband HSDPA / Quadband GSM
Windows Mobile 6
2mp camera
128 RAM, 256 ROM
1700 mAh battery (!)
260 MHz Dual Core ARM 9 Proc
AGPS (more on that after the break)
Improvements over the original Blackjack are myriad and manifold: slightly better screen, significantly improved battery life, Windows Mobile 6. The scroll wheel has been integrated into the 5-way, which is really slick and easy to use. It should be standard in every 5-way from now on.
More of our impressions and photos after the break!
Photos
You know that's what you're really looking for, here they are first:
Impressions
The Blackjack II, when I first heard of it, looked pretty lame to me. I wonder why Samsung was even bothering with it - it's pretty much just a product refresh and didn't seem to add significant features.
However, after my hands-on I take it back. The build quality on the Blackjack II is significantly better than the original - nary a creak or battery door shuffle. This is no small feat, as I was generally happy with the quality of the original Blackjack.
I was also a little nervous to see that my scroll wheel had been taken away, but moving it to the 5 way was totally the right way to go. It cleans up the lines of the device (and let them add chrome on the sides, for whatever that's worth) and takes away what might have been confusing redundancy with that OK button. What is adds is a very quick-scrolling wheel - it practically flies under your thumb. It also means you no longer have to keep re-positioning your thumb in order to keep scrolling. Instead, just keep that circle moving until you're finished.
The screen is supposedly slightly larger, but I didn't have a Blackjack on me to test - it did look very bright and crisp. Also better: the keyboard. The keys felt much less cramped in a way that's difficult to describe but very real. They also stuck out a bit more than the original's.
Now, on to the AGPS. Witness (opens in new tab) our confusion about the differences between gpsOne, AGPS, and full GPS. It's a crime that carrier-intervention has made these things so confusing and has locked them down so often. Expect more of the same with the Blackjack II: Microsoft tells us it works great with Windows Live Search, but they don't know what AT&T plans. AT&T says, well...
WMExperts: So this has AGPS, right?
AT&T Rep: (after they grabbed the one who "knew") Yes, it works great with TeleNav and allows you to get directions easily.
WMExperts: So will it be locked down or will I be able to use it with Google Maps?
AT&T Rep: It works great with TeleNav and allows you to get directions easily.
WMExperts: Um. Windows Live Search? Anything else?
AT&T Rep: It works great with TeleNav and allows you to get directions easily. WMExperts: Cough
Some uncomfortable silence ensued, as you might imagine.
Anyway the Blackjack II is a "product refresh," but it's a great product refresh. It's supposed to be available for the holiday season, so you can probably expect this to be in stores by November at the latest.
Get the Windows Central Newsletter
All the latest news, reviews, and guides for Windows and Xbox diehards.
Great posts today Dieter! That Blackjack II looks pretty sweet!
That must be you toying with it in the pics as I'd recognize that big watch anywhere. ;-)