Customize your mini-me with Xbox Avatars on Windows 10 Mobile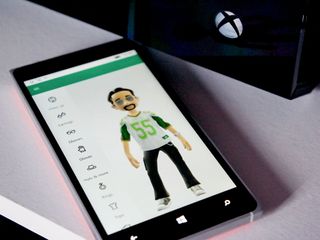 Microsoft has had a Windows Phone app for tweaking and styling your Xbox Live avatar for some time. But, it's equally some time since it saw any kind of update. For Windows 10 there's a new, universal app, Xbox Avatars.
It was first made available for PCs and now is in the Store for folks using the Windows 10 Mobile Insider Preview to take a look at.
Essentially it's much the same as the Xbox Extras app we've known from Windows Phone. With the app you can tweak your Xbox Live avatar or create a new one and style it up with a bunch of different looks. Every part of the body is customizable and if you're looking for something else, there's a web link to the online store where you can buy the extras of your dreams.
Appearance wise the app is as we're coming to know from Windows 10 Mobile apps. Slide out menu on the left hiding the options and not a lot else. It's a simple way to style your mini-me and it works well. No signs of any crashes or showstopping bugs, it feels very much like a fully finished app.
If you want to see more, check out our hands-on with the desktop version at the link below.
If you're on the Insider Preview on PC or Mobile, here's the download link you need.
Thanks to everyone who tipped us!
Windows Central Newsletter
Get the best of Windows Central in in your inbox, every day!
Managing Editor - Tech, Reviews
Richard Devine is a Managing Editor at Windows Central with over a decade of experience. A former Project Manager and long-term tech addict, he joined Mobile Nations in 2011 and has been found on Android Central and iMore as well as Windows Central. Currently, you'll find him steering the site's coverage of all manner of PC hardware and reviews. Find him on Mastodon at mstdn.social/@richdevine
Waiting on Xbox One to heavily support Avatars again like on 360. It seems as if it was pushed away on the One. It would be cool if they made an avatar store for XB1. I know their is already a ton of customizable features on the One already, but I like personalize everything! I am a master personalization -er

It feels good inventing new words, huh?

It does haha, I thought it was clever xD

They're adding avatars back to the one on the windows 10 update I believe

Yeah, I saw the social support for avatars such as the Activity Feed, bit I wonder if it will contain a store or some new aspect to use with Avatars.

Yeah, I've been using this since the previous build and am impressed with it.

Nothing is free. Data lol

But it says avatars are no longer available

Same here..... think it is closed to some regions.

Not totally unrelated, but seems like I can no longer set gamerpic from my avatar in Xbox.com, the option doesn't work. Can someone suggests me another way to do it?

Much better than before. Love it.

Showing it is unavailable in the store. I am using a Nokia Lumia 525 in India.

Are you on the Windows 10 Preview? Because you need to be. Like it says in the headline.

Yes my device is running windows 10 mobile build 10166

Same for me, on both PC and mobile running latest Insider Preview builds. Xbox Avatars is not available (country: France). Maybe it needs time to spread over the regional stores.

Same for me using a Lumia 830 in Italy

once you're done customizing your avi, you can use it as either your lock screen background, your start screen background, or both! PS: there are more apps available for Windows 10 Mobile in the Beta Store than there are apps for ios9 in the apple app store

The difference lies in the fact that once iOS 9 hits the shelves, all the non-iOS 9 optimized apps will be updated with optimization on day one and subsequently, have more apps than there are on Windows 10.

One question... I haven't checked out any preview builds in my phone... Are those Hamburger Menu accessible only on tapping on it or sliding from left brings the expansion of that menu....?

Only tapping. Sliding is often used for different navigation purposes... Like in the news app where you can swipe left or right between different news sections...

I've found it a bit hit and miss. Some open can be opened with a swipe and close with a tap, some open with a tap but can be closed with a swipe.

Bro you told a toungue twister.....

"No longer available", not in Germany at least?

I still see it in search in the UK

Ok, now I REALLY can't wait for Windows 10 Mobile!

What does universal means

That it's also available for regular Windows 10.

It seems that on ''this'' side of the world this app isn't available :P

This has been in the store for weeks.

I've had it since build 10136. :\

Yep, I'm just getting upset when these "new apps" or "new features" are being reported much later. Each and every time they don't have something about a new app or feature in a build I report it with them with lots of info and pictures for proof and they don't report on it till a build or two later saying it's new.

Which email address are you tipping to? Because I don't recognise your name and I don't recall seeing any emails regarding this "weeks ago."

And as you can see from reading these comments lots of people still don't have it. That's the thing with things in preview. Not everyone sees them right away.

FYI,... Just as i thought!!! The Apps are restricted to some regions. I just switched the region on my Mobile from Germany to the US and i was able to download it. Will do the same later to get it on my desktop, too......
Not cool MSFT.... this is just.... not..... cool!!!!!

For the first releases of Outlook mail & calendar, it had taken 2-3 days before it hit the French store (now, we get it instantly). I'd wait a couple of days before concluding it's region-locked ;)

They'll surely release to all markets in times but this App now is available for those markets for weeks. Why not release it for a couple more regions than just to the "few" of them??? And on top of it (and could be the most important reason to want it) i'm as curious as a child on Christmas Eve and since all those readers stated how nice it is and how well it works i couldn't wait any longer to try/see it myself!!! :P

I'm Deadpool.. and this is what i wanted... Gimme dem Chimichangas!!!

Can't seem to pan my avatar in the 'take a photo' mode, so I can't line up the shot I want. Other than that it's pretty solid. Avatars are coming back with Win10 on Xbox. Can't wait

Does anyone remember the 1 vs 100 'live' game show on 360? Maybe Xbox One community needs a MMO game show again. My favorite use of the avatar in my opinion. Prizes were a good incentive to play.

The look is more like android-ish!

I think someone is using the intro tone of windows central https://youtu.be/AbOpAsdmvBQ

Cool. It's about time that they started showing some love to the Avatars again. I miss customizing mine.
Windows Central Newsletter
Thank you for signing up to Windows Central. You will receive a verification email shortly.
There was a problem. Please refresh the page and try again.