Darksiders 2 coming to the Xbox One this winter with all DLC and revamped graphics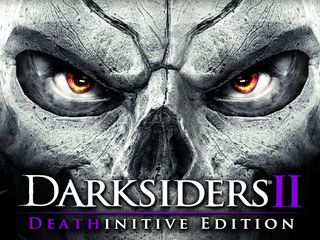 Fans of the Darksiders series of action-adventure games have a big reason to celebrate, as publisher Nordic Games has announced Darksiders 2 Deathinitive Edition for the Xbox One and PlayStaton 4 consoles, for a release sometime this winter.
Originally developed by Vigil Games and released by the now defunct publisher THQ, the two Darksiders games for the Xbox 360 and PlayStation 3. Darksiders 2 has the player controlling Death, one of the Four Horsemen of the Apocalypse, as he tries to free his brother War who he believes has been wrongfully convicted of destroying mankind. Nordic Games bought the rights to the Darksiders franchise following THQ's shutdown in early 2013.
Here's what will be included in Darksiders 2 Deathinitive Edition:
Darksiders 2 with All DLCs included and integrated into the game, offering a total playtime of more than 30 hours
Improved Graphic Render Engine for higher visual quality especially in terms of lighting and shadows*
Improved and reworked level, character and environment graphics
Running in native 1080p resolution
Reworked and tuned game balancing and loot distribution
The developer behind this new version is Gunfire Games, and most of its team members worked on the original Darksiders titles at Vigil Games. Today's announcement from Nordic also hints that an all-new game in the series is in the works.
Source: Nordic Games
Windows Central Newsletter
Get the best of Windows Central in your inbox, every day!
Need a Darksiders 3. Sucks THQ had to go bankrupt.

Interesting. Not a game I would've expected to have a demand for a definitive edition. But I'll keep an eye out at least.

I'd say it's a learning opportunity for the team. Get used to the new platform with a game you're already familiar with (and make a buck or two). It softens the learning curve.

This was a great game, but the pc version sound was so fucked. Maybe I'll give it another chance for my xb1

Too many retreaded games out there. But if it sells then I guess they'll keep retreading.

U haven't played it yet...... U would be hooked when u start playing it......

Ya know it's great to be able to play the old games on the new console, but this is just starting seem like an easy way for publishers to double up on sales.

What a surprise..
More new games please

I wonder why they didn't bring the first game to xbox one too. Posted via the Windows Central App for Android

So they can possibly sell you that later as well, probably.

The Original Darksiders needs to be included.

Power stone definitive edition. Coming soon.

I pray everyday that Capcom does this. I beg for a PS1/2 re-release with online play. That game(no.2) was the best multiplayer beat em up I ever played, the level of weapon customization was just crazy.

I thought Darksiders was dead, so this is an awesome surprise. :D I actually look forward to buying the game (for the third time) as it's so awesome. :)

Hopefully this will push whoever gas the darksiders to make part 3.

Oh. This must be a precursor for a Darksiders 3. If they are doing a refresh for latest consoles, then DS3 is probably already in design. Well, we can hope so. I enjoyed DS1/2. Playing them in an updated experience would be fun. Here is hoping more of this IP is coming.

Darksiders was the best one. Darksiders 2 was blah that's why it was given as a free game with gold for the 360.

Many would say first Darsiders in the series was certainly the better game - I think that is entirely dependent on one's view of the characters. Between War and Death, there are dramatically different focuses in combat style and control. In my experience, 2 was every bit as entertaining and fun as the original Darksiders. I will be looking forward to having another go at Darksiders 2 on the XB1. If I had my way, I would rather a Definitive Collection of 1 & 2 be released on the XB1 as a ramp-up for the necessary 3rd and 4th installments to complete the story.

It there was a game worthy of a relaunch, the darksiders franchise is one of them. But it wont make serious cash.... Been there done that kind of thing. They choose to rerelease old games instead of producing new ones because its cheaper and Microsoft an Sony say "yes yes yes" to flesh out their catalogue. I'm getting tired and annoyed of this scenario.