Day 1 at Microsoft's Build 2013 summarised: Bing, Windows 8 and Windows Phone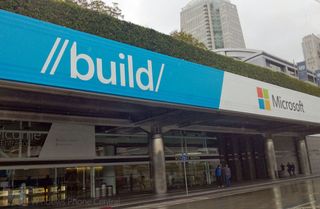 Today was quite the day if you follow our feeds. Microsoft took the stage on day one at its Build 2013 conference to show off some products running Windows 8, as well as presenting Windows 8.1 and talking about the ecosystem in general. Microsoft CEO Steve Ballmer leaped on to the stage to kick the show off, but we were also blessed with the presence of Julie Larson-Green and co.
Don't worry if you somehow missed the keynote as we've got a summary right here for you.
Windows 8.1
The Windows 8.1 preview is available for everyone to check out. We covered the announcement, so be sure to head on over to check out the download link. Speaking of upgrades, we've got some new apps on the way to Windows, including Facebook, Flipboard and NFL.
Developers can further enhance their apps by utilising the redesigned Windows Store. Monetisation opportunities and more flexible design options are now available. Internet Explorer 11 is included in the Windows 8.1 preview.
The next version of Microsoft's web browser builds on IE10 and is further optimised for touch input. The new release delivers rebuilt F12 developer tools, more options for favourites and tabs, performance improvements, as well as the ability to synchornise browsing history, favourite sites, tabs and settings across all Windows 8.1 hardware.
This is a neat new feature that will be welcomed by those who use a combination of desktops, laptops and tablets. But that's not all as the audience and viewers were also treated to a sneak peek at the new Xbox Music app and Powerpoint for RT. We'll look at the new features and updated system apps soon.
Bing
Bing was also touched on during the keynote. Gurdeep Singh Pall, Corporate VP of the online services division, outlined how Bing has crafted a platform that allows the technology behind Bing to be embedded as intelligent services into Microsoft hardware, services and third-party apps. This provides more information, which is easily accessible by consumers when searching and browsing. Microsoft is essentially attempting to make Bing more human.
The new platform was presented to deliver three broad categories of capabilities of which third-party applications can take advantage of:
Services to bring entities and world knowledge to apps
Services to enable apps to deliver a more natural and intuitive user experience
Servers that bring an awareness of the physical world into apps
Highlighted services included: The Bing Entity API, Bing Optical Character Recognition Control, Bing Translator Control, Bing Speech Control and Bing Maps 2D/3D Control. As well as developers, Microsoft also unveiled two new Bing apps for the Windows 8.1 Preview during the keynote today.
The first was Food & Drink, which as the name suggests enables users to check out videos, recipies and other content. The app sports a hands-free mode that utilises the camera to detect a gesture. The second new app was Health & Fitness, more on these new apps and anything else in Windows 8.1 / Bing later.
The Extra Stuff
As well as the main highlights, Microsoft had a number of small thing to show off. Visual Studio 2013 Preview and .NET Framework 4.5.1 Preview are both available for download right now. 3D printing was endorsed by the team with native support and partnerships formed with top companies in the industry, including MakerBot, 3D Systems, Netfab and more. This will help make it easier for folk to get cracking with said hardware.
The Kinect for Windows team announced version 1.8 of the platform's SDK, which is set to be released in September later this year. A developer kit program will also be kicking off in November 2013 for the new generation Kinect for Windows sensor (hello, Xbox One). Sign-ups have already started and the new developer kits for qualifying developers will include an early version of the next-gen Kinect sensor, access to pre-release versions of the SDK and a second sesor when the final version is released to the public.
On a lighter note, Windows Phone developers can rejoice with Microsoft slashing the registration fee to just $19.
That about sums it up, excluding the Acer Iconia and Microsoft Surface Windows 8 tablet giveaways, of course. Be sure to remain tuned to our feed for more bits and bobs from Build 2013.
Rich Edmonds is Senior Editor of PC hardware at Windows Central, covering everything related to PC components and NAS. He's been involved in technology for more than a decade and knows a thing or two about the magic inside a PC chassis. You can follow him over on Twitter at @RichEdmonds.
I know right, why don't they show some of that...

Where's the damn new surfaces??

Next year dude, thats why you should have gone for the Surface Pro.


If by next-year you mean holiday seasons 2013, yes.

I was in the process of buying my first house and was forced to wait. Now that it is almost July, I plan on holding out until the holidays to grab the new Surface pro. I hope to see Haswell with some improvements to the feature set

Exactly, Surface 8" inch should be available next week shortly followed with a new Surface RT and Surface Pro 2 announced for the fall premiere (October). Microsoft needs it, Win8 needs it, people want it.

I checked for update and nothing.

Umm, no. That's not coming to the end of the year after the GDR updates.

Pay $19, get free Surface.

Wait... What? Did I miss something?

I'm with you, I'm sure those are just for attendees.

Yeah, um, no. The $19 is to become a WP developer account for a limited time. Typically $99.

The free Surface was only available if you paid to attend //build Which would have set you (or your employer) back between $1595 and 2095.

that's just the conference ticket, there's also the airline ticket, hotels and other expenses.

Yay! Windows Phone 8.1!!!

Oh, wait...

Surface with intel 4th Gen CPU??

Windows phone got pushed to the back of the line.

Lol I know. Its seems MS has been supporting Android and iOS better lately. At least the Skype team sure has.

Age of Empire will also go to iOS and Android, and WP is a maybe/no.

If AoE get to the WPStore I'm definitely upgrading to WP8 this year

I was waiting for a 7/8 inch surface model. But hey, build isn't about new hardware at the moment...

everything seemed to be centered around bing.. which isn't a bad things its just about time they started using it across all of their products.

Let me sum day 1 of build up.
MASSIVE FAIL, no one in the uk can install the preview because we speak proper english.

Let us American be the guinea pigs :)

No one in the UK "may" install. I hope you have the "ability" to install. So much for you proper English. Maybe you don't speak so good.

The ability to perform a task depends on whether you CAN or CAN'T perform it, or whether you have been given permission to do so. So he isn't in the wrong either. Microsoft has not given them permission to install the preview. This means that they MAY not install it; therefore, he CAN'T install it. See what is going on there? Don't be an ass. As a Canadian, I agree that their English is proper lol.
Edit: If he's complaining about the written English in the preview and was able to install it, then he's a douche. Sorry on my part if that's the case.

"massive fail" because few words are spelled differently, come on dude, grow up.

apparently there's an issue with language packs and upgrading RT devices

and apparently RT devices in the UK WON'T get the preview either!!!!

Microsoft. Killed. It. Today. In other news, Google has filed for bankrupsy ;)

I hate how they got rid of the messaging and Bing apps :/ I also hate how they got rid of the ability to search any app from the search charms :/ They also force you to use the start button with no way to turn it off. Looks ugly because I use a blue theme on the desktop and a black and red theme on the start screen :/ Windows 8 > 8.1, so far

They did that to WP too. Introduced a cool contextual search in WP7 and they got rid of it in favor of a lame Bing screen in Mango.

Ah yes, I remember that. (I had an HTC HD7S at launch)

Oh stop being petty... the button on the desktop reflects your Desktop theme colors until you point/click on it to show your Start screen... at which point it shows the Start screen styling. Solution: Set your start screen to reflect your desktop wallpaper and pick a suitable color scheme for Start.

Complaining= :/
embrace the future!

Wait, the messaging app is gone? Maybe I'll wait to try out 8.1 then...

Wha???? I have a hard time believeing they got rid of messaging. That was a huge perk and one reason why iPads are well liked. :(

I like the Mindstorms 'bot.

I want to know more about the Windows 8 Facebook app. Dig deeper, my WPCentral friends! :)

"Microsoft is essentially attempting to make Bing more human" first they create SkyDrive then they create skynet

learn to spell summarized!

The title includes Windows Phone, but I see nothing related to WP.

He mentioned it right...wait a sec...maybe...ahh crap.

Nothing on WP ? Do MS even care about WP ? Nothing on updates, new features, new functions - NOTHING! I suggest MS take a look at Android and the upcoming iOS 7 update, and see why WP customers are starting to feel that MS is not keeping up on WP!

8.1 isn't available in the UK? Even with ENG-US language pack?
When do we get to see it this side of the pond?

When it's finally released, we won't ever get the preview in the UK unfortunately.

I hated that octopus picture as Bing wallpaper of the day, had to change it!

Bing... is not bad, undoubtedly! But it seems to be - in my humble opinion - like BlackBerry, still no crucial power inside..:|
[...] and new hero's coming: smartman.mobi

So MS not even bothered to mention or do anything about WP ! MS will know when people start deserting W8 phones for something that continues to add and evolve the OS. Windows Phones are now feeling out dated when you see the many features, quick access, editing, media that most 3yrs android phone, and even iPhone's have (and coming from SG3 I know what W8 is lacking and really needs to keep-up); and now with iOS 7 looking even more polished and adding more useful features - W8 is looking less and less appealing.

Oh! and all MS keeps going on is about is another app added or updated (usually bug fixes), another fasle camera comparsion - look MS, ANdroid esp fro, SG3, iOS 7 have so much more camera funtions/apps and options!
Windows Central Newsletter
Thank you for signing up to Windows Central. You will receive a verification email shortly.
There was a problem. Please refresh the page and try again.