Microsoft giving away Surface Pro Windows 8 tablets to developers at Build 2013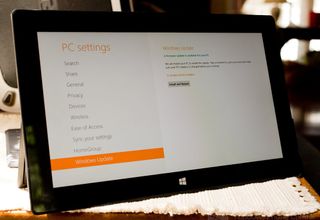 Apparently Larson Green wasn't happy with the Acer Iconia W3 giveaway and wanted to make the day even sweeter. Developers who attend the Build 2013 conference will receive a Microsoft Surface Pro with Type Cover.
Not a bad deal to try and drum up more development for Windows 8. We're sure developers will not disapprove of this move either. Stay tuned to our Build 2013 coverage for more news and coverage from the floor.
Rich Edmonds is Senior Editor of PC hardware at Windows Central, covering everything related to PC components and NAS. He's been involved in technology for more than a decade and knows a thing or two about the magic inside a PC chassis. You can follow him over on Twitter at @RichEdmonds.
I thought they were gonna be $399? That's awesome for the devs!

Well, at least the 2000$ they paid has paid off.

Isn't it not true? They paid that much or close to attend the conference.

Why? They paid 2000$ to go to a conference...I think its more than fair that they get these treats.
Would you like to pay that much just to go watch something and leave empty handed? I don't think so ;)

You don't leave empty handed. You obtain knowledge. The developers paid way more for the University they attended and all they got was a piece of paper with the school name on it.

Hmm I went to VMworld, paid $2000+ and I got a backpack to hold my info, and a water bottle...
These things are getting pretty insane!

They paid 2100$ + hotels and airline tickets for most. It's nice to get the gifts but it would be cheaper to just buy them and watch the sessions online, you get the same knowledge. The real value in the conference is networking. You get to meet a lot of people and that's worth the cost.
Of course, many attendees have their company pay for everything, and then it's a really sweet gift

At least it's not over $3k like some shows... #Discover =P

LOL If they keep giving things away like this, next year it will be ;D

PURE HATE!! for those who got it. :)

is it for devs only or attendees too?

if you badge says attendee you get it, media usually don't get that stuff (since they get in for free)

That's a good thing, but i was hoping that they'll announce the 2nd-gen Surface. :(

Why? Its still too early for that. They've just launched the Pro in Europe. I don't expect them to announce a new generation of Surface tablets until late this year or 2014.

They announced the first Surfaces around this time, so...

Have I mentioned how much I love this woman? =P

Seems more like gloating than news. :P

Does anyone expect them to announce new Surface tablets today/this week?

Not really since the Pro was released only 6 months ago. And its pretty stacked to begin with.

What is the screen resolution on this 8"? Hope it HD!

8"??? Surface pro is not an 8" device, and it is 1080 display.

I am surprised with the presents tbh. I had no expectations coming in considering they hadn't announced hardware besides the X1.

this is great, once this stock gets dumped on eBay it will lower prices for everyone. TechEd already put a dent in the high eBay Surface prices.

Daniel and Sam can u pick one up for me plz?...cheers

That's why I wanted to go this year, just couldn't swing it. =(

I would go
IF I HAD MONEY*dinkleberg meme*

Sweet. I was at staples yesterday trying out different windows 8 touch screen pcs, and not a single one of them could match the speed and fluidity of the surface pro.

Good for the devs and not fair to the ITPros. No free goodies for us on TechEd. Yes, we got a great price drop on RT and Pro but still, MS is favorizing devs a lot. TechEd tickets were not cheap either... #justsaying

I attended MS TechEd2013, all we got was lowered prices, Where can i complain to get one for free :)
Windows Central Newsletter
Get the best of Windows Central in in your inbox, every day!
Thank you for signing up to Windows Central. You will receive a verification email shortly.
There was a problem. Please refresh the page and try again.