Kill or be killed in Dead Target: Zombie for Windows Phone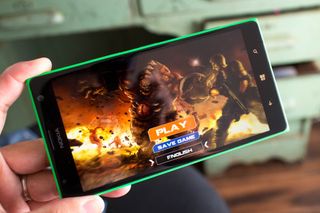 If you like zombie games, then you should check out Dead Target: Zombie on your Windows Phone. The game is pretty straightforward. You go through missions shooting down different types of zombies. This is the type of game you can show off to friends because of the stunning 3D graphics and sound effects. We've installed it on our Lumia 1520. Take a look at our gameplay video and see if you're interested.
Features:
Witness the stunning 3D graphics with detailed textures
Enjoy the realistic sound effect and music
Slay zombies in style with epic weapon system
Upgrade your gears to face the upcoming zombies waves
Discover the large game world with various locations
Complete all achievements and quests to compete with your friends
Set your nerve to the highest level to deal with different zombie types
Interact with the environment to defend your position and stay alive
In each mission, you're practically standing in one spot. Swipe with your left thumb to aim and tap with your right thumb to fire. You automatically reload when you run out of bullets, but you can manually tap the reload button, too. There's also a button on the right side to switch to the secondary weapon, but I didn't find myself using it that much.
Shoot down all of the zombies to get through the levels. The best way to do this is by aiming for their heads. Sometimes the head isn't the best way, though. For example, the first boss' weakness is the eyeball in its belly.
Dead Target: Zombie starts to feel repetitive after a few levels, but it provides quests and achievements to keep you interested. You can rank up and unlock items, but the game makes it very easy to bypass all of that if you spend real money with in-app purchases. I'm already bored with this game, but it's definitely worth checking out on your Windows Phone device. Go play a few levels and let us know what you think.
Thanks for the tip, Igor J.!
Get the Windows Central Newsletter
All the latest news, reviews, and guides for Windows and Xbox diehards.
Well, I don't really like zombie games, but I like shooting games, so thanks dev :D Edit: Those headshots tho lol Btw wouldn't it be awesome to have our own highscorers thread! Post your Highscore form any game and watch smb else beat yours hehe

It's pretty fun. But it is heavily based on dead trigger, if not copied.

Fair Enough its not as if they exist in the WP World.

Zombie games are too cliché

L4D is so good. And I am sure Sunset Overdrive will be epic. I love zombie games!

How about a resident evil mobile game?

RE4 is available on iPhone, for whatever it's worth.

I miss Dead Trigger, they should really bring it to Windows Phone.

How on earth does this game support 512mb phones but Flipboard doesn't? It really boggles my mind. Nice game tho.

Tell me about it... Not that this game has something special to be such memory eating to require 1gb, but anyway

The developer seems spend time on optimizing data so it's not such heavy. Unlike some other who develop official social apps that extremely slow

Well this isn't really one heavy game. But, yeah there are other huge games that runs perfectly on my 520. Flipboard developers need to optimize their code...

Been playing this for a while now, already on level 70. Awesome game. Just drains my battery thats the downside. #lumia920

I too have been playing it for a while. I'm on level 141 and I can't kill the boss. Great game though.

Reached level 300 but the game cone so boring same enemies same location.
To kill the bosses use the boosters .

Does it support achievements?

Xbox? No, is got its own only, it's a great game anyway

Fun but after level 100 it gets annoying and repetitive not to mention the casino is rigged.

Truth right there young bloods

The truth has been spoken!

Thnx for the heads-up, def. going to try it.

It's no ZombiU that's for sure. All daylight and bright colours.

A semi-interesting Wii U game.

This game is pretty fun. I'm on level 200 right now. The only bad thing is the battery drain. I have rapid battery loss even when I'm plugged into my speed charger. Sometimes the game freezes up when a lot of zombies are attacking me at the same time. I'm running this on my 1020

Slim shady, brain dead like Jim Brady, I'm a m-eighty, you look lil like that Kim lady

The only game that has 5 full stars in the store...

Depends on your region. It's 4.8 in US Store.

Awesome game! The graphics are great too.

Sometimes it lags on my lumia 1520. I have this game on my old s3 and it runs so smooth. Any of you guys have experience any lags so far?

The problem I have I'd that after a high level three locations should CHANGE!! it's the same over and over.

Yaa this game is interesting at first so I played 140levels and the locations are the same and you get bored

Can you not actually move in this game? or do you just get to stand there?

That's what keeps me from playing this game... If you were allowed to move, the game's size probably would be 10x it's current size ⌒.⌒

I am in mission 58 already... Best game with cool graphics and sound which can run in 512 mb 520 devices

It can't download it. Showing that the game is not available in the store.

Any game that comes close to Deer Hunt?

Cool game Posted via Windows Phone Central App

Item isnt available, wtf!!!

Been killing these zombies weeks ago

Love it. Not that great on 512 though, runs beautifully on 1520.

The game is just awesome.. I never ever like zombie games.. But after seeing those reviews in store for this game i download it and now I'm addicted to it.. Awesome graphics and sound.. U enjoy it.

I have already gave this game. This change is near, no ads, nothing like pay to win, it is free in real sense. Though needs more graphic detailing, but considering its size, it is great.

when is plague coming on windows? :(

My favourite game so far on windows phone...

We all knw this game starts easy then becomes a real challenge

What was the app you used to open the game, like a folder with tiles?? That's definitely not appfolder I guess

At level 100 I had "killed" 5 bosses, uninstalled after noticing the "killed 20 bosses" award. I say "killed" because the bosses are all the same one it just keeps getting more HP as you move forward.

Best Shooting Game in windowsphone... No doubt

Thank you so much for reviewing something different from a puzzle game

So its a shooting gallery clone of dead trigger...lame.

Controls are little bit tricky

Not another zombie game!.. The intro music sounds very similar to MC4. I'll pass.

best shooting game ever!!

Looks pretty good. I'll have to download it and hope that the gameplay matches the graphics.

Nice game i like it,but nothing is modern combat

looks like a game from vinagame, the biggest online game service in vietnam. Not sure if they make it or just publish the game.

Its a good looking game,i downloaded it last night and my son completed it in two hours!!!, he says maybe it should be a bit harder!!

Can some one tell me the redemption code for dead target

if I should know code dead target how thank you in advance

So are there no codes for windows phone users??