Deadmau5 performs live using Microsoft's giant Perceptive Pixel touchscreen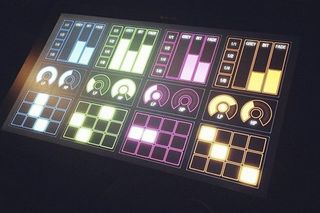 Deadmau5 has performed a live set using Microsoft's Perceptive Pixel. Last October, music producer and performer Deadmau5 teased he was working with Microsoft to bring touch software to live music. Turns out Deadmau5 recently used the system in a live setting at a Pukkelpop 2014 in Belgium.
The software is running on a 55-inch Perceptive Pixel from Microsoft. These are large, all-in-one PCs with a touchscreen. Perceptive Pixel is primarily aimed at businesses and enterprise settings, but clearly there's room for creativity alongside productivity.
Deadmau5 is using the software created by the Microsoft partnership to drive the OSC, MIDI and other devices. Beyond that, not much is known about the partnership and the product they've made.
We're hoping to learn more about the collaboration between Microsoft and Deadmau5. We'd also like to know what happened to the Surface Music Mix kit.
Source: Instagram, Via: DJcity
Reading this in our app? Open the source link in Internet Explorer to view the Instagram video and see the Perceptive Pixel in action
Viva La Original Surface!

I wanna get my hands on this❗❗❗❗❗

This isn't the same thing as PixelSense, is it?

No. It was originally called Surface but they changed names to use Surface for their tablets. Had actually been around for many years under the Surface\Surface Table labeling.

And in my haste, yes you are correct. Keep forgetting is actually gone through 3 name changes, not two.

Its still not the same thing/division.... PixelSense uses infra red tech for touch, the screen can literally see 5" in front of it, can detect hover, scan documents... Perspective Pixel uses a type of capacitive screen for touch, like smart phones... The Mc Laren prototype with 3D touch reminded me of PixelSense, the screen can see your ear, fingers and is "self aware"... Please put one on surface.... it would improve touch so much

It would be really col to have one in a Surface tablet, but aren't those things 4 inches thick?

Funny what passes for live music nowadays.

Funny how people have different tastes.

I agree with you. I'm more of a 90's alt rock guy, but this music is creative in its own way too.

nowadays? if I'm not mistaken, synthesizers have been used in live music for the better part of a century already..

Exactly! Kraftwerk, John Cage, Karlheinz Stockhausen, OMD, Brian Eno, The Doors, Giorgio Moroder, !!!, Depeche Mode, Aphex Twin, NIN, Autechre, James Murphy, etcetera, etcetera, etcetera...

There's no difference in using knobs or a screen vs strings or keys. You do realize he produces all of his music solely? I can only name a couple artists that create the beat, melody, percussion, etc for every part of every song they produce, compose it all together, mix and master it themselves, and produce an entire album of music with just one person. Deadmau5 also helped design and create this technology. That would be like Robert Plant inventing the guitar and then mastering it (and then not relying on all of his other band members to master and produce all of the other parts of Led Zeppelin's sound).

Heres some other artist: Skrillex Porter Robinson Madeon Avicci Kill the noise Calvin Harris tiesto David Guetta Flux pavilion Martin Garrix Diplo Koan Sound(these kids sometimes create they're own samples) Destructo Baauer Dillon Francis

Dude...no. Except for Porter Robinson, Calvin Harris, Made on, Kill the Noise, Flux, and Dillon. All those others are good producers but give playing live a bad name. Skrillex is one of the worst live DJs ever.

David Guetta is the worst of the worst of the worst of the worst.

I'm not talking about how they perform live. I mean as producers. David guetta is one of the worst DJs out there, but he is one of the better producers. Skrillex isn't as bad as you express him to be (live). He does a great job in the studio/macbook. And please don't hate on porter Robinson. The guy took 3 years to perfect his new album worlds and he did a damn good job.

I said porter was one of the good ones.

I'll add Bassnectar to that list! Lorin is awesome!

Let's see if we can break it down. 1) Is this music? Yes 2) Is it live? There are people in the crowd, so, again, yes. Looks like it meets all the criteria to me!

there are people in the audience for the brittney spears vegas show but dhe is still lip syncing. its a live show but not a live performance

agreed, but im not sure about deadmou5, he is not playing a track right?

I don't like this music, I'm a progressive rock/metal guy but I bet most of you can't even think about creating this, that makes this a creative process and I can also bet you can't play it live even if it's already written, so, this is music and everyone should respect that. There are different tastes, as Sam said.

Explain to us what live, or real, music is.. ❓❓❓

It's when one or more persons move a part of their bodies to make sounds, often with the help of a device known as a musical instrument. This deadmouse cat just pushes play and then pumps his fist in the air. That doesn't count as live music.

That is obvious. But I think you should get high and listen to Deadmau5 once. Just that you get to know what EDM is

Hey, to each his own. I have an Underworld record from the 90s and I like it. I was just saying you can't really call what these guys do "live music" is all.

They should compose the work on sheet music first, gramps?

maybe you don't realize it because you're not familiar with the technology, but you see those groups of squares? they are pads, which are technically equivalent to keys on a piano or keyboard. IOW, he's not just pressing play

That is really pretty cool. Any high-profile artist using Windows devices is a good thing, especially when it is someone who is actually creative and can use the tech to its fullest.

Sooooooooooooooooo much of a better product placement/ad/promotion than a green Lumia in a Katy Perry video! What is the cost of this bad boy, I need one in the man cave!

I think it was 7K ...
Here's the thing, a 600 dollar phone is more accessible than a 7000 computer.

That Lumia is not accessible,its freaking carrier exclusive! Just saying, its prob accessible to more people than ya think. A wall of those would be so beautiful. I'd just be touching everywhere!

Thats JUST the screen. The PC is seperate. The PP doesn't include a PC.

I seen this on his Twitter feed the other night. One cool, funny dude. Give him a follow @deadmau5

Funny but also random = diplo

Random Windows Phone Blogger

Yep, him and Meowingtons!

Amazing promotion for MS, deadmau5 is huge especially here home in Toronto. Microsoft, where's my DJ touchpad I've been waiting since SP2 launch for??!! Come on, that alone would drive interest to SP! Lets hope this starts some huge release sw/hw.

Glad I can always count on you to combine my EDM and WP love. Possible idea, petition Ultra to make a Windows Phone app.

That would be awesome ir isomniac

I think there is something better than those (really cool) music kits coming...

I'd like to know what happened to the Surface Music Kit as well... Seeing that I actually won one (A Surface 2 and the Music Kit Blade and app) in the #projectremix contest on Twitter/Vine. It hasn't seen much in the way of updates other than a few artist's templates being added to the app. The "Blade" has been sitting on my desk collecting dust as it doesn't work with anything other than the Surface Remix app. I'd like to be able to use it as a controller for FL studio groove etc. but in reality, I think we all know the Music Blade was just a "proof of concept" where Microsoft was hoping third party manufacturers/developers would pick up the ball and make things for the Surface line to "click in and do more"... I have seen nothing sadly.

I thought I read an article a week or so ago that the project is kind of at a dead end as there hasn't been much of a real world application for it yet and they're trying to find better ways to use it.

I really wish they'd do something with it!

Aka: The original Surface...

are you sure it's the original surface? my understanding is that the surface used cameras or infrared to track finger movement. MS bought perceptive pixel a few years ago and this is more a big scree tv with the same capacative type sensor you would find on a smart phone and is running custom software the perceptive pixel developed.

Not literally the original but the original line...

Not my type of music, but that's really cool. The Surface ... Err Perspective Pixel product placements is going well ... Between this, NCIS LA & Hawaii Five-O ... Its getting a lot of exposure

Nice. Love the mau5 (I'm 36....not a teeny, BTW).

Awesome!!!! Love Deadmau5, love Microsoft... Love, love, love this.

I love electronic music but I don't like more talented indie producers and artists don't get the same fame.

Come on tomorrowland time to rock

Not interested. Now where the hell are the music kits for the Sueface?!

I've got one! Thinking about selling it actually. ;-)

Sorry to disappoint you all, but this product was NOT designed by Microsoft. It is called Emulator Pro and is designed by a company called "Smithson Martin" https://smithsonmartin.com/ Emulator Pro is a MIDI controller that "maps and controlls" any other MIDI Compatible DJ Software like Tracktor. Emulator PRO can be bought with its on see throughgGiant touch panel, or as a Emulator Lite which can be used on any touch enable Windows Device. You can download a trial on their website, but be aware that you must another music program installed on your device. Here's the Smithson martin Youtube channel: http://www.youtube.com/channel/UCgQb5gOOh9rdgTVFZzy2FhA PS. If you want to DJ on your Surface, we really dont have too many options, as most of the DJ Software hasnt made a transition to Touch UI (kinda amzing if you think about it). The best two options that are freee are : 1. eDJing (Win8 Modern App) - http://apps.microsoft.com/webpdp/app/bc23a484-40ba-430a-a37f-c7d51c5f3d21 2. VirtualDJ 8 (x86 WIndows App) - It has a very good Touch UI SKin. http://www.virtualdj.com/products/virtualdj/version8.html

Read the article man. You're talking about the software. This article is about the hardware, which was indeed developed by Microsoft.

Yay, I was there! Awesome show!

Live?!?! It's a DJ for God's sake, a monkey can do that....

great show, saw this last week at sziget, seems he used this tool also there, i have never seen this before, watch https://www.youtube.com/watch?v=z5iDCoiV0B8

Whoah This is some great stuff! I was there and didn't knew this!

What's about Jaytech, Dinka, Ian Pooley, Arty etc... ?

Not all Perceptive Pixels are all-in-ones. I worked with several last summer in Cannes & Madrid and they would run off of a computer housed in the stand. At one point, we had the 80 inch version running off of a Surface Pro :)

We have the 55" at work. Just a few feet away from me. We use it as a digital playground for demo'ing work, huddle boards, etc.

And he was fantastic, but he shoul've showed the Microsoft logo to the public too, because Microsoft could use some advertising, and I was there and didn't see any reference to Microsoft during his performance
Windows Central Newsletter
Get the best of Windows Central in in your inbox, every day!
Thank you for signing up to Windows Central. You will receive a verification email shortly.
There was a problem. Please refresh the page and try again.