Deep Rock Galactic Season 1 launches today a unique free battle pass system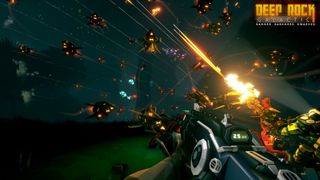 (Image credit: Coffee Stain Publishing)
What you need to know
Deep Rock Galactic is a four-player first-person shooter developed by Ghost Ship Games and published by Coffee Stain Publishing.
The companies have announced that the game will receive a huge content update called Season 1: Rival Incursion today.
This update will include a free battle-style system called Performance Pass, a new mission called Industrial Sabotage, new weapons, a DLC cosmetic pack, and more.
Deep Rock Galactic is a four-player co-op, first-person shooter published by Coffee Stain Publishing and developed by Ghost Ship Games. You play as a team of four dwarfs (each with their own class) contracted by the Deep Rock Galactic corporation to mine the dangerous planet, Hoxxes IV, for resources and blast away hordes of aliens crawling in its darkest depths. This game features 100% destructible environments, procedurally-generated caves to explore, and tons of cool weapons and gadgets to upgrade.
Today, Deep Rock Galactic will be receiving its biggest content update yet with Season 1: Rival Incursions. This marks the beginning of a new model where Deep Rock Galactic will receive new content in the form of seasons instead of updates. Season 1: Rival Incursions will include a brand new mission, new weapons for each class, new enemies to shoot, system changes, more DLC, and a new, completely free, battle pass-style system to the game, Performance Pass.
Performance Pass is Deep Rock Galactic's take on Battle Passes where players work through 100 levels and complete challenges to unlock new content, completely free of charge. This system works by assigning players with daily challenges that, upon completion, reward Performance Points, which can be used to advance through the levels. Some levels reward players Scrips, which act as currency to purchase a range of items like beards, weapon skins, crafting materials, pickaxes, paints jobs, and more. You can track your daily challenges at the Season Terminal.
Source: Coffee Stain Publishing
Alongside the Performance Pass is a new mission called Industrial Sabotage. The premise is that the Deep Rock Galactic corporation discovers a rival corporation has landed on Hoxxes IV and is encroaching on their mining operation. Not wanting to take this lying down, players are tasked to infiltrate the rival corporation's base, steal their private information, and destroy any security drones standing in your way.
To prepare for this mission, each dwarf class has been given a brand new weapon to dish out mayhem. Engineers get the enemy-tracking LOK-1 Smart Rifle, Drillers get the crowd-controlling Corrosive Sludge Pump, Scouts get the face-melting DRAK-25 Plasma Carbine, and Gunners get the over-the-top HURRICANE Guided Missile System.
Season 1: Rival Incursions will include a cosmetic DLC pack called Rival Tech, and it is the only form of paid content in this update. The River Tech pack will allow players to change the looks of their weapons to be themed after the enemies of the Industrial Sabotage mission, and grant additional armor paint jobs, Bosco and pickaxes. Finally, Season 1: Rival Incursions will also feature system changes and improvements to the game, such as an increase in the number of Loadout Slots for example.
This is a gigantic update for Deep Rock Galactic and one that aims to change the way Battle Passes are implemented in video games. Will this update bring in new players to Deep Rock Galactic and help it become one of the best First-Person Shooters on Xbox? And will this free Performance Pack succeed in the long run and encourage other game companies to follow suit if it does?
Deep Rock Galactic is available on Xbox One, Series X, Series S, and PC. It is also currently available on Xbox Game Pass.
Shoot and mine all day!
High-ho, its off to space we go!

The planet of Hoxxes IV is teeming with valuable resources, but it is inhabitated by hordes of dangerous, alien beasts. Only the dwarfs of the Deep Rock Galacic Corporation are crazy enough to venture in and mine the goods. Brave the depths of this hostile alone or with your buddies in 4-player co-op.
Get the Windows Central Newsletter
All the latest news, reviews, and guides for Windows and Xbox diehards.
Alexander Cope is a gaming veteran of 30-plus years, primarily covering PC and Xbox games here on Windows Central. Gaming since the 8-bit era, Alexander's expertise revolves around gaming guides and news, with a particular focus on Japanese titles from the likes of Elden Ring to Final Fantasy. Alexander is always on deck to help our readers conquer the industry's most difficult games — when he can pry himself away from Monster Hunter that is!