Deezer is now available for everyone in the U.S.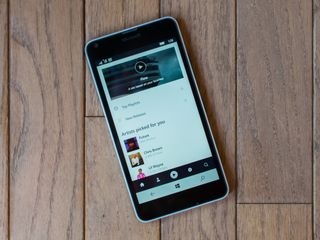 Music streaming service Deezer is now widely available in the U.S., meaning that anyone can now sign up for the service. The Spotify competitor was previously only available in the U.S. to those who signed up from Bose or Sonos, along with Cricket Wireless customers.
Deezer boasts a catalog of 40 million songs, along with a collection of podcasts and news articles. One of the service's primary features, Deezer FLOW, offers a personalized experience based on what you like, and what Deezer thinks you'll like. Features like FLOW, Channels, and more are meant to help boost discovery.
Deezer offers a 30-day free trial of its Premium+ membership, which costs $9.99 after the trial. Note that, unlike in other territories, there is no general free option for Deezer. You can check out the Deezer Music Preview app for Windows 10 on the Windows Store now.
Download Deezer Music Preview from the Windows Store (opens in new tab)
Press release:
Deezer Launches Direct To Consumers In U.S. With The Most Personalized Music Discovery Platform
Following Success of Home Audio and Mobile Subscriptions, Deezer is Made Available to All Music Lovers
NEW YORK, July 19, 2016 /PRNewswire/ -- Deezer, one of the world's leading, on-demand digital music streaming services, today expands its international offering by launching to all consumers in the U.S. Available via the iOS App Store, Google Play, the Windows Store and Deezer.com, music fans can now directly access their favorite content and features, including Deezer's signature FLOW – a personal soundtrack that intuitively knows everything listeners want to hear, from familiar tracks to new music.
Following the success of the brand's home audio and contract-free wireless subscription services in the U.S. market, Deezer will expand access to its Premium+ subscription and offer a free trial to new users for 30 days, after which a monthly charge will be applied. The Deezer app, which offers unlimited access to the world's largest music streaming library, as well as to news, podcasts and live radio, can be downloaded onto any device, including smartphones, tablets, computers, home sound systems, and smartwatches. Deezer will also continue to be available via Cricket Wireless and to Sonos and Bose subscribers.
"We are thrilled to make Deezer available to all music fans in the U.S., at a time when the company is growing stronger and developing new technologies that enable us to deliver a much more personalized experience," said Deezer Global Chief Executive Officer, Dr. Hans-Holger Albrecht. "We've already received an overwhelmingly positive response since offering Deezer via our partners Sonos, Bose and Cricket, and now look forward to making our service available to everyone."
Personalized for You
With knowledge and expertise from 50 music editors around the world combined with in-depth data analysis, Deezer delivers the most personalized listening experience possible, while also offering fans insight into local trends and new ways of discovering new artists.
The Deezer Difference
Designed to suit individual music tastes, Deezer boasts a host of unique features, which make music experiences both enjoyable and relevant. A redesigned homepage includes an easy-to-use navigation slider, which quickly guides listeners to the most relevant recommendations and to over 40 million songs and over 40,000 news articles and podcasts, all of which form part of the largest global music catalog in the world.
Additional features include:
Deezer's FLOW - The most personalized soundtrack that intuitively knows exactly what listeners want to hear, including favorites as well as new tracks. FLOW is designed with discovery in mind and delivers personal recommendations through a combination of algorithms, music experts and contextual information.
Channels - Explore and discover new music broken down by categories and genres, including news and podcasts – custom-made for listeners based on location and preference.
Live Radio – Found within Channels, radio listening is made simple with quick access to participating radio stations, including Fingerprinting that lets listeners identify and tag a song on select stations.
8 Tracks – Also found within Channels, its popular playlist service enables users to listen to and download their favorite 8 Tracks playlists and songs without ever leaving Deezer.
Lyrics – Never miss a beat and sing-a-long to favorite tracks with easy-to-follow lyrics on display and on demand. It's karaoke anytime, anywhere.
Notifications – Stay on top of what's happening in music with personalized suggestions and recommendations mixing a bit of new with the classics.
The Deezer app is available in the U.S. as a free download for all music fans with a trial 30-day Premium + experience, followed by a monthly charge of $9.99.
For more information, visit www.Deezer.com.
Deezer's Windows 10 UWA is still so buggy.

How does the service compare to Spotify and groove? I've never really heard of Deezer

I think that sound quality is better

Deezer is default in my country but never used it

Im actually suprised with how good Groove is now. I can play albums and radio stations. But then again, Microsoft is one of the oldest music subscription companies around because of Zune back in the day...

I've used both, Deezer in Q116, Spotify for 2 months now. Deezer's flow seemed to play a more diverse mix of the bands I like and similar bands compared to Spotify, which repeats the same few songs from a few bands way too often when in Radio mode after selecting a particular band. Spotify's latest UI on W10 mobile is growing on me though, I prefer it to how Deezer was 6 months back. Next up is to try both premium services at the same time for a month to decide on which is best overall. I miss MixRadio, which felt like it was reading all parts of my mind to know I would like Y since I liked X. Disclaimer: I'm in the US and couldn't name a single top 40 song from the last decade.

On a related note, Rhapsody just updated their app to Napster, and it seems to have a lot of speed and usability improvements to go with. I still think it's the best service, by far, available on WP. It both has a nice app (which Spotify doesn't) and a family plan (which Groove doesn't).

Agreed. Just wish they would update their windows app for Win10 and add all the functionality of the desktop app

Act fast. President Trump will take it away!

Way to go Deezer , and hopefully Tidal will support Windows 10 too.

Deezer is awesome! Best "radiofunction" ever, just teach the app what you like and hit Flow.

One of the key differentiators to Deezer is the fact that they stream uncompressed 16bit/44Khz audio, meaning you get the convenience of the stream with the sound quality of the Red Book CD standard. The difference is palpable when heard via a good playback product, but may not make your $30 earbuds or PC/Laptop speakers sound much if any better. But hey, I work in an audio shop, so access to good gear isn't a problem.

For home use, that's pretty important but for mobile data, that might end up being a determent. Not sure if they're on T-Mobile Music Unlimited yet, so that might hurt their early adoption too.

Well seeing that I'm from the Caribbean, Deezer was pretty much the only music subscription available to us for quite some time.. So from the get go I was with Deezer. Groove Music subscription is not available in my country, neither is Google Play Music, Spotify etc.. Apple Music is here though. But i'm not really keen on anything Apple. No offence. So its Deezer all the way.
Windows Central Newsletter
Thank you for signing up to Windows Central. You will receive a verification email shortly.
There was a problem. Please refresh the page and try again.