Destiny 2 'Warmind' expansion gets thrilling trailer [updated]
Warmind takes you to Mars for lots of new activities and loot.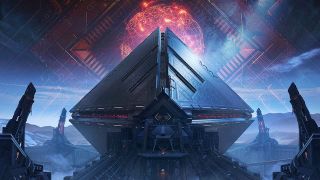 Recently, Bungie teased the next Destiny 2 expansion called "Warmind". Warmind launches on May 8, 2018 and, as the name suggests, deals with the artificial intelligence constructs designed to protect the solar system.
Until today, we didn't really know where it took place or what sort of improvements it brought to gameplay. However, the latest trailer for Warmind reveals just that and many more details. The add-on takes you to Mars where you get to explore "Hellas Basin". Aside from vast new structures, players must survive an event known as the "Hive Escalation Protocol".
For those of you who fondly remember the "Suros Regime" assault rifle from the first game, it looks like you might be in luck because a similar weapon should be added with the expansion. There's a new rocket launcher coming too from the looks of it. Lastly, "Masterwork Exotics" will probably be the most game-changing addition because they make your weapons stronger. Hopefully acquiring materials won't be too much of a grind.
New Raid Lair called "Spire of Stars".
New themed weapons, armor and gear to earn.
New ritual activity called Hive Escalation Protocol.
New relic weapon called "The Valkyrie Javelin".
New Strike missions.
New story missions and Adventures.
New destination set on the polar ice caps of Mars.
Access to multiplayer arenas in Private Matches.
Warmind should be full of new content so that gamers will want to play the title again. Over the past few months, Destiny 2's player base has decreased rather significantly because the "Curse of Osiris" expansion placed many of the maps behind a paywall. Let's see if May 8 brings people back.
Updated March 24, 2018: Today, Bungie hosted a livestream of the upcoming Destiny 2 expansion. Aside from a trailer features a new character, the team provided new details about the upcoming story content. Warmind continues your Guardian's journey in a dramatic way. Ana Bray, a Guardian long thought lost, searches for a connection to her past, one that could be lost forever on the polar ice caps of Mars. As Golden Age warsats begin slamming into the ice, the glaciers begin to thaw, revealing the core of the Warmind Rasputin – and an ancient Hive army bent on its destruction. Now free, the Hive swarm in service to their god Xol wants to take out Rasputin who is regarded as the most powerful weapon in the solar system. Players help Ana discover her past and destroy the Hive's gargantuan worm-like god before it is too late.
Keep an eye on WindowsCentral.com/Gaming for all the latest in Xbox and Windows 10 gaming, accessories, news, and reviews!
Get the Windows Central Newsletter
All the latest news, reviews, and guides for Windows and Xbox diehards.
Asher Madan handles gaming news for Windows Central. Before joining Windows Central in 2017, Asher worked for a number of different gaming outlets. He has a background in medical science and is passionate about all forms of entertainment, cooking, and antiquing.
Once players leave the game it's very hard for many to come back. I don't know if Destiny 2 will see those high numbers again.

Agreed. As a big Destiny 1 player, Destiny 2 is too similar, and their aggressive micro transactions put me off. Won't be back with Bungie till they leave Activision.

That's funny because after all the worries and complaints about D2, the main issue of the game for many (me included) is that they strayed too far from the solid foundation that D1 built. For instance, the weapon system and fragmentation of fire teams (aka 4v4) really killed D2 from the beginning. Looking back, a more incremental and traditional MMO release schedule would have probably worked much better. Meaning, that Destiny 1 should have been Destiny and they should have expanded on that. Instead, they reworked everything really just to have a reason to sell us a sequel when it wasn't necessary at all. Every good decision Bungie is making (and are saying they are making) is really to revert D2 to be very similar to D1.

But it's too late. They want too much money for a game that looks the same but was hampered by greed and poor choices/progression mechanics. Too late now. Much like SW BF 2 - can't repair the damage. I don't want to have D1 all over again. Either I wanted D1 to continue expanding as you suggested or a "new" experience. D2 is just a sh@t version of D1

I'm a destiny fan and can almost safely say, if this next expansion is not free, then very very few people will buy it. Me included.

Unfortunately I purchased the package for the game which included the first 2 DLC....
I haven't played the game for 2 months now, so will I try out Warmind which I've already paid for?
Probably not because of how I feel about D2 at the moment.

I am in the same situation. I popped on after the first insanely limited expansion came out just to see what I had already paid for...it wasn't much. It's crazy to think how much has changed in gaming since Destiny 2 came out. I can't help but think Bungie dug a hole too far to climb out of. They only have themselves to blame.

A game developed under the duress from accountants and management. Sad.

thrilling teaser trailer? What was thrilling about it? The game is stale, and dying off. They removed almost all of my favorite things from D1 and gave us a half baked product.
PLaying Destiny is like the hyper before Star Wars Episode I, they introduce Darth Marth a cool azz character, then killing before you know it. Then the expansions (DLC Updates), tries to replace the cool factor that they lost.

Despite all the issues. This is still my favorite game. Every other sci fi shooter feels clunky to me after playing Destiny 2. I'm loving all the recent changes such as 6v6 iron banner and the speed improvements. The main thing I would like to see in Warmind is more areas to explore than what we got in Osiris.