Destiny: Rise of Iron's launch trailer is epic and action-packed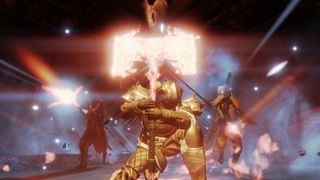 Developer Bungie and publisher Activision have released the cinematic launch trailer for Destiny: Rise of Iron, the fourth and final expansion pack for Bungie's sci-fi shooter game for the Xbox One and PlayStation 4 consoles.
The launch trailer itself mixes gameplay and CGI cut scenes and features a very mad Lord Saladin. Here's a quick description of the game's single player campaign:
Destiny: Rise of Iron will also have new weapons, a new Strike, a new six-player Raid and much more. It can be purchased as a digital stand alone game for $29.99 or, if you have yet to play any of Destiny yet, you can get it with the main game and the first three expansion packs for $59.99. It is scheduled to be released on Sept. 20.
See at Amazon (opens in new tab)
Windows Central Newsletter
Get the best of Windows Central in your inbox, every day!
After so much disappointing DLC and support I think Destiny is going to see a huge drop in people willing to pony up for this. I'll wait till they release Destiny 2.

They have already surpassed all other content sells with just pre-orders... Needless to say I can wait for this.

Destiny is the best shooter out there. More and more YouTube channels for it all the time.

I've really enjoyed it all this time. I don't have lots of time for gaming, and I don't like DM or team DM, but I like the strikes and other team vs enemy stuff. I can play as much or as little as I want and still get enjoyment out of it. Yeah, it could be better, but I'm happy overall and preordered the expansion.

Yeah....no Posted via the Windows Central App for Android

I wouldn't say fourth and final. There is speculation in the Destiny community of a need for a fourth to cover a few more tracks. Bungie has not confirmed that this will be the final.

I'm pretty damn excited. Been a daily player up till about 6 months ago when I had nothing left to grind for. The only time I play now is for Iron Banner. It's partly the game but also the community that I enjoy so much. My XBL friends list went from maybe 20 personal friends to 150 really great people who I still occasionally play with. Will be excited to try out the new LFG feature in clubs (including in the WP Club for those of us in preview). Destiny was the first game to get me into PvP and online co-op (outside of halo). It's been the mix of single player story, online co-op, and PvP that I enjoy about destiny. Sure I may have paid damn near 180 bucks for the game and the various DLCs (some worth it, others not so much), but with upwards of 1200 hours played its been worth it. I'm taking some time off work for the rest of the month (use it or lose it vacation) and I chose September because of the great games coming including Rise of Iron. Posted via the Windows Central App for Android

Destiny is one of the few games that is actually better on the PS4. I feel that the game was built with the PS4 controller & system in mind with the X1 being a afterthought for Bungie. Games like Fallout & the Witcher 3 were much better on the X1.