Developers experiencing issues with submitting apps and updates to the Store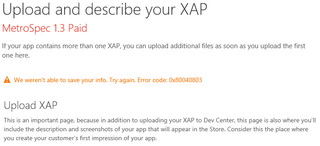 It's another cryptic Microsoft error code...
Developers have been experiencing issues when submitting .XAP files to the Marketplace for approval. Whether it be new apps or updates for already-submitted content, developers are getting hit with an error code. Glenn Edwards, the brains and soul behind recently released MetroSpec, has also been having trouble getting his work published.
We last covered MetroSpec when it went live on the Marketplace a couple of days ago. The paid version got through, but the free, ad-supported baby brother is still being held back. It's an annoyance more than anything as the Windows Phone community love their trials and free versions of apps that seek their hard-earned cash - and rightly so. If developers can't publish all their work, then this could cost them valuable custom.
The case of MetroSpec is not a single problem. According to threads over on MSDN (opens in new tab), a number of developers are experiencing the same (or similar) situations.
Darn cats spoil everything...
Edwards got in touch with the support team to see if the issue was on his end, or whether Microsoft had some temporary faults. Here's a snippet of an email conversation between Edwards and a Windows Phone Developer representative:
Unfortunately, should you be experiencing such issues, the only thing one can do is wait until Microsoft solves what's causing havoc. We do hope Microsoft acts quickly and gets this sorted as we're told this still isn't fixed for many content creators.
Thanks, Glenn, for the heads up and info!
Windows Central Newsletter
Get the best of Windows Central in in your inbox, every day!
Rich Edmonds was formerly a Senior Editor of PC hardware at Windows Central, covering everything related to PC components and NAS. He's been involved in technology for more than a decade and knows a thing or two about the magic inside a PC chassis. You can follow him on Twitter at @RichEdmonds.
Nor sure if related, but I can't connect to Live with my beautiful Lumia 800.

Does this explain why Viber with voice still not on the marketplace after a week?

That could be the case, Viber should step up and explain what exactually happens instead of keeping quite on this case. It has already been 9 long days since they announce the release.

Maybe this is why i cant download apps from the marketplace

I submitted two app updates and only encountered this problem for one of them, but after trying several times over a period of about 30 minutes it was finally accepted.

Hi MrCottrellable, I also tried submitting my app numerous times over the space of 30 mins or more, but with no success. I read in the WPDevCenter support forums that someone had some success using this method, as did yourself, but it didn't work for me :-( I have two issue, in that I want to update the paid for version of MetroSpec, but it won't accept the update due to the error, and also the free version MetroSpec Free, is stuck in a weird state. I'd set it to "manul publish", submitted a XAP update which was accepted, but instead of going back through certification as I thought it was meant to, my submission went into the "In Progress, Ready To Publish" state. Unfortunately the "Publish" hyperlink is now no longer visible, as it disappeared along with the original app submission details.

I'm having issues with new ad units created in PubCenter. It's been 24 hours, and they're still not streaming ads. My existing ad units work fine, but appearently somethings up with new ones being created.

I posted over on the MSDN thread, but yeah, I have been having this problem for some days now. Want to submit an update to Mehdoh, but can't. I also opened a support ticket with MS, and engineers are "looking into it". A tad frustrating, but hey ho.

Whilst I'm glad Microsoft are now aware of the issue (after initially be fobbed off), and are working on fixing it, I think it's ridiculous that so far it's taken Microsoft over 5 days, and it's still not working. On my part, it is causing me to valuable users, who I may never be able to get back. I've already had some negative feedback from potential users with comments like "no free version, FAIL" and "no free version, I won't even consider buying unless there's a free version". I wanted the free and paid for versions out together, so users had a choice, but now users either have to pay £0.79 of not use MetroSpec at all. The best I can do is reply to their comment, and explain the situation. Come on Microsoft please get it fixed. Oh and Microsoft isn't having a good time I don't think, PubCenter statistics aren't working, and also for me Xbox Live is faulty. I played a game on my phone, MonstaFish, and got all 14 achievements. On XboxLive on the 360, Phone, and web, MonstaFish shows 13/14 achievements in the summary page, but go into the game achievement details and it says 14/14. Also my gamerscore on the summary page is 15pts less than in the more details pages. Again Microsoft tried to fob me off, and told me that I hadn't got the achievement, they couldn't edit my account, and to get the achievement again. I'd like to, except that this isn't a case of the phone awarding an achievement that doesn't quite make it to xbox live (which has happened before), as this time all platforms are showing consistent, if incorrect, information. MonstaFish, when I re-installed it, retrieves your info from xbox live, and your achievements gained etc. Lo and behold even MonstaFish reinstalled onto a different phone, shows I have 14 out of 14 achievements, so I can't just go and get the achievement again. I've fired off a reply email to Microsoft...awaiting their response. Glenn

For the record, I've submitted a new app this week and updated an old one just fine.

Strangely I can't upload an update for my existing app, not can I upload the free version of MetroSpec, even when submitting a new XAP. But the strange thing is I can create a new hello world XAP, and upload it fine. Even taking the original XAP for MetroSpec 1.3 and trying to upload that to a new app results in the error. Why does a new hello world XAP upload ok, but a XAP that was accepted last week, now no longer upload without the error code?

All fixed now. I can submit XAP's again :-) MetroSpec Free is on it's way, as well as a minor update for MetroSpec (paid for version)
Windows Central Newsletter
Thank you for signing up to Windows Central. You will receive a verification email shortly.
There was a problem. Please refresh the page and try again.