MetroSpec for Windows Phone now available on the Marketplace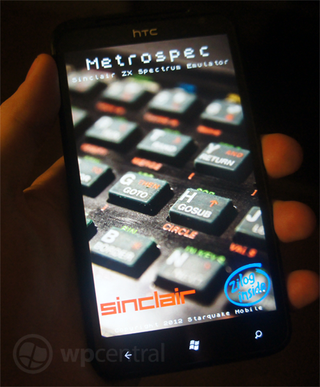 Re-visiting the good ol' days
MetroSpec, the ZX Spectrum emulator for Windows Phone, is now available on the Marketplace. We've been following the developments of the app itself from when it was pitched to us as an idea at a previous developer meetup, went through beta recently, and now being published. It's a superb app that's well worth checking out, even if you've never heard of the old-skool console.
MetroSpec supports emulation for both 16K and 48K version of the ZX Spectrum, which is accompanied by full sound and three visual quality settings. A handful of titles are bundled with the app, with the ability to import more via SkyDrive or from a web server. Standard .Z80 and .SNA file formats are supported, as well as .TAP and .TZX type formats. To save space, .ZIP, .RAR, .7z, gzip and tar can be used when loading games.
Save state functionality is present with SkyDrive integration so games can be loaded and continued on other platforms and / or emulators. Due to different tiles being available for enjoyment, the controls and key maps in ZX Spectrum can be reconfigured on a game-to-game basis. To keep up with how much time has been spent in each game, statistics are displayed and the last title played is easily accessible via a quick launch.
For convenience games can be pinned to the home screen, favourites can be added and stored, and screenshots are able to be saved to the picture library. Filtering through mass amounts of games is possible through filters (genre, publisher, developer, most played, etc.), which makes it easy to have a fairly sizeable collection while on the go. If one has enjoyed their fair share of retro gaming, the ability to code in Spectrum BASIC is present within the app.
That's just a taste of what's included in MetroSpec. You can download MetroSpec from the Marketplace for $0.99 (79p) with a free version available. The ad-supported version is limited to a maximum of 3 Save slots (instead of the full 9), maximum of 2 pinned game tiles, as well as the number of games available to import - unfortunately we're unable to see the latter on the Marketplace yet, it shouldn't be long.
Windows Central Newsletter
Get the best of Windows Central in in your inbox, every day!
Rich Edmonds was formerly a Senior Editor of PC hardware at Windows Central, covering everything related to PC components and NAS. He's been involved in technology for more than a decade and knows a thing or two about the magic inside a PC chassis. You can follow him on Twitter at @RichEdmonds.
To you, perhaps. To others is fantastic to be able to play old games they grew up with

...is it just me or do the controls not work (trophy)..

They do... In some games you need to switch the default controls (in the actual game options)

Hi Vaultboy21, As MetroSpec emulates a computer and not a games console, the control setup can be a bit more complicated, as there are many more keys on a Spectrum, than there are keys / buttons on a games controller. Most games on the Spectrum supported the Kempston joystick interface, so your best bet is to choose the "Kempston Joystick" option from a games main menu. e.g. if a game shows 1 - Keyboard, 2 - Sinclair Joystick, 3 - Kempston Joystick, 4 - Redefine Keys, 0 - Start Game bring up the virtual keyboard, and press 3 for Kempston, though I've mapped 3 to fire button 2 by default, so you could just use that. If you start a game and use the Kempston option, the MetroSpec controls are already mapped to Kempston by default. The alternative is to configure the game controls to match the expected game control keys in the game. You do this in the game setting screen, and it is a one off process, as MetroSpec remembers the control settings. Another option, is to configure the controls how you want them, launch the game, and if the game has a "re-define keys" option, then choose that, and when prompted to press "up", tap the up control on screen, when prompted to press "down" tap down etc. I appreciate that it's not a simple pickup and go affair, but by dual-mapping MetroSpec's controls to the popular Kempston joystick interface I tried to make it as simple as possible to get started. I made it as simple as I could, given that any Spectrum game can use any combination of keys for control purposes. I think once the controls have been setup for your favourite games it should be straightforward. If anyone needs any help with MetroSpec, or has some feedback, then I'm more than happy to help, whether you have the paid for or free version. Please email me with your questions or feedback to metrospec.support@starquakemobile.com Regards, Glenn

I don't see the free version anywhere. I'd like to try before I buy.

Hi ZuNuKoo, A Microsoft problem with the Windows Phone Dev Center, has unfortunately delayed the release of the free version of MetroSpec. I have it ready to go, but cannot publish it due to the aforementioned error. I had planned for them both to be released at the same time. Keep an eye out for the free version when Microsoft sort out their issue. Regards, Glenn

Hi Gmotagi, Please read the reply on the previous post. There is a free version of MetroSpec, and I have it ready to publish, but a Microsoft error on WinPhone Dev Center is stopping me from publishing it, or even any new apps for that matter. Rest assured MetroSpec Free will be released as soon as I can. I've raised the issue with Microsoft, and hope it's resolved soon. Regards, Glenn

Not found in Dutch Store yet. QR links to paid version only. Even though it's only EUR 0.99 I would still like to have the trail :-|

Hi All, First, thanks to Rich for putting up the article upon MetroSpec's release to the masses. The plan was to have the free and paid for version of MetroSpec live at the same time. Unfortunately I'm having a few problems with the Windows Phone Dev Center, which I've emailed Rich about, and which he may report upon later? Basically I submitted V1.3 of MetroSpec (both versions) on Sunday 9th Sep. It took just over 6 days for both version to pass certification. I noticed a minor bug in the ad display on the game page, and quickly fixed the problem and added a few new help screens for V1.4. I quickly stopped MetroSpec Free 1.3 from being auto published, and changed it to manual publication. I promptly submitted the update for MetroSpec Free, to bump it to 1.4 before release. Unfortunately it now seems that MetroSpec Free is stuck in the status "In Progress, Read to Publish", and I have no option to publish it. The original V1.3 version disappeared when I submitted the update, and unfortunately the "publish" button went with it!! :-( This seems like a major bug in the dev center to me. So the free version will be available as soon as Microsoft sort this issue for me. I've raised a support ticket with them. V1.3 of the paid for version is out there as you know, and I'm trying to bump this up to V1.4 to keep the code base consistent, and also the new help screens will be a real bonus for the newbies, and people not familiar with emulators. Unfortunately there appears to be a general problem with uploading XAP files to the dev center. I cannot upload the new V1.4 XAP, and I get the same error even if I create a "new" app, and try and submit a XAP. Others on the Windows Phone Dev forums are reporting the same error. I've had the error all weekend. Doesn't look good to me. Please bear with me, and when Microsoft fix these issues, V1.4 of MetroSpec will be submitted, and the free version will also become available. Thanks, Glenn

Again just to re-iterate I planned to have the free and paid for versions of MetroSpec live at the same time, but due to a screw up by Microsoft this hasn't happened :-( So I understand the frustration of the people who were hoping for a free / trial version of the app. It was meant to be there at the same time, but it's beyond my control. When the free version is available it should show up in the Marketplace "new apps" list, and I'll also make an announcement on here. Unfortunately without the ability to upload XAP's to the dev center I'm a bit stuck :-( Glenn

MS fix the problem ASAP -.- waiting for free version.
Windows Central Newsletter
Thank you for signing up to Windows Central. You will receive a verification email shortly.
There was a problem. Please refresh the page and try again.