Device Hub on Windows 10 Mobile morphs into new Gadgets app with latest update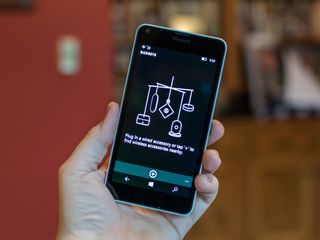 If you own a Windows 10 Mobile device, but isn't the new Lumia 950 or Lumia 950 XL, you might see an update for the Device Hub app. Microsoft is pushing out an update that basically changes it into the new Gadgets app that's already available on the company's new smartphones that have Windows 10 Mobile out of the box. This marks the third name change as the app originally started off being called Accessories.
The Gadgets app still allows users to manage both wired and wireless connected devices such as speakers and the new Display Dock accessory. It offers an alert when a Bluetooth connection has been cut and it also includes battery levels for any connected devices.
If are already on the Lumia 950 or Lumia 950 XL you will see the update too. We can confirm this update does fix the 'Groove app not opening' automatically when using custom settings bug.
Thanks to Vyenkatesh for the heads-up!
Well, I was proven wrong about Hey Cortana. There is an update for that, too. Don't know what was added, if anything. I always believed that an OS update would be needed.

I got an update for device hub and I have a 950.... Is that not normal?

I got it on my Lumia 920, still on 8.1

My Wife got it on her 830 still on 8.1 also.

Article. Third paragraph.

Yeah, posted before reading, since I had already downloaded it.

Darn the one time I don't read the entire article lol what a rookie move -_- but thanks!!

Cortana is no longer connected to the core OS in W10M. She can be updated independently. Mostly everything can no. That's the main reason updates can be pushed out so quickly now without carrier delays.

Are they going to push anymore firmware updates for the old lumias?

http://www.windowscentral.com/here-why-microsoft-can-push-os-updates-win...

I hope so, cause if I need to restore the OS I'll to Cyan>Denim>10, that's a lot of time :(

Yeah same problem. Wdrt restores phone to latest firmware not os

I have received for my Lumia 1520 with 8.1 Thanks John Callaham for posting my TIP. :)

My Windows 8.1 lumia 930 got it too...

Win 10 mobile official release dates for older Lumias?

Ask in the forums. It has been asked/answered a thousand times already.

When is the official windows 10 mobile release for 830 and others?.
Anyone please

Technically, you can download the "official" update through the Insiders Preview. It is the same as what's on the Lumia 950

If it's the same then it is very sluggish and slow on the 920.

You should reset with no restore. My 920 runs the latest build very well. Almost as solid as my 950.

Hard reset don't use back up or use recovery then upgrade?

It might be the same, but it works a **** lot crappyer. I mean the 550 works better then 1020 on the win10. That's not normal....drivers drivers drivers!

Ive been loving the gadgets app on my 950xl.... especially the ability to automatically launch Spotify when I plug in headphones. So clutch...

Mine acts like it's gonna launch an app, then doesn't o___0 (Lumia 950)

Really? That's odd....have you tried setting to different apps to see if you get the same result?

Wow, that's a pretty cool feature

Me too but Groove refuses to launch when the car connects. Oh and Gadgets is still in the ****** kerned font. Unbelievably slack standards.

Last paragraph of the article states "We can confirm this update does fix the 'Groove app not opening' automatically when using custom settings bug."

Cant find app after updating

Read the artilce. In any event, its named Gadgets now

So what's the name in the list?

Well that's weird. I got the update for Device Hub, which removed my tile from my start screen. But I definitely do not have an app called Gadgets now. :(

Same issue (app is not present) on my Icon.

Same, 920. Installed Device Hub update, reboot, no Gadgets apo, no device hub, nothing in settings.

Have you tried connecting a device via bluetooth and see what happens? Also do you see it in the background apps permission list?

I see Gadgets in the permissions but not in the Apps list.

Go to all settings - system - storage - this device - apps&games - gadgets, uninstall it and then reinstall from the link in this article

Guys look for the comment by L Beezy. His solution fixes it.

I can't find it as well. Neiteher in the settings neither the all apps list, although it is installed, but i did pin a device to the start screen, so I can "launch" it.

Not on my Icon either; device hub is gone, but no "gadgets".

Can't find it either, and I did see it working after updating. Weird!

Same issue with me on a Nokia icon, device hub went away and can't find either app now... But it's still working though, I programmed a few BT devices and it's doing what it said it would. Just can't find the app.

Yup, it's gadgets now: http://m.imgur.com/w9t2CRE

Weirdly enough I got a devices app update on my 950. I updated it it launched gadgets and told me I had a firmware update for my continuum dock.

I got a Device Hub update on my AT&T 950 also.

I can't find the app on my Icon either. If you following the link to the app store, it says product is installed and you can open it there. Where should it be?

This new device hub is great. My music app opens when I connect to my blue tooth car and speaker at home. Now we just need to be able to set custom bt volumes for each device.

Totall, adjusting volume each time you connect something is a pain. Let's ask for this through the feedback app. It's also very annoying to have the enforced volume limit turn it way down every now and then.

Also Microsoft Health updated. Installing now.

When I open the app it shows it needs a restart.Even after restarting the phone.It just shows the message again.Anyone else facing this ?

Yup with you on that one.. Lumia Icon on this end..

Me too, Icon also. My gadgets app can't connect to my DT-903 charger.

Are you using W10 insider release or WP 8.1?

Do you know how to open this app? I cant find after update

Its there in the app list.

I cant find it. Do you know the name?

Fix the **** glance crash.. :(

For everyone that's not having the app show up in All Apps, you must unininstall and reinstall Device Hub (via QR code in article) via the Storage app. When Device Hub was updated on my L1520 to gadgets, it initially didn't show up in All apps. Uninstalling and reinstalling should make it show up.

Thanks Beezy. That fixed it for me.

Ditto... thanks. Much appreciated.

Thank You so much.... Fixed for me... :-)

Does not work for me. Lumia 640 Windows inside 10. Do not see in Storage app or Start screen apps listing under either name.

You stole my fix!
But it works wonderfully. It's listed as Gadgets in your storage settings to uninstall, make sure you use the QR code or copy a link to reinstall. You can't search it in the store....

Thanks, this worked! On another note, what do people use for scanning barcodes now? I used to Bing Vision back in the day (loved it when it was just part of the Bing search button), but I don't even see that as a lense under the camera anymore like 8.1. I used the app Scan.

Worked for me too, thank you!

After I uninstalled it, in Storage, I had to do a soft reset. Then, I was able to go to the store and reinstall. Then, finally, Gadgets appeared in my Apps list.

Mine is listed but won't show any accessories. The option for uninstall is greyed out for Lumia 950XL. I really don't want to hard reset just for this freaking app to work.

Also got it on my Lumia 640 with 8.1

Win10 Windows 10! So frustrated with Microsoft and any other developer only focusing on the buggy beta OS. Some of us windows users would like 8.1 updates. Personally I'm fed up with the entire company PC included and REALLY considering investing in Apple. Yeah, yeah I'm only one person but the 2-3% market share speaks volumes!

I'm planning to release on Xbox One as part of my apps. For that I NEED to use the Windows 10 deployment systems. Unless you'd rather I created a pair of separate apps for 8.1 for PC and phone which would either mean extra development time or an app with lower quality. My apps would also be newly released on 10 and there would be no original 8.1 code base to work from. Technology moves on unfortunately, much as it sucks.

I got the update on my 950xl.

Another unusable apps after updates...

1st glance and now this.. :/

Restart problem same as mentioned above.(rowland)not working at all. Both in touch app yesterday and gadgets app today.both are not working...

I think they have insiders just to make sure w10m fail so badly..

What phone do you have and what OS version? That information would help us to narrow down the problem. Regards, Eero Penttinen / Microsoft

I've update and weirdly now can't find it anywhere (except a references within the devices section that my Bluetooth speaker can connect to it). Hey Cortana settings update too, but Insider Preview has broken that on my 930.

Look at the comment by L Beezy. Worked for me.

DT-903 doesn't work properly.

Same for me, it was just not showing notifications earlier, now doesnt even detect in the app...! I was hoping this would fix the notifications issue.. :P

Have you tried following: Unpair DT-903, reset it (by pressing the button on back for more than 6 seconds till the plate starts blinking), then pair it? Can you see DT-903 in Gadgets? Note that you have to go and specify in Gadgets from which app you want to get notifications from, those are not migrated from old Device Hub. Regards, Eero Penttinen Microsoft

Glance, motion data, touch - all unusable now..

And Mail & Calendar which are unusable after every second update.

My Lumia 640 with WP 8.1 also got it

It looks like this also replaces the Treasure Tag app.

What's the "Groove app not opening' automatically when using custom settings bug."?

Where you plug your headphones in and groove app opens instantly... Which works now

Gadgets not showing in app lost or anywhere on L1520...nowhere since update.

Same on my L1520 on W10. Came here looking for where it is...

If it's not showing in your app list, uninstall from storage and use the link to reinstall.

I saw one hanging around in the Cortana Thread earlier...

I got the update but i can't find it...I dismissedthe update too fast. My phone is in Spanish, and it's not under anything called Dispositivos.

Awesome (sarcasm)
my 950 thinks my headphones are plugged in... and they are not.

The article says "It offers an alert when a Bluetooth connection has been cut" but I can't find any option for that. Is there some way to set that up? Or does that only work with specific devices like a treasure tag?

Yes, Treasure Tag (any of WS-2 or WS-10) is needed to track belongings.

So you automatically install 'gagets' without telling me??? and I'm to believe it's not an effing virus? I deleted since you didn't tell me what it was.

Niiiiiiiiiiiiiiiiiiiiiiiiice :)

A great update! I have been unable to get my phone and my new Subaru to "talk" as I want them to: audio over the system and texts dictated to my headset. Now, with the "Gadgets App" I have been able to make that happen AND to shorten the length of time it takes for phone and 'Ru to start the conversation... Good job, M$!

Likes the cut of his jib...