How to use the Gadgets app on the Lumia 950, 950 XL, & Windows 10 Mobile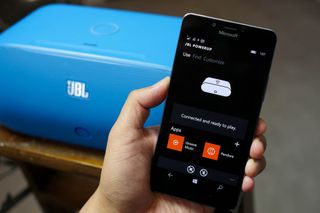 The built-in Gadgets app on the Lumia 950 and 950 XL isn't the most exciting app available on Windows 10 Mobile, but it definitely deserves some attention. Our favorite Gadgets feature is the ability to automatically open apps when connecting a phone to accessories like headphones, or Bluetooth speakers. We'll show you how you can do that along with other tips for the Gadgets app.
The Gadgets app opens automatically whenever you connect your phone with a new accessory for the first time. However, you can also access it via the app list.
How to automatically open an app when connecting an accessory
Let's use the JBL Powerup as an example. It's a Bluetooth speaker with NFC and wireless charger on top. In order to pair it with the Lumia 950, you hold and place the back of the Lumia 950 near the NFC logo of the JBL Powerup. Once paired, the Gadgets app opens up and lets you know that it's connected and ready for use. From the Gadgets app, you can decide what will happen next time you pair the phone with the Powerup.
Swipe towards Customize
Under When I connect this accessory, you have the option to Do nothing, open any app you want, open the Gadgets app, or show Notification.
Select Open app and choose the application you want. For example, I've selected Pandora. Note: We noticed Groove does not open automatically even when selected. We hope this bug gets fixed soon.
How to create app shortcuts in Gadgets
If you select to automatically open the Gadgets app when connecting to an accessory, we recommend adding app shortcuts specific to that accessory. For example, when connecting your phone to your car's Bluetooth, you either open the Maps app or a music app. You don't want one specific app to open automatically. Here's how to add the shortcuts:
Tap your accessory tile in the Gadgets app
Tap the plus (+) sign next to Apps
Choose as many apps you want to add by tapping checkboxes
How to pin your favorite accessory to the Start screen
We have a Bluetooth speaker in a corner of the office. Instead of physically tapping it with the Lumia 950, we can turn it on right from the Start Screen. Here's how you can set it up:
Tap your accessory in the Gadgets app
Tap the Pin to Start icon
Next time you want to use it, just tap the accessory's icon in the Start screen, and then tap Connect
Will you use it?
Now that you know a little more about the Gadgets app, will you be using it with your Lumia 950, Lumia 950 XL, or other Windows 10 Mobile devices? Let us know what you think in the comments!
News
Want all the latest news on these phones? Hit these topic pages for all that we got.
Microsoft Lumia 950 XL main page
Support and help forums
Need to chat about the Lumia 950 and Lumia 950 XL? Jump into our forums and ask others what they think or get help and advice on your new phone!
App doesn't work with DT-903 here ...

What do you want to do with a wireless charger from your phone?

Configure light and notification.

I just bought the DT-903 to be used with my 950 XL and I can connect to it with the Gadgets app and configure the light. However, when I try to add an app to be used for notifications, the Gadgets app crashes.

Do you still have the crashing issue with the latest update of Gadgets?

I can't also add D-904 charger to gadgets, even I have paired it succsessfully. This gadget app is overall strange, today I checked how it reacts to my car Bluetooth connection. When I check from Bluetooth menu I see that my phone is connected to car's multimedia and works fine, but when I open Gadget app it shows that there is no connection???

When is windows 10 coming to Lumia720 ?

Microsoft sent me a link to a DT-904 charger that mentioned 640/XL and 950/XL as the recommended devices for that charger. Unfortunately there wasn't a purchase button.

I have played with it. interestingly enough, similar to Nokia's old Treasure Tag app, it can also log the location of the last time you connected to said device. kind of neat for my car :) also, works for things like wired headsets too!

They should push this to all W10M devices

Instead of putting multiple affiliate links in the article you could provide a store link for the app...

Your answer is the first five words of the first sentence in the article: "The Built-In Gadgets App". Its not in the store.

It is a store app. It comes preinstalled on the 950/950 XL. You can get most of the WM10 OEM apps from here:
http://forums.windowscentral.com/windows-10-mobile-how-guides/397634-%5B...

Thanks so much for that link. Glance Screen disappeared from my 810 during the Windows 10 preview, and now I finally have it back!

Mark, this app didn't open when I first connected my brand new power up. It just brought up a prompt asking me if I wanted to allow the connection. In fact when I search for the app in my phone it's not there. I'm running the latest build of win10 on a 1520

It is built in to the 950 and 950XL. Not sure about the 1520 as I dont have one here with me on 10. Will look when my wife get's home.

some guys from a chinese forum pull the app off their 950/xl, and you could sideload it to w10m device. so i did, and appearantly it replace the old "deive hub" . so i assume it will be available as a 'update' of "device hub" later once w10m officially available for upgrading for older phone.

It won't matter so much once I get my 950xl. Hopefully sometime this millennia lol

I think it's so mind-numbingly telling that Groove doesn't work with this app; sooo far to go yet...!

Windows 10 Mobile is definitely an OS with potential, but it still feels very pre-release. Not nearly as stable as Windows Phone 8.1. EDissapointing, but also not as critical as hardware issues, seeing as software can always be updated, hardware is trickier. I'm not saying the launch of the Lumia 950 / 950 XL was smooth, and the software is definitely disappointing, but at least it can be fixed with time.

I agree. I know the app just crashes. I was just curious by what he meant. I assumed it was that, but... With that. I am really liking the hardware and OS, just wish they would have had a build or two later to launch with. Minor but annoying things.

Definitely agreed, the OS is 80-90% there, but it still needs some polish.

I just think Groove is a huge step down from Xbox Music, is all... This is just another in a long line of embarrassments. It's THE most obvious app to work with this, and it doesn't - pathetic...

How-so? Groove doesn't match Zune, but I think it's a tremendous improvement over Xbox Music on Mobile, and not particularly different on Desktop.

I liked Xbox music (Xbox Music pass holder) But gapless play is in Groove, AND I can't tell you how nice it is to simply get in and out of the truck and Groove just picks up where it left off. I don't have to launch or even touch the phone. So in that instance, this app isn't even needed? And my final defense of Groove is the Radio Station function. I still just can't figure out how they find so many songs that "fit" the song I start with. Groove has come a loooong ways since the mess they first released in W10M preview. I'm actually impressed.

Dat button inconsistency....

I can't think of any instance where this would be useful for me. Just because I plug in my headphones or connect a BT earpiece doesn't mean I want to open something specifically, much less every time. In fact, it would be painfully annoying to have to close an app the opened automatically when I want to do something else. No, I won't be using this feature--which is true for me about a great many features others claim are "must have".

I'm the inverse. It will be used daily to launch BT music and phone to the car stereo and navigation on the phone itself. Have been waiting 3 years for this. Although, with 8.1 simply pressing Play on the car stereo would launch the previous played music app always. It's a mixed bag with 10 and Groove.

I can't think of any instance where this wouldn't be useful for me. Because I plug in my headphones or connect a BT earpiece means I want to open something specifically, every time. In fact, it would be painfully annoying to have to open an app that didn't open automatically.
...
Different strokes, eh?

Calm down sistah! It's just an option. You can set it to "do nothing." But for people who would find this option useful, it's there. Dang, people complain about options. Why do you hate options!?

I know. We almost had a nuclear way with Russia over the freedom for options.

I wasn't expecting it when it automatically activated itself when I simply plugged in my car's aux cord, so I was a little off-put. I'm also a little off-put by the fact that it doesn't work properly with Groove. But after exploring a little bit, I'm starting to like this app. It's decently customizable, giving the user choice. I also like the location feature, so you can see where you left something. It even makes a make-shift parking location reminder, since (So long as you consistently use and accessory in the car) it'll keep track of where you last parked. Pretty nifty, I like.

yeah, the crashing is annoying. I think it is an awesome feature when it does finally start working though!

This is an awesome article. I didn't realize you could have the phone automatically open an app when you connect to a device. My car refuses to resume Bluetooth play from Spotify until I open the app. This saves me the hassle of having to do it manually every time I get into the car. Awesome!

Thank you Mark! Much appreciated article

Works well with my Bluetooth speaker and headphones. Use it on a daily basis

Despite WM10 being a major overhaul of the OS, Microsoft has done a good job of keeping the things that make it familiar including Groove/Xbox Music being unreliable and broken.

you can even activate GPS for the apps and get a list of the apps and where you last used them - tells you were the car is for example.. even though maps does it already as well

Use it daily for a bluetooth connection to my truck stero. What I would like it to do is work with a single tap. Right now the work flow is this: Tap the BT device pinned to my start screen. It opens the gadget device screen. It should just toggle connect/disconnect and move on. Tap connect. Now the configured app launches, in my case Pandora. If it opened the pinned shortcut I could skip step 3. In Pandora, tap my radio station and then tap play. Thanks

That's a problem with the Pandora app. You might want to try iHeartRadio. If you set it up correctly under Customize, you don't even have to pin it to your start screen. But you still have to press play on Pandora, even though Pandora defaults to the last played station.

Meanwhile on the 635, Device Hub is still a thing.

This is basically a replacement for the Nokia Device Hub, which I did used to use on my Lumia 925 but it doesn;t work properly on W10M. It allows you to select an app to open each time you connect to a device but that gets lost each time you close Device Hub. I use SleepBug Pro as a white noise generator on my phone when I sleep because I have noisy neighbours and i play it through a bluetooth speaker on my bedside table. It supports NFC so I can simply tap the phone to turn on the speaker and connect to it and, once I get my Lumia 950 XL, I can have this Gadgets app start SleepBug Pro too.

I have paried my Treasure Tags to my phone and can access them in the Gagdets app. Everything works except I cannot select which wifi networks should be quiet zones. When I access the quiet zones page I cannot select anything and the app becomes unresponsive, a couple of seconds later it crashes. Anyone else seeing this?

I've got the exact same issue. Very annoying to be unable to silence the thing when you're at home or at work.

So, am I missing something? How do you bring Gadgets up, to use it? Not in Apps, not in Settings, does not activate when I connect to a BT device. ???

Just updated to this on my Lumia 1520 and Gadgets isn't listed in my apps list or in settings. I can only get to it from notifications if they're listed in Action Center. Duh. Anyone know of a way to pin the Gadgets app to my start, instead of individual device tiles...?

A major omission from this article is the find function - I always know exactly where and when I parked my car, it works automatically without me having to do anything - brilliant! And Groove does open automatically for me - just wish Groove was a bit more polished, hopefully that will get sorted.

Hi there, i've a problem with a 950xl and the gadget app. i try to pair my treasure tag, but do not work, i want to unistall it and then download again, but there is no way i think. any suggestions?
Windows Central Newsletter
Thank you for signing up to Windows Central. You will receive a verification email shortly.
There was a problem. Please refresh the page and try again.