DirectX 12 won't be made available for Windows 7 users, according to AMD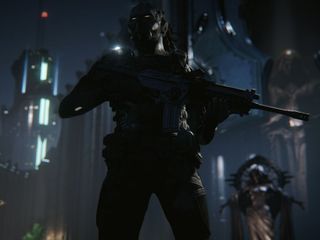 It's not exactly a shock, but an AMD rep recently stated that DirectX 12, the next version of Microsoft's graphics API for Windows, won't be made available for Windows 7. Microsoft has already announced that DirectX 12 will launch alongside Windows 10 sometime in 2015.
The news came from AMD's Chief Gaming Scientist Richard Huddy at a presentation during the recent PDXLAN gaming event. As he stated, "One thing that's not going to happen to it is DX12. Yup, DX12 is not coming to Windows 7." This isn't surprising, since Windows 7 mainstream support is scheduled to end in January 2015, which means that new features won't be added to the OS after that date (it will continue to receive security and bug updates for several more years).
Microsoft has so far only confirmed that DirectX 12 will be added as part of Windows 10 out of the box and it's also due for Windows 8 and 8.1 as well. DirectX 12 will also be made available as a software update for Xbox One game developers. Should Microsoft go ahead and add DirectX 12 for Windows 7 as well?
Source: PC Gamer
Windows Central Newsletter
Get the best of Windows Central in your inbox, every day!
Well there was news that direct x 12 will be available for WP devices too.!! Any news about dat any1 :)

Wow.. Looks like it's true! (sarcasm)

Yes it will as in its essence direct x 12 is set to consume less power and be more mobile ready it also set to ease development across mobile console and PC so yes directx12 is coming to windowsphones or mobile or windows or what ever they'll name it

Yeah, there was a news definitely, but haven't heard any thing regarding it lately. :-\

That news was probably made my joe belfiore

Dx12 is part of Windows 10. Windows 10 will be released for at least all Lumia Windows phones. Ergo, yes, we'll see dx12.

Might be possible, but I guess it will be a very limited version. DX12 may be more mobile compatible than previous versions, but that does not mean that all features of it will be used in Phones.

How dare they!!! Ha ha jk

Don't support windows 7
Just force everyone to upgrade to windows 10 and then we will have much larger user base for phone, tablet, PC and everything

YEAH! All those writers that spend their days in word are going to be feeling the pain.

You don't create a healthy user base by forcing them into it.

No, its better to continually support an outdated os for the fearful of change. Win10 is a total rewrite...all other windows should be eol'd to make room for progress. Your line of thought creates stagnation. Your people kept running XP a decade after it was useless.

There's no forcing. It's optional to upgrade

You sound like the kind of PR guys they hire at Ubisoft..

Ha ha...really...Ubisoft and its PR guys are getting hammered lately after AC unity...

If MS do that, it's the biggest mistake by them...

Absolutely not...why to integrate a brand new API into a soon going off support OS?? that would be utter waste of resources and time...they at least need some headline thing to sell Win10...

Not even all DX11.x features are available to Windows 7 as of now, so it is quite clear DX12 won't be. And its the right thing to do. Most gamers are on Windows 8.x already anyway based on Steam surveys.

Keep in mind that you still need the hardware support for DX12. Just because the OS says it can do something does not mean your existing computer will have any advantages with it. Some features will be backwards compatible to existing hardware, but with every DX revision you need new hardware to take full advantage of it. For desktop users this means a new GPU, while for phone, tablet, and laptop users this likely means new devices to get full support, and those new devices will come with win10 anyways making it a moot point.

The diehards are gonna say yes, but the reality of software development is no. It's not worth the development and support resources to maintain that beyond the support lifecycle. The consideration here, however, is that Windows 7 has a huge marketshare, so they may bow to pressure. I just wouldn't hold my breath on it.

If its a free upgrade and there's no choice...market share will shift.

Couldn't agree with you more :)

Where is the source saying it's a free upgrade from Windows 7/8 to Windows 10?

Read, please...i said if.

Get those W7 users to upgrade!

So gamers r not users??!! Lol

Don't worry, Tron will fight for us!

If Windows 10 is good and a reasonable upgrade, this wont matter.

Lots of people rely on Windows Media Center, and it's looking like that will be deprecated in Windows 10, causing many people to not upgrade.

Well those people have obviously never used VLC -_-

When did VLC get tuner support and a PVR feature? As I sit here wearing a VLC t-shirt.

Oh if that's the case.. I thought media centre is just another player, my bad

There are other options available and are under development. Just a couple of weeks ago Mediabrowser 3 announced that they are working on a solution so you can stream live TV from a Mediabrowser Server without having WMC installed. It already works, but the problem is that the plugin used (ServerWMC) can't handle the channel guide without getting access to WMC yet. They are working on a solution to that with a new plugin. Others work on similiar solutions like XBMC etc. So by the time WMC is retiered there whould be other solutions available.

as far as I know, MSFT is the ONLY manufacturer to license DRM for protected content (premium channels, ie. starz, showtime, cinemax, hbo, etc). So anything that XBMC or any other third party app is doing with live TV is purely for OTA and basic cable selections. that is not good enough. Some of us don't torrent our TV shows. So until MSFT either sells or licenses this out to another manufacturer, there is no replacement for Media Center. The problem for MSFT is 10mil users (or however many WMC users there are) is not enough to move the needle for a company that large. I've heard first hand Steven Sinofsky say he used WMC w/ Ceton cable cards when Win8 was released and they still deprecated it. They don't care. Furthermore, they don't get it. They are so blindsided by Xbox One owning the living room and its obvious by what they produced that they have no clue in how to deliver on that. Piggy-backing a cable box is NOT A SOLUTION MSFT.

This is exactly it. If its good (and so far, using tech preview on my gaming computer has not been bad) it will not be a huge issue at all

Keep it for w8-10. No need to keep catering to ppl who wont upgrade. This will give them an incentive for doing so.

Agreed sometimes you need reasons to update and this should be one

Yes you need a reason for free upgrade.

Just because its free, doesn't mean ppl will automatically upgrade. Alot of ppl are happy with w7. W10 to some, will still feel like w8. So things like dx12, Cortana integration and common apps on a slew of different devices is what's gonna make ppl upgrade.

Free upgrade from 7 to 10 will make this irrelevant

If they manage to upgrade it for people who bought it legally that would be awesome, although unlikely by every means they already are giving it away for free at 9" or less.

Good move. Holdouts make things difficult for everyone else. The majority of them have no legitimate reason for not upgrading and a large majority of them are just old people who still don't know how to adjust their damn monitor resolution. So upgrade, you'll just be confused and unproductive on a different OS, and they won't be forced to waste resources and possibly slow progression in trying to appease your demographic.

Windows 7 users are animals! Do we care?

I'm on Win 7, ill happily upgrade if I can do so for free. Otherwise ill be sticking it out with 7. :)

Same here. Not everyone has the cash to upgrade. Some of us have a really tight budget where even $50 or so is a lot of cash.

For the people that are too cash stricken to upgrade, they wouldn't be affected by this anyway as they probably don't have the necessary hardware to run dx12.

Yeah if $50 is big money then I dont see how DX12 would be any interest anyway. Native support will probably need new hardware anyway, and the games wont be playing with currently old hardware anyway. If that kind of money is a problem every 5 years its useless to be PC gamer anyway.

Why should MS upgrade your windows 7 for free. If you are to cheap to spend the money to upgrade then why should they spend the money to add additional features into an old OS.

My main laptop has just done three reboots with win10. Heres hoping!

Who's down voting me? What a horrible day!

Because we all know w10 is not ready for prime time and you are judging by prototype OS. I'm not saying I downvoted you since it is impossible from using an app

https://windows.uservoice.com/forums/265757-windows-feature-suggestions/suggestions/6612952-allow-datasense-to-block-internet-for-all-apps-sof Just vote this suggestion if we want Firewall Whitelisting support in Windows 10. Useful if we have limited data.

Absolutely not. They have to upgrade their system to Windows 10, or at least windows 8.1. Thus development will be more fast

Yesterday i upgraded my office from 2010 to 2013, 2013 is totally different design, like win8

Just let w7 users upgrade for free problem solved.

Nope.. Not free but make it cheap.

i hope windows 10 will be a big adoption coz it imp for windows phone, the windows store,for bing apps for some what pc gamers for devs for everything. i hope windows 10 has 75% market share in next 3 years.

Chief Gaming Scientist. Hell Ya!

Games on DX12 won't come for at least a couple of years anyway. Seems like a moot point.

Another reason Win7 users can stay with 7 a few more years.

Isn't the higest adoption rate for Windows 8 been with PC gamers? Or steam users? I'm pretty sure that's true. So I wouldn't worry about that. People are going to flock to Windows 10.

It is good that they are not adding features like this to Windows 7. Microsoft needs to follow it's life cycle plan this time to prevent another Windows XP situation. That OS should have been out a long time ago.

They should go ahead and scrap w8 as well

A short explanation of what DX12 is would have been handy in this article for non gamers

There is this thing called Bing, you should try it. Helps during times like these.

If they don't do it people will keep running that horrible, ancient os until 2050.

So the bigger question is when is it coming to Xbox One?

Still sticking to Windows 7...

Can't stand the ugly flat design of 8/8.1/10...

No, they really wont lose any market share in the PC market. Them being cloud based only strengthens their portfolio of products.

I'm not alone in this way of thinking... http://www.zdnet.com/with-a-new-platform-neutral-microsoft-why-go-windows-7000035720/

Disagree entirely with that. (Respectfully.) Development isn't something that just shows up on a whim: It takes YEARS of R&D, legal, red tape, production, testing, etc. Etc. Etc. To get a final product ready. Microsoft saw this idea with the development of WP8 when it switched from CE to NT development, and spring 2015 is then when every Microsoft platform comes together to make Windows 10. For Xbox, windows "phone", x86/x64, ARM, IoT, etc. Thats EVERY possible device out there imaginable...on one operating system. That's HUGE!! Sure, MSFT's services being launched on other devices, but you wont get that tight integration amongst separate platforms unless you have the Windows landscape. Sure, they focus on other platforms more for other services like Sway and Office 365, but the reality is that Apple and android owns the mobile platform. It's Microsoft's duty to serve those platforms so that the user can then decide, "Hey, what is this Windows Phone you speak of do?" It builds curiosity...and it's genius!! 2015 is going to rock for Windows. ;)

As for staying with Windows 7? My friend, you really don't know what you are missing ;) Hopefully Steve Ballmer is your secret best friend ;)

since they deleted my post, there is no context to your reply terrokkinit. I am not an employee of MSFT, I shared no confidential information, only information that is easily accessible, but I am in the IT industry and am able to make my own observations and come to my own conclusions. Its sad that an open site would choose to delete my comment. We agree to disagree and only the future knows which of us is right. I am a Windows/MSFT fanboy... sporting my 1520 and SP3, but I am truly skeptical on the future of Windows. I stand by what I said. 5-10 years from now, Windows will be to the OS world what IE is to the browser world.

Interesting that my post was deleted. censoring people are we Windows Central?

The reality is that it would be years before DX12 was a requirement for any PC game, hell most current games have back to DX9 supported. It makes sense and will cause almost no problems for anyone.

Somebody is jealous that DirectX12 killed off their new API.. Is this supposed to be a blow to nVidia and MS? Sounds a bit bitchy to me.

Yes direct x 12 should be only available for windows 10 and Xbox one

I can already hear the screams from windows 8.x / anything metro haters. I can only think that their unwillingness to move on from win 7 is somehow feeding their dillusions of being "hardcore pc users".

I couldn't agree more with you ;) If you love being a PC Gamer, you SHOULD have Windows 8.x ;) it runs quicker on less hardware and allows you to tweak even more settings to make your gaming rig run smoother. Sure, it's awkward to use, but it's also amazing on hardware. ;)

Yep. Windows 7 is dead with the launch of Windows 10 next year. There's just WAYYY too many new features to be running such an outdated OS. And it runs quicker on less hardware, which is even more awesome! ;) DirectX 12 for 8.1 and 10 ONLY. Make it worth the upgrade ;)

the year of the Linux gaming PC is coming!

Good thing W10 is a free upgrade for W7 :D

I guess I'll wait my mobile game development for WP until Windows 10 comes out and UE4 supports it (btw the newest update for UE4 seems interesting since they allow you to test any UI you made with UMG at a Surface 2 resolution)

Who cares? Everyone will be going to windows 10 anyway. I haven't used 7 since 8 came out.

Oh I can already taste the bitter tears of all those Metro haters...

It's OK Though win7 is faster than win8 Still i 'm happy with win8.1 after the dissapointment of win8 Wish win10 would be better and faster with dx12

AND??? Who cares amd get over yourself and make better cpu's and gpu's. You just sound petty and scared about directx 12.