Disney Expedition, finding an activity or restroom is just a tap away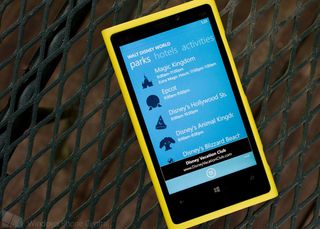 With summer fast approaching, vacations are being planned and if you're headed to Walt Disney World, (opens in new tab) you may want to check out Disney Expedition for your Windows Phone 8 or 7.x device.
Disney Expedition is a well laid out companion app for the Disney theme parks that can help you manage your time and help you from getting lost.
Disney Expedition main pages includes information on the Disney parks, hotels, and and activities at Walt Disney World. The park listings includes the Magic Kingdom, Epcot, Hollywood Studios, Animal Kingdom, Blizzard Beach and Typhoon Lagoon. In selecting one of the parks you can find attractions, activities, Disney characters associated with the park, shows, shops, dining, and guest services for each.
The hotel listings (too many to list individually) pulls up individual activities, shows, shops, dining and guest services associated with each hotel.
The Activities Page lists attractions, activities, shows, shops, dining and guest services for the Disney Boardwalk, Downtown Disney and ESPN Wide World of Sports.
The guest service listing for each category covers not only guest relations centers but also ATMs, locker rentals, restrooms, smoking areas, first aid stations, picture spots and stroller rentals.When you drill down to the mountains of activities that Walt Disney World offers you can see schedules, wait times, who the activity is perfect for (kids, teens, adults, etc.), and map out the location with Bing Maps.
Disney Expedition will let you set alarm reminders so you won't be late and sort attractions by height/age requirements, types of rides, distance from your current location, and name.
Another neat (and handy) feature with Disney Expedition is that at the bottom of each park, hotel and activity index screen is a restroom button. This will pull up a map of the closet restroom to your current location.
Disney Expedition offers a mound of information to help you get around and survive Walt Disney World. Utilizing your location services helps you from getting lost and I like the reminders that can be set to help you from being late.
Disney Expedition is a free, ad supported app for your Windows Phone 8 or 7.x device that you can see here (opens in new tab) in the Windows Phone Store.
Get the Windows Central Newsletter
All the latest news, reviews, and guides for Windows and Xbox diehards.
George is the Reviews Editor at Windows Central, concentrating on Windows 10 PC and Mobile apps. He's been a supporter of the platform since the days of Windows CE and uses his current Windows 10 Mobile phone daily to keep up with life and enjoy a game during down time.
Pointless until they release the Disney experience 'app'. When the magic bands are released to the public in Sept/Oct you will need it to book rides, shows, everything. The developers are not producing it for Windows Phone at the moment unless they have more requests.

Do you know who we need to direct these requests to in order to voice our support for it?

They'll have the website "app" version as well. Yeah, it would be nice if they built us a native app, but at least they offer browser-based alternatives for now. Maybe a creative developer can use the website as an interface for a 3rd-party native app (either by scraping or, hopefully, web services).
Also, Disney isn't stupid. There's no way they would introduce a system exclusively accessible via Android or iOS smartphones or tablets. That would cut out a huge percentage of visitors (people without smart devices, foreigners without global data plans, people with data caps/limits, etc). It might be easier to use a smartphone to do everything, but I'm confident Disney will offer alternatives (kiosks, cast members with smart devices, etc.).

This app is the Disney Experience for your Windows Phone. This app offers all of the offical Disney information.

Well, it's not "pointless"...I prefer less hyperbole. A park map and restroom locator are both excellent tools for a family at the parks. No need to be dismissive because the app doesn't have a feature that you want. It's also more productive to let us know WHERE to make the request for the feature you want. Give a link.

Yep, this is definitely serving up from Disney's servers. Very cool. I'm sure Pinnacle will be able to add magic bands support once necessary.

Every time I go to the Magic Kingdon I visit Guest Relations and ask them are they going to release My Magic + for Windows Phone just to keep the requests up.


Now you don't need to! Disney Expedition gives you the Disney Experience for your Windows Phone. This app offers all of the offical Disney information.

Ha!
Good timing!! I am there next week!

I'll be there on June 8th. Already on my start screen ;)

Pointless? :) This would be useful for visitors. The band system isn't out yet so it doesn't matter anyway. I suspect it will be available in time to support that new tracking system

Also, the article failed to indicate a key feature that I noticed after downloading; It shows current ride WAIT TIMES.

So is this only valid for Disneyworld USA or does it also feature other Disney parks such as Eurodisney?

Dang, a little late! I was just there last weekend. O well. At least I'll have it for future trips.

Looks awesome. I hope they add Disneyland and Disney California Adventure support.
How are they pulling "official" ride wait times? Where is that feed coming from.
I was hoping MouseWait would come out for WP but honestly this looks a bit better if they'd add the CA parks.

+1 on DisneyLAND and DCA.
When we went there last summer, I used the mobile website - there are wait times on there. It's a pretty good solution, but I'd really like to have an app that uses my GPS location to place me in the park, and give me info on "nearest."

My sister and her husband could have used this for their honeymoon at the end of last year/beginning of this year. Still, good that they're bringing SOME level of official support to the platform.

The last time I went to Disney maybe 2 half years ago I used Disney bot. It worked great.

This is pointless in California

Calling things "pointless" is unproductive.

add Disneyland and Disney California Adventure support.

I used this app just 2 weeks ago (Magic Kingdom ay 5 & 6) and downloaded this app after discovering it in the store. It is limited, but still very useful. There is a good map app that will show you where you are in the park and follows you as you walk, just like any other mapp app. This is great for finding rides, reasturants, bathrooms, etc. The scheduling of events was OK, it didn't quite have everything like when & where characters would be to sign autographs & take pictures, but overall, I found it very useful.

Matt, Please contact us with any feature requests or how we can improve it. You can find our cantact info in the 'about' menu of the app.

Damn i was there 3 weeks ago and had to use my wife's S3 to get the Disney app! At least next time I'm covered :)

Ok... 1) its not from Disney themselves... 2) THE most useful thing would be a damn map! I freaking work at Disneyworld and even I get disorientated when I got to the parks. Especially Epcot. Which way is Mexico?

Well the data IS from Disney, and the UI is pretty good. So it's pretty solid.

For all asking for support for California, it is coming this summer :)

One thing George forgot to mention is these are OFFICIAL times! These are not crowd sourced!