Disney's Where's My Mickey? becomes free on Windows 8 [Updated]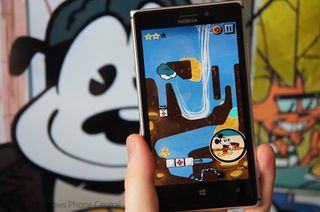 Disney released Where's My Mickey? on both Windows Phone 8 and Windows 8, pumping some new life into the popular IP. After both apps went on sale not so long ago, Disney has now made Where's My Mickey? free on the Windows 8 store. If you've yet tried out the title, now's the perfect opportunity.
If you love little, cute puzzle games and wish to hop into the realm of Disney, Where's My Mickey? is definitely a title you should check out. You can download Where's My Mickey (opens in new tab) from the Windows 8 Store for free (usually $4.99 - you can also download the Windows Phone version for $0.99). Thanks, Joene90, for the tip!
Update: We've been alerted to the other "Where's My" Disney apps going free on the Windows 8 store. These include Where's My Water? (opens in new tab) and Where's My Perry? (opens in new tab) Kudos to neilvillareal for spotting this!
Rich Edmonds is Senior Editor of PC hardware at Windows Central, covering everything related to PC components and NAS. He's been involved in technology for more than a decade and knows a thing or two about the magic inside a PC chassis. You can follow him over on Twitter at @RichEdmonds.
2 days before I bought it, seriously Disney?

Lesson learned, always wait 2 days before you commit to a buy.
LOL

or use the token sextractor and click your way to full version
P.S. its a loop hole and taking advantage of it is not bad ...if you are earning and (not a student like me) support the devs as i too will soon become one of them....


you can only use that on those that actually come with a trial version... these games don't

Sextractor? Is that some sort of sexual farming machine?

I taught so, with that 'sextractor' word. I think now it's a 'tractor' of plants called 'sex'.

Tell us which apps you'll produce, so we can use the token extractor on all of your apps and make certain you never make a cent for being such a shit.

Don't you mean 2 days AFTER you bought it??

I was wondering if I was the only one who caught that.

No, I think he meant "ago", not "before" or "after"

Still showing as 79p in UK. :(

The Windows Phone version isn't free, but the Windows 8 version is.

When is the wp version gonna go free??

2 days after "Roman Cifuentes" buys it.

Where's my water and Perry are also free for me. Or maybe they always were free...

Weird. I just installed all three apps for free. Maybe its because my home location is set to US. Try doing that and tell me what happens.

I installed all 3 "Where's my" games for free yesterday and I didn't have to change my time zone from India. Checked on my brother's too and it says free.
Hope you people are not whining about the WP version!

Yes! I found my mickey...thanks!!

Thanks for the tip guys! Great games, great deal.
FYI: Where's my water/perry were free for WP a while ago, but the mickey version wasn't.

Doesn't appear to be free in the UK U_U

Thanks for this tip! I got the other 'Where's My' games for free a while ago, and downloading this one now. Pretty easy to play using a mouse on my computer.

It isn't completely free right? 'cause only the first scene is unlocked and the rest i need to buy..

Who said it is free,kindly check store it is not free

99 cents for hours of fun on my Lumia 1020 - yay!!

I got it. All the "Where's My" titles are free when I visit the Store. Works pretty good with a mouse too. Well, I guess it should. :o)

I like free. My kids will play it :-)

THANKS, INITIATING DOWNLOD NOW

Ugh, Disney games. Actually one game in three different flavours. But then again: If it's free I'll take three. ;)

Potentially more interesting than Windows 8 might be that it's also available (and free) for Windows RT.

Not in the netherlands. -__-

Yes it is... in India. I've downloaded all three.
And it's the Win8 version mind it... not the Windows Phone one.

Whew!! I've been saving up for this for months now. Now I don't have to wait and I can spend that money I've been saving on food, I'm hungry.

India always seem to come up short.

WP Central, there should hav been no download option on More section which connects to WP store. Everybody has confused.

The Windows Phone 8 aren't free for me
Is it just me ?

nope...it's everybody...read the title again...WINDOWS 8 dude

This game is still not free at least not in India. I just clicked the QR code given above and tried to download the game from the windows market place, but it is still asking for a payment of INR 55.
WHen shall this be free in India
Windows Central Newsletter
Get the best of Windows Central in in your inbox, every day!
Thank you for signing up to Windows Central. You will receive a verification email shortly.
There was a problem. Please refresh the page and try again.