Disney's Where's My Mickey? game now available for Windows 8 and Windows Phone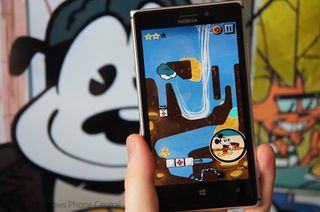 We've followed Disney's development of a new game that's coming to the Windows ecosystem. Where's My Mickey? is a brand new puzzle game accompanied by a series of short films. The title was stated to be heading to both Windows 8 and Windows Phone and we're today pleased to announce they're now available.
Join Mickey Mouse and co. in their latest adventure, offering hours of humorous gameplay in a puzzle environment. Five episodes are included that contain surprising and witty scenarios and we're sure younger fans will thoroughly enjoy the experience. If you've followed Mickey in the past, you'll appreciate the classic Mickey art-style with a slight contemporary touch. Following the cartoons on the Disney Channel will fit right in with the game.
If you're picking up the Windows 8 version, 20 extra-large (hence the XL in the title) levels are available, which are designed exclusively for the large screens. You can download Where's My Mickey from the Windows Phone Store ($0.99) and Windows Store (opens in new tab) ($4.99) respectively.
Rich Edmonds is Senior Editor of PC hardware at Windows Central, covering everything related to PC components and NAS. He's been involved in technology for more than a decade and knows a thing or two about the magic inside a PC chassis. You can follow him over on Twitter at @RichEdmonds.
So it's Where's My Perry/Water? but now with Mickey..... Pass.

Really, you would hope for a tiny bit of creativity from Disney beyond the 3rd rehash of a pretty lame game.

That was my initial thought too.
But it looks like this adds weather effects, which does change the game dynamic. It's not the same game. It's almost like a sequel with new features, but starring a different character.

Where's my Xbox achievements

Same thing I was thinking.... If it was free I might try it for the heck of it but, $0.99 a rehash of old games an no xbox live achievements, I'll pass on this one...

Mickey is a slang term for penis here! Terrible name choice for a kids game!

Mickey Mouse has been born during the earliest days of the 1900's so it may be a very taboo name for you but the world has known about this rodent for the longest time now so... no Mickey isn't a terrible name at all.

The name mickey or Michael isn't taboo. Its extremely common here. Its the context of which it is used.

Not everyone is as horny as you.

Good ol' Disney, marketing the crap out of what appears to be an attempt to "reinvent" classic Mickey. My kids will love it though.

Not my cup of tea but it's nice to see a game released at the same time as iOS and Android!

I know. Sometime the WPCentral comments are overtly negative. Like the favorite sport is to gripe.

Please get updates at the same time as well

Not that I don't want to support kids games for the WP8 platform but how many phone owners actually let their kids play with their phones? I let one one my kids play with my phone once in a blue moon. Most kids have iPod touches and that's where kids game like these do well. If windows makes a 5 inch iPod touch like device, I can see this as a growing market though. Not right now.

My son does kids corner almost once a day. Some decent educational games and for some reason he loves bowling games.

+1 my lil two year old uses my kids corner daily as well, I have two Nokia 920s just one with a cracked screen

This is what Kids Corner is for.... My daughter has all of her games setup there.

My 5 year old daughter has her own 920 (no service). Purchased the Yellow 920 and gave her my White one. So yeah, she plays games everyday and never picks up her iPad or my old iPhone 4s. She says the screen is for babys on the 4s. Personally, I hope Disney starts to release many apps for Windows 8 and Windows Phone 8. Hoping for watch Disney junior soon so she can Watch Disney junior live TV wherever we go.

A large amount of Disney Junior programming was recently added to Netflix.

I will have to add those shows. Thanks for the heads up.

My 4 yo uses my phone (kids corner) all the time and he love the wheres my water game. He will have a nice suprise this evening when he sees this game too.

This is awesome. I love the "Where's my..." games. :-)

Exactly my thoughts... Its great to see it released at the same time as others!

Great, now make them free like Where's My Water/Perry? :D :D

Thanks Disney for another game release that isn't available here in Brazil...

Change region on ur phone, download game, change region back..... Not hard

yeah, I already mentionned that in other posts/news, is it so hard to do that so that you have to post everytime? Change region, download the games/apps and you change it back to Brazil. Why we have to see these posts everytime something is not available in your region. Your best bet it to change it to USA and leave it to USA, so you will get everything on your phone. This is what I do.

This is not something the average consumer will do.

most people do this, it's a common feature in WP8

What are you basing that on? I'd rather say most people who are reading sites like these and are tech-savvy, might do this. But I honestly do not think this is something the average consumer is aware of or at the very least are inclined to do, based on how my friends and family use their phones as well as how the discussions go on region-based Windows Phone/Nokia groups (like on Facebook).
Hell, I even see tons of comments on tech-sites like these, about how this and that app isn't available in this region and are unable to get this particular app, so I really don't think that statement is true. It may potentially stunt growth in local markets and is generally a very non-intuitive way of handling things.

So, let me explain this again:
I do not ask that developers publish their games here by me only. I ask for a Windows Phone user community that grows every day more in my country.
And believe me: the vast majority of people do not know that it is possible to change the region of their cell phones. Most people do not come into specialized sites like WPCentral for being informed about these things. We are geeks and we are the minority. And it is for these people that I always ask, and I will continue asking, so that developers and producers to publish their games in Brazil. I've talked with over 200 developers since the end of the last year and fortunately most of them already answered me. But, even so, we still have quite a few games here.

i think it's cheaper to change the region of the phone once in a while instead of asking publishers to release theirs apps and games in other region, but that's just me. I don't know how much it cost for publishing something in the WP Store but I guess it's not free.
Publishing something requires rights from MS and many other stuff, so it's not as easy as: Well, I made a game, let's release it to all the regions without MS knowing about it. Just check the Real Soccer games, there is one version for USA/Canada and 1 for Europe. There is no Brazilian version or any other version, if you want to buy/download that game, you have to change the region of your phone to either US or UK.
Same goes with the Who Want to Be a milionaires games (XBL version with achievements), they are 5 versions of it (and you can only get them from one of the European store (french, UK, German, spanish and italian), there is no US/Canadian or international version, so if somebody wants them all (or at least 1 version), they have to change the region buy the game with the extra fee charges and change the region back to their default region. Imagine if they release this game in all the different stores, 1 for Brazil, 1 for Chile and so on, that's gonna be a huge mess for nothing.

All developers, except students, pay an annual fee of $ 99 to publish their apps and games for Windows Phone. Since they pay that fee, they can publish your games and apps in any region, and are not charged more for it. And request a certificate PEGI or ESRB or the certificate (DJCTQ) is for free, nobody has to pay anything for it.
Before I start asking for developers to publish their games here I did a great research on the subject and tried to get as much information about. I can assure you that I understand enough about the whole process. The guide that I made to help developers publish their games here has become articles made by Windos Phone MVPs and even here on WP and this guide already helped many developers publish their games here in Brazil.

Hey I made my game available in Brazil as you requested http://www.windowsphone.com/pt-br/store/app/reach-for-the-sky/5e93391d-3200-45ac-a887-94aa709b36fd

Oh, thank you so much!!!! We need more developers like you!:)

They really couldn't be bothered to put up a trial? I'd be willing to buy it for my little brother(s) to play, if I could only see if they liked it first.

Exactly like Where's my Perry/Where's my water. Different skin and sounds, that is all.

WP8 again. What about WP7?

Perhaps I missed it, but I did not see ANYWHERE in the article that this was not for WP 7.x devices, yet it is not for WP7.x devices.

The title of this article is misleading, and it is not even tagged for WP8 (just Windows Phone games). I would not have clicked on the article had the title been properly labeled for WP8 devices only.
But it's Rich, so I should have expected this.

Why you no XBL achievements :(

Sick of where's my games. I do like they've built a brand off it. I know my brother loves them.

Aha. Sorry, everybody else. Sure it may just be a reskin... But I love classic Mickey. The looks all around seem classic! Can't wait to play. :-)

Even if I didn't care for the game I'd pay 99 just as a vote for Disney accepting us on equal terms with ios and android. That's well worth a buck!

Yep, my girls have all of the Disney games on the Win8 platform (they use my SurfaceRT more than my phone). I just wish there were more of them available that are already available on iOS, like the latest that lets you watch the Disney shows on demand.

Totaly agree.
But they also need to update the games.Releasing them isn't enough!

Thanks for the new game, but I was hoping for more and better. Still waiting.:)

Seeing as Disney put the others up for free in the past, I thought I'd actually buy this one but I wish I'd known this wasn't a proper WP8 version. It looks awful. Worse still is that the videos just link you to the website and don't play due to lack of Flash player.

If that were true it wouldn't work on iOS (or a large number of Android devices) either.


Cool... Another Windows Phone 8 exclusive that doesn't have HD Graphics... What the heck?

XBLA game on this week ????????

Not available for 7.8? Le sigh.

I kept getting an error when trying to download it from my phone... it said that I had reach capacity on my phone, when I had over 300MB of free space. I had to go to WindowsPhone.com and push it down from there (although that didn't work yesterday either). Anyway, glad to see Disney supporting Windows Phone and I am happy to give them my $.99!

Update: Had to clear out more space to get this to install. I uninstall a couple of more games. It says the game is a 67MB download, but it took up over 250MB of my avilable space. I need GRD2 to fix this Other Storage issue.

Man, the graphics are terrible. The sounds are missing when I completed a level
Windows Central Newsletter
Thank you for signing up to Windows Central. You will receive a verification email shortly.
There was a problem. Please refresh the page and try again.