Microsoft announces new Windows 8 apps in the run up to Build 2013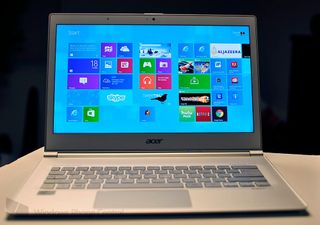 Enjoy Windows 8 but feel like you could use some more apps? Chief Evangelist for Windows, Steve Guggenheimer has you covered. He has taken the opportunity to highlight a handful of apps that are heading for Windows 8. We're closely approaching this year's Build conference (which we're attending), but that hasn't stopped Redmond from building momentum in the desktop app store.
So what's on the horizon? We've got a nice little list here for you rounding all of it up:
edjing - A social DJ app with a community of 2.5 million registered members sharing mixed tracks. A variety of effects will be available to create the perfect tunes, utilising files from a personal library. It's noted the audio capabilities in Windows significantly reduced development time for the app to be produced. Available later this week.
Great British Chefs - The UK's leading award winning recipe website that is now available for Windows. The app brings in over 300 captured recipes from 28 of the UK's greatest chefs. The app is available today, head on over to the Windows Store and pick up a version.
Tesco Groceries - One of the UK's largest retailers has released an app for Windows 8, offering Click & Collect functionality. Working closely with Microsoft, the retail chain has been able to produce something special for the Modern UI, mixing in a fully featured check out and order system. You can download the Tesco app today.
Time Out - The International media group produces websites, magazines, travel guides and apps designed to be the essential guide to what's happening in cities around the world. Entering on Windows 8 with apps for Barcelona, London, Los Angeles, New York and Paris, consumers will be able to check out an interactive and stunning guide before and while traveling. You can download the Time Out app from the Windows Store today.
VEVO - Everyone knows VEVO. If you don't, it's a popular music video and entertainment platform, which has arrived on Windows 8. Over 75,000 HD music videos are available for users to check out and enjoy, as well as live concerts and original programming from artists all over the world. Snap view is supported, enabling users to watch through thousands of videos while browsing the web. Download VEVO from the Windows Store today.
Vyclone - The unique social video service has arrived with an app that offers friends and family to capture videos and bring them together for a single moment (Birthday, vacation, wedding, etc). Windows tablets can capture video in landscape mode, which joins other intuitive features to make the experience that more special. Download the Vyclone app from the Windows Store today.
Where's My Mickey? - We've covered Disney's attempt to pump life back into its IP, so here's Where's My Mickey for Windows 8. Coming soon to Windows Phone as well, the puzzle game will offer humorous animations. Coming soon across the Windows ecosystem. Stay tuned for more information.
There you have it, folks. Not a bad line-up if we do say so ourselves. Be sure to head on over to the Windows Blog to check out the full details and whatnot.
Source: Windows Blog
Rich Edmonds is a word conjurer at Windows Central, covering everything related to Windows, gaming, and hardware. He's been involved in technology for more than a decade and knows a thing or two about the magic inside a device chassis. You can follow him over on Twitter at @RichEdmonds.
You forgot "for them to right the wrong that is Xbox music app"

....and you forgot to check the whining at the door.

Voicing my desire to see something improved that is important isn't whining. MS clearly listens to peoples concerns (see the Xbox one changes) so its a valid effort. I don't go around randomly bitching about Xbox music, but when the topic is relevant, I do talk about it. I'm happy MS is bringing new, quality apps, but I hope they don't forget to fix the integral ones that are within their control. I have an Xbox music pass, wp7, wp8, win8 on several systems, and a Zune. I don't feel I'm getting the experience I paid for, so I share that. That's not whining.

The music app is completely revamped in 8.1 there a few articles in various tech journals explaining the changes.

....and you forgot we all agree with him and don't want to hear your whining about his so-called "whining".

The current app is pretty... no, it's just plain bad. I still use the Zune software. Make it half as good as that and I'll be happy. They're working on it but sheesh. It's been nearly two damn years eh? :P

One of the major gripes with the Xbox Music system revolves around syncing with WP8, and I've not seen those issues addressed anywhere yet. It's currently an abysmal situation.

And you your bitchiness Stephen_az. He's not whining. Xbox Music is all sorts of f'd up.

I have a quick question, do all windows 8 apps that are in the market place run on windows rt? (like a unified store)?

Pretty much all, yes. But apps like Chrome are Windows 8 only.

That's because Chrome is a x86 application and not a metro app. In short, RT does not run any x86 software.

Ya ik I was just asking about the market place apps not like apps you have to go to a website to download or something

x86 are allowed to be sold via the marketplace (well, the marketplace essentially links to their webpage).
Metro apps are generally cross-platform, but it's possible for some apps to not be available on RT (or x86 for that matter). If you can see an app in the store on your device it will run on that device (i.e. the store app will only list apps compatible with the device it's run on).

You can double check an app, by checking details, It will say ARM, X86 ando or X64. If it say ARM then that will run in winRT. :)

vyclone is available in the windowsphone store as well ;) Other than that... awesome windows keeps growing and growing!

So with the DJ thing I can create my own music to use in YouTube videos without being restricted for using it?

I'm glad edjing is making its way to Windows 8. I think its just as important to bring it to wp8, seeing as there's no official DJ app on the store at the moment.

Ikr! I've been wanting one for so long

Please announce Bluetooth improvements *fingers crossed*

I bet Xbox one will be able to use Windows 8 apps

More than likely there are 3 OS built into the Xbox one I see almost unlimited potential coming to the ecosystem

How about an update to the WP8 desktop app to let you subscribe to podcasts through RSS feed? Like Zune had?

Is the VEVO app available for all countries? Because the WP version is not in South America..

Where's my Mickey? are they serious?!!! lol hahahaha

Jessica needs to have a game for her kids in the kids zone

Micky is a slag term for a private part

I didn't know what to expect, but this lineup is underwhelming. I was hoping for something more impressive.

I'm with you. Still not sure what would make me excited though either.


Why no direct links to the WP Store for available apps in the WPCentral app?? JayTB made me lazy, I expected to swipe over & download!

This lineup offers nothing I care about. I hope they widen the offerings to more categories than the few represented here. Not all of us are interested in "social" apps.

Love the additions, however without Instagram they are still not in the big time.

Still no Amazon Cloud Player (MP3) and Amazon Instant Video apps? Bummer... :( I know we can use the browser to accesss these, but Win 8 apps would be nice.


I haven't heard of a single one of those apps. Not one. I was all pumped to hear about some spectacularly popular apps that still haven't made it to the platform. These aren't the droids I'm looking for.

Strange I can't find Vevo in the W8 store, however its on the wp8 store ... is it only me?
Windows Central Newsletter
Get the best of Windows Central in in your inbox, every day!
Thank you for signing up to Windows Central. You will receive a verification email shortly.
There was a problem. Please refresh the page and try again.