Disqus 2 now available for Windows Phone with new redesign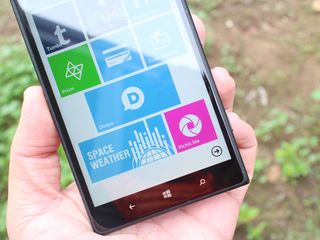 Disqus 2.0 is now available for Windows Phone. Disqus is one of the largest blog comment systems on the web. Go to any blog and you're likely to see Disqus powering the comment section of the site. This mobile app for Windows Phone allows you stay current with your discussions by giving you notifications and so much more. Today's update to version 2.0 introduces a major redesign for Windows Phone 8.1.
Head to the Windows Phone Store and you'll find Disqus at version 2.0.0.5. Here's what's new in today's release:
Completely redesigned app for Windows Phone 8.1
New notification types: replies, followers and upvotes
Now you can edit your profile or upload an avatar
Added Facebook, Google and Twitter login options
Brand new feeds and the ability to follow communities
Seems faster
It really does seem faster huh?
We showed you a sneak preview of Disqus 2.0 last month and everything you saw there you'll now be using.
The ability to log in and register with Facebook, Twitter and Google accounts should help remove any friction for those signing up for the first time. We think the ability to follow communities is excellent. For example, Xbox Live's Major Nelson uses Disqus on his blog. Frequently he announces news there. With the new Disqus app you'll now see new blog posts and can quickly jump into the comment section to participate.
There's a new Discover section in Disqus that will help connect you to interesting content across different categories like business, culture, news, sports and more. Hop into any category to discover and find trending articles across the web.
Just a quick heads up for Disqus fans. The current Windows Phone 8.0 app will no longer be available, so only Disqus is going Windows Phone 8.1 only from here on out. This app was completely rewritten as a Windows 8.1 Universal app, so keep that in mind.
Download and install the new Disqus app for Windows Phone. It's free and a beautiful app to look at.
Thanks for the tip everyone!
Love it. The developer is a big Windows fan and often frequents Windows Central, so it's awesome to see him play on this in-joke :-)

It's a WinPhone exclusive app :)

Lol this was priceless!!! :-)

Hahaha the article made my day!!

Used it briefly - the redesign looks great and like a huge improvement over the last version.

Bugs, can't login. Add user name & password nothing happens. Uninstall, reinstall, still no go. Please fix if your reading this.

Same here nothing nada zip....itsssssss broken please fix

Don't worry guys. Disqus is now at v2.0.0.6, which reportedly addresses the login issue.

I concur. The last line nearly killed med. :D

After the latest DP update, I cant install app updates, including this. :(

Disqus has kept windows phone support as the first priority and it shows in their effort, Disqus app was first launched on windows phone :)

I believe it is a Windows Phone exclusive still, no?

Thx, one of my favorite apps!

I just updated my review of the app... It really is faster and beautifully designed..."I gave this app 5 stars before the update to V2 if any app deserves more than 5 stars then this app is it. Developers take note at how beautiful and intuitive this app is... And best of all this app is FAST!!! Drilling through various discussions shows off how superb the Windows platform can be. Really really well done Disqus THIS APP IS THE BOMB."

The Disqus App is so damn Awesome! Huge props to the dev, this guy deserves a cake!

This is a really well-designed and good looking app that I don't really seem to have any use for, sadly.

Yep, me too. I hardly comment on public forums online (WinCentral is an exception).

Once again Verizon is killing me. Don't have WP 8.1.

It was the hardest decision we made when developing this app (8.0 vs 8.1 only) - I hope they make it available soon.

Great job guys. The app is really great

Attention trolls, this is how you do "seems faster" joke.

Doesn't work. Can't login

The UI is a partial downgrade. One of the things I loved about about the Disqus app was how clean and Metro/Modern everything was. This looks more like the Facebook app with the goofy icons at the top. It would look 100% better without them.

Finally! The old app hasn't worked properly with notifications for weeks. Can't wait to check this out.

Finally!!! The old app no longer works properly

Are their any thoughts on using Disqus on Mobile Nations

Good point, at least you'll get notifications.

I use Disqus more often than any other social app apart from Whatsapp, so i really really love how its WINDOWS phone exclusive! Love it, great app!

One app I definitely miss. Great Posted via the Windows Phone Central App for Android

About time. The old version was already failing on me and notifications wouldn't show up anymore.

I like the update so far, but one thing: When I click on one of my comments that have been upvoted or replied to in the Notifications list, it doesn't take me to that comment, but instead takes me to the whole list of comments for that article. That needs to be fixed.

I'm new to this app. After creating a new account, when I try to login(after verifying the mail), nothing happens..I.e when I press login, the circle rotates and again back to the same screen. I have a working Wi-Fi connection.

It may be a bug. Some people seem to be having login issues.

I didn't know they had an app. I just downloaded it and logging in does not work...

Ditto I'm going to uninstall and reinstall. Edit: Well, doing the reinstall didn't help. Even after a reboot, no joy. Well, 2.1 can't be far away. I'll wait.

I'm, can't login since updating :/

Lol .. Is it called Faster !!!! You guys just kidding

Might be some server issue. The app worked fine a couple of hours ago

Okay its not logging in why is that happening?

Windows phone is going app crazy. And the developers too.

But quality in apps missing.Example facebook Posted via the Windows Central App

I don't know what people are talking about Facebook app on WP not being good. Either I haven't encountered any issues yet or maybe it's something else.

it looks great well done dev

Won't move past the log in screen. No message saying invalid login out username, just won't log in. Lumia 920

Very impressed. Definitely a big step up from v1.X

Love the new design. Exclusive to WP

It seems like I m not the only one who has the login problem ...but can't find any solution about that. Can someone help me

Love it!! So sad Windows Central is not part of that community

Really nice update. Good work

Just lost my 1520 :-( waiting on Insurance. But things seem messed up looks like i'm getting iPhone 6 instead. But i will have to get another Windows Phone device. I love Windows.... :-)

Finally, after the update, I can log in. Thanks Devs. Nice work too
Windows Central Newsletter
Thank you for signing up to Windows Central. You will receive a verification email shortly.
There was a problem. Please refresh the page and try again.