Dodo Pop Review - the latest, addictive Windows Phone and Windows 8 game from Disney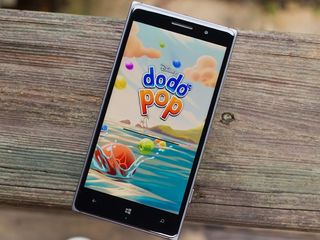 Dodo Pop quietly hit Store shelves late last month and is an addictive bubble styled game from Disney. Available for both Windows Phone and Windows 8 devices, you are tasked with helping a wayward Dodo Bird, Crash, find his way home.
There are dozens of puzzle levels to tackle, each with a limited number of moves and goals to reach. After taking the Windows Phone version of Dodo Pop out for a test drive, we found the game to have nice looking graphics, challenging game play and a fun way to pass the time.
Dodo Pop jumps right into game play upon first launch with Crash the Dodo Bird walking you through the basics of game play. Crash will show up throughout the game to introduce you to new gaming elements as they become available.
The goal of Dodo Pop is to burst clusters of gumballs to reach the defined goals of each puzzle level. At the start of each level, Crash will outline the goals (pop a set number of colored gumballs, pop all the starred balls, etc.). Each puzzle also has a limited number of moves available to reach those goals. Run out of moves and you fail the level. A counter is displayed at the top of the gaming screen to help track your progress with the puzzle goals and how many moves are remaining.
Clusters have to be at least two gumballs that are touching and if things are close, there is a shake button in the lower left corner that will rattle the playing field. This will shift the gumballs ever so slightly were balls will touch, creating a cluster that can be tapped and removed.
Coins can be earned during game play or through an in-app purchase that can be used to buy power-ups. Power-ups include a rainbow button that will turn all the adjacent gumballs to the color of the center gumball, add bonus moves and a lightning strike that will remove one gumball. You also have a power-up that comes into play when you remove large numbers of the same colored gumball.
A meter will appear around the third level of the game that will increase as you remove the gumballs. Max out the meter any a bonus ball will come into play that when tapped/held will generate a rotating field. Let the field rotate and when you lift your hold, any ball of the same color that appears in this area will be removed.
Puzzle levels are mapped out, guiding Crash back to his home, Dodo Island. Each level can be replayed, but game play is limited to a degree with gaming tokens. You begin the game with five tokens and as long as you don't fail a level, you will not lose a token. Tokens are replenished over time or with your coins.
Game play is challenging through the first dozen or so levels but not too difficult. Around the 15th level, you begin to see things kick in with a rather challenging gaming goal. You have gumballs in play that are numbered. Those numbers dictate the size of the clusters you create and remove. For example, if an orange gumball has a 7 on it, you have to establish a group of at least 7 orange gumballs. The numbers seem to range from 5 to 30 and when you see the "30" gumball come into play, go ahead and reach for the lightning strike power-up to remove it from play.
Dodo Pop does have a few settings that can be accessed through the level map view or the main screen that will appear after your first launch of the game. Settings cover language choice and the customary terms of service and developer credit screens. While Dodo Pop is a universal game, there is no means to save your gaming progress across devices.
Overall Impression
Dodo Pop joins a crowded field of excellent Windows and Windows Phone games from Disney. Graphics are bright and colorful, game play challenging and Dodo Pop has a deceptively addictive pull about it. You can sit down with intentions of playing one or two gaming levels and before you know it, you've tackled half a dozen or more levels.
I'm not a big fan of the gaming token system. It can take the life out of any gaming rhythm you develop. I'd rather pay $.99 for the game and do away with the token system.
While I have enjoyed playing Dodo Pop, the game really needs some form of cloud saving to allow you to pick up game play where you left it from any of your devices.
There is room for improvement but as is, Dodo Pop is a fantastic game to have in your Windows 8 or Windows Phone gaming library. It is strong enough to help you waste short bits of time or keep you entertained for longer periods.
Windows Central Newsletter
Get the best of Windows Central in in your inbox, every day!
George is the Reviews Editor at Windows Central, concentrating on Windows 10 PC and Mobile apps. He's been a supporter of the platform since the days of Windows CE and uses his current Windows 10 Mobile phone daily to keep up with life and enjoy a game during down time.
This means it's a great game again

I love many Disney games.

I had this on my phone and was really enjoying it, but kept getting notifications that I had more lives and could not figure out how to turn it off. I looked everywhere but could not find the setting for this, so I uninstalled it. If someone figures it out, post so I can download again. Good game, otherwise.

Open Battery Saver, and turn off the switch for this game.

I will re-install and give that a try. Thanks! There were no settings in-game, and nothing in the Settings.. Notifications+Actions.. so I uninstalled it from my device. Really annoying that they didn't follow the proper form for notifications on the OS.

Just turn off background from battery sever

There's no option to turn off background in batter saver. See my comment below.

There is no setting or switch for this in Battery Saver. When you're playing the game, and you get the pop up to retry the level - you'll notice that there's a check box at the bottom of the pop up that says to notify you when your lives are full. Just uncheck that box. This option only appears when you're out of lives.

I made the mistake of introducing this game to my mother in her Lumia 525, now she's totally addicted. :-P
This is a pretty good game and the music is outstanding,worth mention.

Its so addictive.. Been playing since a week

Same Problem with the Notifications... comes up like a calender event but its jsut a stupid message saying my lives are full. Hopefully they update that and fix it. I left a review on then telling them that sucks.

When you're playing the game, and you get the pop up to retry the level - you'll notice that there's a check box at the bottom of the pop up that says to notify you when your lives are full. Just uncheck that box. This option only appears when you're out of lives.

Just on the topic of Disney, does anyone know whats happening with frozen free fall on 512mb devices? The app no longer appears in the store on my 512mb device .When I went to the onlne version of the store, frozen free fall appears to have been updated on 26/6/2015 which I didn't receive and on the same page it says in small print not availalbe for all phones. I posted a comment on this in the windows central forums a day ago but haven't received any feedback. I was under the impression frozen free fall was quite a popular game and it would be a shame if support for 512mb devices has been removed. http://www.windowsphone.com/en-au/store/app/frozen-free-fall/542c0871-ad0f-47c2-ad27-273f36d47b8c

Yep already have it, cool.

LOVE this game - it's really challenging. I've been stuck on one level (67) for a few days, but I like the challenge. FOR EVERYONE ANNOYED ABOUT THE LIVES FULL TOAST NOTIFICATION: When you're playing the game, and you get the pop up to retry the level - you'll notice that there's a check box at the bottom of the pop up that says to notify you when your lives are full. Just uncheck that box. This option only appears when you're out of lives.

Dodo POP is way better on windows than Androir device where you dont have to deal with slow downs while on windows devices than Android. Beside, it is more colorful on windows with better qulity sound!!! Great game and well done Disney!
Windows Central Newsletter
Thank you for signing up to Windows Central. You will receive a verification email shortly.
There was a problem. Please refresh the page and try again.