Dolby Atmos coming soon to Xbox One and Windows 10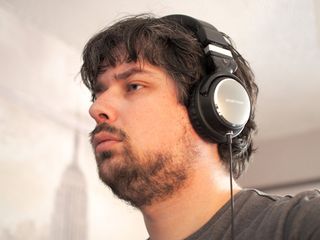 Both Xbox One and Windows 10 PC owners will soon be able to take full advantage of Dolby Atmos (opens in new tab), a new system that will help create a more 3D sound experience. For movie buffs and gamers, this is quite the big deal when it comes to easily detecting where sound is coming from. Playing Overwatch for example, you don't want any delay when it comes to figuring out where that barrage of pain is being dished out from.
Atmos support on the Xbox One will be the first for video game consoles, allowing developers to implement new capabilities for richer and more engaging experiences. That's the plan anyway. Support for Blu-ray movies is also in the works and should be released soon. So what do you need to enjoy the new Atmos experience? Supported speaker systems, soundbar, or pair of headphones.
If you're one who prefers headphones to a sound system, you won't need to fork out on a new pair. Everything will be handled virtually. But for those who enjoy setting up a home theatre environment can go all out with new speakers, woofers and overhead setups. As a bonus, Microsoft has rolled out Blu-ray Bitstream pass-through to preview members. More details can be found in previous coverage.
Get the Windows Central Newsletter
All the latest news, reviews, and guides for Windows and Xbox diehards.
Rich Edmonds was formerly a Senior Editor of PC hardware at Windows Central, covering everything related to PC components and NAS. He's been involved in technology for more than a decade and knows a thing or two about the magic inside a PC chassis. You can follow him on Twitter at @RichEdmonds.
Will that work in a Creative 5.1 setup?

No. https://www.dolby.com/us/en/technologies/home/dolby-atmos.html

Will it available for windows mobile

He clearly said that in article "Dolby atmos is coming to both Xbox one n windows 10 pc owners..."
But it will be nice if they include that (Dolby atmos) in mobile also...like some other Lenovo tablets n phones which have that feature!

when is it rolling out to regular (non preview) users? i have a xbox one s with 5.1.2 setup at home and waiting for atmos support in xbox one s

It would be great if Surface Phone which will support full Windows 10 includes support for Dolby Atmos via a speaker module from a company like Bose (aka Harman Kardon's Moto Z Play bass bost speaker) this made the Moto Z Play the most popular phone in Amazon in my country beating giants like Apple's iPhone 7 and Samsung's Galaxy S7 Edge. This modular concept of Moto Z can be very popular on Microsoft's own ecosystem. Just my 2 cents.

Ah, well ... ​Dolby Atmos CONTENT is coming to W10. ​You still need to spend tons of money to buy a new, Dolby Atmos capable AV-Receiver
​in order to enoy this new kind of surround sound.
​Your existing AVR won't cut it. Nice, but ... a bit disappointing.
​
I wish the actual decoding would be done locally on a W10 PC
​and then the signal would be passed through the AVR.
Thus allowing the W10 user to enjoy (respectively test) Dolby Atmos content
without the need of an expensive Dolby Atmos certified AVR-gadget ($$$$). ​Ok, one could use a stereo headset in the scenario described by Microsoft,
​but unless you are a gamer, this is not a such an appealing option. ​-

Technically it wouldn't be atmos at that point but it would be Dolby DIgital... It would decode it as a 5.1.2 and it wouldn't know where to send the .2 and would drop it off without a receiver that knew where to send it.

Yes, this exactly. Only the receiver knows how many speakers you have and their placement. The PC doesn't have any idea. And not all AVR's with Atmos support are expensive.

Currently I am using a Denon 2113 AVR
​and I had been checking Denon's current offerings of AVRs with Atmos support.
​
​Been thinking that I probably should wait for one more generation of Denon AVRs,
​kind of looks half-baked right now when it comes to the new surround formats. ​Could you let me in on those Atmos-capable receivers that are not expensive?
​
Thanks, Fred

I'm using a Denon avr s710w. Has both Atmos and Dts:X support. Goes for about $400 US. Supports up to 5.2.2

Thanks a lot! Acutally it is the Denon AVRs with Auro-3D option
​that are expensive. Got this mixed up.
Dolby Atoms now seems to have become pretty much standard on AVRs. Some say Auro-3D is better, but I haven't heard either of the new formats in person. And there does not seem to much of original content for Auro-3D. Although pundits say music sounds better with Auro-3D even if not encoded for Auro-3D. ​I'd ideally like to have a 11.2 setup or something like that
​but this seems to be (financially) a bit too far-fetched these days.
​
Also have not seen an AVR yet that does integrate all amps for those channels in one chassis. Guess this will take another 3-4 years.

Would be nice, but If you're spending money on that many channels, the speakers will bankrupt you long before the AVR.

Right you are. ​I already have a 7.1 setup, so I already have some good speakers. The subwoofer is so-so, it would have to be replaced. ​I guess it would be the subwoofer who would break the bank, really good subwoofers are dman expensive. ​I would assume that the addional effect speakers, who would complement my 7.1 and make it a 11.1 setup, are not quite that critical. Maybe some good, but medium priced speakers just do the job fine.
Maybe even some JBL Control One would do the job to complete my 7.1 setup. ​Of course, the industry makes you think that you need a brand new set of fine-tuned 11.1 (or 11.2) speaker set.
In praxis, I think that (any) good speakers do the job, and yes, you can use more than one speaker brand or product line in one and the same setup. It all depends ... and one actually needs to test it out. ​Once the industry has managed to get all amps for a 11.1 or a 11.2 setup in one AVR chassis I'll have a closer look and see whether such a beast would break the bank. Such a device will not come shortly, I guess. -

I am on denon avr s920w. atmos, dtsx, 4k 60hz, hdcp2.2, 8 hdmi in, 2 out. Bought it refurbished from denon A. dealer for $340. It looks new!

You can get in the game for as little as $350. Not expensive at all in my opinion. http://www.bestbuy.com/site/onkyo-805w-7-1-ch-4k-ultra-hd-and-3d-pass-th...

Oohh... Dolby Atmos, can't wait to install speakers on my freaking ceiling.

You don't technically need speakers in/on your ceiling. I have an Atmos setup with Andrew Jones Pioneer speakers in which the atmos speakers are pointed up toward the ceiling and actually produce the effect by bouncing off of the ceiling. It works pretty damn well.

Dolby Atmos Enabled speakers don't require installation on your ceiling. https://www.dolby.com/us/en/technologies/dolby-atmos/dolby-atmos-enabled...

So what will be the effect on laptops like Lenovo Y50-70 which has JBL speakers with Dolby Digital Plus and will it come to mobiles? My Lumia 830 already has Dolby Virtual Surround which works great on earphones.

I have reservations about how well Dolby Atmos can provide the effects with headphones. I suppose it's possible but I would think a new headphone would be required. You learn about what is needed for the home to get the experience and then try to envision how that translates to headphones. https://www.dolby.com/us/en/brands/dolby-atmos.html

Probably none with the laptop. Needs at least 5.1.2 channels.