Domino's Pizza app for Xbox One debuts in the UK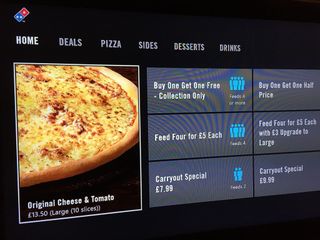 If you live in the UK or Ireland and own an Xbox One, you can be among the first in the world to download and use the official Domino's Pizza app for the game console. Microsoft released the app earlier today for those territories.
In addition to using the old-fashioned game controller, the Domino's Pizza app will reportedly open if an Xbox One user has his or her Kinect sensor connected and shouts "Domino's feed me!". The app lets users order their favorite pizzas, sides, drinks and desserts directly from the app, which is then delivered to their door by the nearest Domino's brick and mortar location. A Pizza Hut app for the older Xbox 360 was released a couple of years ago but so far that restaurant franchise has yet to launch a similar app for the Xbox One. So far there's no word on when the Domino's app will launch in the US.
What's the first pizza you're going to order from the new Domino's Xbox One app?
Sources: Xbox UK (Twitter)
Windows Central Newsletter
Get the best of Windows Central in in your inbox, every day!
Domino's feed me?? Seriously...they should have kept something less tacky...

They are much better than they used to

I think it depends on where you live. Bowling Green, OH is so-so, Beaufort South Carolina's is ass, San Antonio, TX is the best pizza I've ever had the pleasure of eating. Not all Domino's are equal.

So...wp and Windows too? Almost to that dream... Launch on same day, same login, same everything... So close.
Cortana feed me!

We already have dominos on Windows Phone

Needs an update, though. We don't have their vocal ordering assistant feature in the app.

Idk if every dominos store is the same but their pizza is disgusting. I'd had better pizza if the toppings came the dumpster.

OK, just stop this. I don't know where you live, but in the UK, Dominos make some of the best pizza. I love using the WIndows Phone app, and not having to handle cash or power up my PC to book it. I cannot wait to try the Xbox app.

A huge pizza chain makes some of the best pizza?

When compared to other huge pizza chains, of course. Or chain, rather, since Pizza Hut is the only other major player 'round here.

Yeah, try to come to Italy and you won't call that thing PIZZA anymore ;-)

I've been to Turin, Brescia, Rome and Venice. Does that count? :/ The only 2 things that impressed me was the super attractive blonde police lady directing traffic in Turin, and the Colosseum :) I had Pizza in Venice, as you can imagine, a very expensive Pizza. I would take a Dominoes over that any day of the week.

You can't be serious! ;) I'm from Brescia but my parents are from the birthplace of pizza, Naples. So I know what I'm talking about. When I was living in London for a few months my roommate was working for Domino's. Better not talking about what I saw or what she told me about the kitchen :-\ and it's pointlessly super-expensive...trust me. Anyway I had it for free for a while and I have to admit when I was hungry after 10hours working no matter what I was loving it. Pizza>All

Off topic
Podcasts app updated!

Well this is surprising, I was expecting this to launch in the US

Possibly more Xbox one's sold in the UK?

Well we get about everything else first. Time for the UK to beta test something for us for a change.

Here we go..... And the Americans start moaning since they haven't got it all..... Grow up

I'd totally use this! Come to Canada.

Well anything can happen. They've added tracking now they need to add the survey they have in the US

Wonder why the UK first? I guess there are more Xbox One's sold in the UK?

Its cos we eat take away food like our lives depend on it :)

Either WC were playing a prank on the command "Dominos feed me!" For kinect or its just not working lolol where's my pizza! Lol

Kinda cool from a tech accomplishment perspective. Kinda horrible from a "what this says about society" perspective. I'd really like to see them develop more uses for the Kinect in actual games. It's the only real advantage the Xbox one has over PlayStation and it has been totally neglected to date. ..only now I can use it to become obese? Sad.

You'll only become obese if you eat pizzas 5days a week and play video games hours and hours if you do this then you've only yourself to blame lol...get the Microsoft Band lol

Microsoft band is only available in the states. Xbox dominos app is only in the UK. Never the two shall meet? Coincidence? I think not!

Get a Fitbit then problem solved lol

Lol, shouting that to your console can be rather awkward especially when your pet is called "Domino" and someone walks in :P.

Really. This is the epitome of slacker gamer culture. Sitting there, all purulent white flesh, curtains drawn with your headsets on surrounded by pizza boxes and crusty post masturbatory tissues. Welcome to the future.

You painted a sordid picture, of what I would consider my perfect Friday night. How dare you Mr High n Mighty ;)

i downloaded this to "wind up" my wife, the thought of seeing her face when i said "Domino,s feed me" was apealing but it doesn't work. Tried every conceivable command but no luck so far
Windows Central Newsletter
Thank you for signing up to Windows Central. You will receive a verification email shortly.
There was a problem. Please refresh the page and try again.