Download these now: Breez, TinyDO and Flashlite are visually stunning apps for Windows Phone 8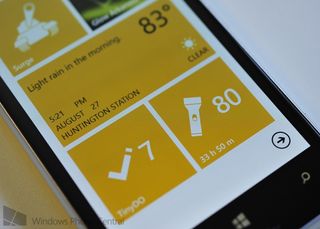 Every once in a while, we come across a developer who really grabs our attention, whose creations make us go 'whoa'. Today, that developer is vivmotion, who has a small collection of very impressive, visually pleasing and highly useful apps for common everyday tasks.
Because of just how fantastic these apps are, we're doing a triple threat post highlighting all of them as they truly show off, in our opinion, the Windows Phone design aesthetic. You can read below or just to skip to our hands on video to see them in action.
Breez
Weather forecasting apps are very popular on Windows Phone and everyone has their preferences for what constitutes a worthy one. Breez is a completely free (and ad free) weather app that falls into the "light" category. There's no Doppler radar or advanced imagery here, instead you're getting the current conditions, three day forecast and 24 hour weather. Barebones.
But what makes Breez highly engaging is the gesture support, a common trait amongst vivmotion's apps. The main display reveals the current time, location, temperature and conditions. The background color reflects the time of day/weather. Swiping down from the top reveals a three day forecast while swiping up shows a 24-hour one. That last gesture is quite unique as it slowly cycles through the hours changing the background and relevant information as you progress. You need to see it in action, so watch our video to see what we're talking about.
The app also has a double sided Live Tile with current conditions and a forecast. It's simple but well done. Unfortunately there's no lockscreen support—yet—though we hope the developer adds it in a future update. Multiple locations are also supported.
If you're looking for a clean, minimal weather app that loads very quickly then Breez deserves your attention.
Pick up Breez here for Windows Phone 8 in the Store or scan the QR code below. Free.
TinyDO
TinyDO is also a common type of app found on the Store. It's your basic to-do list that also falls into the minimalist category. But make no mistake, it's just as powerful as any to-do list we've seen.
Once again by using gestures, you can get to your most common tasks. Swiping down creates a new note while holding down that gesture creates a new voice dictated note—brilliant. Swiping right makes the task complete (strikethrough) while swiping left over a to-do note will delete it. Shake the device to clear completed tasks. You can also merge notes into a sub-folder by dragging one note on top of another.
Each note can have a priority marker and an alarm reminder set. Likewise you can further edit a note at any time. Outstanding notes are revealed on the Live Tile with a counter and the Lockscreen notification area.
Once again, TinyDO isn't a revolutionary to-do list app, it's simply done well and is also free (no ads).
Grab TinyDO for Windows Phone 8 here or scan the QR code below. Free.
Flashlite (free and Pro)
Flashlite is what it sounds like, but more.
Like the previous apps, flashlight tools are very common Windows Phone but Flashlite does bring some unique features to the table. For instance, the app has an optional compass built in. It also is a battery meter, complete with an optional Live Tile to display that info—even if you don't need a flashlight, it makes a nice battery meter app.
The flashlight itself is more than a simple on/off with the LED, instead it's a variable frequency strobe light so that you can change the blink rate on the fly. Perfect for getting someone's attention (or inducing a seizure), the tool is just shrewd. You can shake the device on or off to operate the flashlight or you can use the camera button instead for that nice hardware key experience.
Is Flashlite ground breaking? Not really, it's just done well and fun to use. Battery meter, compass and variable strobe flashlight? It's all there at your fingertips.
Flashlite comes in two version: free (with ads) here and Pro (no ads; $0.99) found here in the Store. Windows Phone 8 only.
Wrap Up
Breez, TinyDO and Flashlite aren't paradigm changing apps, but they are designed exceptionally well, in our opinion. Breez really grabbed our attention as the 24-hour forecast feature was truly exceptional. TinyDO was just crafty as was Flashlite.
Seeing as how all three are free (with the optional paid version for Flashlite), we have to recommend that you at least download and try the apps mentioned here. If you like them, leave the developer a positive rating in the Store, after all if you're not paying them at least you can boost their Store presence with positive feedback.
Let us know in comment what you think—are we off or on in our assessment of these apps?
Windows Central Newsletter
Get the best of Windows Central in in your inbox, every day!
Daniel Rubino is the Editor-in-chief of Windows Central, head reviewer, podcast co-host, and analyst. He has been covering Microsoft since 2007 when this site was called WMExperts (and later Windows Phone Central). His interests include Windows, laptops, next-gen computing, and for some reason, watches. Before all this tech stuff, he worked on a Ph.D. in linguistics, watched people sleep (for medical purposes!), and ran the projectors at movie theaters because it was fun.
These apps freaking rock. Like them a lot. Loved how the weather had little drops fly through during the scroll. Also really dig how the color of the weather app changes in relation to the time of day/night it represents at the moment.

The design of breez is so fresh amd clean and shows the potential of the platform so underrated......

A very handy trio indeed! Will definitely give them a spin!!

TinyDo is my go to task app. It's simple and effective. Hats off to the developer for the effort.

I'm already locked into some apps for those features, but that motion in the weather app is really, really cool. The Tinydo app looks nice too with the controls for new notes, combining notes (essentially making a folder) and dealing with completed tasks.
Hopefully the dev continues with this creativity in even more apps.

Weather app is amazing idea! I always wondered why aren't there apps based solely on gestures! With live tile and lock screen, Breeze will be cute little app.

SurfCube is a web browser that's almost entirely gesture based.

Breez is cool. Like bing weather more.


Sorry to be off topic, but AT&T...come on! Its my birthday...and you didn't give me amber, and now it's ruined! Sorry for the whine...( and yes, I'll have some cheese with it.)

They announced that AT&T would skip GDR2 since GDR3 is only a few months away.

That's bad news if it's true

It's completely unfounded, I was just poking the bear.

I've been looking for a new flashlight app to replace the one I'm currently using, can't wait to try it.

Very nice apps with great minimal design. Can someone tell me how i delete a city in Breez?

hi,you can do a pinch use two fingers, and tap & hold on the city you want to delete

Jim

Breez looks cool, but I don't want multiple weather apps, which I would need for radar. It def. is a unique way of doing forcast though. Got to give credit to that.

Good finds Daniel! I'll definitely check these out.

Holy crap... The bar has been raised. Maybe I should hire this to build my app.

What app are you building?

I have an idea I'm working on, that I will discuss when I'm close to finished and need beta testers...

Great, Breez is not available for 7.8 . Too bad, really like the concept. I have tinydo, will give it a spin.

hey,Lych , i promise it will be available for wp7.x device in two weeks. we are working on it.

Awesome news, thanks! Looking forward to it!

Downloading that flashlight app as I type this. It looks awesome!

Why would a weather app need appointments, contacts, video and still camera, media playback permissions? Sorry, but no lol in the description there's nothing would need this permissions...and i have Weather Flow (nor does Amazing Weather and other weather apps) it doesen't them...so sorry, but nope, i'm rly careful with this stuff!

+ microphone and all identities. Smells also fishy to me...

well, apologize for that, it seems that we forget to clear up the permissions that we dont need. it will be fixed in next release.,
Jim

Please clear up permissins for TinyDO and Flashlite also! I will not install a flashlight app that requires permission to mobilID, video, pictures, mediaplayer, microfon and data services...

Flashlight? A visually stunning app?? You have my curiosity now home slice.

From what I see, it actually looks like most other flashlight apps, but the other two apps have some neat controls/effects.

Simply AWESOME, great developer !! Breeze loads forever in my L925, Italy...

BTW only Breez is restricted to WP8. The other 2 are on WP7 too.

7.x version of breez will be available soon jim

The temp on breeze is way off. It says its 59f for my area but its in the low 70s

Breez is really cool. My new weather app!

Breez requires acess to your contacts, appointments, camera, and microphone, which a weather app shouldn't need. Spyware, anyone? TinyDo doesn't require much, though.

Just said location for Breez when I installed it (2 minutes ago). Perhaps it was a mistake.

I could'nt get the breez app to work on my 1020. I just got a spinning wheel when entering my location or using GPS for location.

Me too on my 920. I can swipe left to manually search for cities. But I couldn't search for many common city like New York, Sydney etc.

its a known server error , we are working on it. maybe u could have another try from the application list.

Jim

I iintially had my GPS off, but clicked OK when it asked for location. The wheel just spun and spun.
Then I backed out of the app, enabled the GPS and tried again. Still endless spinning wheel.

I uninstalled and was able to reinstall, open it, hit Cancel and type in my town.

Breez looks so awesome! Once they add lockscreen support I'll definitely use it instead of Amazing Weather HD!

Fleshlite? giggle giggle giggle.

Breeze is definitely unique, however the live tiles are low resolution. Quite obvious on wxga. Opefully this is addressed soon.

I like the part where breez freezes into an infinite loop after I type my location in.

same problem, but it turns out ok when i launch it again from app list. i emailed the dev, he confirmed this issue and said he was working on it. so i think it will be fixed in a future release:-)

If you thought these were elegant apps for Windows Phone 8, you really need to check out 627.am. Not only is it an alarm and notetaking app - but it's also a weather app as well.
Whether you use one or all of these features, it is not only a solid contender in each of these areas, it is the most elegant and stunning app on the entire WP platform. It is truly a standout. There is a free version and the paid version for $1.49 USD. Be sure to check it out if you liked these apps.

I'm using 627.am since WP7.5! :D
Both Breeze and TinyDo does inspired from other apps on other platforms.
Like Breeze = Solar iOS and TinyDO = AnyDO iOS & Android.

I downloaded them all and bought the Pro version of Flashlight. I mean, that's 3 for a buck. What a deal.

I like the Flashlight app and Tinydo, but I wish I could see what Breez was like. Like others, I'm just getting the spinning wheel, even when launching from the app list.

i could watch the video only till 0:49 mins on the net... so i downloaded and tried to watch it, it was little better can watch till 01:05 mins

My Breez is stuck on an endless loop. Sigh

Wow! These apps are stunning. Love Breez especially, how wonderfully Metro (yes, I'm going to continue to call it Metro).

Breeze looks vry nice, but I can't get past the location page. Am I alone with this problem? Maybe it's a Europe only issue?

its a server error sometimes it happened(request timeout). we're working on it.

Thanks. Looking forward to Try it out

Been using TinyDo for a while now. Excellent app with fantastic double wide tile.

Although these apps are excellent, I am very disappointed that they are not original. The breez app is a blatant copy of the Solar app on iOS. I also read somewhere in the comments that tinyDO was "inspired" by Any.do on Android. This plagiarism brings shame to Windows Phone...
Edit:
Solar on iOS: https://itunes.apple.com/us/app/solar-weather-has-never-been/id542875991...
Any.do on Android: https://www.windowscentral.com/e?link=https2F2F... At least vivmotion is not getting payed for these apps.

What disappoints me is the nature of these apps.

I get that we're on a tech forum and all, scrutinizing apps is fun for most people on here, but apart from that apps like these are just polluting the store. Maybe not these particular examples, but seriously, who needs another todo list/flashlight/weather app. Experience blah blah blah, but their functional value is close to 0.

Well, some are done a lot better than others. I agree with you that there are many poorly developed apps out there polluting the store though. Honestly, I use the weather app a lot and when I find one that is visually appealing and functional, such as SOLAR, I am very pleased.

Sure, but not when it's form over function ... and let's face it, 3-day forecast and daily cycle, that's pretty low on features, even for a weather app. I agree that some choice would be nice, but who needs 20 different weather apps to choose from? And at the end of the day, all I care about is how useful they are in real life. I'd take an ugly, fully-featured app over a beautiful underfeatured app any day.

Same goes for all those todo apps. My favorite one so for is the WP8 standard calendar app, since you can actually put a date/hour on your todo items. I've tried so many todo apps that even lacked that most basic function that I just stopped searching after a while.

Then again, maybe MS just needs a better app store.

hi, chupeter
you got a reasonable point. as a former iphone user i felt so disapointed when i seached in the wp store, too much apps missing.....so i build those apps in my spare time and hope to make people like me feel better. thank Daniel and all the users, you're my passion to keep working on wp apps
Jim

Yeah, those todo apps don't cut it. I also use the original calendar app also for any sort of appointment/reminder. You know, I love my Lumia 920 very much but for every well developed/supported app there are just too many cruddy ones. Perhaps they should more closely monitor the apps people submit to the store. MS should also probably improve the search functionality of the app marketplace. For example, just how many completely useless Facebook apps are there?

If you like simple and visually stunning apps, you should check Shopping List simple (http://www.windowsphone.com/en-us/store/app/shopping-list/b2667b3c-9272-4416-b0be-c8adadc651e4)

So Breez is the 'Solar' equivalent of iOS, which by the way is highly popular among iphone owners. Great to see the same in our community... Good work!!!

1. Minimalist weather apps: Breez vs The Forecast vs Simply Weather? 2. I'm looking for a to-do app that can show tasks that need to be done on the live tile, somewhat like Effectual, regardless of due dates. Effectual has this duplication problem that just irritates the hell out of me, and 2Day only shows tasks due today (hence the name, I guess). Any suggestion, guys? Thanks in advance :)

I was going to try Breez, but then saw the list of permissions it wants. Why does a weather app need access to: appointments contacts video and still capture media playback microphone ??
I'm going to skip this one, thanks.


Breez just loads forever? As if it can't find my location? Living in Denmark

...same trouble here in Belgium... Breez doesn't work.

hi,
Check out the latest version of breez (1.1)
http://www.windowsphone.com/s?appid=d2455d62-0dbe-4c3f-b427-be7a179c8218
Please let me know if this issue remains
Jim

Great tips Daniel, particularly liked TinyDo. Thank you.

The weather app looks cool and clean. There are other clean minimal weather apps but they all seem to leave out a key piece of information: % chance of precipitation. 30% chance of rain means there might be some spotty showers. 90% chance of rain is a washout. That's a key piece of information that I think everyonen needs in a weather forecast.

Has anyone noticed their Breez live tile not showing the forecast? My double wide tile shows the app icon, and then flips only to current conditions. Am i doing something wrong?
Love the app otherwise! The 24 hour gesture is genius.

pin the city from/within the applicatin, by taping on anywhere . if u pin from the application list u'll see the breez icon :-)

Beautiful! Thanks so much, i think i brain farted, because i saw the pin so many times, and didn't even think to hit it. Great work, these apps are lovely! Keep it up!

Has anyone noticed overheating/battery-drain issues with any of these apps? Yesterday I installed the sun app (as in the sun viewing app; can't provide a link without this comment being marked as spam, soz) and also the three vivmotion apps and the phone is now overheating and draining battery at an alarming rate (40% lost in under 2 hours [estimated time left: 6 to 9 hours] and unable to charge to 100% overnight, when usually my battery can last over 12 hours, close to 15). Just trying to figure out which app might be causing it.
Windows Central Newsletter
Thank you for signing up to Windows Central. You will receive a verification email shortly.
There was a problem. Please refresh the page and try again.