Dragon Age HQ app for Windows Phone is the official companion for Dragon Age: Inquisition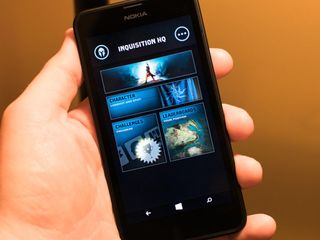 Developer BioWare and publisher Electronic Arts recently released Dragon Age HQ, an app for Windows Phone users that acts as an official companion for the recent, and acclaimed fantasy role playing game Dragon Age Inquisition that's available for the Xbox One and other platforms.
So what does Dragon Age HQ have to offer? Read on for the full feature list:
Stay connected to the Dragon Age multiplayer universe through your Windows Phone
Check out all your characters' loadouts, core stats, defenses, and promotions
Track your Dragon Age multiplayer challenge progress and browse leaderboards
wow WP is on a roll today..

Today? More like this whole month

Now I just need DirecTV to update there 3 year old app.

After signing in it just sits there with only a sign in option.

It's actually pretty terrible at this point. I downloaded it yesterday only to find out that it has no single-player features at all. Really, all I wanted was a map and the ability to manage the War Room without having to travel back to Haven every time a ten-minute mission is over.

someone suggested it actually http://forum.bioware.com/topic/535107-war-roomtable-app/

I totally agree Fallen, this ap is horrible for single player. Even Bungie got something better for Destiny.

Bungie didn't get anything better, at least not on Windows Phone.

well after playing with it for a while it's a bit crude but works fire i am sure it will be updated

How it supose to work? It is not showing my XBOX ONE progress.

it ONLY shows multiplayer progress.... I confused me as well at first.

Now I only need Inquisition to use this with, and I'm all set! :D

It's a fun game. I'm playing it on PC. Either the recent patch or the new AMD drivers have made it a lot less sketchy. It was consistently crashing a couple of times a session... Ever since I yet to have a crash.

I don't play this game but this still reminds me how much Bungie sucks for not making an app for Destiny on WP. I mean, does this game come anywhere close to having as many players as Destiny?

It should work with Xbox360 version right?

I don't know if the app is good, but DaI is awesome. I loved it despite some nasty bugs it has.

Too slow. I literally just beat it last night. Though this could come in handy for my second play through.

It's not working for me. I log in with my EA/Bioware information and it shows me three first level characters, Neria, Korbin and Hall. I'm tenth or eleventh level and that's not the name of my character.... Ok, so after reading the other comments and reading the description again I now see there is no single player campain stats or anything exposed by this app. It is entirely multiplayer and I haven't even yet fired up multplayer. Fact is I forgot there was multplayer at all. I played very little ME3 multiplayer until I actually beat the game... I doubt I'll play DA:I any differently.
Windows Central Newsletter
Thank you for signing up to Windows Central. You will receive a verification email shortly.
There was a problem. Please refresh the page and try again.