PSA: Dragon Age Inquisition is currently free to play on Xbox One for Gold subscribers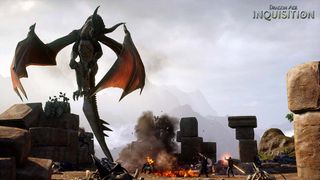 Critically acclaimed RPG Dragon Age Inquisition is currently (and exclusively) free to play on Xbox One for Xbox Live Gold members.
Xbox made the announcement via their twitter account, stating that Bioware's latest and greatest is 'unlocked' between March 10th and March 16th, so get in there while you can party people!
Dragon Age Inquisition puts players in the role of a reluctant messiah, tasked with preventing the end of the world. Similar to previous games, you end up gathering a collective of miscreants and crazies for the task - heavy emphasis is placed upon your interactions with your NPC comrades in both the plot and in combat. The player can freeze time at will, allowing them to issue commands and execute complex tactics. Tactical play is key to success on medium and higher difficulties, but fans of both tactical and action RPGs should find themselves at home in Dragon Age Inquisition.
If you're new to the series, you'll be happy to know that any achievements you collect in this trial will activate as if you owned the game. If you enjoy yourself and want to continue playing after the 16th - Dragon Age Inquisition is also part of Deals with Gold at 33% off.
If you suffer from bandwidth caps, be aware that the download clocks in at a hefty 48.1GB. The game spans two nations on a vast continent, complete with every exotic location you can imagine. Although the game was criticised for its emphasis on fetch quests in its side objectives, even skipping those you'd likely still struggle to complete the game in the allocated time frame (possibly intentional...).
Microsoft has 'unlocked' games before for Gold subscribers, but as the competition heats up again moving towards E3, lets hope these free trials become a regular occurrence!
Source: Xbox - Twitter
Windows Central Newsletter
Get the best of Windows Central in in your inbox, every day!
Jez Corden a Managing Editor at Windows Central, focusing primarily on all things Xbox and gaming. Jez is known for breaking exclusive news and analysis as relates to the Microsoft ecosystem while being powered by caffeine. Follow on Twitter @JezCorden and listen to his Xbox Two podcast, all about, you guessed it, Xbox!
So I'm gonna download this just to show MS there is interest in this type of offering for new games, but I have no desire to play the game. Just getting the numbers up. Happy playing.

I knew it you will come with some cool news.

That moment you start wishing you had an XBOX ONE and some WiFi

Do people actually spending hundreds of dollars on an Xbox one and games, but can't spare ~$40/yr for Gold?

When you're not an active multiplayer gamer there isn't a huge amount of point tbh, even with GWG.

It's worth it for Games with Gold alone, unless your taste is too narrow to appreciate indie games.

It's worth it. Although it is a little annoying they only do one xbox one game per month in games with gold.

Doesn't show up in the smartglass app yet.

Happy Wars is coming soon, I assume there testing XB1 servers because its affecting 360 users.

I'm going to download it, but it'll probably take the whole period of the free time before its on my system.

Not Xbox's fault that your internet either sucks, or you're doing something wrong. I downloaded Halo in under an hour at around 45 mins.

I did it in 22 minutes....i was pleased to say the least.

I've unlocked a few achievements in this. If I were to buy it later, would my progress remain our have to start over?

Yes, this is the same as owning the game. After the 16th you won't be able to play, but your save data and achievements will remain. Similar to EA Access.

That's neat. Does it remove it from your system or can you leave it installed until you purchase a license?

It stays in the system. I tried the Forza game and once they stopped offering it, my achievemenets were kept. I wish there was a way to get rid of it though, especially for games you play and know you'll never play again.

You can never please everyone, lol. Anyway I'm not interested in this.

I just want to ride a dragon and destroy things...ala Smaut the Dragon from The Midgets..Hobbits, whatever...

It'll stay on your system aye, but when you open the game it'll fail to find a license and ask you to purchase or input a disk.

Sweet! Really thinking of trading gta v in and getting this digitally.

Hope they add the original game as a games with gold for the 360. I really loved playing it on the PC.

Never finished the game. Too boring.

Beat the game 80 something %. Might dl just to show interest and delete soon after.

FYI it is unlocked for 6 days but it is timed to 6 hours of gameplay.

That's the EA Access rule. I don't think this is EA Access...

First thing I did when i saw it was giving them the middle finger,why say its free to play for six days but its just 6 hours, my opinion is that EA put the rule not Xbox because Phil Spencer doesn't want bad publicity for Xbox or people saying that MS are liars.

I own this game. 6 hours is not enough to truly get into it

Beat the game long time ago. Just wished they would add an expansion pack or something. Been playing warframe until something new comes for dragon age.

Is this US only? Tis showing up as £32.99 on the UK store for me.

Just change your region settings!

I don't want to change my region settings; I want Microsoft to stop having a two tier loyalty program for their loyal customers whereby the US get the lion's share of goodies on offer.

Will start downloading it in 3... 2...1... DOWNLOAD IN PROGRESS!!!

We're streaming the multiplayer mode on my Twitch channel at 8pm Central/6pm Pacific/2am GMT this Thursday. Please follow me and join us for multiplayer!

Still costs. What's up with this? US region btw!
Windows Central Newsletter
Thank you for signing up to Windows Central. You will receive a verification email shortly.
There was a problem. Please refresh the page and try again.